These vegan Gingerbread Cupcakes with spiced buttercream is the perfect sweet treat for the Holidays! Made with molasses, pumpkin puree and a blend of spices, these cupcakes taste just like Christmas. They're festive, pretty, and taste so delicious!
Are you ready for your house to smell like all the warm spicy goodness of the holiday season?
Well then it's time to grab your apron and get a batch of these easy vegan gingerbread cupcakes in your oven ASAP.
WHAT MAKES THESE GINGERBREAD CUPCAKES SO GOOD?
The eggless cupcakes bake up perfectly light, fluffy, and super moist. This delightful holiday treat has bold molasses flavor, accompanied by the sweet and warm spices we all come to expect. But let me tell you….. that tender, irresistible crumb is a result of a secret ingredient – pumpkin puree, and it's what will have you coming back for another.
There's no complicated ingredients, no pre-made egg substitutes or fancy steps. It's simple, unfussy, vegan, allergy-friendly, and ridiculously good!
VEGAN GINGERBREAD CUPCAKE INGREDIENTS
Speaking of ingredients, you'll only need a few key ingredients:
Flour: you can make these Christmas cupcakes regular- or sub with 1:1 gluten free flour
Brown sugar: Light brown sugar adds an extra level of moisture to these cupcakes. If desired, coconut sugar can be used in its place.
Molasses: Wholesome Sweets makes the best flavored molasses!
Spices: I use a mix of ginger, cinnamon, nutmeg and cloves- which I'll talk more about below.
Dairy free milk: any dairy free milk should work here but I personally recommend flax milk by Good Karma because it's rich & creamy without adding any other unnecessary flavors to my baked goods.
Pumpkin Puree: this replaces the "egg" in our vegan recipe and helps make these cupcakes extra soft.
Olive oil: just a touch!
Vinegar: this just ensures us to get enough rise out of these eggless cupcakes.
FLAVORS IN GINGERBREAD CUPCAKE RECIPE
What makes gingerbread cupcakes so unique and festive is their blend of warm rounded spices.
Spices like cinnamon, nutmeg, and cloves swirl in air and bring the taste of the holidays. The peppery flavor of ground ginger brings a delicious balance to the sweetness.
Coupled with the distinct flavor of molasses, they together create a beautifully spiced gingerbread cupcake batter that melts in your mouth and makes you smile.
HOW TO MAKE MOIST VEGAN GINGERBREAD CUPCAKES
The full measurements and instructions are found below in the recipe card, but let's talk about how easily these Gingerbread cupcakes are made.
Whisk the dry ingredients. In a large bowl, combine flour, brown sugar, baking soda, baking powder and all the warm spices.
Add the wet. Mix in the room temperature dairy-free milk, molasses, pumpkin puree, oil and vinegar.
Fill and Bake. Fill your cupcake liners 2/3 full with batter and bake until soft and fluffy!
CAN I USE THIS RECIPE TO MAKE MINI CUPCAKES OR CAKE
Yes, if you want to make bite-sized cupcakes, simply use a miniature muffin tin instead of a regular muffin tin and bake them around 10-12 minutes. Check the cupcakes around 10 minutes.
This cupcake batter recipe will also fit wonderfully into 3 6-inch cake pans (bake at 18-21 minutes) or 2 8-inch round pans (bake 30-35 minutes).
Test for doneness by sticking a toothpick in the center of a cupcake. If it comes out clean, they are done.
WHAT FROSTING DO I USE ON VEGAN GINGERBREAD CUPCAKES
No cupcake is complete without a little frosting and this molasses buttercream is the perfect choice.
I took my usual vegan buttercream frosting recipe and added similar spices found in the cupcakes like cinnamon, nutmeg and ginger then sweetened the deal with confectioners' sugar and a little bit of molasses.
Absolute Perfection.
But if you aren't quite sold on all the gingerbread flavor, then you could go with a classic vanilla buttercream or cream cheese frosting. Chocolate and gingerbread also go well together and would be a fabulous option. So many frostings to pick from.
TIPS & TRICKS
Let's talk measuring out your flours. I like to give it a little "fluffing" in its container, then spoon the flour into a measuring cup. It's ok if it overflows a little because you'll use the back of a knife to level the top off.
Use a dry measuring cup to measure out the pumpkin puree. It won't level correctly using a liquid cup.
I recommend using unbleached all-purpose flour or 1:1 gluten free all-purpose (which includes Xanthan gum). If you choose regular whole wheat or a gluten free flour made from coconut or almond, this will yield a heavier and drier cake. That being said, you'd also need to adjust the liquids and I cannot speak for that.
You could absolutely use a different oil in place of the olive oil. I jut love the richness it brings to the final product.
FOR MORE HOLIDAY RECIPES, CHECK OUT MY:
Make sure to tag me @allergylicious on Instagram and comment below if you make these Gingerbread Cupcakes. To pin this recipe and save it for later, you can use the button on the recipe card or on any of the photos above. Happy baking!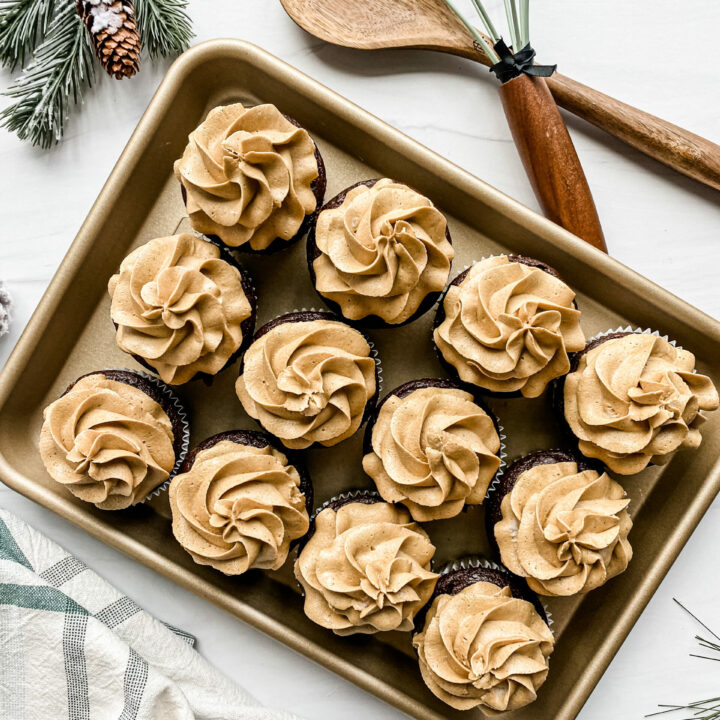 Vegan Gingerbread Cupcakes with Molasses Buttercream
Yield: 16
Prep Time: 10 minutes
Cook Time: 25 minutes
Total Time: 35 minutes
These vegan Gingerbread Cupcakes with Molasses buttercream are the perfect sweet treat for the Holidays! Made with molasses, pumpkin puree, and a blend of spices, these cupcakes taste just like Christmas. They're pretty, festive and taste so delicious!
Ingredients
Cupcake Ingredients
2 cups all purpose flour (can sub with 1:1 gluten free blend)
1/3 cup light brown sugar, packed
1 1/2 teaspoons ground ginger
1 teaspoon cinnamon
1/2 teaspoon nutmeg
1/4 teaspoon cloves
2 teaspoon baking powder
1 teaspoon baking soda
1 cup room temp dairy-free milk (we used Good Karma Flax)
1/2 cup molasses
1/2 cup pumpkin puree 
2 tablespoons neutral oil of choice
2 teaspoons vinegar
Molasses Buttercream
1/4 cup vegan stick butter
1 teaspoon cinnamon
1/2 teaspoon ginger
1/4 teaspoon nutmeg
Instructions
Vegan Gingerbread Cupcake Recipe:
Preheat the oven to 350° F and line two cupcake tin with liners (you'll need about 16).
In a large bowl, whisk together flour, brown sugar, ginger, cinnamon, nutmeg, ground cloves, baking powder, and baking soda.
Gently mix the remaining wet ingredients into the dry until combined.
Fill each cupcake liner about 2/3 of the way full. Place into the oven, and bake for 22-25 minutes, or until the toothpick comes out clean.
Remove from the oven and allow to cool in the tin for 15 minutes, then transfer the cupcakes to a cooling rack to cool completely before frosting.

Vegan Molasses Buttercream:
In a large bowl, cream butter and shortening together using a hand mixer or a stand mixer.
Add in the sifted powdered sugar, spices, vanilla extract, and continue creaming until light and fluffy.
Add in an additional tablespoon or two of dairy free milk to help reach desired consistency.
Fill a piping bag with the tip (Wilton 1M) with the vegan buttercream frosting, and pipe onto each cupcake. Enjoy!
Recommended Products
As an Amazon Associate and member of other affiliate programs, I earn from qualifying purchases. Please see my FULL DISCLOSURE POLICY for more details.
Nutrition Information:
Yield: 16
Serving Size: 1
Amount Per Serving:
Calories: 332
Total Fat: 15g
Saturated Fat: 6g
Trans Fat: 0g
Unsaturated Fat: 8g
Cholesterol: 14mg
Sodium: 179mg
Carbohydrates: 48g
Fiber: 1g
Sugar: 34g
Protein: 2g
Nutritional information is only an estimate based off of using an online calculator. Numbers will change depending on brands used.