Sweet dreams are made of these: Easy, Vegan Oreo Truffles made with only 3 ingredients.
This Oreo Truffle recipe originally posted in 2016 before our name changed to Allergylicious. It comes back to you today, revised with new photos & a new make-over.
One of the things that I love about allergy-free baking is the challenge. I enjoy taking a recipe that is known and loved and turn it into a treat that my son, and others that share his allergies can have. I also love being able to hear my friends rave over something and then hear their shock when I tell them it's vegan.
Like Vegan Oreo Truffles.
Did you notice in the title it says "Oreos"? Oreo cookies are vegan, which means they are free of dairy and eggs as well as any other animal products. Now don't mistake vegan for healthy, however, it won't kill my kid, and so in that terms, it's healthy enough. (I used regular Oreos, but read the labels, because some DO contain milk and may be in a facility that also produces peanut products).
Oreo Truffles go back a long time; I couldn't even tell you where it originated from or who gets credit for the original recipe. You may have seen them served on a platter at a party or may have even tasted one (or 3) before. Basically, it's crushed Oreos, mixed with cream cheese then coated in chocolate or candy coating. Tastes amazing, but absolutely NOT what you want to hand anyone with food allergies or certain restrictions. Here's where I come in…. making this something you now CAN eat.
Oreo Truffles with only 3 ingredients.
And a few easy steps
In a food processor, pulse cookies into a fine crumble (like you'd crush graham crackers when making a crust).
Stir in the softened cream cheese using a sturdy spatula.
Roll dough into 1" balls and place on wax paper covered sheet. (You may need to freeze 10 minutes before moving to the next step).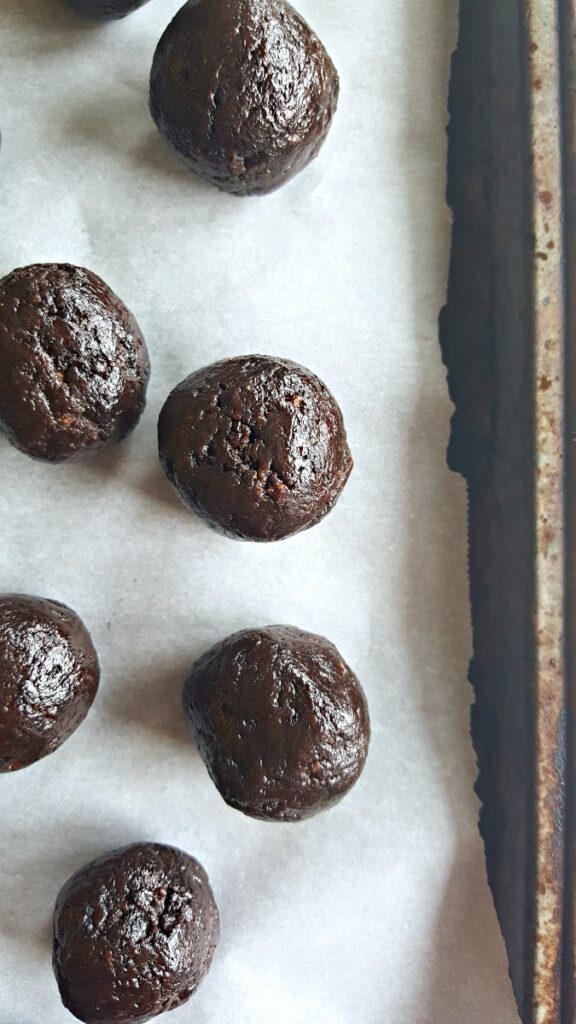 You're almost done making your Oreo Truffles
Melt chocolate in 30 seconds intervals until nice and smooth. I like to add a teaspoon of coconut oil just to keep the chocolate nice and shiny.
Dip cookie balls into the chocolate, tap off excess chocolate and set aside on a wax paper covered cookie sheet. Decorate with sprinkles, crushed peppermint or edible glitter …because who doesn't love glitter?
Refrigerate until ready to serve.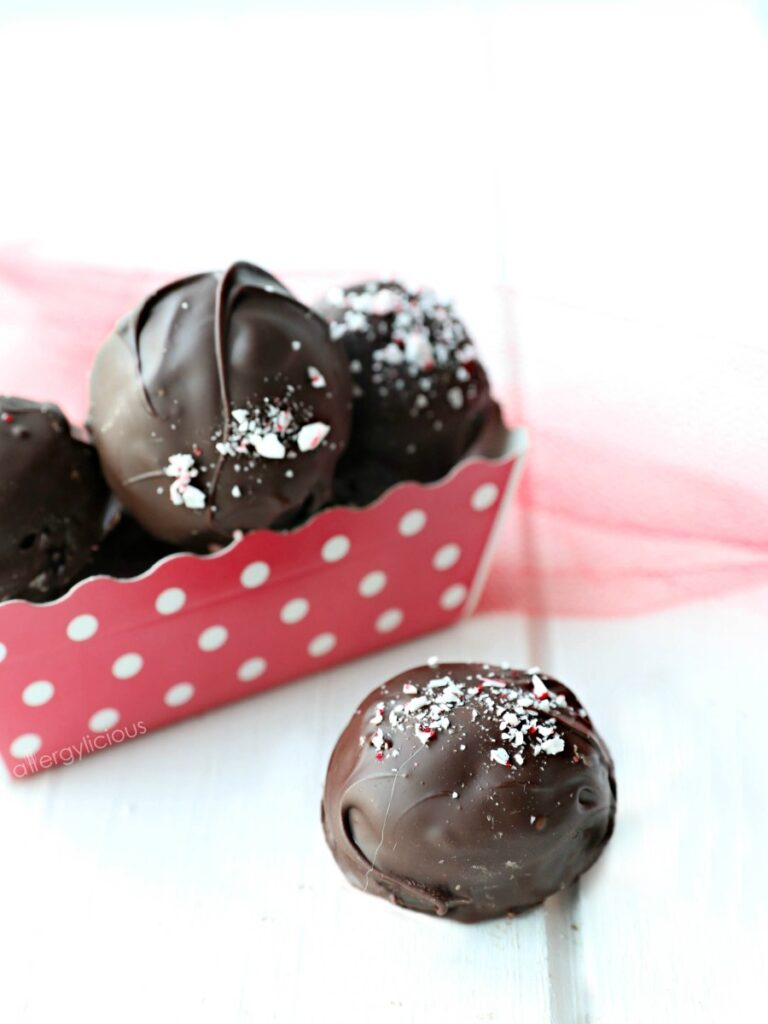 Now you can make your own, Delicious, Raved about, Dairy-free, Egg-free, Nut-free, Vegan, Oreo Truffles (see why I didn't call it that in the title?). Don't forget, you can make these Gluten-free & just as delicious!
Oreo Truffles-Vegan
Yield: 24 truffles
Prep Time: 15 minutes
Total Time: 15 minutes
Delicious, easy to make, Oreo Truffles made with only 3 Ingredients. Dairy-free, Egg-free, Nut-free, Vegan with Gluten-free option.  *Add crushed peppermint for a holiday treat
Ingredients
1 package Oreos (regular filling, OR Gluten-free brand)
1 (8 oz) container Vegan Cream Cheese, softened (Tofutti or Daiya brand)
12 ounce bag Vegan Chocolate Chips (Enjoy Life brand)
Coconut Oil if needed
Instructions
In a food processor or blender, finely crush cookies into a fine consistency. Pour into a large bowl.
Stir in softened cream cheese, using the spatula to press the two into each other to create a nice dough.
Roll the mixture into 1" balls and set aside on a wax paper covered cookie sheet.
Melt your chocolate chips (start with half a bag) in the microwave for 30 seconds. Stir and heat again in 15 second intervals until melted. Stir in a small amount of Coconut Oil to keep chocolate nice and shiny.
Dip Oreo Balls into melted chocolate, tap off extra and set aside again on the wax paper. Continue until all are covered in chocolate, melting more chocolate if necessary.
Sprinkle with any decorative sprinkles or crushed cookie if desired.
Refrigerate to all to set (15 min) then serve.
Notes
If dough balls seem to soft, freeze 15 minutes and then dip into melted chocolate. 
Recommended Products
As an Amazon Associate and member of other affiliate programs, I earn from qualifying purchases. Please see my FULL DISCLOSURE POLICY for more details.
Nutrition Information:
Yield: 24
Serving Size: 1
Amount Per Serving:
Calories: 79
Total Fat: 5g
Saturated Fat: 3g
Trans Fat: 0g
Unsaturated Fat: 2g
Cholesterol: 0mg
Sodium: 4mg
Carbohydrates: 9g
Fiber: 1g
Sugar: 8g
Protein: 1g
Nutritional information is only an estimate based off of using an online calculator. Numbers will change depending on brands used.
Do you have any favorite treats from childhood (or adulthood) that you'd like to make "allergy-safe" or Vegan? I'd love to hear about those in the comments below. Who knows, maybe I'll even include those in an upcoming post for you! As always, you can find me on Facebook, Instagram, Twitter or Pinterest for more recipes & food allergy/vegan shares.
Pin for Later
Check out these No-Bake Treats
Share something delicious