These banana donuts are baked, not fried, making them perfect for a healthier breakfast or light dessert. Enjoy them as is with the sweet maple glaze or jazz these up with chocolate chips or sprinkles!
If you follow Allergylicious, then you know that we love our donuts 🍩. Chocolate Donuts, Cinnamon Sugar Pumpkin Donuts, Blackberry Donuts, Pumpkin Donuts.…you get the idea, right? But have you ever tried Banana Donuts?
If you're like us and don't live anywhere near an allergy-friendly/vegan donut shop, homemade baked donuts are the perfect solution. And with this recipe, you can whip up a batch in no time with ingredients you already have! I'd say that's a win-win.
HOW DO YOU MAKE VEGAN BAKED BANANA DONUTS?
Simple ingredients are all you'll need to make this recipe.
Flour (GF or all-purpose flour)
Sugar (such as Wholesome Sweet)
Spices
Dairy-free milk (we love Good Kharma Flax)
Oil (pick your favorite neutral oil)
Vinegar (apple cider is my go-to)
and mashed banana of course, make up this recipe!
Because it's egg-free, we're using baking soda and vinegar to create the light and fluffy texture. Don't worry, you won't taste the vinegar at all. PROMISE!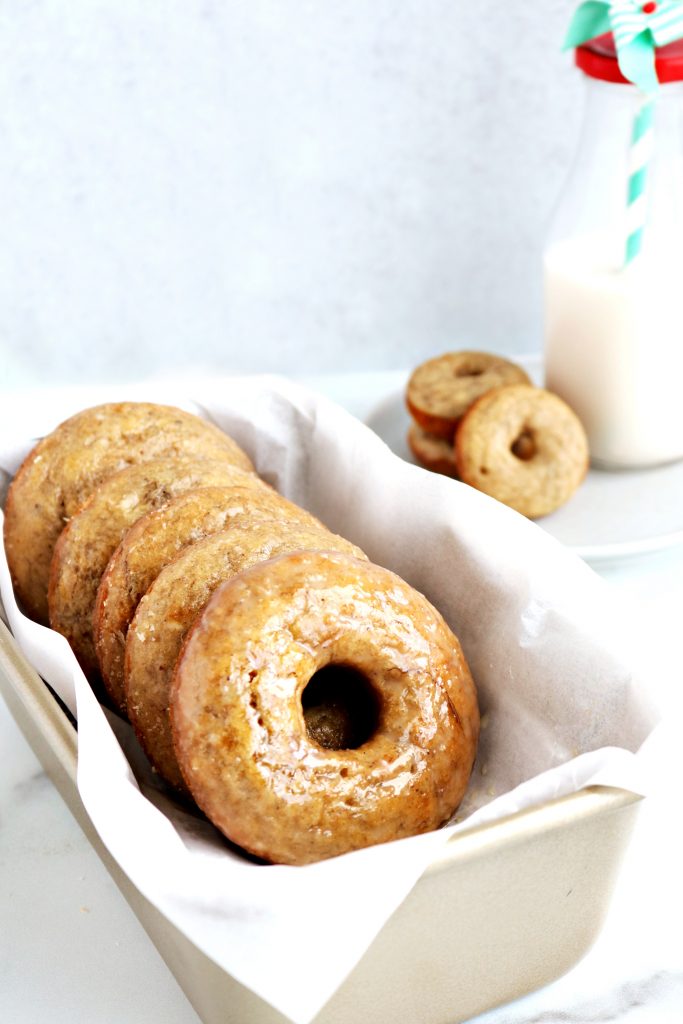 BAKING THE DONUTS
You only thing you really need for this recipe is a 6 cavity non-stick donut pan. Most major retailers carry them but I've bought my last 4 from Amazon (I may have a donut pan addiction😉).
A piping bag is helpful for piping batter into the pan but you can also use a large ziplock bag. It's the best way to keep the mess to a minimum and end up with perfectly shaped donuts. You can see what I mean in the how-to video below. ⬇️
TIPS FOR THE BEST BAKED BANANA DONUTS
To help make sure you get the best results, here are some simple tips when baking donuts at home.
Pipe donuts into your pan (yep, I said it again because it helps).
Be careful not to overfill your donut pan indentations no more than 3/4 of the way full. If you add too much batter, the donuts will expand over the edges of the pan and lose their shape.
Let the donuts cool completely before you dip them in the frosting.
Donut batter can be made the night before, and stored covered in the refrigerator until you're ready to use it.
HOW LONG DO BAKED DONUTS LAST?
You can store your baked banana donuts in an airtight container for up to 2 days. Just be sure the frosting has fully dried before you stack them so that they don't stick together.
MAPLE DONUT GLAZE
These vegan donuts just wouldn't be the same without the maple glaze.
I kept it light and simple, by whisking dairy free milk and pure maple syrup into sifted confectioners' sugar. That's it. For additional maple flavor, I added a drop of maple extract.
BAKED DONUTS VIDEO
Once you taste these baked banana donuts, you'll never miss out on enjoying donuts again!
Banana Donuts with Maple Glaze
Baked Banana Donuts are a deliciously perfect choice for a healthier breakfast or light dessert.Enjoy them as is with the sweet maple glaze or jazz these up with chocolate chips or sprinkles!
Ingredients
Donut
1⅓ cups all-purpose flour
1/3 cup granulated sugar
1 teaspoon baking soda
1/4-1/2 teaspoon ground nutmeg
1/2 teaspoon sea salt
1/2 cup dairy-free milk
1/2 cup mashed banana (about 1 banana)
2 tablespoons vegetable oil
2 tablespoons apple cider vinegar
1 teaspoon pure vanilla extract
GLAZE
1 cup powdered sugar
1 tablespoon dairy-free milk, plus more as needed
1 tablespoon pure maple syrup
1 teaspoon pure maple extract
Instructions
For the donuts:
1. Preheat the oven to 375°F. Lightly grease a donut pan with cooking spray.
2. In a large bowl, whisk together the flour, granulated sugar, baking soda, nutmeg and salt.
3. In a medium bowl, whisk together the dairy-free milk, banana, oil, vinegar and vanilla.
4. Add the wet ingredients to the dry and whisk together until just combined. Do not overmix.
5. Transfer the batter to a pastry bag or a zip-top plastic bag, then cut off one corner. Pipe the batter into the prepared donut pan.
6. Bake for 10-12 minutes, until the tops look set. Remove the pan from the oven and let the donuts sit for at least 5 minutes before unmolding.
For the glaze:
In a small bowl, whisk together all the glaze ingredients until smooth. If the glaze seems too thick, add more dairy-free milk, 1 teaspoon at a time, to thin it.
To assemble:
Dip the top of each donut into the glaze. Twist the donut as you remove it from the glaze to give it a nice finish and prevent drips
Notes
If you'd like to make these GF, replace AP flour with equal amount of Cup-for-Cup GF Flour Blend (such as Bob's Red Mill 1:1 Mix)
Recommended Products
As an Amazon Associate and member of other affiliate programs, I earn from qualifying purchases. Please see my FULL DISCLOSURE POLICY for more details.
Nutrition Information:
Yield: 12
Serving Size: 1
Amount Per Serving:
Calories: 179
Total Fat: 4g
Saturated Fat: 1g
Trans Fat: 0g
Unsaturated Fat: 3g
Cholesterol: 2mg
Sodium: 216mg
Carbohydrates: 34g
Fiber: 1g
Sugar: 20g
Protein: 2g
Nutritional information is only an estimate based off of using an online calculator. Numbers will change depending on brands used.
Share something delicious