Soft, allergy-friendly sugar cookies are perfect for any holiday or celebration. Grab your favorite cookie cutters and let's get baking!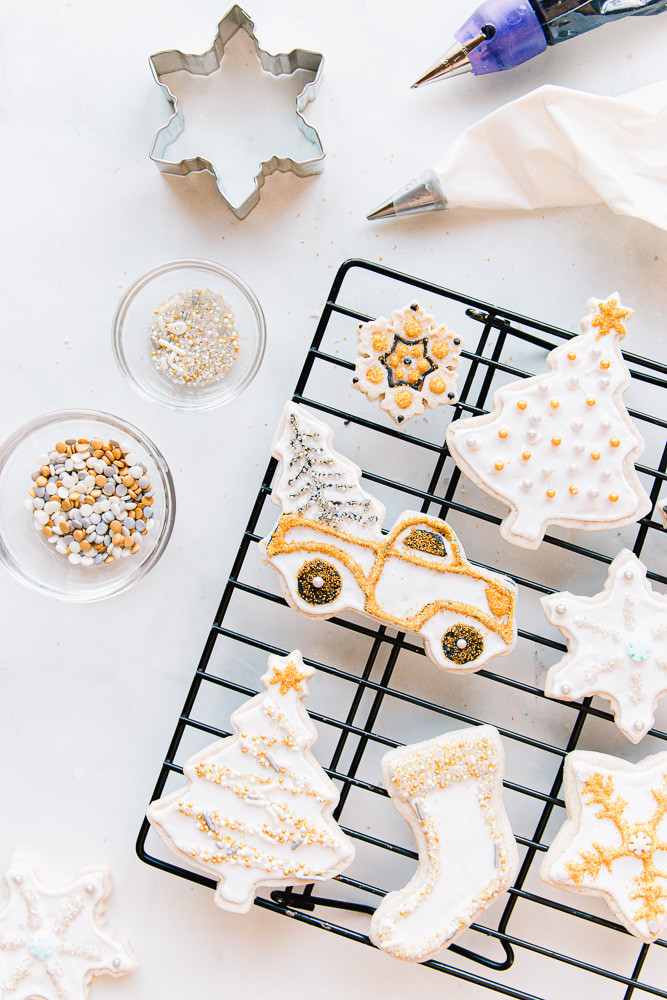 These are the best allergy-friendly sugar cookies EVER! This recipe makes a simple, vanilla sugar cookie; tender and perfect, just waiting to be frosted! The dough can be made in 1 bowl, and no special ingredients required. Just perfectly baked cookies that you can decorate with sanding sugar, sprinkles, simple vegan sugar cookie frosting OR any of these combinations.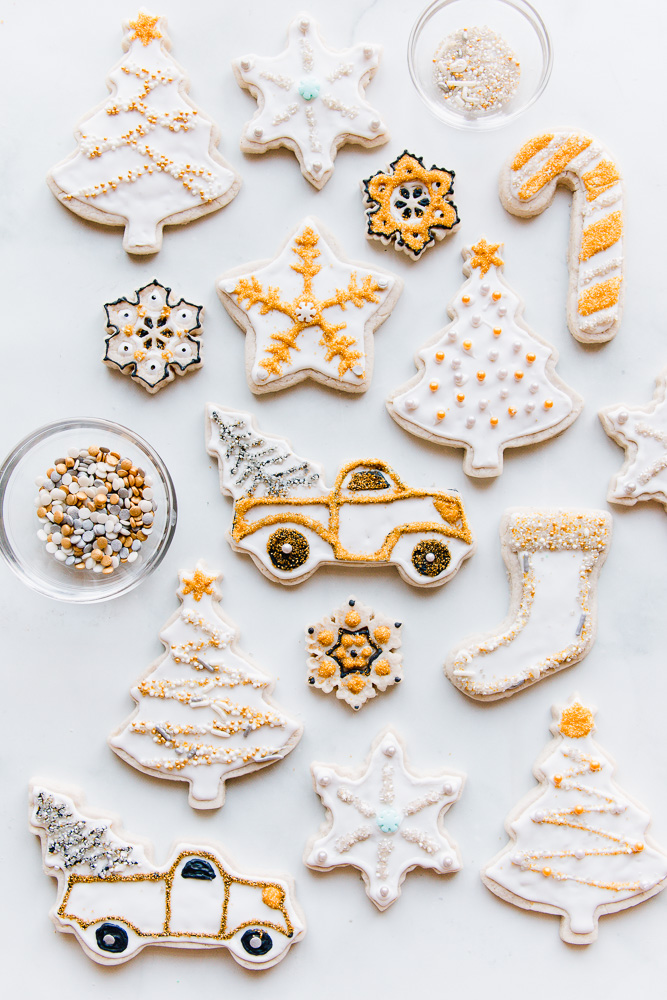 Perfect Vegan Sugar Cookie Recipe
So what makes this recipe different from the other VEGAN SUGAR COOKIE the blog? Well, to be honest, not much. The biggest difference was that I had quite a few requests for a recipe that did not include vegan sour cream. So with a little kitchen magic, I present to you, the BEST allergy-friendly Sugar Cookies!
No dairy, no eggs, no peanuts or tree nuts, no gluten! Just deliciousness!
How to Make Allergy-friendly Sugar Cookies
First, make the dough using either a standing mixer with the paddle attachment or a hand mixer. When you first make your cookie dough, it may still look a little crumbly, but should stick together when you work it into a ball with your hands. Just make sure its not dry, or else you'll need to add in a little more liquid (this will happen depending on the type of GF flour you use).
Lay a sheet of parchment paper on the counter, sprinkle lightly with flour then roll the dough out, about 1/4 inch thick. Be sure to sprinkle a little flour on top of the dough also so it doesn't stick to your rolling pin.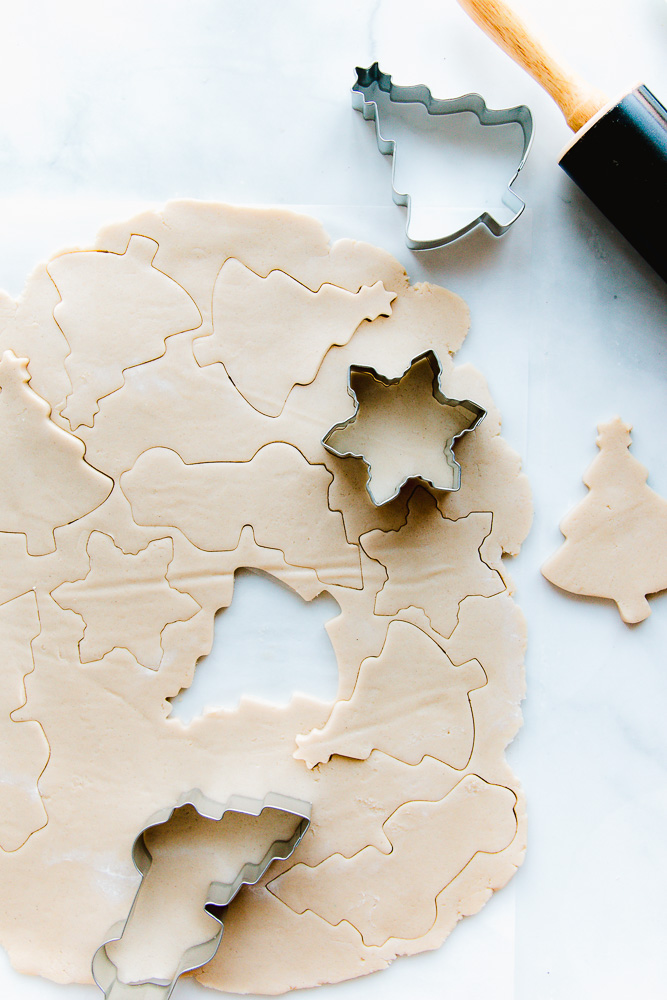 Cut into desired shapes and bake for 8-10 minutes, not a minute longer! These cookies will firm up as they cool, so you want to grab them while they still look a little underdone.
I usually don't need to refrigerate this but if you find your dough needs to harden a little, just cover with cling wrap and chill for 30 minutes (you can also chill overnight, or make the dough several days in advance).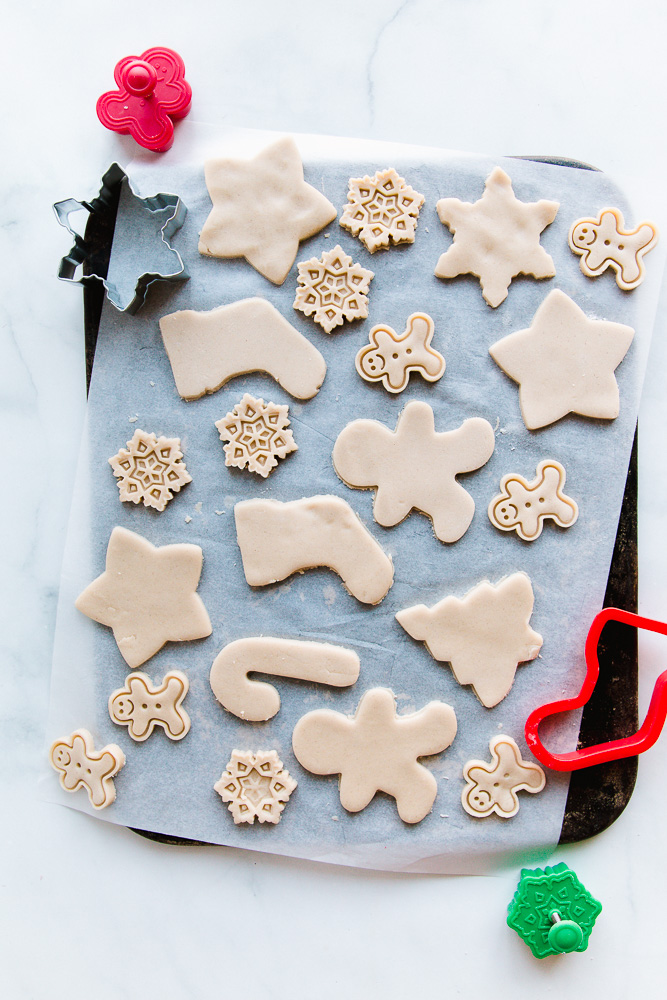 Dairy-free, Egg-free Sugar Cookie Icing
Royal icing is usually perfect for cookie decoration because it sets well, dries out in few hours and gives the cookies a very smooth look which is difficult to achieve with any other icing. However, if you dislike the taste, have an allergy or follow a vegan diet, you're better off making this version.
It's easy to make, easy to pipe, and dries hard for perfectly shiny stackable cookies. All you need is confectioners/powdered sugar, dairy-free milk, light corn syrup and vanilla extract, and you'll be making your own eggless icing in a matter of minutes!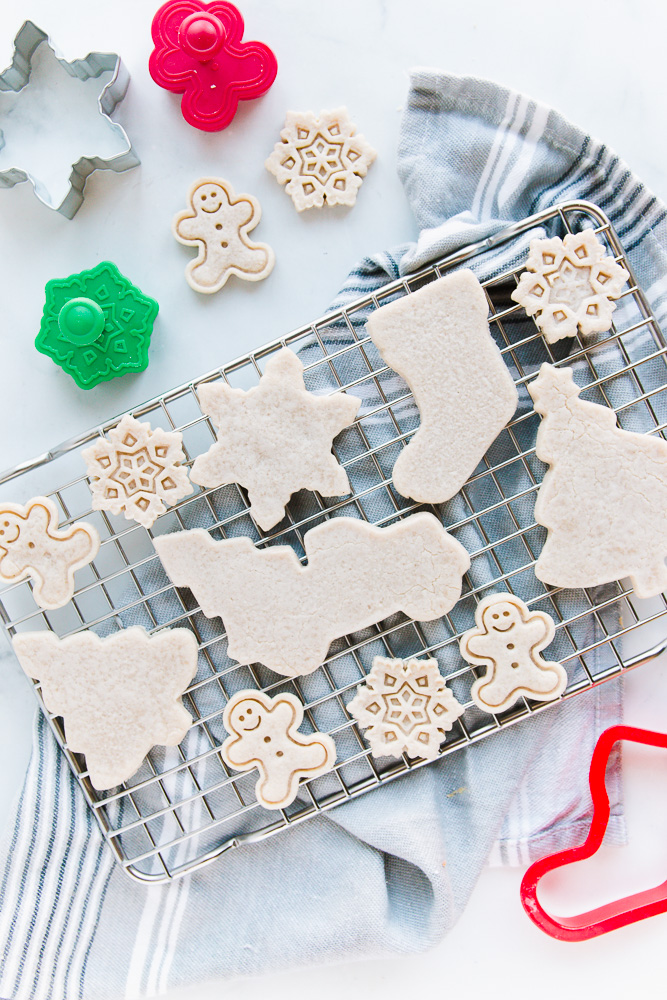 How to Decorate Vegan Sugar Cookies?
I never thought I was very good at decorating, but I am good at figuring things out. I learned from watching videos, practicing techniques and finding what works for me.
For these allergy-friendly cookies, I went for a simple yet classy style. All I needed was white & black icing and sprinkles of course!
I like to use Wilton Bags and decorating tips (2&3) for the outline and flooding of my cookies. You can also use an icing bottle, if you want a little more control when starting out.
Regardless of what tool you use, just make sure to outline the cookies first with a thicker icing, then flood the inside with a thinner icing, and carefully spread it to all the corners of the cookie using a toothpick or an icing pin. THEN sprinkle your heart out!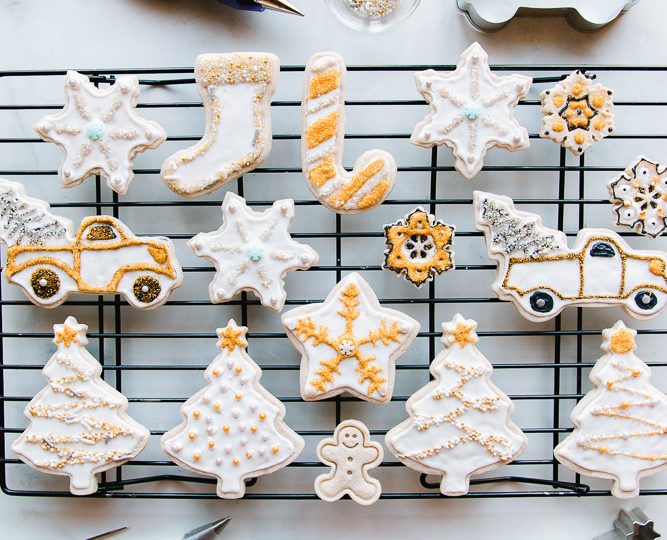 What Sprinkles Are Allergen-Friendly?
Speaking of sprinkles, I always get questions on what brand of sprinkles are safe. Honestly, it depends on your restrictions, but here are some brands to look at. Click the link to learn more and see if any are a good choice for you.
Free-From Sugar Cookies You'll Love
Even if you omitted the sprinkles, you're still going to LOVE these cookies. They're:
Perfectly tender
Easy to make
Not too sweet
Light and airy
Amazing with or without frosting
& Undetectably vegan & allergy-friendly
These are definitely my new go-to holiday cookies.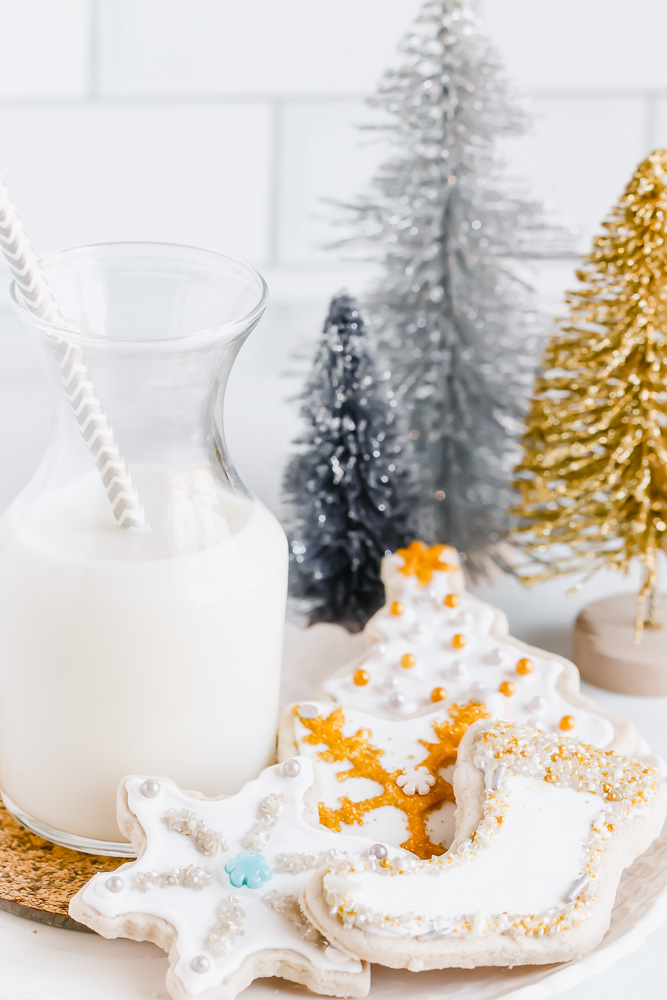 Tips for Making the Best Allergy-friendly Sugar Cookies
When baking with gluten-free flour, I suggest Bob's Red Mill 1:1 Gluten Free OR Better Batter Gluten Free Flour. I can't speak for any other brands since I haven't tried them.
When cutting out your sugar cookies, make sure to keep your cuts as close together to get as many cookies out of your dough as possible. You will want to re-roll any scraps so that you use all of your dough. Keep in mind that with each re-roll you add more flour into the dough, which toughens it and creates a more dense cookie. Get as much as possible out of that first roll.
Bake cookies that are about the same size together. Otherwise the small ones will burn and the large ones won't finish baking.
For thinner, crispier cookies: Roll the dough thinner and bake until the edges are JUST starting to turn a light golden color.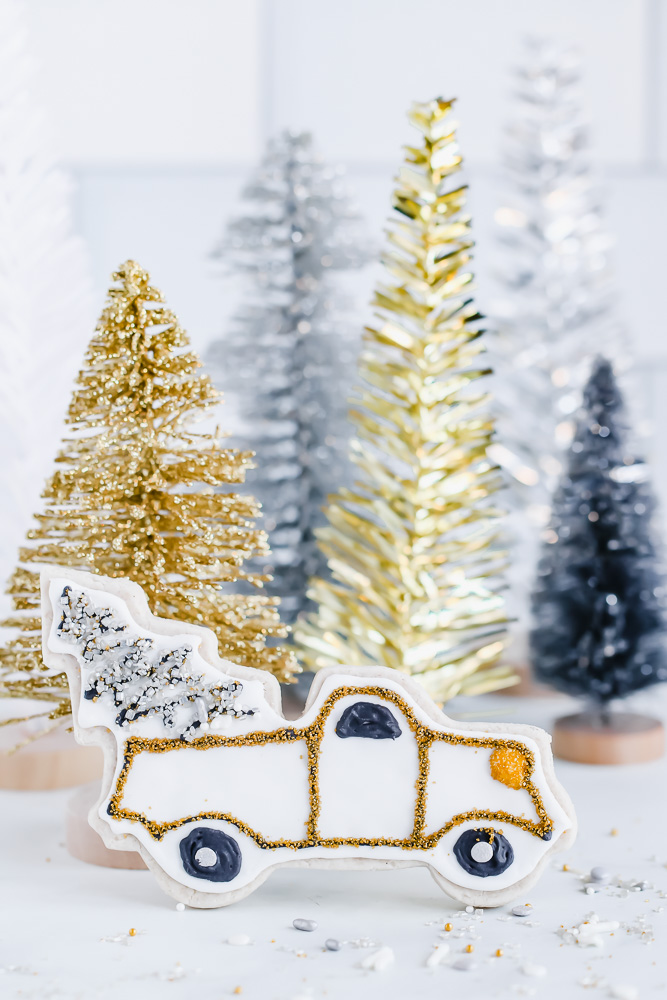 You have everything you need to start making the BEST Sugar Cookies! I just know you are going to love these as much as we do and I am excited for you to try them.
Allergy-friendly Sugar Cookies
Yield: 2 dozen
Prep Time: 20 minutes
Cook Time: 8 minutes
Additional Time: 30 minutes
Total Time: 58 minutes
Soft, allergy-friendly sugar cookies are perfect for any holiday or celebration. Grab your favorite cookie cutters and let's get baking!
Ingredients
2 1/4 cups All Purpose OR 1:1 Gluten Free Flour*
1/2 teaspoon baking powder
1/2 teaspoon salt
3/4 cup vegan stick butter, at room temp (Earth Balance)
3/4 cup granulated sugar
2 tablespoon flax milk (or DF milk of choice)
1 tablespoon cornstarch
1 1/4 teaspoon vanilla extract*
Gel food coloring (optional)
Sprinkles (optional)
Vegan Royal Icing
3 cups vegan powdered sugar, sifted
1 teaspoon vanilla extract (use clear for whiter frosting)
2 tablespoons light corn syrup
3-4 tablespoons flax milk
Instructions
Sugar Cookie Instructions
Preheat oven to 350°. Cover 2 sheet pans with silpat or parchment paper and set aside.
In a medium sized bowl, whisk together flour, baking powder and salt. Set aside.
In a large bowl with a stand mixer, beat butter for 1 minutes until creamy, using a paddle attachment. Add sugar then beat on high 2-3 minutes, until light and fluffy.
Add in flax milk, cornstarch and vanilla. Beat on high, scraping down sides, until everything is combined and fluffy.
Add 1 cup of flour mixture at a time, mixing on low until combined. If it still feels to sticky/wet, add up to another 1/4 cup of flour.
Use wooden spoon or spatula and scoop dough onto parchment paper. Form into a ball then sprinkle top with a little flour. Press down gently and roll out to 1/4" thick. (*If dough feels too delicate, you may need to refrigerate. See notes below)
Cut into desired shapes and place on sheets.
Bake 8-10 minutes, or until edges are very lightly colored. Cookies will firm up when cooled, so pull them out of the oven when they still look slightly undercooked.
Let cool on pan 5 minutes then remove to cooling rack. Once completely cool, you can decorate.
Royal Icing Instructions
Combine sugar, 2 Tablespoons of milk, corn syrup, and vanilla extract in a medium-sized bowl and stir until combined. If frosting is too thick, add more milk, about a teaspoon at a time, until the frosting is thick but pipeable. If you accidentally add too much milk, add powdered sugar until desired texture is reached.
If coloring the frosting, divide into bowls and color as desired at this point.
Transfer frosting to a piping bag with a piping tip (I used Wilton 2,3 or 5), or place in a Ziploc bag and snip a small piece of the corner off (not as neat, but this will still work, just take care that the frosting isn't so thick that it breaks open the seam of the bag when you are squeezing).
Pipe frosting on cookies and decorate with decorative candies, if desired.
Allow frosting to harden before enjoying (this took several hours for me and may vary for you depending on the consistency of your frosting)
Keep uneaten cookies sealed in an airtight container at room temperature
Notes
*Yield varies on how thick you roll the dough and the size of the cookie cutters that you use. 
*You may also replace the vanilla extract with just about any other extract you'd like!
*You may chill this dough 30-60 minutes, overnight or even up to several days.  If refrigerating, let it rest at room temperature for about 10-15 minutes before rolling so it doesn't crack.
*If you don't intend to frost your cookies, then you can just sprinkle them with sanding sugar before going into the oven, then bake.
*My cookie cutters were about 3" in length, if you're using smaller cookie cutters you will need to bake for less time.
Recommended Products
As an Amazon Associate and member of other affiliate programs, I earn from qualifying purchases. Please see my FULL DISCLOSURE POLICY for more details.
Nutrition Information:
Yield: 30
Serving Size: 1
Amount Per Serving:
Calories: 125
Total Fat: 5g
Saturated Fat: 3g
Trans Fat: 0g
Unsaturated Fat: 1g
Cholesterol: 12mg
Sodium: 81mg
Carbohydrates: 21g
Fiber: 0g
Sugar: 17g
Protein: 0g
Nutritional information is intended to be a guide only, as changes in ingredients, or brands used will impact the numbers above.
More Holiday Cookies You'll Love