The holiday season as officially begun which means it's time to warm yourself up and make the most amazing vegan hot chocolate!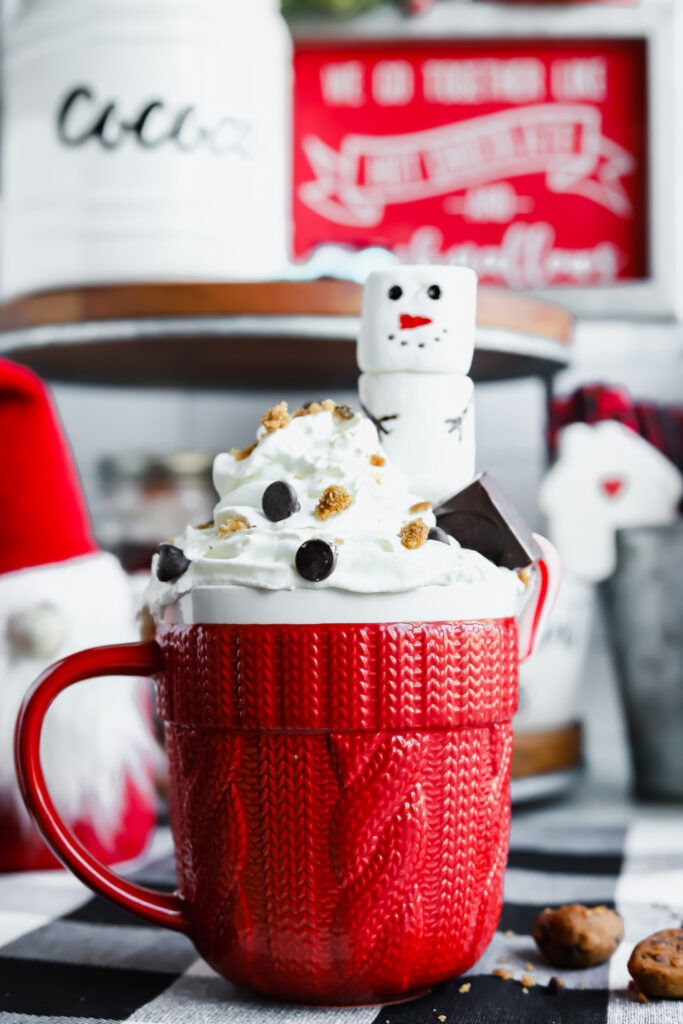 This post was sponsored by Enjoy Life Foods.
I can't think of a more perfect drink to usher in the cold weather and holidays than hot chocolate! Whether you're playing board games, sitting around the fire or watching movies, hot chocolate is such a warm and delicious treat that everyone can enjoy, especially when it's made in your own little Hot Chocolate Bar.
Vegan Hot Chocolate
A fun tradition, that's simple to pull together, is having a Holiday Hot Chocolate Bar loaded with all the toppings you could hope for. It adds a bit of festive flair and is totally customizable to fit any budget, theme or food restriction. But before I share tips of how to put it all together, let's start with the main attraction – Hot Chocolate.
I have an amazing hot cocoa recipe already on the blog but was determined to make a coconut-free, version, just for you! It had to be easy to make, vegan, allergy-friendly and most of all, rich & creamy – and here it is! Just as indulgent and delicious, but without the coconut. So forget those store-bought packets, my version is something you can feel good about sippin' & sharing.
Homemade Allergy-friendly Hot Chocolate Ingredients
This vegan hot chocolate recipe only requires five simple ingredients and comes together in just a matter of minutes! To make this mix you need: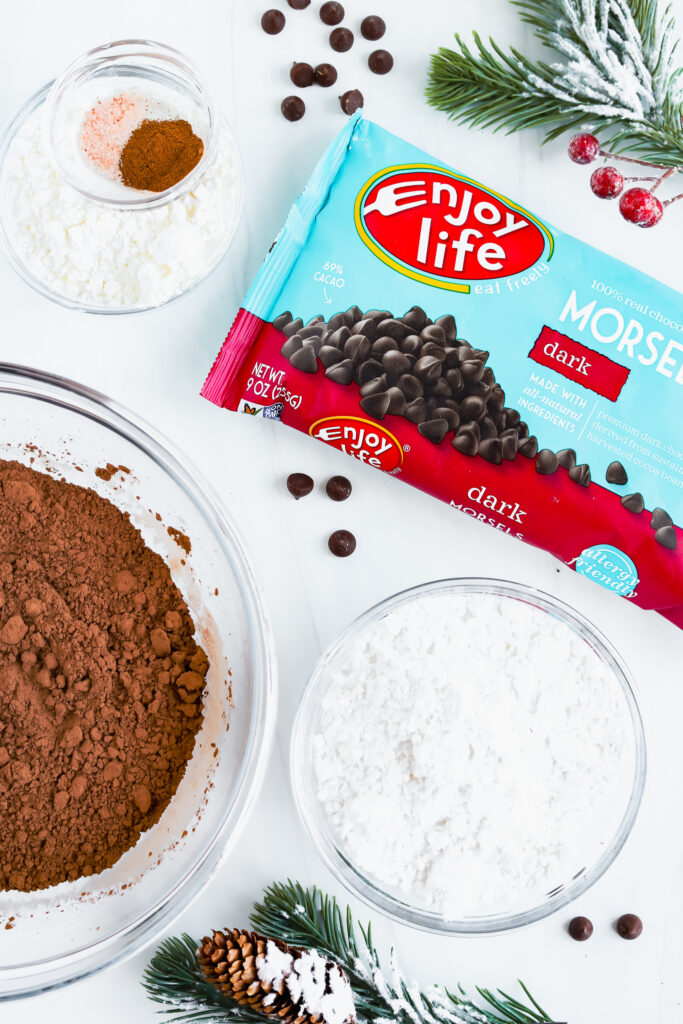 Simply toss all the ingredients into a blender and pulse until the chocolate chips are more finely ground.
The powdered sugar adds such a delicious flavor and the dark cocoa along with the melted chocolate gives it the richness that I love. So yummy!
Hot Chocolate vs Hot Cocoa
Although used interchangeably, there is a difference. Hot cocoa is usually made from cocoa powder, sugar, and milk. It's most similar to those little packets you buy can buy at the store. Hot Chocolate on the other hand is more luscious, made by melting chocolate into milk or cream.
This recipe combines the best of both worlds by blending together all the ingredients (chocolate chips included) then mixing into hot dairy-free milk. The result is a rich and decadent drink, sure to bring a smile to your face.
Homemade Hot Chocolate In a Jar
Can't share the holidays with those you love? How about gifting them with a jar of Hot Cocoa then enjoy a cup together over FaceTime?
Simply fill an 16oz mason jar with 1/4 cup of hot chocolate mix, then layer with allergy-friendly Enjoy Life chocolate chips, marshmallows, and crushed peppermint. Add a cute little label if desired then deliver to someone you love.
What to add to your Hot Cocoa Bar
Choosing what to put in your hot cocoa bar is half the fun! Stick with the classics then get creative with different toppings for your own signature drink. What you choose to put in your hot chocolate bar will obviously depend your food preferences so I'll show you what you can include to make it the most amazing Vegan Hot Cocoa Bar around!
Allergy-friendly Hot Chocolate Toppings
Marshmallows. Mini, flavored, or regular size – anything goes and thankfully there are vegan options for this too! I like to stack mine and turn them into adorable snowmen.
Whipped cream. I love that there are so many dairy free options available now.
Chocolate chips. Melted into hot chocolate mix for an extra layer of richness OR sprinkle on top of your whip. You can't go wrong with mini chips, semi sweet, dark chocolate or a combination of all 3!
Candy canes. Candy canes make for a fun stir stick or crush finely crushed candy canes and sprinkle over the whipped cream!
Crushed Cookies. We added these cute little mason jars filled with Enjoy Life Foods soft chocolate chip mini cookies, crunchy mini chocolate chip cookies, peppermint cookies and protein bites. Whether you crumble them on top of your whip or serve on the side – you just can't go wrong!
Decor Ideas For a Hot Chocolate Bar
There are lots of cute ways to decorate your holiday hot chocolate bar:
Seasonal signs. Uses what you got, purchase a Hot Chocolate Sign or make your own Chalkboard Sign. This is a great way to highlight your new chocolate station.
Free printables. There are so many cute printables available online to create a winer wonderland theme. Label the containers, make recipe cards, display on a clipboard or place in a mini photo frame. So many options.
Holiday mugs. I love adding a few special mugs to go with our hot chocolate bar set up. My husband found these red sweater mugs at Walmart and they weren't too pricey.
Holiday decor. Tinsel trees, little holiday houses, ornaments, greenery, place mats, stir sticks or spoons and cute little Christmas Gnomes all add to the festive spirit.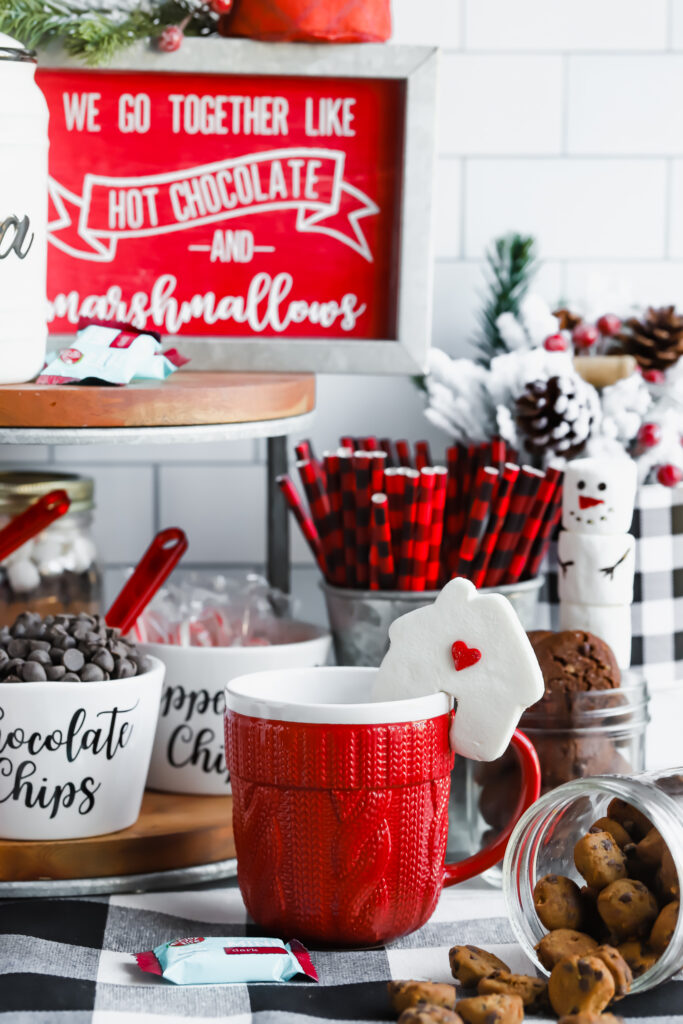 Where to Place a Hot Chocolate Bar
A hot chocolate bar doesn't have to take up a lot of space. It can be as simple as setting up on a dessert stand in the corner next to your coffee bar like I did. If you want something a little more grand, you can put it on a bar cart, side table or hutch. Serving trays can also also make a presentable hot chocolate bar and you can move it around as needed.
Easy to Make,Vegan Hot Chocolate
Now that you have your mix and the hot chocolate bar is set up, it's time to make a warm cup of cocoa.
Simply stir a few tablespoons into a hot dairy-free milk of your choice and you have one delicious cup of hot chocolate! The only thing you have left to do is to finish it off with all the toppings your heart desires – even if that includes ALL the Enjoy Life goodies.
Decadent Vegan Hot Chocolate Recipe
Homemade Hot Chocolate Mix
Yield: 4
Prep Time: 5 minutes
Cook Time: 5 minutes
Additional Time: 10 minutes
Total Time: 20 minutes
This vegan & allergy-friendly hot chocolate recipe only requires five simple ingredients and comes together in just a matter of minutes!
Ingredients
1 teaspoon cinnamon
1/4 teaspoon salt
Vegan marshmallows
Crushed peppermint candies
Instructions
DIY Hot Cocoa Mix in a Jar:
Add the cocoa powder, cornstarch, powdered sugar, chocolate chips, salt and cinnamon to a food processor or high speed blender and blend all of the ingredients together until mostly uniform (it's ok if some bits of chocolate remain).
Carefully transfer to an air-tight container or mason jar and top it with a layer of chocolate chips, marshmallows and crushed peppermint if desired. You may need 1 to 2 jars depending on the size you use. I used an 8 oz jar, and made 3 jars.

To Serve:
Heat 1 cup dairy-free in a saucepan over a medium heat then whisk 3 tbsp of the hot cocoa mix. Once combined and warmed, pour into a mug, top with mini marshmallows, vegan whip and Enjoy Life cookies!
Notes
1. The nutrition facts are only for the hot chocolate mix itself and do not take into consideration the non dairy milk or toppings.
2. Cornstarch is what makes this hot chocolate so rich and luscious, however, feel free to omit if needed.
Recommended Products
As an Amazon Associate and member of other affiliate programs, I earn from qualifying purchases. Please see my FULL DISCLOSURE POLICY for more details.
Nutrition Information:
Yield: 8
Serving Size: 1
Amount Per Serving:
Calories: 222
Total Fat: 8g
Saturated Fat: 4g
Trans Fat: 0g
Unsaturated Fat: 3g
Cholesterol: 0mg
Sodium: 71mg
Carbohydrates: 38g
Fiber: 4g
Sugar: 25g
Protein: 3g
Nutritional information is only an estimate based off of using an online calculator. Numbers will change depending on brands used.