These are hands down the most perfect chocolate chip cookies ever!
This has been a recipe I have been tweaking for months & months until it was perfect! So today, I am happy to tell you that these vegan chocolate chip cookies are amazing and taste like the real thing. SERIOUSLY! My husband even told me that I could throw away every other cookie recipe. 🤣
(Of course I can't do that because this one is pretty darn good too!🙌)
This is my tried-and-true best vegan chocolate chip cookie recipe that both vegans AND non-vegans love. They're easy to make, use simple ingredients, and they are great for sharing with friends because they are also allergy-friendly and gluten-free. No one will ever believe that this chocolate chip cookie with a perfectly chewy center and crispy edges is actually vegan!
What you'll love about these vegan chocolate chip cookies
I know, I know. I already have crazy good Chocolate Chip Cookie recipe! It's also easy to make, but uses vegan butter which a few of you have a hard time finding or don't want to use. Soooo, in this recipe you'll find….
No egg replacer
No sneaky veggies
No chickpeas or beans
No vegan butter
Just 10 normal ingredients, that you probably already have.
This is one chocolate chip cookie you'll make over and over for years to come.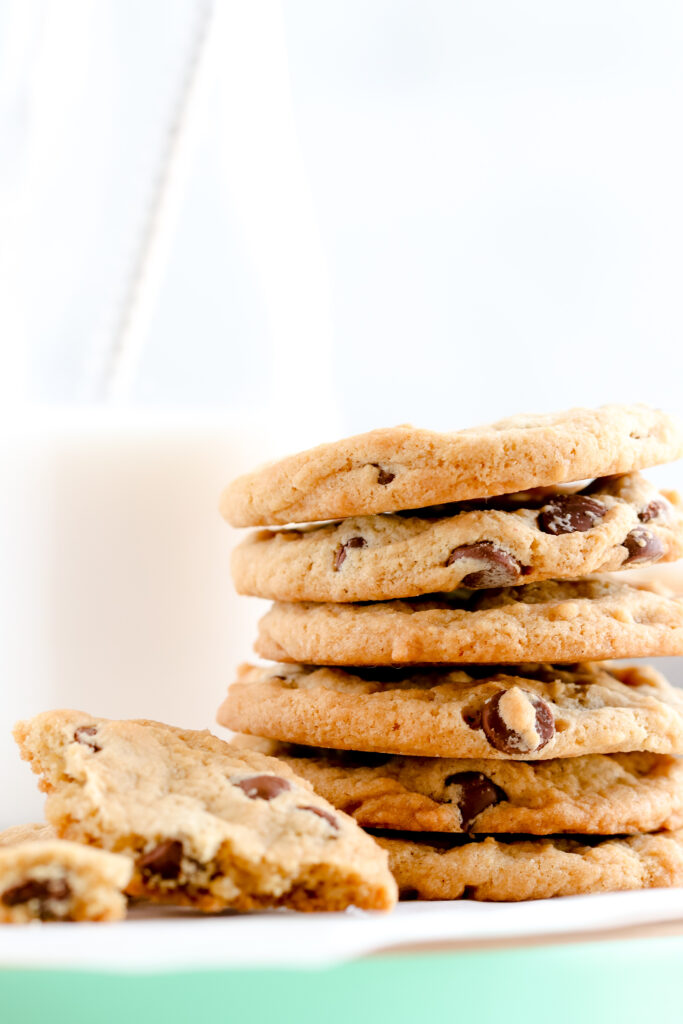 How do you make the best vegan gluten-free chocolate chip cookies?
How Does Shortening Affect Cookies?
Solid shortening makes a chewier, thicker cookie because this type of fat doesn't spread as much while the cookie is baking. These allergy-friendly cookies stayed plump, perfectly browned and deliciously soft. The flavor was spot on and the texture with crispy edges & a soft center is a winner. I do like to flatten mine a little though, so I typically take them out of the oven and bang the pan a few times on the stovetop. Funny, right?
What Kind of Flour Do You Use in a Chocolate Chip Cookie?
I've tested this recipe using different types of flour but for the best results, All-purpose flour or Bob's Red Mill 1-1 Gluten Free Blend work best.
Using this gluten-free flour, will change the texture of the cookie slightly, but my husband never even knew it was GF which is a WIN-WIN.
For the Best Cookies, What Type of Chocolate Should I Use?
Use your favorite brand of chocolate chips! BUT…
Make sure to read the ingredients to confirm that they are dairy-free, vegan & fit your "free-from" requirements! For us, we stick with Enjoy Life Foods because we know that they are V,GF & Nut-free….all things we need to be clear of.
Enjoy Life also has 3 different types to choose from – Mini, Dark Chocolate & Chunks. For these cookies, I prefer the mini chocolate chips because every bite has chocolate in it but you can totally mix them up and have fun with it!
And if you like to load your cookies up with deliciousness, then you've gotta try my Compost Cookies.
If you love cookies like I do, here are some of the most popular ones on the blog: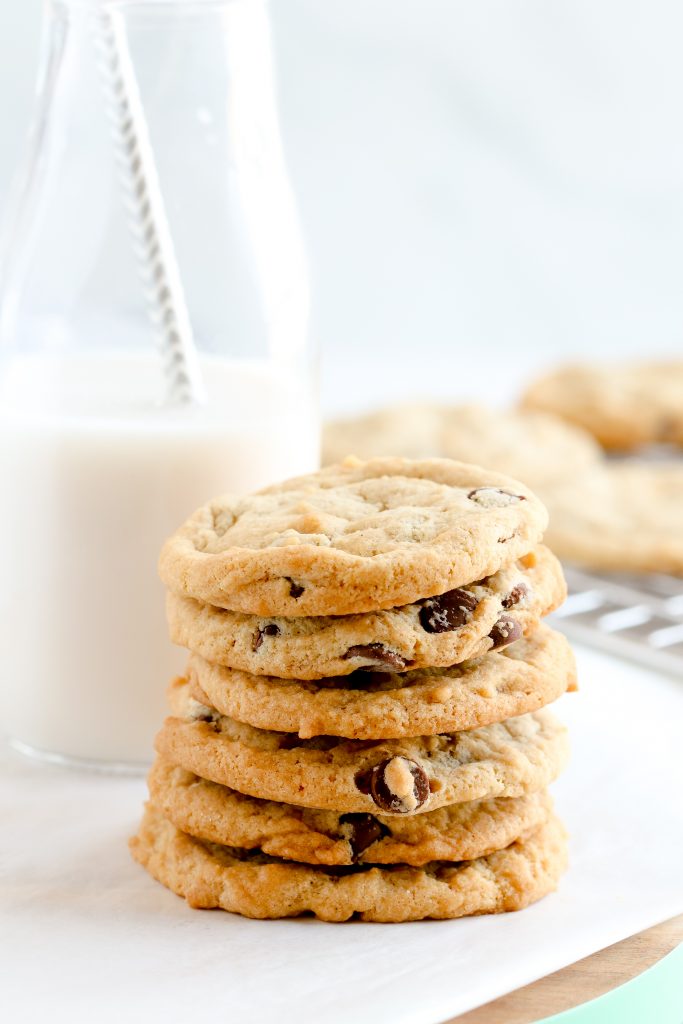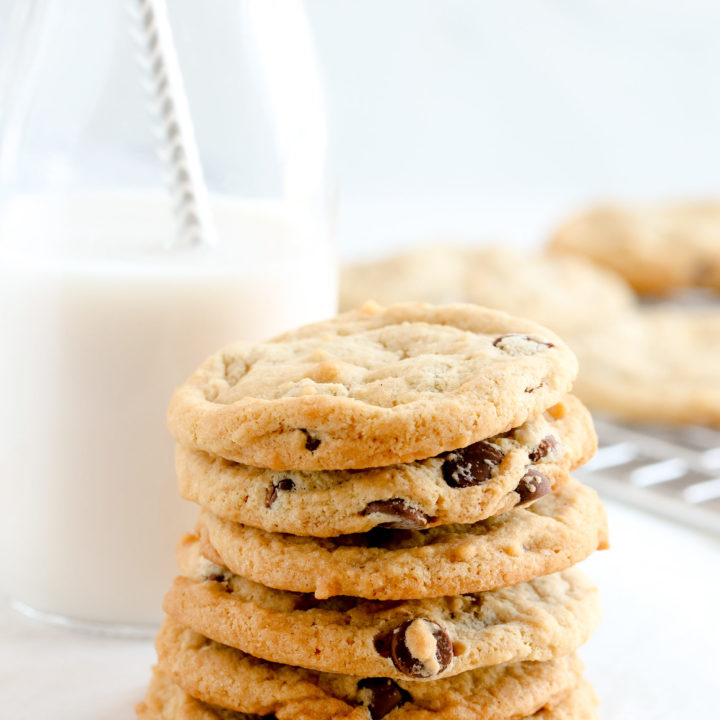 Amazing Vegan Gluten-Free Chocolate Chip Cookies
Yield: 24-36 cookies
Prep Time: 7 minutes
Cook Time: 12 minutes
Total Time: 19 minutes
Tried-and-true, best vegan chocolate chip cookie recipe that everyone will love. Easy to make, Simple ingredients, and Great for sharing with friends because they are vegan, allergy-friendly and gluten-free. 
Ingredients
2 cups flour (Bob's Red Mill 1-1 or AP flour)
1 teaspoon salt
1 teaspoon baking soda
1 teaspoon baking powder
3/4 cup vegan shortening (can also sub with solid coconut oil or room temperature butter- see notes below)
1/3 cup water
2 teaspoons pure vanilla extract
1/2 cup brown sugar
1/2 cup cane sugar
1/2 cup Enjoy Life Foods Chocolate Chips
Instructions
Preheat oven to 325° and line baking sheet with parchment.
In a medium bowl, whisk together flour, salt, baking powder, and baking soda.
In a larger bowl, use an electric mixer (or stand up mixer) and beat the shortening, water, vanilla extract, brown sugar and cane sugar until blended well. Don't worry if it looks a little chunky, that will disappear soon.
Stir in the flour, a little at a time until incorporated and then mix in the chocolate chips.
Scoop about 2 tablespoons of dough onto the prepared baking sheet, leaving about 2" between each dough ball. Bake approximately 12-15 minutes, until the edges begin to brown the the center is a pretty golden color.
Remove from oven and let cool a few minutes before final cooling on a cookie rack.
Notes
*If making smaller cookies, use a mini ice cream scoop and bake 10-12 min to start. 
**If you want your cookies a little flatter, simple tap pan on a solid surface after removing from the oven (don't forget to keep your oven mits on).
***Use coconut oil instead of shortening and reduce to 1/3 cup. If using butter, the quantity is the same.
Recommended Products
As an Amazon Associate and member of other affiliate programs, I earn from qualifying purchases. Please see my FULL DISCLOSURE POLICY for more details.
Nutrition Information:
Yield: 36
Serving Size: 1
Amount Per Serving:
Calories: 108
Total Fat: 6g
Saturated Fat: 3g
Trans Fat: 0g
Unsaturated Fat: 3g
Cholesterol: 2mg
Sodium: 109mg
Carbohydrates: 14g
Fiber: 0g
Sugar: 8g
Protein: 1g
Nutritional information is only an estimate based off of using an online calculator. Numbers will change depending on brands used.
Share something delicious