This is the ultimate vegan version of a classic black forest cake, made with moist chocolate cake, layers of sweetened vanilla whipped frosting, juicy cherries and topped with dark chocolate ganache.
Every bite of this Black Forest Cake is heavenly!
I love this Black Forest Cake but believe it or not, I used to greatly dislike it as a child. To be fair, I only ever tried the grocery-store version and they were simply terrible! Dry, bland and loaded with an oddly weird cherry filling – YUCK! But if you can make it yourself, with all the right ingredients, then it becomes almost magical!
So, if you are someone who thinks you don't like Black Forest Cake, I beg of you not to write it off yet. At least not until you try my recipe first! Give it a chance and I promise you will like it! And if you happen to dislike cherries, then I suggest baking my Chocolate Raspberry Cake instead 🤩.
Black Forest Cake (a.k.a Schwarzwalder Kirschtorte)
Now I know what you're thinking… Haven't you already done a black forest cake? To which I would have to tell you that I have never made a black forest cake for the blog. Like ever! I did make it for a custom order which I shared on Insta, and because you all were DM'ing me for the recipe, I figured it was time to share!
What is a Black Forest Cake?
Black forest cake is traditionally made with layers of moist chocolate sponge cake, soaked in Kirschwasser (brandy made from cherries), light and airy sweetened whipped cream frosting with a thick layer of sticky cherries in the middle.
It's quite an indulgent cake and I've finally perfected the ultimate vegan version for you! It's also kid-friendly, allergy-friendly and can be easily made gluten-free too!
Ingredients to make the Ultimate Black Forest Cake?
Vegan black forest cake is actually simple to make, even though there are quite a few ingredients (3 layers of delicious ingredients though)! If you're having a hard time finding anything, I included a helpful Substitutions list below. Here's what you'll need:
CAKE
Chocolate Cake: We all adore this chocolate cake used in this recipe. Feel free to use that one, or a safe store-bought cake mix. Just make sure it's chocolate!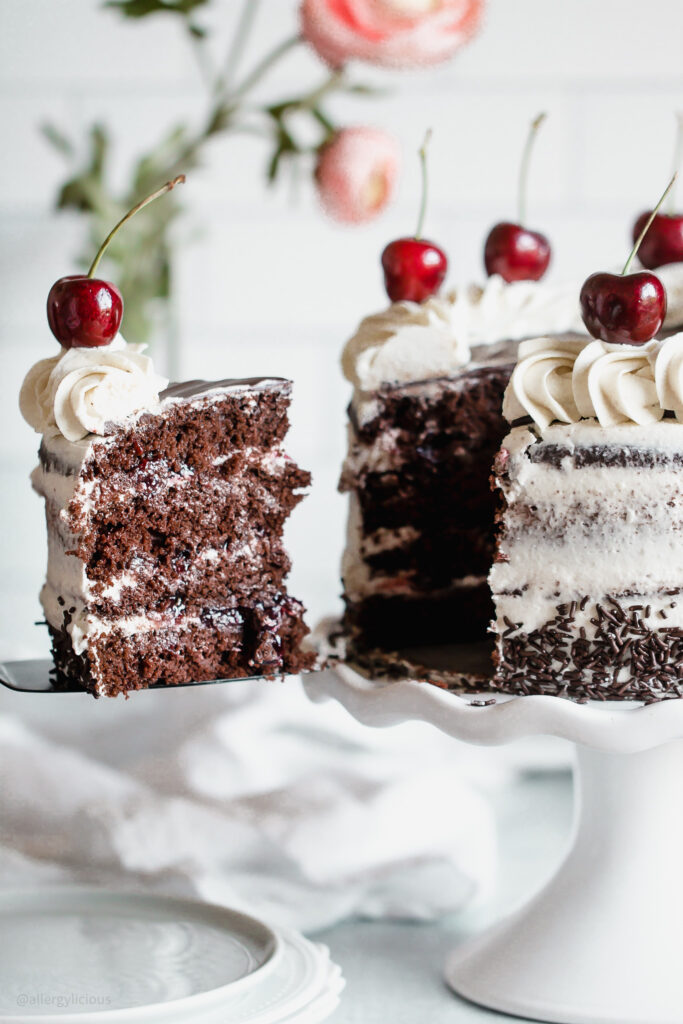 CHERRY FILLING
Frozen Cherries: Look for organic, tart cherries. They're deliciously tart & sweet.
Sugar: to sweeten this up and bring out the natural sugars of the cherries.
Vanilla extract: for flavor.
Artificial Rum or extra vanilla flavoring: this takes the place of liquor found in the traditional filling.
ASSEMBLY
Fresh cherries: Reserve the prettiest ones and keep the stems on them for extra height.
Whipped frosting: I used my homemade frosting instead of whipped cream since vegan whip can be hard to find.
Vegan ganache: Because we're extra like that!
Easy Black Forest Gâteau Substitutions
Chocolate Cake Mix instead of Homemade. Cake mix is a great thing option for this black forest cake recipe. Spokin has a list of allergy-friendly brands that you can check out HERE.
Canned Cherry Pie Filling. If you can't find frozen tart cherries, just use the canned kind.
Canned Frosting or Vegan Whip. While I absolutely adore homemade frosting, I totally get if you prefer the pre-made variety to cut back on time. You can also use vegan whip, but make sure to keep your cake refrigerated if you use this option.
Chocolate Sprinkles instead of Mini Chocolate Chips . If you didn't want to add that extra layer of ganache, try using chocolate sprinkles on the top and sides of the cake. It will still look beautiful!
If you're a Black Forest Cake fan, I hope you try this version! And if you're not, maybe this recipe will convert you. It is much better than the ones you can buy at the grocery store, I promise!
Black Forest Cake
Yield: 15
Prep Time: 15 minutes
Cook Time: 30 minutes
Additional Time: 15 minutes
Total Time: 1 hour
The ultimate vegan black forest cake, made with moist chocolate cake, layers of sweetened vanilla whipped frosting, juicy cherries and topped with dark chocolate ganache.
Ingredients
Chocolate Cake
3 cups all purpose flour (*or 1:1 Gluten free blend)
2 cups granulated cane sugar
2/3 cup cocoa powder
2 teaspoons baking soda
1 teaspoon sea salt
2 cups dairy-free milk (flax, coconut, soy)
1 cup vegetable oil (or neutral oil of choice)
1/4 cup vinegar (white or apple cider)
1 tablespoon pure vanilla extract
Cherry Filling
2 cups frozen cherries
1/4 cup granulated cane sugar
1 tablespoon pure vanilla extract (see notes if using kirsch or brandy)
Frosting
2 cups non-hydrogenated vegetable shortening
4 cups vegan powdered sugar
1 teaspoon pure vanilla extract
Flax or dairy-free milk if needed
Ganache
1 cup vegan chocolate chips
1/4 cup dairy-free milk 
2 tablespoon neutral oil
Instructions
Make the cake
Preheat oven to 350°. Lightly coat two 8" round cake pans or three 6" rounds with non-stick spray and line with parchment.
In a large bowl, whisk flour, sugar, cocoa, baking soda and salt. In a medium bowl, whisk the dairy-free milk, oil, vinegar and vanilla. Add wet mix to the dry and whisk just until combined.
Divide evenly between cake pans and bake for approx 25-30 minutes (rotating half way through), or until toothpicks unserted into the center of the cakes come out clean. Remove from oven and cool in pans.
Make the cherry filling
While the cake is baking, make filling. Combine cherries and sugar iIn a small saucepan and bring to a boil over medium heat. Cook and stir frequently for 7-10 minutes or until thickened a little. Transfer to a small bowl, stir inI vanilla and let cool.
Make frosting & ganache
In a stand mixer, beat the shortening until smooth using the whisk or paddle attachment. Slowly add powdered sugar and vanilla and beat until incorporated. Whip on high 2 minutes until fluffy, adding inI a splash of dairy-free milk if needed to thin.
Put chocolate chips and milk in a small microwave-safe bowl and microwave on high in 15 second intervals, stirring after each, until melted and smooth. Whisk is vegetable oil until smooth for extra shine.
Assemble
Unmold cooled cakes from pan, peel off parchment and plate one cake on a serving plate, bottom-side up.
Dollop frosting on the cake and create a little "well" in the center. Spoon on 1/3 cherry filling, including a little liquid into the middle and spread to the inside edge of frosting. Repeat with next layer.
For the top layer, add a thin layer of frosting, then spread the ganache evenly over the top. Top with remaining cherry filling.




Notes
Make it Gluten-free: Use 1:1 gluten free flour blend. If using a different GF flour, please check to see if xanthan gum is required.
**for substitutions, please see notes in blog post.
Nutrition Information:
Yield: 15
Serving Size: 1
Amount Per Serving:
Calories: 829
Total Fat: 49g
Saturated Fat: 15g
Trans Fat: 0g
Unsaturated Fat: 32g
Cholesterol: 20mg
Sodium: 340mg
Carbohydrates: 93g
Fiber: 3g
Sugar: 67g
Protein: 6g
Nutritional information is only an estimate based off of using an online calculator. Numbers will change depending on brands used.