This is the only Vegan Vanilla Layer Cake recipe you'll ever need because everyone loves it! It's easy to make and delicious. It's rich, fluffy and just sweet enough – just like a vanilla cake should be.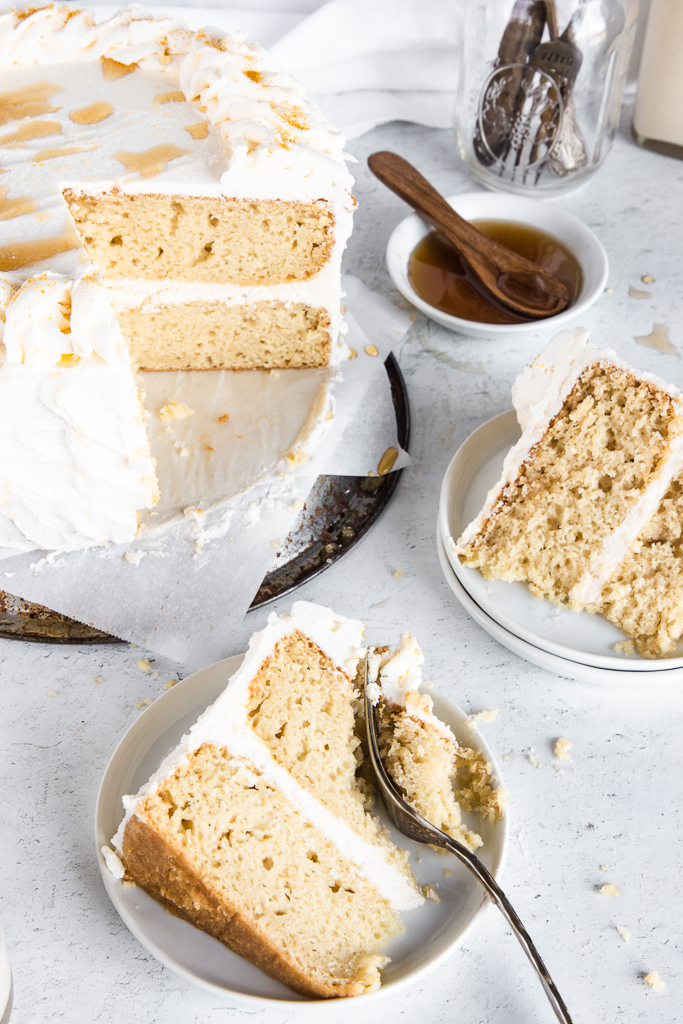 This recipe has been revised with new photos and a slight change in the ingredients to perfect it.
Easy Vegan Layer Cake Recipe
If there is one thing I have learned over the years, it's that food is more than calories. It provides satisfaction, pleasure, lasting memories and it brings people together. There's an emotional connection when we eat certain foods and there's a joy that it brings when you can share it with others. That is why I'm sharing this Vanilla Layer Cake with you today – to bring you joy!
I had wanted to share an easy vegan vanilla cake ever since I made a chocolate raspberry cake. Although that chocolate recipe is a HUGE hit on the blog, you all were still requesting a gluten-, dairy- and nut-free vanilla cake. How could I say no? Plus, I love fluffy vanilla cake!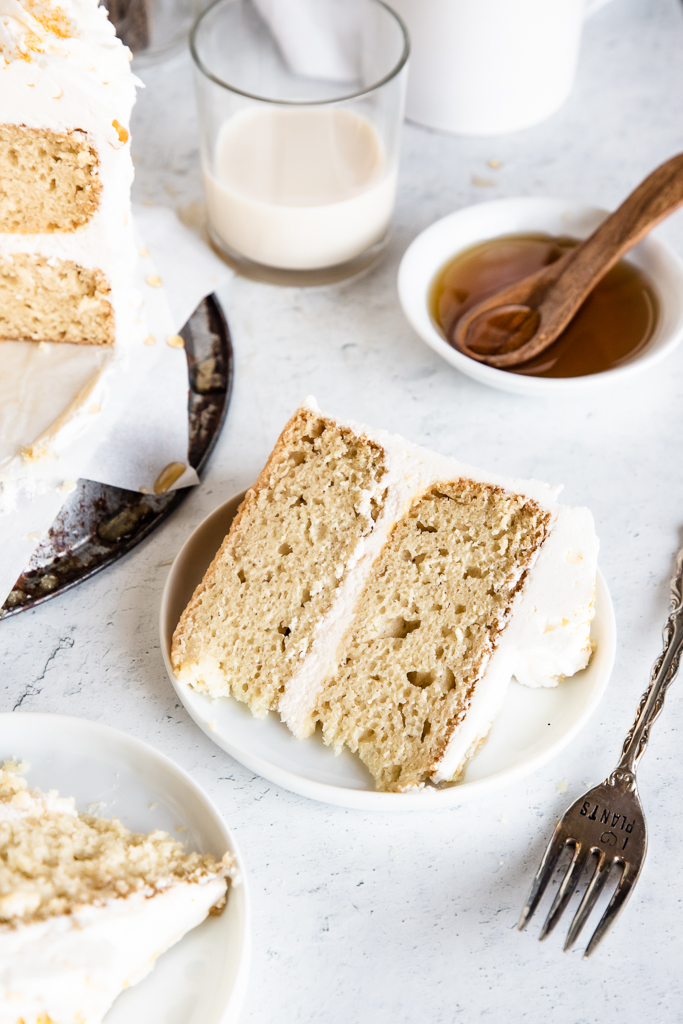 But this cake is so much more than the taste and ease of throwing it all together. It's about making a beautiful dessert that everyone can enjoy together.Wouldn't this be great over Fourth of July with all those red & blue berries or for your next special occasion – anyone's birthday cake coming up?
HOW DO YOU MAKE THE BEST GLUTEN-FREE CAKE?
Use great ingredients & FOLLOW this recipe as is.
Use a high quality vanilla extract, not artificial vanilla.
To make this gluten-free, I used Bob's Red Mill 1-1 Gluten-free Blend. It is the only gf blend I use based off of experimenting with so many other brands.
HOW DO YOU MAKE CAKES MOIST?
Vinegar! Contrary to what you may think, the acidity of this enhances the flavors and contributes to leavening and tenderness of this cake.
HOW DO YOU MAKE LIGHT AND FLUFFY VEGAN VANILLA CAKE?
Fluffiness comes from using the right amount of leavening agent (baking soda + vinegar); too much and the cake will collapse, too little and it will be dense.
Using vinegar will also lighten the cake batter.
If you head over to my German Chocolate Cake recipe you will see another way to get a moist and fluffy crumb using coffee.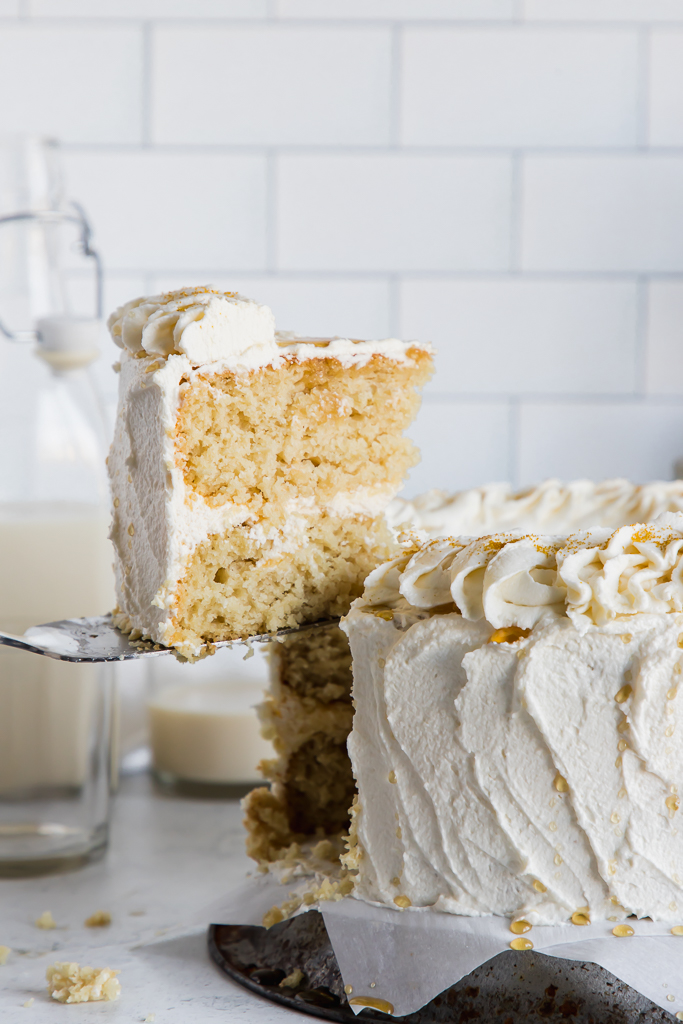 IS THERE A DIFFERENCE BETWEEN WHITE AND VANILLA CAKE
Vanilla cake is flavored with vanilla but a white cake typically means that the cake is whiter from using egg whites only (which we don't do here) or aquafaba. I tried the latter a few times, but I'm still working on perfecting that one! When I get it, you'll be the first to know.
A FEW TIPS FOR MAKING THE PERFECT VEGAN GLUTEN FREE VANILLA CAKE
Make sure your oven is baking at the right temperature because on over-baked cake can be dry and crumbly. An oven thermometer can help for accuracy.
Don't switch out the oil for butter. This vanilla cake recipe uses canola oil because it gives it the best possible taste while still preserving the soft, fluffy texture that you want. Using butter will actually likely make your cake more dense and dry. You can however, substitute another mild oil such as vegetable, safflower or grape-seed oil for the canola oil without issue.
Measure the flour exactly. I like to scoop my flour with a spoon then add to my measuring cup then level. This way it's not packed in there.
Don't overmix the batter. Stop mixing when everything is just combined.
Make sure that your vanilla cake cools completely before frosting! If it's warm at all, it's likely to melt the frosting.
If you're just making the cake layers, you can store the cake on the counter tightly wrapped or sealed in an airtight container. If you've frosted the cake, I recommend storing them in the refrigerator and not sitting out for more than 2 hours.
CRAVING MORE CAKE RECIPES?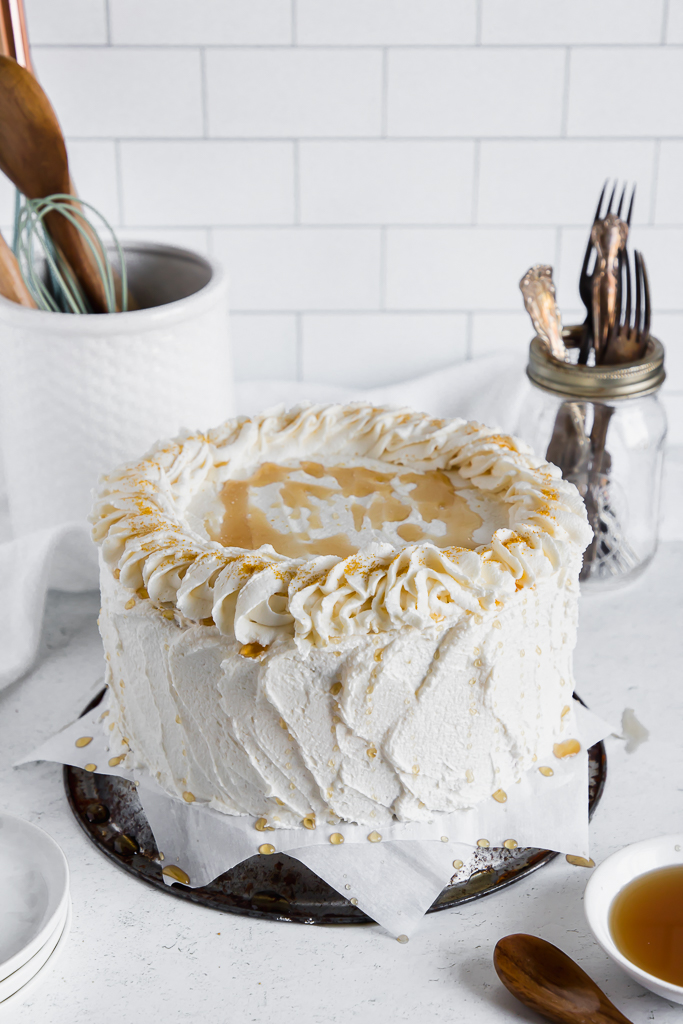 I hope you love this vanilla cake as much as we do. It's our favorite go-to cake for birthdays, holidays or simply just because!
If you enjoyed this recipe or have any questions, leave a comment down below and giving this recipe a rating ⭐️⭐️⭐️⭐️⭐️ so that others may find this recipe!
As always, if you make something from the blog, be sure to tag @allergylicious on Instagram so I can see your creations. Also, follow along with me on Instagram and Pinterest for more vegan & allergy friendly treats.
Fluffy Vegan Vanilla Cake Recipe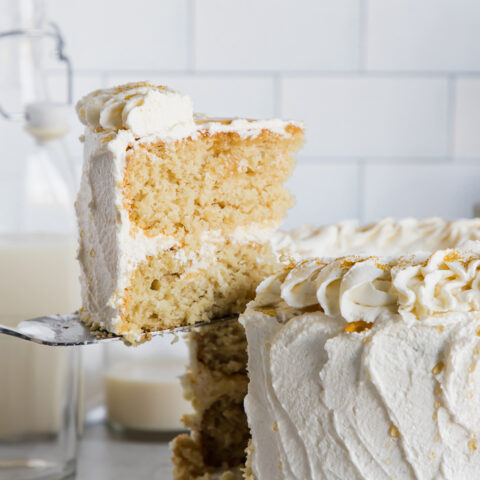 Vegan Vanilla Layer Cake
Yield: 2 9-inch cakes
Prep Time: 10 minutes
Cook Time: 35 minutes
Total Time: 45 minutes
This classic Vegan Vanilla Cake pairs fluffy vanilla layers with silky maple buttercream for the perfect cake to serve on any special occasion. 
Ingredients
Cake
2 cup non-dairy milk (such as flax, soy or rice)
2 tablespoons white vinegar
3 cups all purpose flour (or 1-1 gluten-free flour blend)  
1 1/2 cup sugar
2 teaspoons baking powder
1/2 teaspoons baking soda
1 teaspoon salt
2/3 cup light oil (like canola)
1 tablespoons pure vanilla extract
Maple Buttercream Frosting
1 cup cold butter
2 cups powdered sugar
3 tablespoons maple syrup
3 cups fresh berries (sliced strawberries, blueberries, raspberries or blackberries)
Instructions
To make the cake:
Preheat oven to 350° F. Lightly grease 2 8-inch round cake pans and line with parchment paper.
In a small bowl, mix together "milk" and vinegar then set aside to curdle, approximately 5 minutes.
In a large bowl, add flour, sugar, baking soda, baking powder and salt. Whisk.
Pour oil, vanilla and milk mixture into the dry and whisk just until combined.
Fill each cake pan evenly with batter and bake for 30-35 minutes (or until a toothpick inserted in the center of the cake comes out dry). Rotate the cake pans halfway through baking time.
Let cake cool completely before assembly.
To make buttercream:
Using a stand mixer or hand mixer, beat butter until smooth. Add powdered sugar and mix until combined then add in maple syrup. Increase speed to high and beat up to 5 minutes until light and fluffy.
To assemble the cake:
Once the cakes are cooled, run a knife around the inside edge of the pan to loosen and gently un-mold the cake. Peel off parchment paper and carefully slice the dome part of the cake for even assembly.
Place one cake on a serving plate. Pipe a layer of frosting on top. Place the second cake on top of the first. Top with more frosting. Drizzle with maple syrup and serve.
Notes
*If using GF flour, I have only tried this recipe using Bob's Red Mill 1:1 blend.  
Recommended Products
As an Amazon Associate and member of other affiliate programs, I earn from qualifying purchases. Please see my FULL DISCLOSURE POLICY for more details.
Nutrition Information:
Yield: 16
Serving Size: 1
Amount Per Serving:
Calories: 471
Total Fat: 24g
Saturated Fat: 10g
Trans Fat: 1g
Unsaturated Fat: 12g
Cholesterol: 34mg
Sodium: 355mg
Carbohydrates: 62g
Fiber: 2g
Sugar: 41g
Protein: 4g
Nutritional information is only an estimate based off of using an online calculator. Numbers will change depending on brands used.
Original image below with fresh fruit layers
Share something delicious