Strawberry Lemonade Cake. Fluffy vegan cake, brightened with fresh strawberries, lemon juice, zest and frosted with the most delicious sweet strawberry frosting… this sheet pan cake couldn't be more delightful or easy to make. Have I mentioned it's also easy to make gluten free?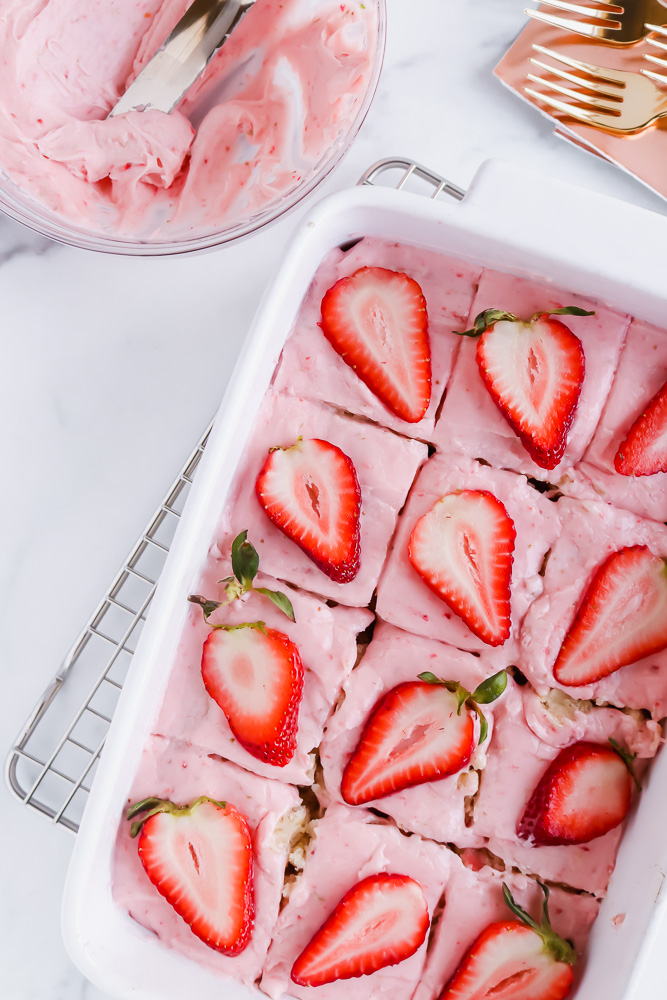 Meet my latest dessert crush. Vegan Strawberry Lemonade Cake! It is the perfect summer dessert – and just screams SUNSHINE!
Tart and sweet, tangy and fresh, this sheet pan cake is summer at its best. It's like sitting on the porch while sipping on a big 'ol glass of homemade lemonade, but in cake-form. And ya'll know how much I love cake. But this isn't your ordinary vanilla cake. It's tender with a refreshing kick of lemon, flecks of zest and fresh bites of strawberry dancing throughout every slice.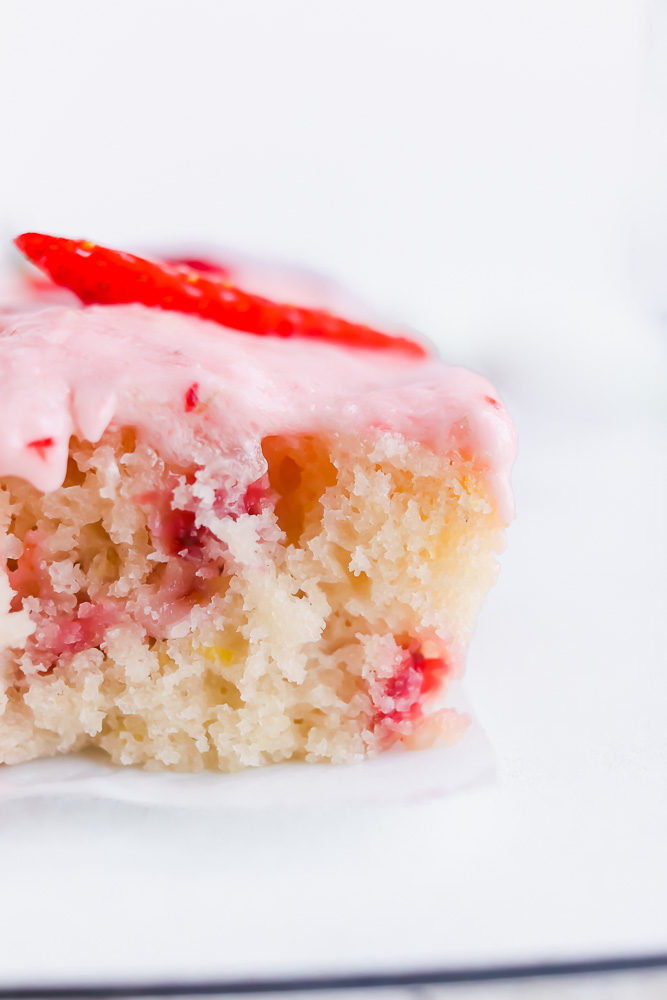 How to Make Strawberry Lemonade Sheet Cake
To get started with this vegan cake, you'll want the lemon zest to infuse into the sugar, so mix those together first. Then, in a small bowl, whisk together the wet ingredients – dairy free milk (we use Good Karma Flax Milk), freshly squeezed lemon juice (although store-bought 100% will do in a pinch), water, neutral oil (we used vegetable) and vanilla extract. Set aside.
The remaining dry ingredients get sifted into the sugar zest mixture. Then add in the wet and whisk by hand.
Gently stir in diced strawberries, leaving a handful to be sprinkled on the top the batter.
Strawberry lemonade cake: sheet cake or cupcakes?
I made the strawberry lemonade cake into a simple 9 x 13 sheet cake, but you could easily adjust this to be cupcakes. You would get at least 1 dozen regular-sized cupcakes, possibly up to 14, if you're lucky. If you try it, please let me know and share pics!
For this version, I wanted to simplify the process though. Making it an easy recipe to make in a hurry, and the perfect option for anyone who may be a little intimidated by decorating cupcakes or making a layered cake. So this strawberry lemonade sheet cake is really for anyone!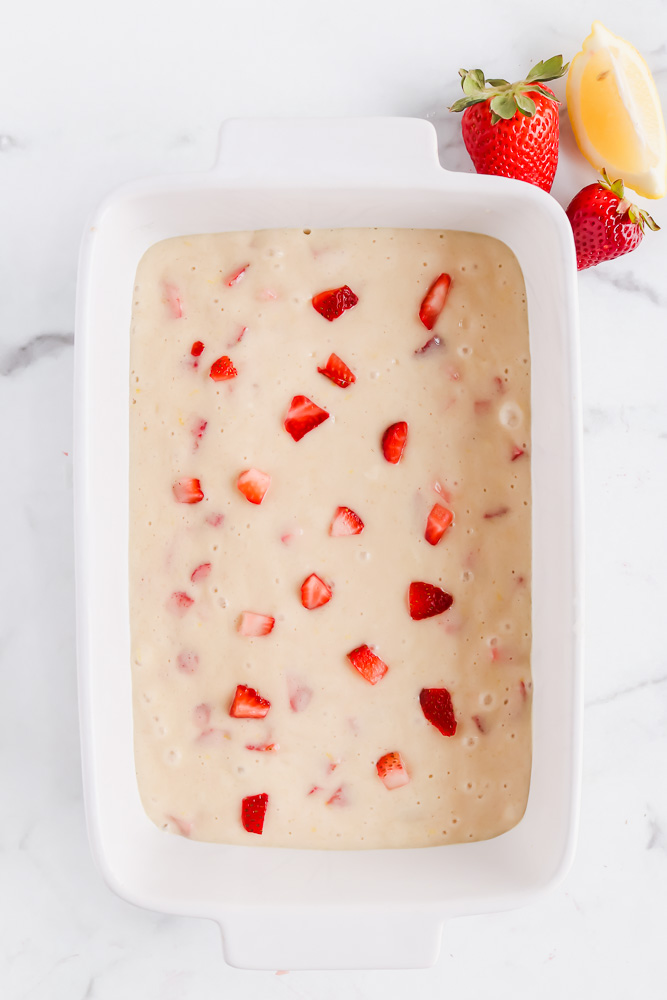 Pink lemonade frosting
Strawberry lemonade flavor is blended into the frosting too which makes it a lovely shade of pink. It makes "more than enough" frosting for the sheet cake and the perfect amount if making cupcakes. If you plan to frost your cupcakes with a tall generous swirl, you'll just want to cut back on some of the liquid so it stands tall. Don't worry, I'll tell you how to do that in the recipe section below.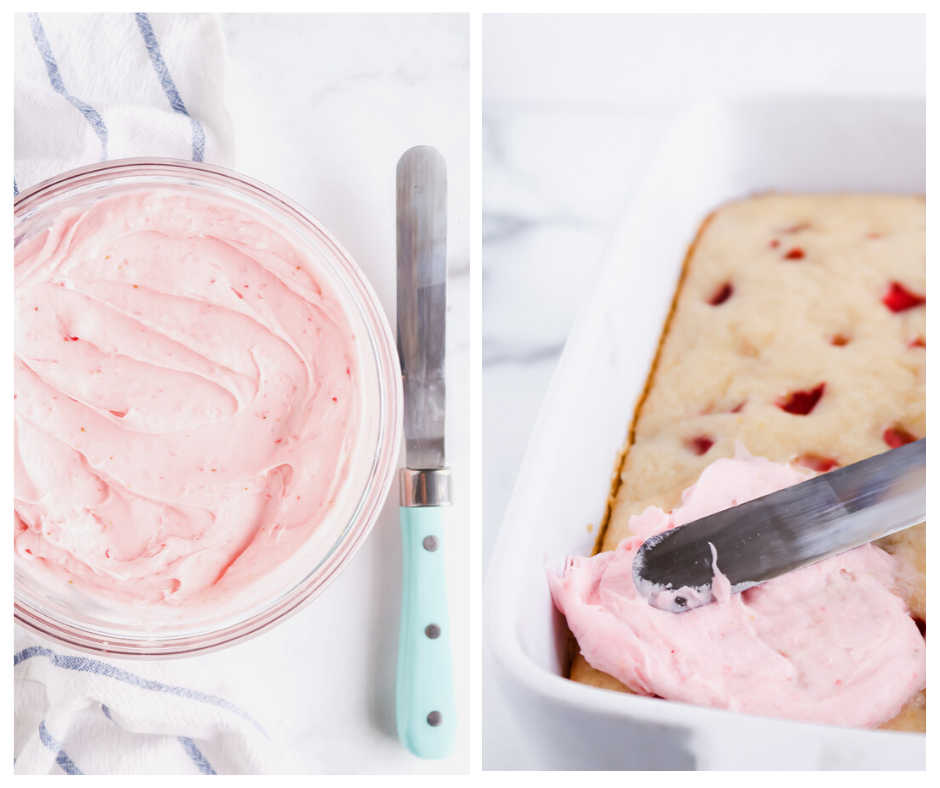 How to garnish a strawberry lemonade cake
It is so pretty all on it's own, but I decorated the strawberry lemonade cake with fresh slices of strawberries.  Leave this step for the very end, right before serving, because the natural sugars will start to seep from the berries and no one wants soggy cake!  Another option is to sprinkle with freeze-dried strawberries or pretty vegan shimmer pearls like these at Fancy Sprinkles. 
5 reasons for why you should make the strawberry lemonade cake TODAY
1. The lemon cake –The cake is light and fluffy, full of lemon-y goodness and each bite melts in your mouth.
2. The pink lemonade frosting – this is not your usual buttercream recipe. It's tender and airy, tart yet sweet and perfectly refreshing. You may just want to slather this on anything you can! 
3. All those strawberries – Not only do fresh berries make the cake even more delicious, the strawberries also serve to balance out the frosting and also work as a no-fuss decoration. Just add a few slices strawberries on top of the cake and it looks amazing, without a lot of effort.
4. It's vegan and can easily be made gluten free – Yes, this beauty of a cake is vegan, just like the others here on the blog! And if you'd like to make this gluten-free, simply use a cup-for-cup flour blend (like Bob's Red Mill 1:1) which already contains xanthan gum.
5. Super easy to make & take–One thing that's great about sheet cakes is the ease of making them. And although I'm a lover of layer cakes, when baking for a larger group or with only a little time to prepare, sheet cakes are handy to have. Plus, its easy to transport since it's already contained in 1 pan. 
Other Summertime Desserts You May Love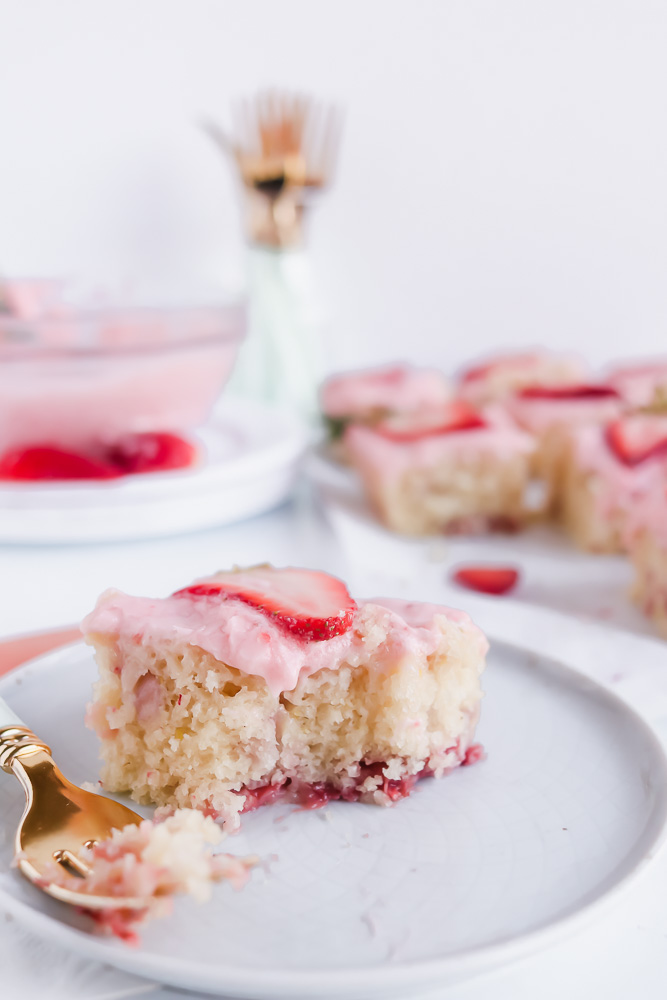 If you are looking for an easy cake to serve your family and friends this summer, make this Strawberry Lemonade Cake.  It makes you happy just looking at it!
Fair warning…this will disappear quickly! So grab a big slice and be prepared to make another pan asap!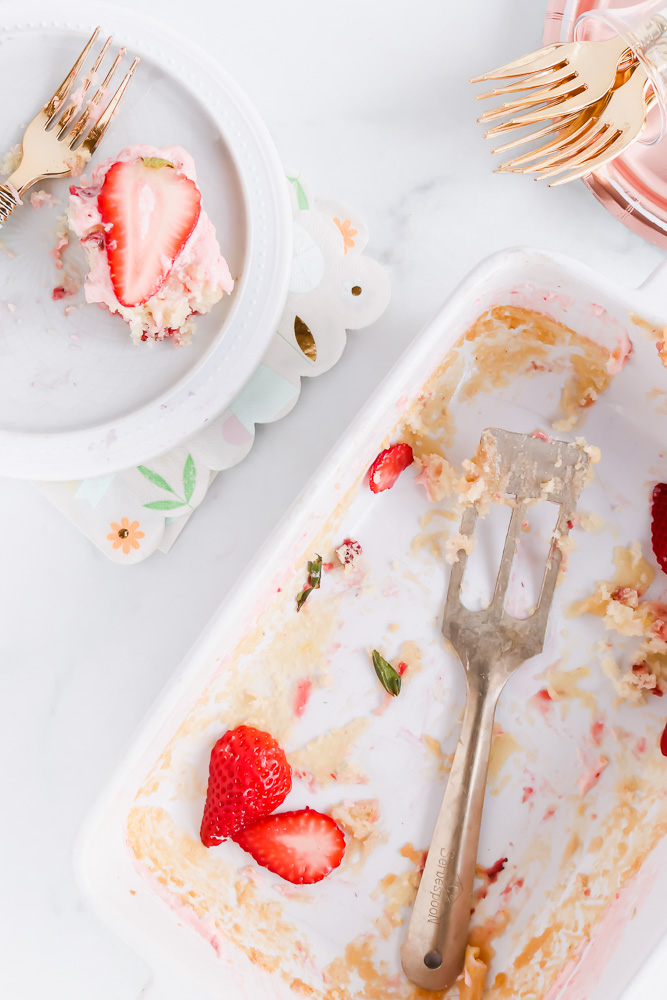 Vegan Strawberry Lemonade Cake
Yield: 12-15
Prep Time: 5 minutes
Cook Time: 25 minutes
Additional Time: 5 minutes
Total Time: 35 minutes
Meet my latest dessert crush. Vegan Strawberry Lemonade Cake! It is the perfect summer dessert and just screams SUNSHINE! Tart and sweet, tangy and fresh, this sheet pan cake is summer at its best. Nut-free with GF option.
Ingredients
Cake Ingredients
2 teaspoons lemon zest
1 teaspoon baking powder
1/2 teaspoon baking soda
1/2 teaspoon fine salt
1/4 cup fresh squeezed lemon juice
1/4 cup water
1/3 cup neutral oil (vegetable, safflower)
1 teaspoon lemon extract (can sub with vanilla extract)
1/2 cup diced strawberries (fresh, not frozen)
Pink Lemonade Frosting
1/4 cup strawberries, blended into a puree
1 teaspoon lemon zest
1 teaspoon vanilla OR lemon extract
Instructions
Cake Instructions
Preheat oven to 350°. Lightly coat 9x13" pan with non-stick spray and dusting of flour. Set aside.
In a large bowl, mix together sugar and lemon zest.
In a small bowl, whisk the wet ingredients: dairy-free milk, lemon juice, water, oil and extract.
Sift remaining dry ingredients (flour, baking powder, baking soda and salt) directly into the bowl with sugar/zest. Whisk then pour liquids into it. Stir by hand until it's all incorporated.
Fold in diced strawberries then pour into prepared sheet pan.
Bake 22-25 minutes, or until center of cake comes out clean when a toothpick is inserted in the middle. Allow to cool and make frosting.
Frosting Instructions:
Place shortening and vegan butter in a bowl with a stand-up mixer. Use paddle attachment and whip 1-2 minutes until smooth. Sift in powdered sugar then add lemon zest and extract. Whip until nice and fluffy then blend in 3-4 tablespoons of strawberry puree, or until spreadable for your cake. **If frosting cupcakes, use only 2 tablespoons puree so it is easier to pipe.

Assembly:
Spread layer of frosting, as much or as little as you'd like, on cake while in pan and decorate with slices of fresh strawberries or sprinkles.

Notes
* If making cupcakes, line 14 muffin cups and fill 2/3 full with batter. Bake 20-22 minutes at 350°. Let cool then decorate with a piping of frosting.
Recommended Products
As an Amazon Associate and member of other affiliate programs, I earn from qualifying purchases. Please see my FULL DISCLOSURE POLICY for more details.
Nutrition Information:
Yield: 15
Serving Size: 1
Amount Per Serving:
Calories: 415
Total Fat: 24g
Saturated Fat: 11g
Trans Fat: 1g
Unsaturated Fat: 12g
Cholesterol: 37mg
Sodium: 248mg
Carbohydrates: 49g
Fiber: 1g
Sugar: 36g
Protein: 2g
Nutritional information is only an estimate based off of using an online calculator. Numbers will change depending on brands used.
Share something delicious