These buttercream flowers are beautiful, elegant, and can add just right touch to any cake! Just check out this tutorial to learn how to make them!
This post is sponsored by Nielsen-Massey Vanillas. I've received products to make this recipe, but these are products I already purchase for my own family.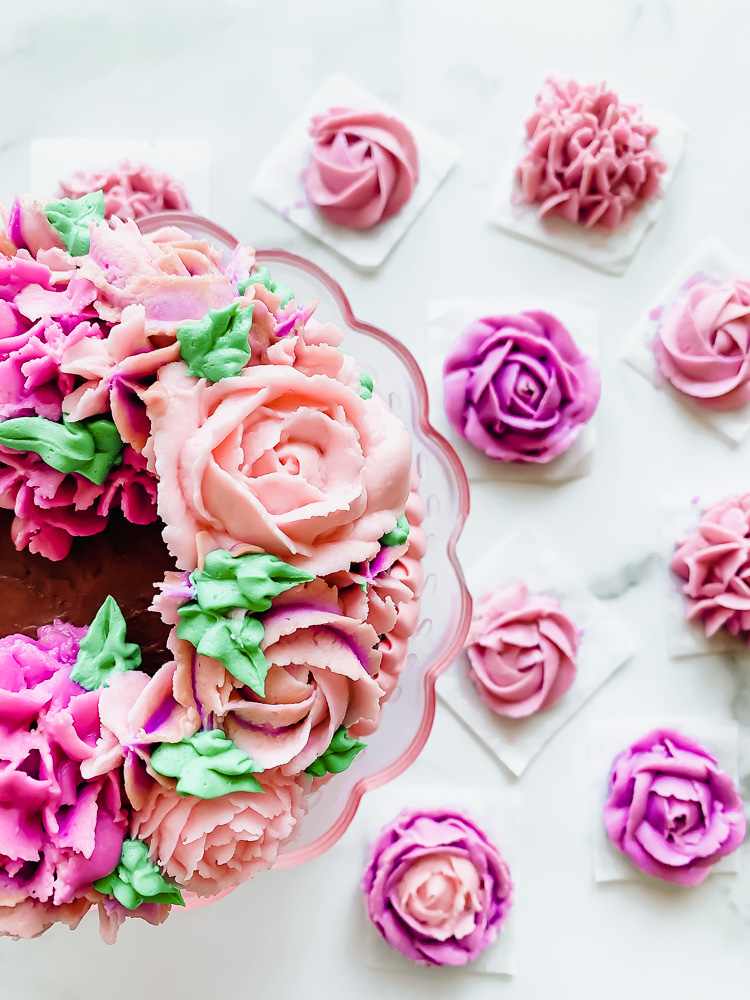 I've never thought of myself as a cake decorator, in fact, I never even knew I could decorate a cake until I had to! The first few "decorated" cakes I made were simply covered in lots of rosette piping and fondant. So, to up my "game", I watched alot of "how to decorate cakes and cupcakes" on YouTube and then practiced a ton.
Over the years, I've continued working on my cake decorating techniques and since starting an allergy-friendly home bakery, it's pushed me out of my comfort zone. Then, Neilsen-Massey Vanillas asked ME to share a video on how to make buttercream flowers! I was so excited, because I love their products but also a little nervous! I mean, in all honesty I'm NO Pro. However, what I am is a normal mom, who loves to bake and loves to try new things. Which is a lot like you all! And if I can do this, then I know you can too!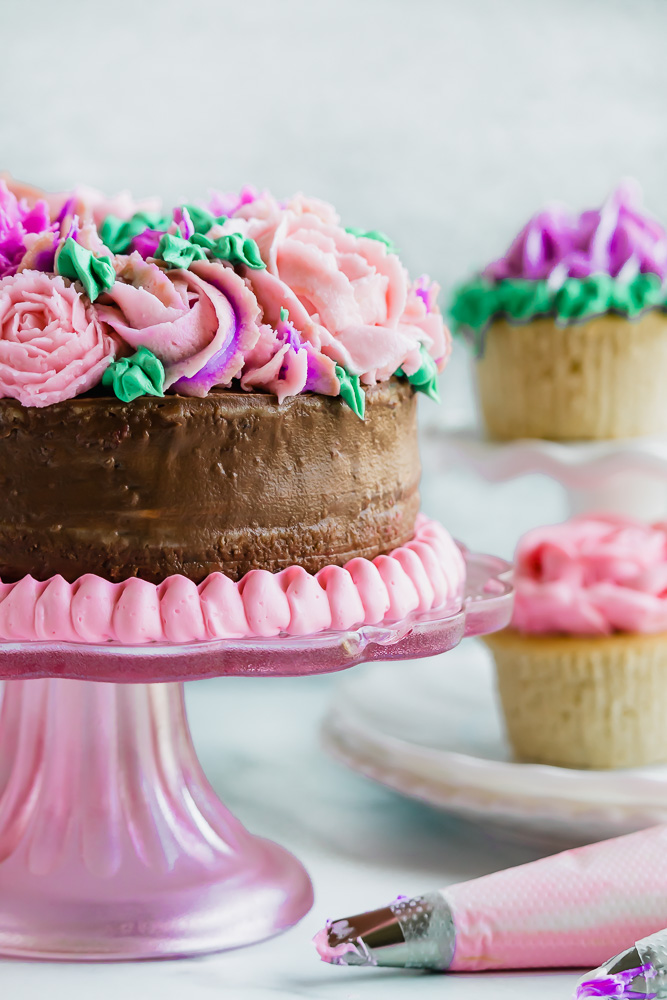 How To Make Buttercream Flowers Video
I know there's a lot of information on the video, so let's break down some key points on how to easily make Buttercream Flowers.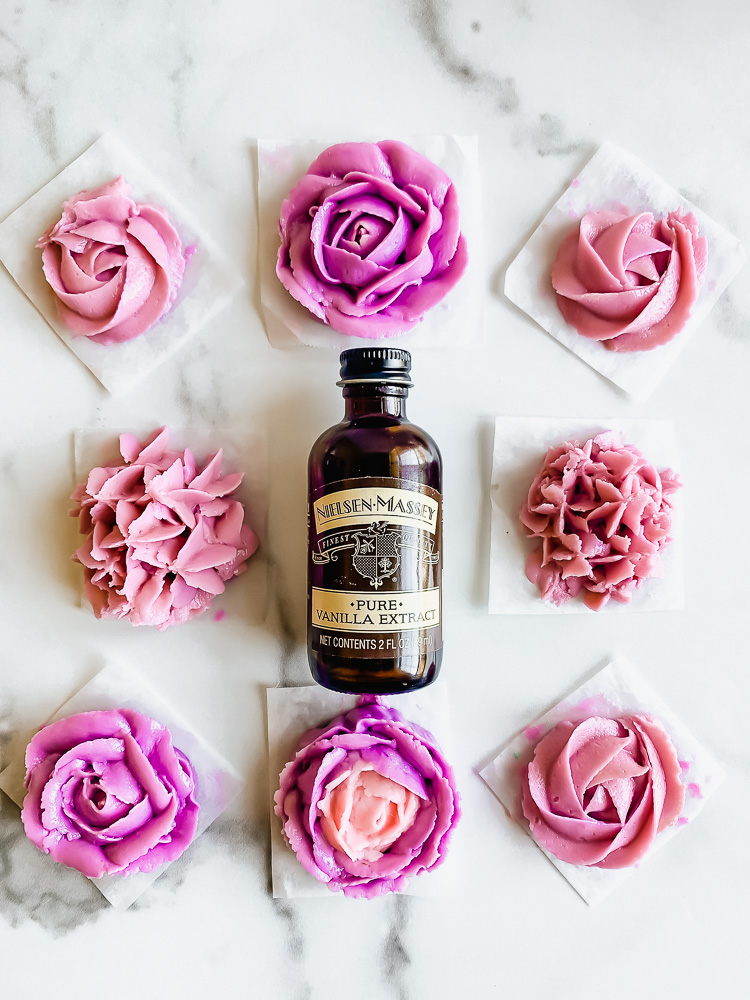 Buttercream Ingredients Matter:
Sure buttercream flowers look pretty but they should also taste good, too! Which is why I always use my trusted buttercream icing recipe (included below). It's thick but creamy which makes it ideal for decorating, and tastes amazing, you'll be tempted not to lick the spoon.
What makes this buttercream sooooo good is that it's made from quality ingredients, such as vegan butter & shortening, vegan powdered sugar and Nielsen-Massey Vanilla Extract.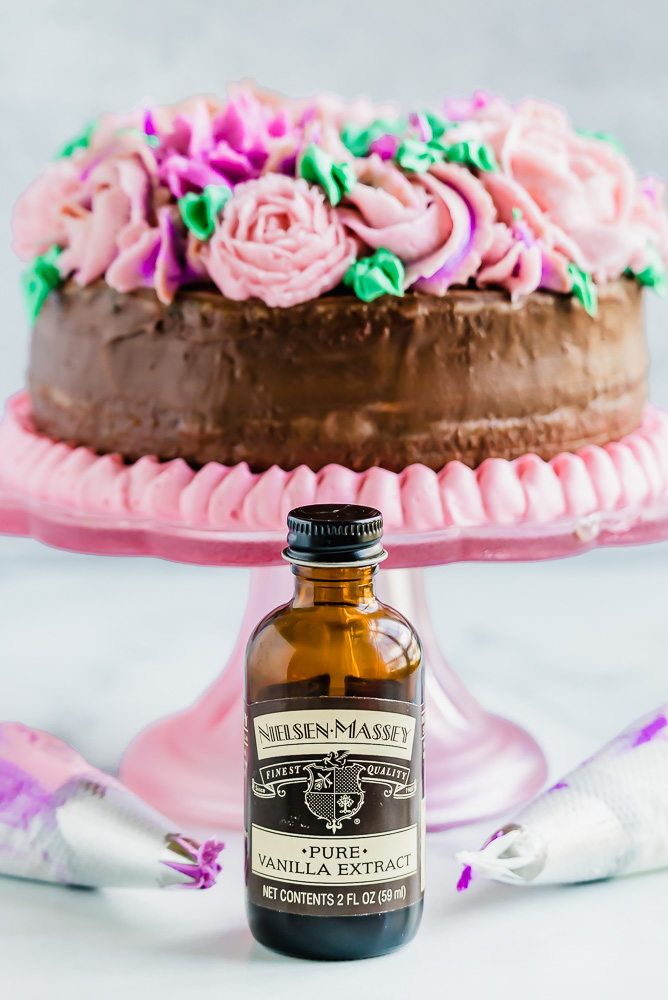 Better Your Bake
So why Nielsen-Massey over other vanillas? Aren't all vanilla extracts equal? Actually no! I never knew that until I started baking more and looking for better-for-you ingredients to make all these delicious desserts. Here's what I learned and why I love using Nielsen-Massey Vanillas.
Pretty cool huh? And not only do I use them in this buttercream recipe, but I also use their vanillas in my cakes, cupcakes, cookies and more!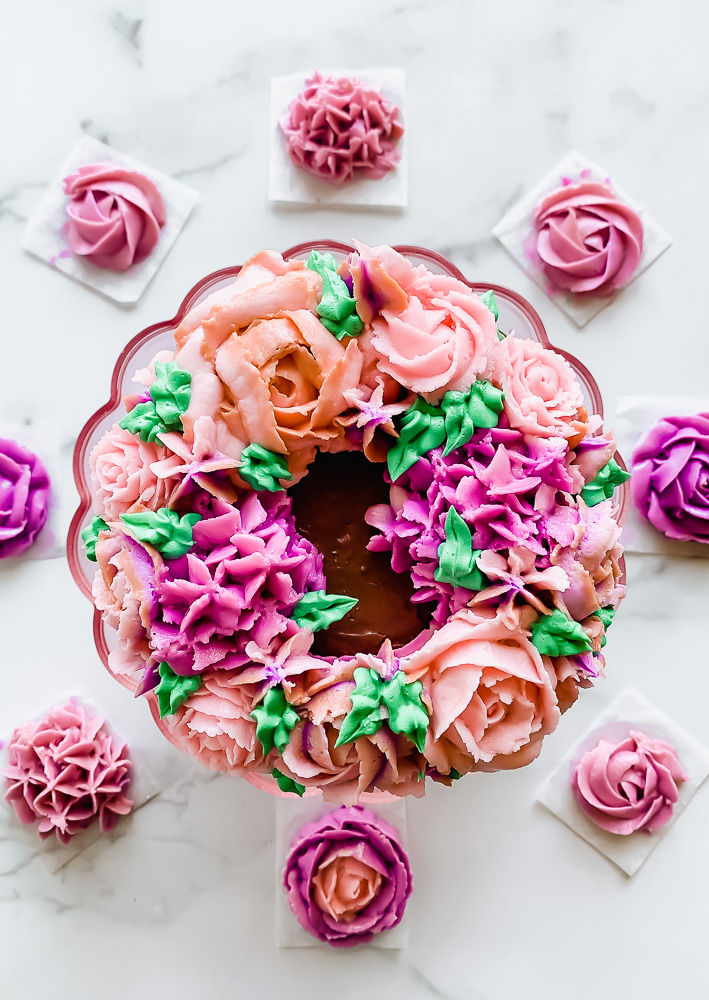 The Perfect Vegan Buttercream Frosting
This Vanilla Buttercream Frosting is a definite must! Quick and easy to make and well-loved for its taste and texture. It's light, smooth and spreadable, making it the best for frosting cupcakes, cakes, and sugar cookies. A little extra powdered sugar was added for this recipe which is perfect for creating flowers or piped messages. And because it's light in color, you can easily achieve the right color hue when mixing with gel colors OR if you prefer super white frosting, simply swap out the vegan butter and prepare the entire frosting with shortening.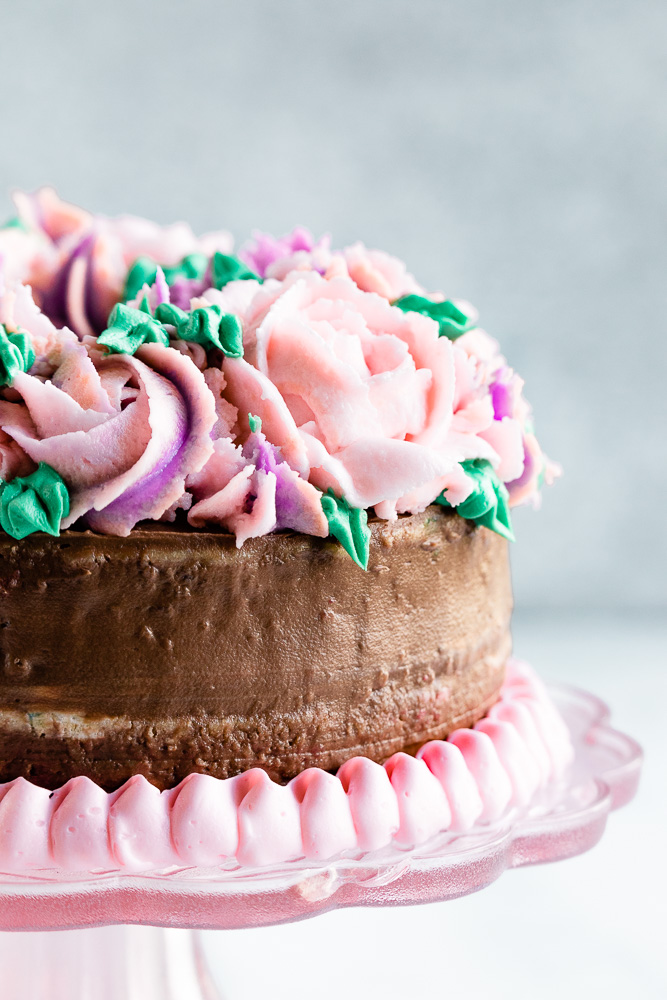 Buttercream Flowers Tips & Tricks:
Prep for success: 
Making flowers: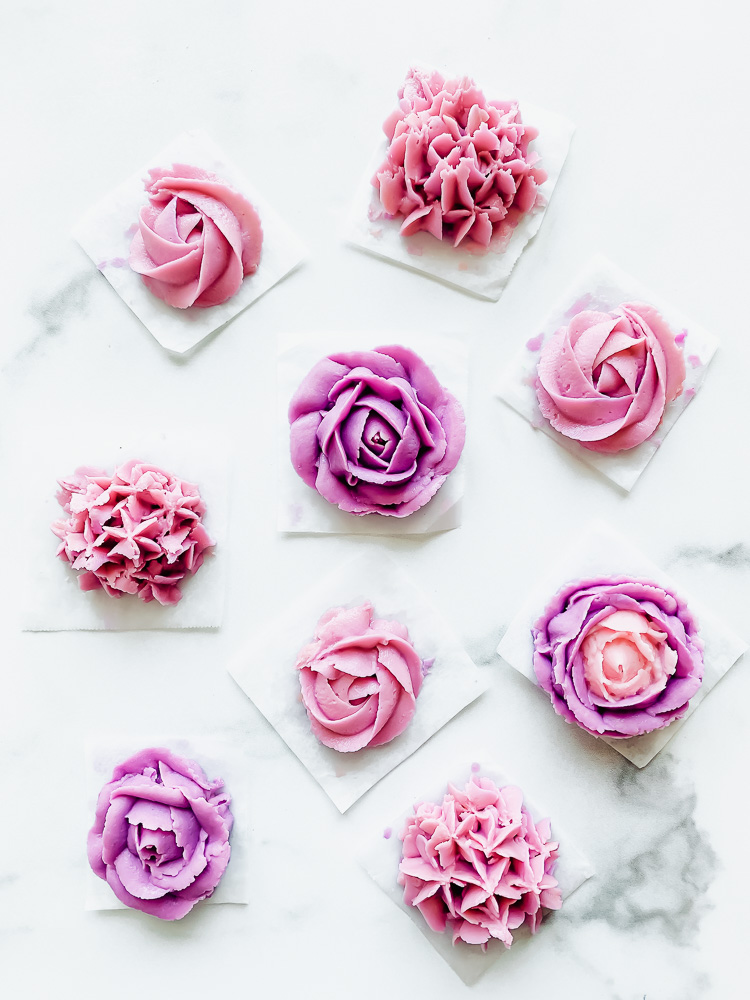 My Favorite Buttercream Flower Hack:
Need a Refresher? Check out this Fun Tik Tok Video
I hope by sharing this tutorial, you'll feel confident enough to decorate your own cake. Just remember to have fun! Not all flowers in nature are perfect or symmetrical, so embrace mistakes and know that even if it's not perfect, it will still taste amazing!
You can find more instructions and tips about creating buttercream flowers here.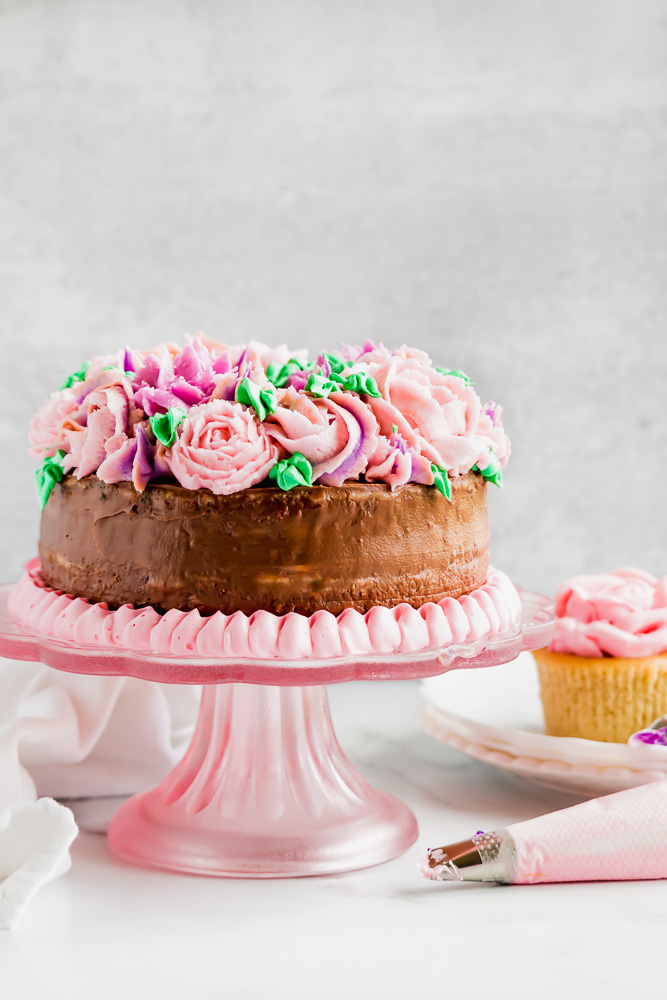 If you need more ideas or inspiration decorating, be sure to visit https://nielsenmassey.com/betteryourbake/
Try one of these Layered Cake To Decorate:
Easy Vegan Buttercream Flowers
Yield: 2 Cups
Prep Time: 10 minutes
Additional Time: 30 minutes
Total Time: 40 minutes
These vegan buttercream flowers are beautiful, elegant, and can add just right touch to any cake!
Ingredients
2 tablespoons dairy-free milk or creamer
Instructions
In a large bowl, beat shortening and butter with an electric mixer using the paddle attachment until light and fluffy for about 1 minute. Beat in vanilla.
Gradually add sugar, one cup at a time, starting by mixing on a low speed then beating well on medium speed. Scrape sides and bottom of bowl often. When all sugar has been mixed in, frosting will appear dry.
Gradually add milk or water; beat at medium speed until light and fluffy.
Notes
This buttercream recipe is for medium consistency, which is excellent for piping decorations like flowers. However, it will need to be thinned for icing birthday cakes and borders.
To make whiter buttercream, simply replace "butter" with all shortening.
Recommended Products
As an Amazon Associate and member of other affiliate programs, I earn from qualifying purchases. Please see my FULL DISCLOSURE POLICY for more details.
Nutrition Information:
Yield: 12
Serving Size: 1
Amount Per Serving:
Calories: 228
Total Fat: 9g
Saturated Fat: 4g
Trans Fat: 0g
Unsaturated Fat: 5g
Cholesterol: 6mg
Sodium: 7mg
Carbohydrates: 37g
Fiber: 0g
Sugar: 36g
Protein: 0g
Nutritional information is only an estimate based off of using an online calculator. Numbers will change depending on brands used.
You can find more information on Nielsen-Massey here: