Extra chocolaty, rich, chewy, vegan brownies with swirls of SunButter and that much desired, crackly top.
Vegan Brownie Bliss
These are the most delicious, one-bowl, gluten-free vegan brownies that you'll ever make! I've actually posted these a few times on social media, but wasn't ready to share the recipe I knew it was perfected. Happily, I can say that after 6 batches in the last 2 weeks, today is the day I can say that these brownies are PERFECT. Chewy, fudgy, uber-chocolaty, decadent brownies with that coveted crackle top….YES!!!! These brownies will make you smile outloud when you take a bite….they are just that amazing!
If you've been around Allergylicious long enough, then you know my love for chocolate. Cake, cupcakes, pancakes, waffles, no-bake bites, frozen treats…I've done it all but brownies have always been my nemesis! It's just been so darn tricky to get those perfect vegan brownies without the use of gluten, butter and eggs. But because I think vegan and gluten-free should taste as good as the real thing, I just had to keep at it. No one should be ok with a brownie that's gooey, spongy, gel-like or dry, right? Thankfully, after a lot of testing and a few extra pounds (thank goodness for the gym) I finally perfected a batch of delicious vegan brownies that could be whipped up just as easily as conventional ones, without the use of weird ingredients.
Vegan Brownie Ingredient Swaps
Typically I like to bake with coconut oil, but found in this vegan brownie recipe, a neutral-flavored vegetable oil was the best swap for butter.
And since we aren't using eggs, a small amount of baking powder was all we needed to give our brownies the perfect amount of lift and structure—without the need for any packaged egg replacers.
As for the flour, well I played around with several brands and the one that yielded the best results was Bob's 1-to-1 Gluten-free Flour. Keep in mind that this brand is not made in a nut-free facility, so choose what is safe for your family, but you may have to test out a few batches if you choose a different flour.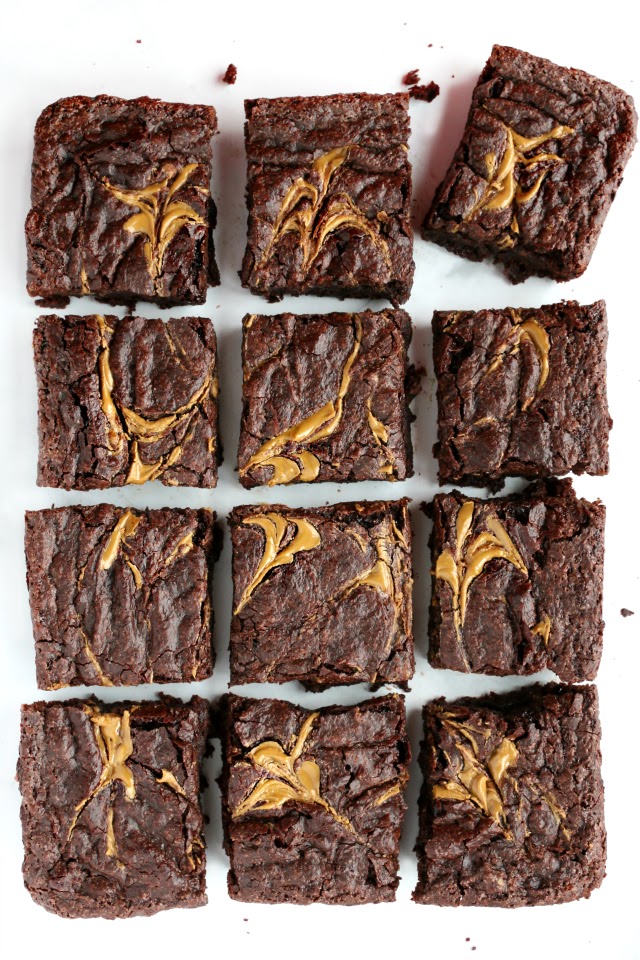 SunButter Swirls
Do you know what makes these vegan brownies stand apart from all others? It's that delightfully creamy swirl of SunButter, baked into the crackly top. There's something almost magical about that nutty, warm seed butter, delicately dancing with each sweet chocolate bite. And in the world of allergy-friendly desserts, chocolate and SunButter are simply made to go together!
I can't even tell you how good these brownies are! You HAVE to make them! These are the kind of brownies you just can't say no to. In fact, every time I walked by the pan, I HAD to have a taste! These are the kind of brownies that turn a boring day into a celebration. These are the kind of brownies you want to share with your friends.
Look How Easy They Are To Make
Do yourself a favor and whip up a batch of these vegan brownies ASAP. Scroll down to grab the full recipe and check out a few more Chocolate favs!
Chocolate Sunbutter Surprise Cupcakes
Chocolate Banana SunButter Bites
Vegan Gluten-free Brownie Recipe
Easy Vegan Gluten-free Brownies
Yield: 16-24 brownies
Prep Time: 5 minutes
Total Time: 5 minutes
These are the most delicious, one-bowl, vegan & gluten-free brownies that you'll ever make! Extra chocolatey, rich, chewy, with swirls of SunButter and that much desired, crackly top.  Kid approved, nut-free too. 
Ingredients
2 cups 1-for-1 gluten-free flour mix (or All Purpose flour)
2 cups vegan cane sugar
3/4 cup cacao powder (can also use cocoa)
1 teaspoon baking powder
1 teaspoon salt
1 cup water
1 cup oil (vegetable or melted coconut oil) 
1 1/2 teaspoon vanilla extract
1/4 cup creamy SunButter (or nut butter of choice)
Instructions
Preheat oven to 350°. Lightly grease 9x13 metal baking pan and coat with flour or cacao powder.
In a mixer bowl, add flour, sugar, cacao, baking powder, and salt. Gently whisk together.
Add in water, oil and vanilla and using whisk attachment, mix together until blended.
Pour into prepared baking pan, and spread evenly. Drop teaspoon sized amounts of SunButter evenly spaced on the top of brownie batter, then using a knife, drag it through the SunButter, creating a swirl pattern.
Bake 25-30 minutes. Top will be crackled and center will come out clean when inserted with a toothpick. Let cool 20 minutes then cut and serve.
Recommended Products
As an Amazon Associate and member of other affiliate programs, I earn from qualifying purchases. Please see my FULL DISCLOSURE POLICY for more details.
Nutrition Information:
Yield: 20
Serving Size: 1
Amount Per Serving:
Calories: 237
Total Fat: 13g
Saturated Fat: 1g
Trans Fat: 0g
Unsaturated Fat: 12g
Cholesterol: 0mg
Sodium: 142mg
Carbohydrates: 28g
Fiber: 1g
Sugar: 20g
Protein: 2g
Nutritional information is only an estimate based off of using an online calculator. Numbers will change depending on brands used.
Craving More?
Sign up for the Allergylicious newsletter for a fresh serving of content delivered every week to your inbox! Grab a copy of my eBook and stay in touch on Instagram, Facebook, Twitter and Pinterest for all of the latest updates.
Share something delicious