Delight your taste buds with this Chocolate SunButter Bar, layered on a sweet cookie crust.
Chocolate SunButter Bars recipe is a sponsored post, created through my partnership with SunButter. All opinions are my own. 
You know we love SunButter, right? 
My ode to SunButter includes a delicious mousse, a SunButter and jelly cookie sandwich, easy fudge, and protein cups (a must try!!), just to name a few. I find any and every excuse to bake with my favorite nut-free spread. In fact, I just made two more new recipes this past week and can't wait to share those with you soon .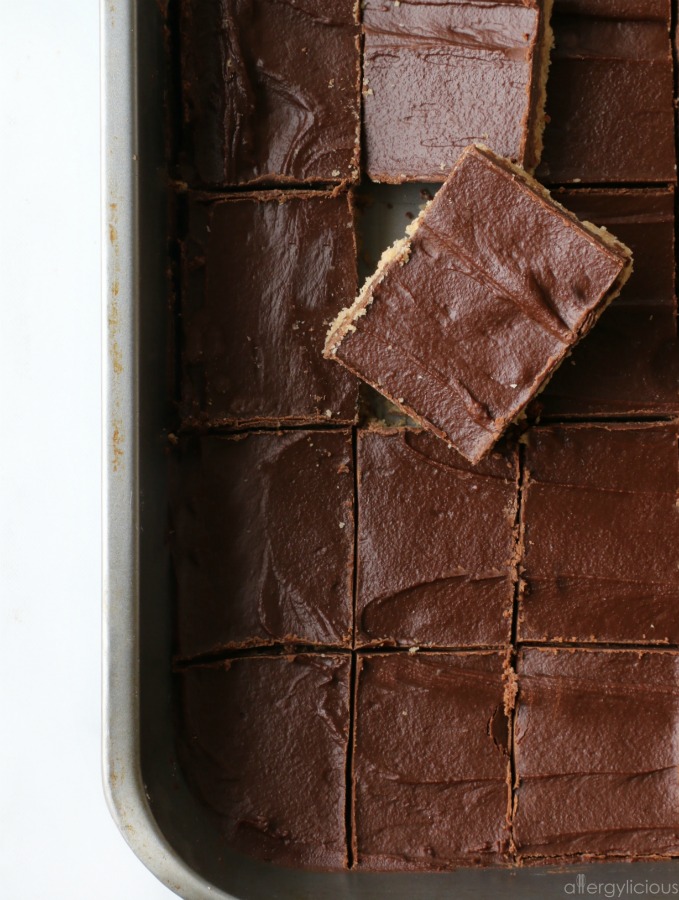 But these Chocolate SunButter Bars are the latest addition to our collection. I've made these numerous times before and cannot believe that I've never actually put them on the blog yet. It may have something to do with the fact that they get eaten up before any photos have been taken….a downside to baking while the kids are home. 😉
I must admit that this Chocolate SunButter Bars recipe is pretty spectacular! Between the soft, chewy and buttery cookie base and it's SunButter chocolate layer, there's an abundance of goodness in every bite.
It's hard to resist the combination of cookie, chocolate and SunButter!
Chocolate SunButter Bars are perfect for sharing too! Just one recipe makes an entire cake pan full, which makes them a party favorite. Adults and children alike absolutely love them and since they are Top 8 Free, you can joyfully give to those around you and fearlessly gobble them up yourself.
Look how easy these are to make
I highly suggest making these today. After all, pure deliciousness awaits!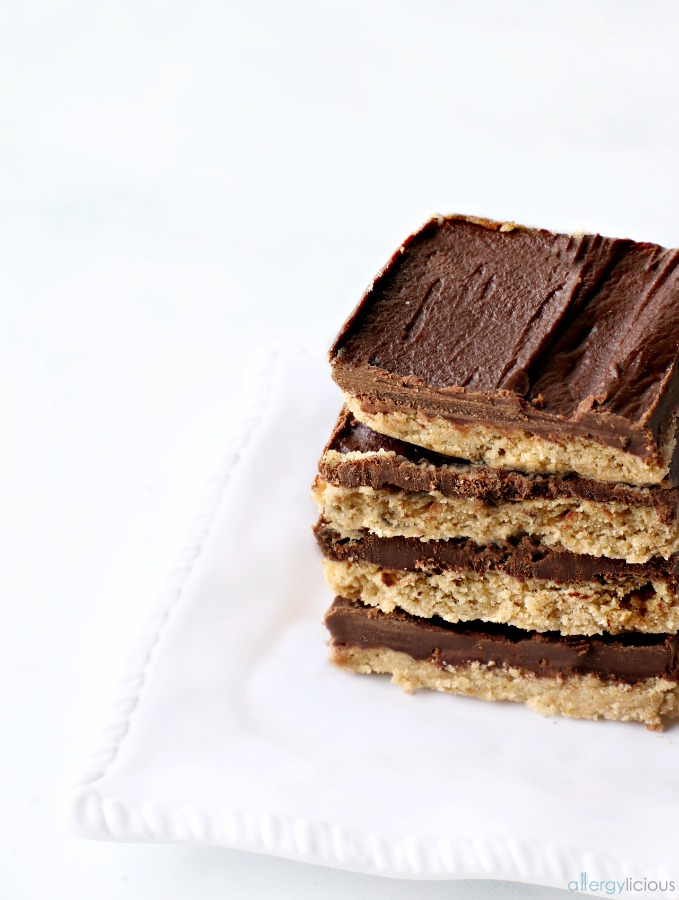 And while the cookie crust is baking, check out these other creations using SunButter :
Chocolate SunButter Bars
Yield: 20-24 bars
Prep Time: 7 minutes
Cook Time: 20 minutes
Total Time: 27 minutes
Ingredients
Cookie Base
3/4 cup dairy free butter, softened
1 cup packed brown sugar
1 egg substitute (such as Neat Egg or Bob's Egg Replacer)
2 teaspoons vanilla extract
1/2 teaspoon salt
2 cups GF Flour (used Bob's Red Mill 1-to-1 Gluten-free Flour )
Chocolate Topping
1 bag dairy-free chocolate chips
3 tablespoon dairy free butter
1/4 cup hot, strong coffee
1/4 cup Natural SunButter spread
1 cup confectioner's sugar
Instructions
Heat oven to 350°. Lightly oil 9x13 baking pan.
In a large bowl, beat butter then add brown sugar and whip until fluffy. Add in egg replacer, vanilla extract and salt. Slowly add in flour and mix only until incorporated.
Spread evenly in pan and bake 20 minutes then cool.
Melt chocolate and butter together (1 minute in microwave OR in a small saucepan). Stir to smooth. Whisk in coffee and SunButter until combined. THEN, stir in confectioner's sugar until smooth.
Smooth onto cooled cookie base and refrigerate 30-60 minutes, or until set.
Cut into squares and serve.
*will last 1 week if refrigerated in a sealed container.
A HUGE thank you to SunButter for partnering with me to share this recipe. My family & I just LOVE this company and their commitment to providing safe foods for those with food allergies or restrictions. All of their products are certified Top 8 Free and available online at Amazon as well as most local grocery stores.
Craving more?
Allergylicious has an eBook  filled with over 50 of our most loved DESSERT recipes.
Facebook, Twitter and Pinterest for news, posts and more!
YouTube is NEW! Follow our page and keep all your favorite vegan & allergy-friendly recipes in 1 place. Plus we have some fun things coming soon.
Pin for Later