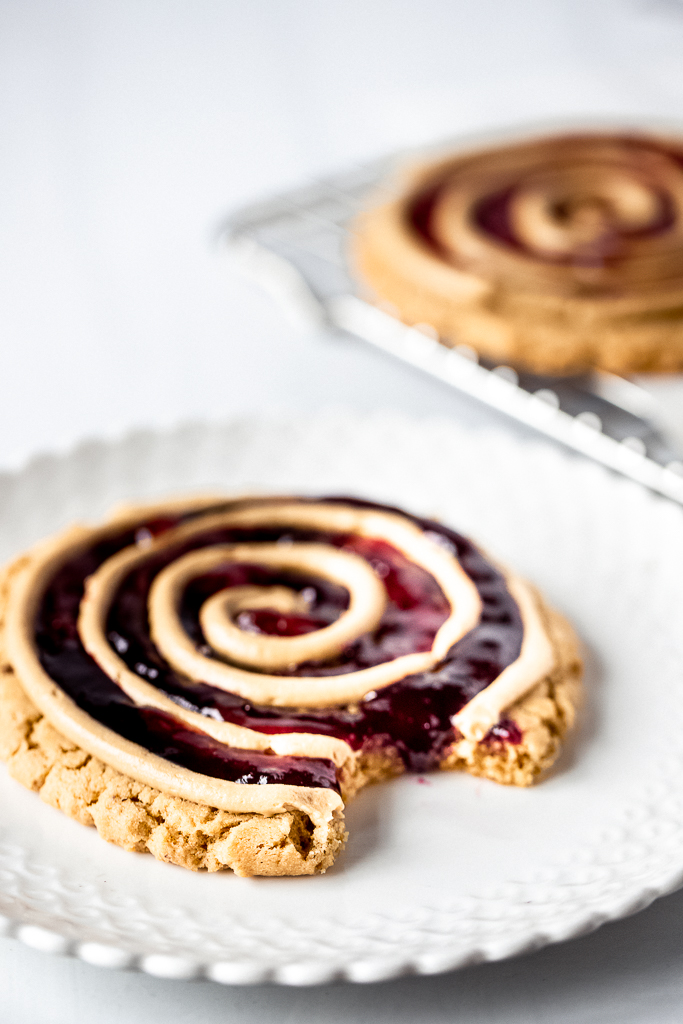 This post is sponsored by SunButter
PB&J WITHOUT THE PB
Love the classic PB&J combo without the PB? Then you'll love these Crumbl SunButter and jelly cookies made with a soft SunButter cookie then frosted with swirls of SunButter buttercream and raspberry jam. The burst of flavor is simply unreal!
PB&J is an absolute classic and one of my favs growing up. However, if you have a peanut/nut allergy like my son, then you learn how to replace those childhood favorites with something else. For us, it's been SunButter and honestly, it's so dang good, we could eat it straight out of a jar. But bake it into a cookie then swirl on some jelly, and now we're taking it to a new level!
These Crumbl SunButter and Jelly Cookies are just like your favorite childhood sandwich, but in cookie form. They are soft, chewy, and full of flavor and each bite will transport you back to your childhood.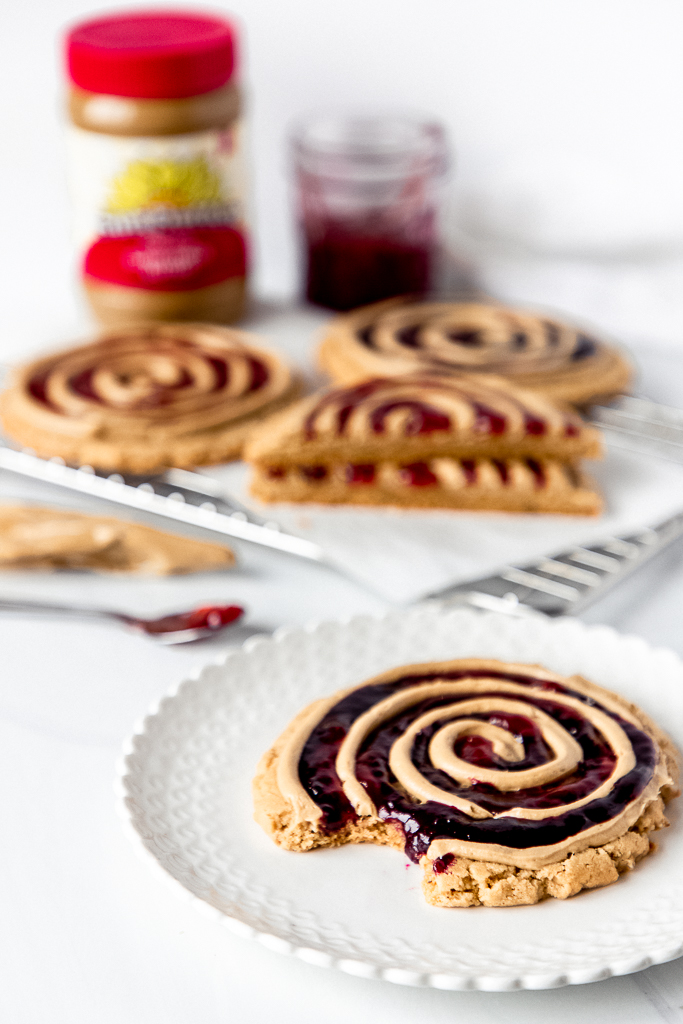 THIS IS THE BEST SUNBUTTER AND JELLY COOKIE EVER!
When I try my hand at making copycat cookies, I always try to get it as close to the real thing as possible…looking at the ingredients, then editing them to make them vegan and nut-free. The goal is for anyone who loves and/or wants to try a CRUMBL cookie, to easily make a batch from the comfort of their home. The bonus is that you know what's inside and that they are allergy-friendly.
With this recipe, I can tell you that we delivered! This copycat creation is easy to make, soft, chewy, so full of flavor and freakin' delicious!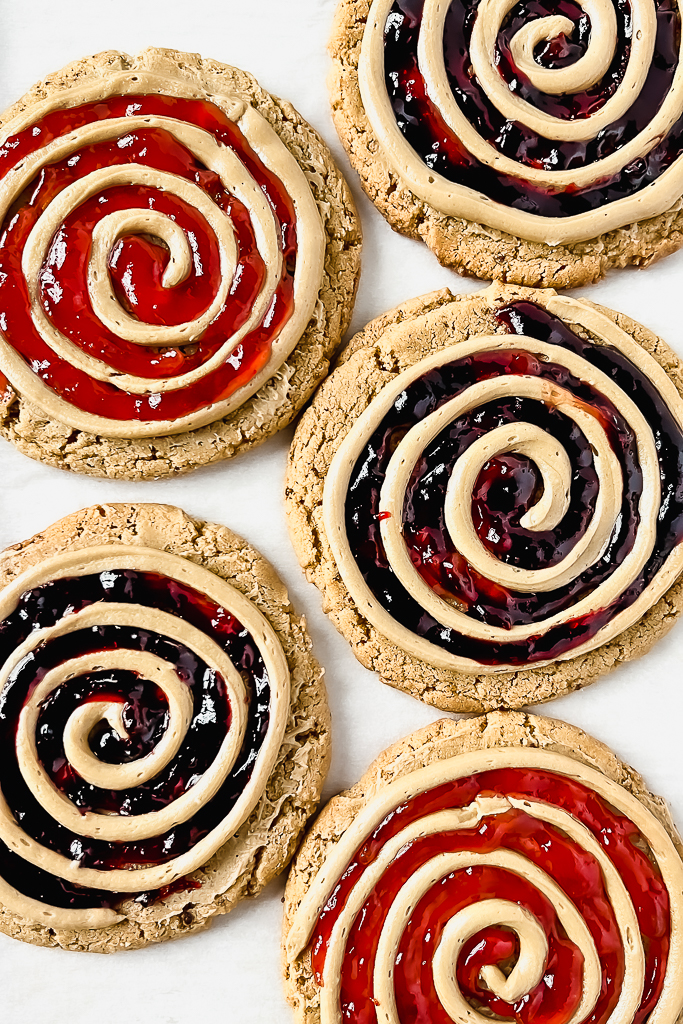 WHY YOU NEED TO MAKE THIS RECIPE!
These SunButter and jelly cookies are the ultimate comfort food cookie with LOTS of flavor.
This recipe yields very thick, soft and chewy SunButter cookies.
They are vegan (dairy free & egg free), nut free, allergy-friendly.
The swirls of SunButter buttercream and raspberry jelly takes your cookies to next level.
Easy to make using simple ingredients in less than an hour!
The kids all agreed that these are a new favorite cookie.
INGREDIENTS FOR THESE CRUMBL SUNBUTTER AND JELLY COOKIES
Here are the ingredients you will need to make these insanely delicious cookies. Scroll down to the recipe card for measurements.
SunButter– I used SunButter's Creamy variety (its in the red jar).  Feel free to change that up with their Natural or Organic version, making sure to stir and incorporate any oils that may have risen to the top. 
Vegan Butter– Softened unsalted butter is used for both the copycat Crumbl cookie and the vegan SunButter buttercream.
Brown sugar & granulated sugar– The combination of both sugars bring an extra depth of flavor and keep them soft too.
Flax Egg– The slurry of flax meal + water makes our egg which is the binding agent of this cookie. (I haven't tried this recipe with any other egg replacer).
Vanilla– Simply because it's a must.
Flour– All purpose flour was used. Make sure to spoon and level the flour so that the cookies don't turn out dense. 
Baking powder & baking soda– The baking powder & baking soda are used to leaven the cookies, making them nice and fluffy. Make sure they are fresh and active for best results.
Corn starch– The corn starch will keep your cookies melt in your mouth.
Salt– Balances out the sweetness of the cookies. (Omit this if you used salted butter).
Powdered sugar–Sifted powdered sugar makes a light and fluffy SunButter buttercream.
Raspberry jam – Use your favorite, quality preserves and feel free to sub with Strawberry or another berry of choice. 
HOW TO MAKE CRUMBL SB&J COOKIES
This is how you can make these delicious cookies. Detailed instructions included on the recipe card!
Cream the butter, SunButter, brown sugar, and granulated sugar in a large mixing bowl.
Add in the flax egg slurry and vanilla extract then mix until smooth.
Mix in the flour baking powder, baking soda, corn starch, and salt, just until incorporated.
Using a large cookie scoop (ice cream scoop or 1/4 cup), scoop out 8 equally sized cookie dough balls, roll, then gently flatten them to about into a thick disc and freeze for 15 minutes on sheet pan.
Divide cookie discs between 2 parchment lined cookie trays to prevent spreading.
Bake the cookies in the preheated oven then let them cool on the sheet pan.
MAKING VEGAN SUNBUTTER BUTTERCREAM
Spoon the frosting into one piping bag and scoop the raspberry preserves into the second piping bag.
Using the Sunbutter frosting, pipe a circular spiral onto the top of the cookies leaving about ¼ in in between for the strawberry preserves.
Pipe the raspberry preserves in between the SunButter swirls.
Enjoy!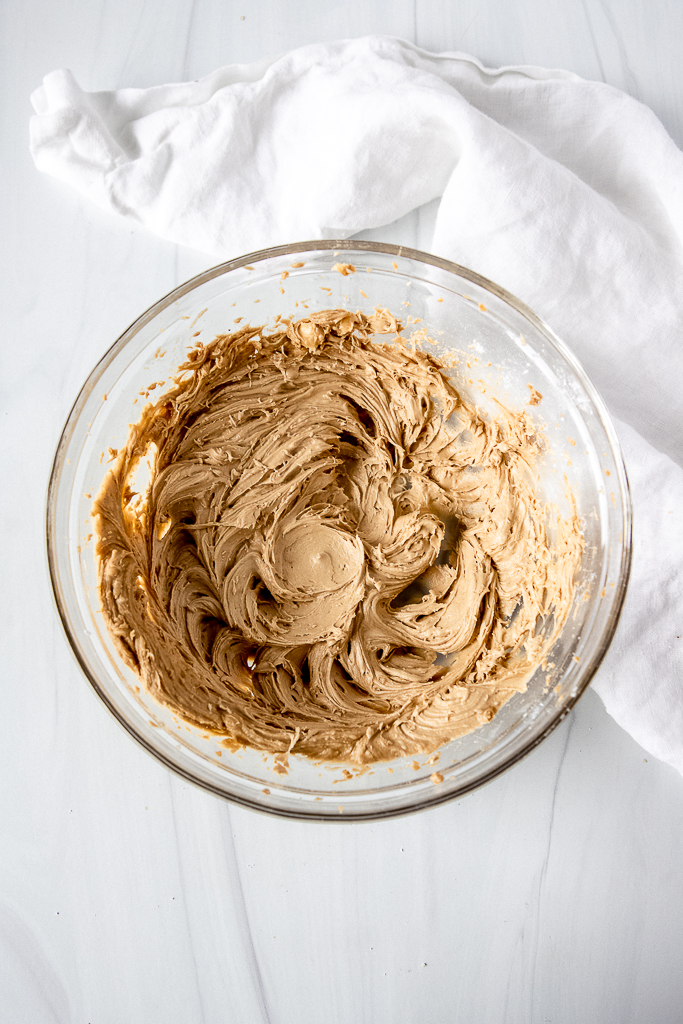 FREQUENTLY ASKED QUESTIONS – FAQ
HOW TO STORE THESE CRUMBL SUNBUTTER AND JELLY COOKIES?
You can store these cookies with the frosting in an air-tight container in the fridge for up to 4 days. Make sure to let them get back down to room temperature before serving so the frosting is not hardened.
They will also stay fresh 2 days on the counter in a sealed container.
CAN YOU FREEZE THESE COOKIES?
Yes you can! I would recommend that you freeze the cookies without the frosting and vegan buttercream separately in an airtight container.
Once you're ready to enjoy your cookies, remove from the freezer and transfer to the fridge overnight to thaw. Then whip up the frosting one more time to get it light and fluffy, frost and enjoy.
CAN I USE ANY SUBSTITUTIONS?
This recipe has been made a number of times to get you the closest to the best tasting cookie you've sunk your teeth into. However, some other jam flavors you might love would be:
Strawberry jam
Grape jelly
Black berry, Boysenberry or Mixed Berry jam
You could also try swapping out Creamy SunButter with one of these varieties:
Natural
Chocolate
Organic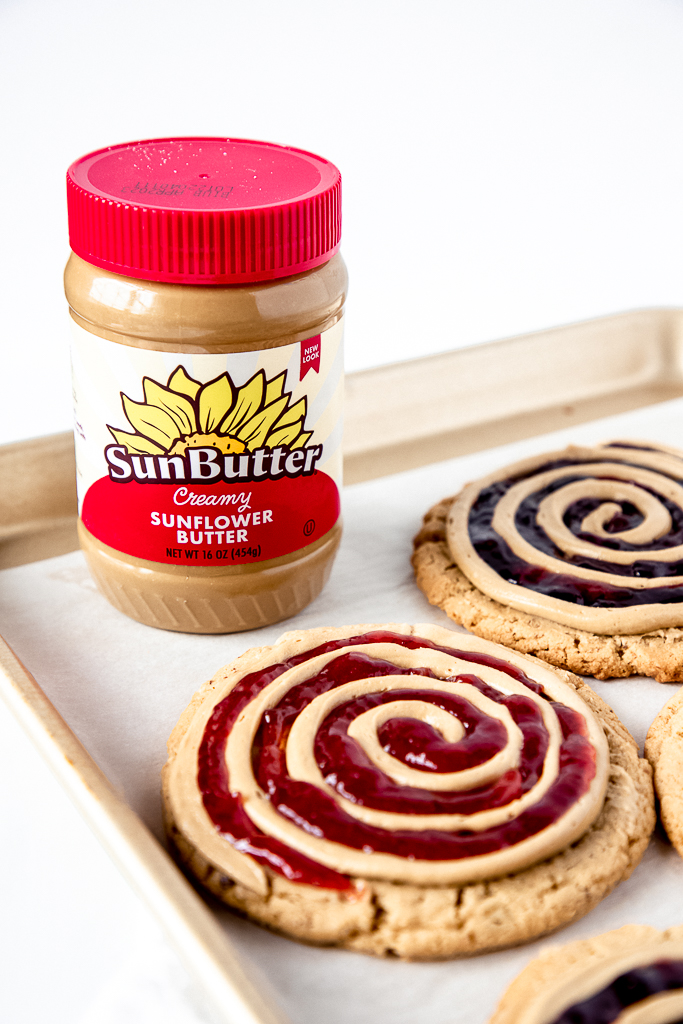 CAN I MAKE THESE SUNBUTTER COOKIES GLUTEN FREE?
You will have to try and let me know. Typically when I make GF desserts, I opt for this flour but I didn't try it with this Crumbl cookie copycat. Be sure to comment below if you did and its results.
WILL THE SUNBUTTER TURN GREEN?
A natural occurrence that often happens when baking with sunflower seed butter is that it can start turning green in color due to the chlorogenic acid (a plant polyphenol similar to chlorophyll) in sunflower seeds reacting with the baking soda/powder. Don't worry though, its completely harmless if this happens. HOWEVER, with my middle now in college and my hubs out of town, this last batch has been left to my son and I to eat and therefore, there are leftovers 3 days later. None of which have turned green💚.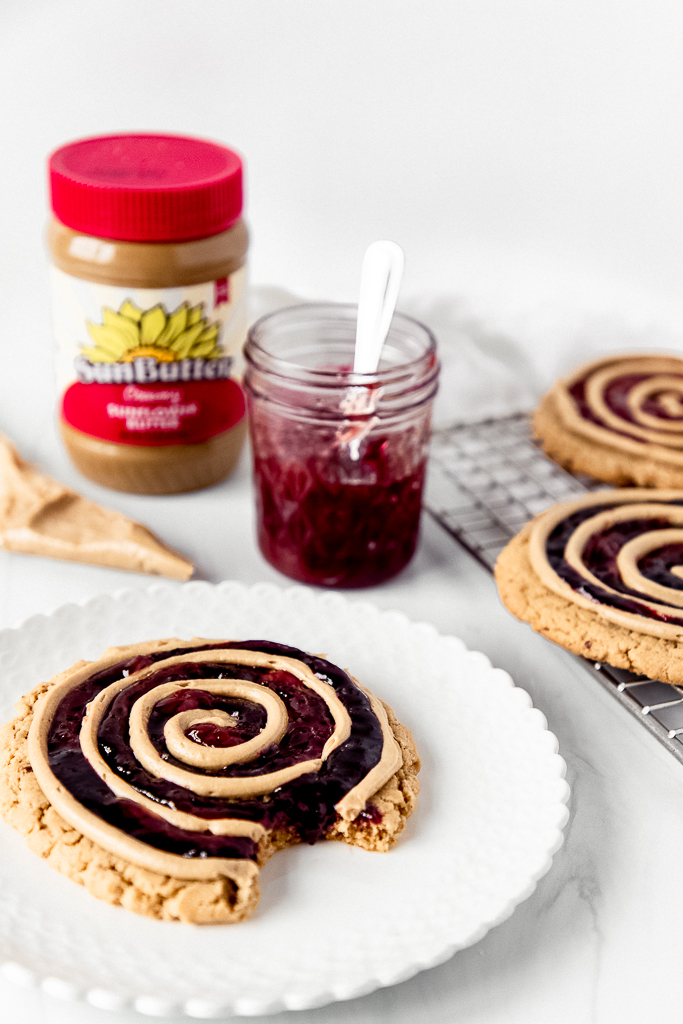 WHY SHOULD I USE SUNBUTTER?
Creamy, delicious tasting made with simple ingredients
Free from the top 8 food allergens & gluten free
Vegan, Certified OU Kosher & Non-GMO Project Verified
Naturally good for you
Contains one-third less saturated fat than most peanut butter.
7g of protein, more vitamin E, and no trans fats when compared to leading brands of peanut and tree nut spreads.
SunButter is also high in iron, phosphorus, and zinc!
And let me say again…..it simply tastes amazing. Once you try it, you won't go back.
MORE VEGAN COOKIE RECIPES YOU'LL LOVE
BEST Double Chocolate Cookies With SunButter (Vegan + Gluten Free
Nut-Free "Peanut Butter" Cookies with SunButter
Best Fudgy Brownie Cookies (vegan + nut free)
Easy Chewy Sunflower Butter Cookies |Vegan Gluten free, Nut free
COPYCAT CRUMBL SUNBUTTER and JELLY COOKIE RECIPE
After you try these Vegan SunButter & Jelly Cookies, come back and leave a star rating ⭐️⭐️⭐️⭐️⭐️ in the recipe card or leave a comment below. I always appreciate your feedback! Be sure to follow me on Instagram, Pinterest and TikTok for recipes and baking videos.
Sunbutter & Jelly Crumbl Cookie
Yield: 8
Prep Time: 20 minutes
Cook Time: 12 minutes
Additional Time: 10 minutes
Total Time: 42 minutes
These Crumbl SunButter and Jelly Cookies are just like your favorite childhood sandwich, but in cookie form. They are soft, chewy, and full of flavor and each bite will transport you back to your childhood.
Ingredients
1/2 cup Creamy SunButter
1/2 cup room temperature vegan stick butter (1 stick)
1/2 cup brown sugar
1/3 cup granulated sugar
1 flax egg (1 TB ground flax meal + 3 TB water - mixed together)
1/2 teaspoon vanilla extract
1 + 1/3 cup all purpose flour
1/2 teaspoon baking powder
1/2 teaspoon baking soda
1 tablespoon corn starch
1/4 teaspoon salt
SunButter Buttercream
1/4 cup room temperature stick butter
1/3 cup Creamy SunButter
5 tablespoons confectioners sugar
1/3 cup raspberry preserves for swirls
Instructions
Make Crumbl Cookies
Preheat the oven to 350F then line a baking sheet with parchment paper and set aside.

In a stand up mixer or using a handheld mixer, cream the butter, SunButter, brown sugar, and granulated sugar. Add in the flax egg slurry and vanilla extract then mix until combined.

Add in the flour baking powder, baking soda, corn starch, and salt, and mix just until incorporated.
Scoop out 8 equally sized cookie dough balls (using an ice cream scoop or 1/4 cup). Roll into a ball, then gently flatten them to approx 1/2 of an inch discs then freeze 15 minutes.
Bake the cookies in the preheated oven for 12-13 minutes then let them cool down fully on the baking sheet. The cookies will look slightly underbaked but they will continue baking as they cool down. If you prefer crisper edges, just leave in for 13 minutes.

Make SunButter Buttercream
Cream the butter, peanut butter, and powder sugar together in a stand mixer or a using a hand mixer until light and fluffy.

Pipe the peanut butter frosting around the cookie in a swirl motion then fill the rest of the swirl with jelly and enjoy!
Recommended Products
As an Amazon Associate and member of other affiliate programs, I earn from qualifying purchases. Please see my FULL DISCLOSURE POLICY for more details.
Nutrition Information:
Yield: 8
Serving Size: 1
Amount Per Serving:
Calories: 576
Total Fat: 47g
Saturated Fat: 29g
Trans Fat: 2g
Unsaturated Fat: 15g
Cholesterol: 145mg
Sodium: 557mg
Carbohydrates: 39g
Fiber: 1g
Sugar: 30g
Protein: 2g
Nutritional information is only an estimate based off of using an online calculator. Numbers will change depending on brands used.