These are my favorite decorated sugar cookies. Dense, and chewy, with a crispy edge and a soft center, you won't be disappointed with this cut out sugar cookie recipe!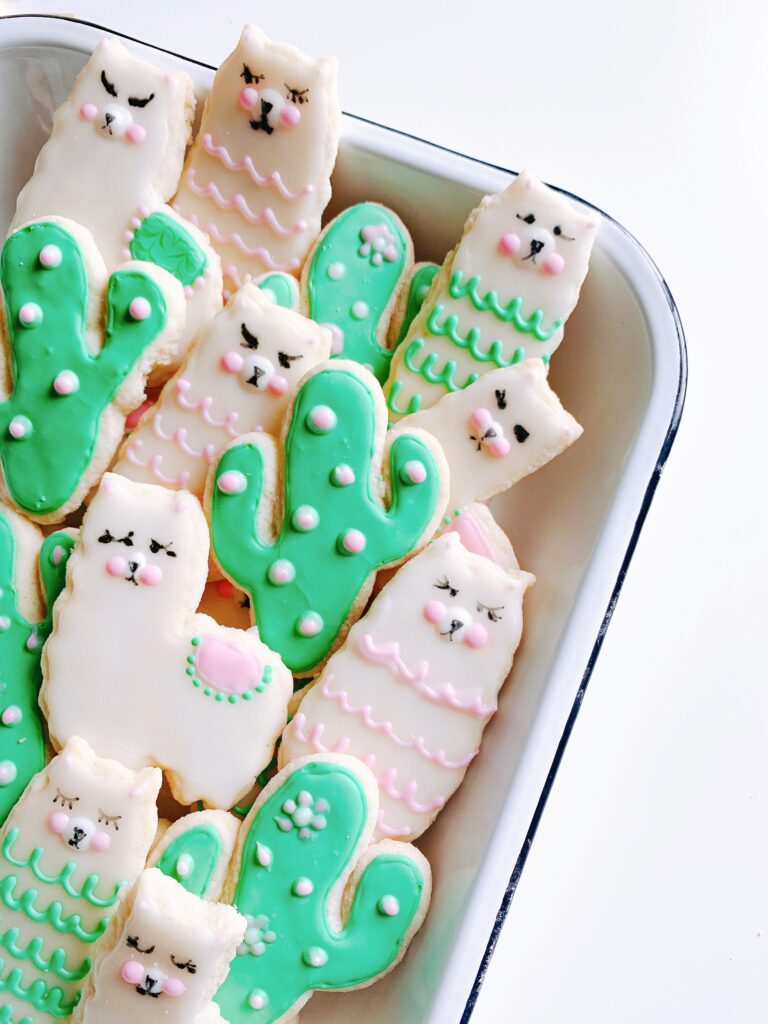 Are you ready for cuteness overload?!
I don't know about you, but I personally think cute food makes everyday a celebration which is why I love these llama & cactus sugar cookies. It's a super fun dessert you can make with the kids during quarantine, over the weekend or on a rainy day. Basically, make them whenever you can 🤣.
It uses my favorite allergy-friendly sugar cookie dough which keeps it simple – plus its our fav so why mess with the best. I shared the recipe on Allergylicious over holidays and just needed another reason to bake them again. Thankfully, I found these adorable llama and Cactus cookie cutters and knew it was time!
Easy to Make Sugar Cookie Cut Outs
One of the best things about making this easy llama cookie recipe is that it doesn't require a ton of effort or complicated ingredients to make it taste or look this good! All you need are some cute cookie cutters a deliciously easy allergy-friendly recipe and our tried and true dairy-free, egg-free icing. It's easy to make, easy to pipe, and dries hard for perfectly shiny stackable cookies. Don't worry, I included the recipe below for this too!
First watch how easy these were to make
How to Decorate Llama Sugar Cookies
To decorate, I only used two colors, (pink and light green) in addition to the white base, which makes life a lot easier!
Simple Piping Method
And as for piping, all you really need is one piping bag per color to outline and flood the cookies. It's a much simpler and less messy method!
Just press a little firmer on the flooding part or else it will take a really long time to get all that icing onto the cookie.
Standard Piping Method
For me, I find decorating cookies therapeutic and so I don't mind the extra step or time. It's kind of like coloring, which always calms me. Therefore, when I decorate cookies, I usually outline the cookies first with a thicker icing, then flood the inside with a thinner icing, and carefully spread it to all the corners of the cookie using a toothpick or an icing pin.
Whichever method you choose, I recommend using Wilton piping bags and decorating tips (2&3) for the outline and/or flooding of any sugar cookies. You can also use an icing bottle, if you want a little more control or simply cut a small hole in the corner of a zip lock bag if you don't have any tips yet.
Seriously, if I can make these fun llama decorated cookies, then anyone can! Check out this video from Cupcake Gemma for some helpful tips on how to outline and flood cookies.
Tips for Making the Best Allergy-friendly Sugar Cookie
When baking with gluten-free flour, Bob's Red Mill 1:1 Gluten Free never disappoints OR Better Batter Gluten Free Flour works great as well.
When cutting out your sugar cookies, keep your cuts as close together to get as many cookies out of your dough as possible. You will want to re-roll any scraps so that you use all of your dough. Keep in mind that with each re-roll you add more flour into the dough, which toughens it and creates a more dense cookie.
For thinner, crispier cookies: Roll the dough thinner and bake until the edges are JUST starting to turn a light golden color.
For softer cookies: Slightly undercook them they will be super soft and doughy – so good!!
These cookies are a yummy treat you can make no matter what the occasion!
And trust me, these cookies will earn you major brownie points with anyone you share them with. They're almost are too cute to eat, but also too tasty not to!
Need more fun recipes? I've got you covered!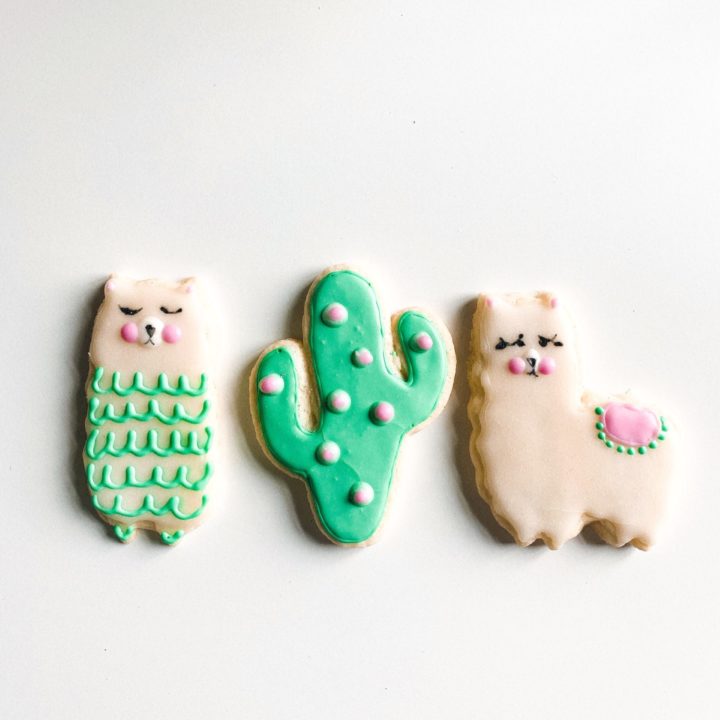 Decorated Sugar Cookie Cut-Outs (V+GF)
Yield: 36
Prep Time: 20 minutes
Cook Time: 8 minutes
Additional Time: 10 minutes
Total Time: 38 minutes
These are my favorite decorated sugar cookies. Dense, and chewy, with a crispy edge and a soft center, you won't be disappointed with this cut out sugar cookie recipe!
Ingredients
Cookie Cut-outs
1/2 teaspoon baking powder
1/2 teaspoon salt
3/4 cup vegan stick butter, at room temperature
3/4 cup granulated sugar
2 tablespoon dairy-free milk
1 tablespoon cornstarch (or arrowroot powder)
1 1/2 teaspoon vanilla extract
Vegan Royal Icing
2 tablespoons light corn syrup
3-4  tablespoons dairy free milk
Instructions
Sugar Cookie Cut-Out
Preheat oven to 350°. Cover 2 sheet pans with silpat or parchment paper and set aside.
In a medium sized bowl, whisk together flour, baking powder and salt. Set aside.
In a large bowl with a stand mixer, beat butter for 1 minutes until creamy, using a paddle attachment. Add sugar then beat on high 2-3 minutes, until light and fluffy.
Add in flax milk, cornstarch and vanilla. Beat on high, scraping down sides, until everything is combined and fluffy.
Add 1 cup of flour mixture at a time, mixing on low until combined. If it still feels to sticky/wet, add up to another 1/4 cup of flour.
Use wooden spoon or spatula and scoop dough onto parchment paper. Form into a ball then sprinkle top with a little flour. Press down gently and roll out to 1/4" thick. (*If dough feels too delicate, you may need to refrigerate. See notes below)
Cut into desired shapes and place on sheets.
Bake 8-10 minutes, or until edges are very lightly colored. Cookies will firm up when cooled, so pull them out of the oven when they still look slightly undercooked.
Let cool on pan 5 minutes then remove to cooling rack. Once completely cool, you can decorate.
Royal Icing Instructions
Combine sugar, 2 Tablespoons of milk, corn syrup, and vanilla extract in a medium-sized bowl and stir until combined. If frosting is too thick, add more milk, about a teaspoon at a time, until the frosting is thick but pipeable. If you accidentally add too much milk, add powdered sugar until desired texture is reached.
If coloring the frosting, divide into bowls and color as desired at this point.
Transfer frosting to a piping bag with a piping tip (I used Wilton 2,3 or 5), or place in a Ziploc bag and snip a small piece of the corner off (not as neat, but this will still work, just take care that the frosting isn't so thick that it breaks open the seam of the bag when you are squeezing).
Pipe frosting on cookies and decorate with decorative candies, if desired.
Allow frosting to harden before enjoying (this took several hours for me and may vary for you depending on the consistency of your frosting)
Keep uneaten cookies sealed in an airtight container at room temperature
Notes
*Yield varies on how thick you roll the dough and the size of the cookie cutters that you use. 
*You may also replace the vanilla extract with just about any other extract you'd like!
*You may chill this dough 30-60 minutes, overnight or even up to several days.  If refrigerating, let it rest at room temperature for about 10-15 minutes before rolling so it doesn't crack.
*If you don't intend to frost your cookies, then you can just sprinkle them with sanding sugar before going into the oven, then bake.
*My cookie cutters were about 3" in length, if you're using smaller cookie cutters you will need to bake for less time.
Recommended Products
As an Amazon Associate and member of other affiliate programs, I earn from qualifying purchases. Please see my FULL DISCLOSURE POLICY for more details.
Nutrition Information:
Yield: 36
Serving Size: 1
Amount Per Serving:
Calories: 121
Total Fat: 4g
Saturated Fat: 2g
Trans Fat: 0g
Unsaturated Fat: 1g
Cholesterol: 10mg
Sodium: 69mg
Carbohydrates: 21g
Fiber: 0g
Sugar: 14g
Protein: 1g
Nutritional information is only an estimate based off of using an online calculator. Numbers will change depending on brands used.