Making gooey chocolate dipped s'mores with Enjoy Life Foods is a cinch and a fun summertime activity to do with family and friends.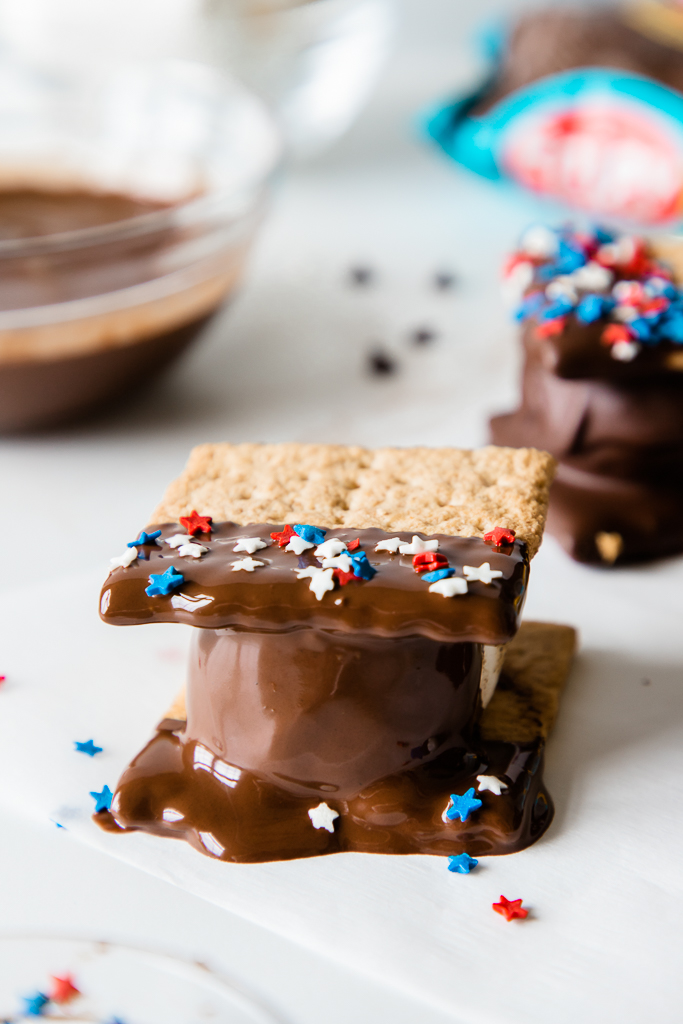 This recipe was created for Enjoy Life Foods, which was first seen here.
Chocolate Dipped S'mores = best thing ever.
Two crispy graham crackers sandwiching a roasted marshmallow dipped into a bath of melted vegan chocolate and decorated with sprinkles is what summers are made for.
Summertime Vegan S'mores
Making s'mores is one of those things that brings out the child in all of us. Kids love to make them, adults love them, and the classic combo is the perfect balance of textures and flavors.
But we're giving it an upgrade with a simple twist – dipping our campfire s'mores into a bath of dreamy, melted, vegan chocolate.
Simple, delicious, super decadent and allergy-friendly to! —– Just what dessert dreams are made of, right?
Ingredients for Chocolate Dipped S'mores
Just three essential ingredients go into making traditional s'mores but with allergy-friendly products readily available, you can enjoy sinking your teeth into our s'mores too!
This recipe makes 16 s'mores, so adjust accordingly depending upon how many you want to make.
Graham Crackers –Crispy & sweet. Check out this list of vegan graham crackers here.
Enjoy Life Foods Semi Sweet Chocolate Mini Chips – Smooth, indulgent and perfect for melting. This allergy-friendly chocolate is our go-to, but if you're a fan of dark chocolate, go for it.
Marshmallows – Large puffed marshmallows work best and thankfully there are vegan & gluten free brands available that melt perfectly over an open flame!
Optional – Sprinkles and lots of them.
How to Make Chocolate Covered S'mores
You won't believe how easy it is to make these elevated s'mores!
Roast your marshmallow – My daughter and I like to spend time on our marshamallows, making sure each one is evenly toasted a nice golden color. My boys, however, likes them charred, so roast to your liking!
Sandwich between two graham crackers – small graham crackers or even cookies work great here!
Dip in melted chocolate – I used Enjoy Life Foods semi sweet chocolate, but their dark chocolate, ricemilk chocolate morsels or even their white chips are a fun way to change it up.
Decorate – everything is more fun with sprinkles! We used 4th of July themed sprinkles to celebrate the summer.
Variations to Campfire S'mores
Use your imagination to make s'mores even better and try some of my gourmet s'mores ideas:
For some variety, you can use different cookies or crackers in place of the graham crackers. Use cinnamon graham crackers, chocolate chip cookies, or crispy sugar cookies for some great bases to build tasty s'mores!
Try white chocolate for a twist.
Spread a layer of seed butter or cookie butter or even caramel on one of the graham crackers before topping with the gooey marshmallow.
Coat the entire s'mores treat with melted chocolate and let sit until firm for a s'mores candy bar.
Alternative Roasting Methods
No campfire, no problem! Here are a few other ways to make Chocolate Dipped S'mores without a campfire.
Oven: Line an oven-safe tray with graham crackers and top each one with a marshmallow. Broil for about two minutes, remove from oven and add graham cracker top. Allow to cool slightly before sipping into melted chocolate. Ovens have the greatest capacity to make a larger number of s'mores faster than other methods, so they're typically preferred for entertaining.
Air fryer: Arrange s'mores at the bottom of the basket and cook them at 390 degrees for five to eight minutes.  Remove them carefully with nonstick-safe tongs or spatulas then coat with melted chocolate.
Toaster oven: Preheat the toaster oven to 400 degrees. Place s'mores in evenly spaced rows on a compatible tray, and bake for three minutes or until gooey. Dip in chocolate.
Microwave: Heat marshmallows on graham crackers for approximately 20 to 30 seconds before dipping in chocolate.
Heated s'mores makers: Some tabletop s'mores makers have flameless heaters at the center of a tray. They're popular for all-ages, however, children must be supervised while using them due to the hot elements.
More S'mores Recipes
How to Make Gooey Vegan S'mores Bars
S'Mores Pops (vegan + allergy-friendly)
SunButter S'mores Dip – Easy to Make
I hope you enjoy our elevated chocolate dipped s'mores!  If you have any questions about this recipe, please ask below or feel free to send me a DM on social media so I see it right away.  Did you make this recipe? Snap a photo and tag me (@allergylicious) on Instagram , Facebook or Tik Tok.
I can't wait to see your creations.
Chocolate Dipped S'mores
Yield: 8
Prep Time: 5 minutes
Cook Time: 5 minutes
Additional Time: 5 minutes
Total Time: 5 minutes
Making gooey chocolate dipped s'mores with Enjoy Life Foods is a cinch and a fun summertime activity to do with family and friends.
Ingredients
16 Graham Crackers (vegan)
1 cup Enjoy Life Foods Mini Chips (melted smooth)
16 large vegan marshmallows
Sprinkles of Choice
Instructions
Time to get your fire started (campfire, firepit or outdoor wood-burning fireplace). Let the fire burn a few minutes so you have a nice, hot flame for your marshmallows.
Break your graham crackers in half lengthwise to make 2 squares for each s'more and set them onto a plate or sheet of aluminum foil.
Poke the end of your s'mores rod (or clean stick) into the end of the marshmallow and start roasting. Keep the marshmallow above the flames slightly so it won't catch on fire and burn. Rotate as you go to brown all sides evenly to your liking.
Place the roasted marshmallow onto the bottom half of your graham cracker and top with the second graham cracker square. Squeeze gently to pull the stick or rod out of your marshmallow and close the s'mores. Lay flat on your prepared plate/pan then start heating up your chocolate.
Place Enjoy Life Foods mini chocolate chips in a medium-sized microwave safe bowl. Heat on low-power, in 20 second increments, in the microwave until completely melted; stir smooth.
Grab one s'mores at the top and dunk it straight into the melted chocolate. Keep your lined baking sheet nearby so that you can easily place each one back there to set. Feel free to decorate the wet chocolate with sprinkles of choice.
Enjoy the s'mores sandwich style while still warm. Alternatively, once all of the s'mores have been dipped, place them in the fridge for 10 minutes and allow the chocolate to set. Then serve.
Recommended Products
As an Amazon Associate and member of other affiliate programs, I earn from qualifying purchases. Please see my FULL DISCLOSURE POLICY for more details.
Nutrition Information:
Yield: 16
Serving Size: 1
Amount Per Serving:
Calories: 107
Total Fat: 3g
Saturated Fat: 0g
Trans Fat: 0g
Unsaturated Fat: 2g
Cholesterol: 0mg
Sodium: 93mg
Carbohydrates: 20g
Fiber: 1g
Sugar: 8g
Protein: 1g
Nutritional information is only an estimate based off of using an online calculator. Numbers will change depending on brands used.