These Vegan Funfetti Cupcakes are perfect for any celebration! Simple to make, no boxed mixes required, and perfectly moist and fluffy. Recipe includes gluten-free option.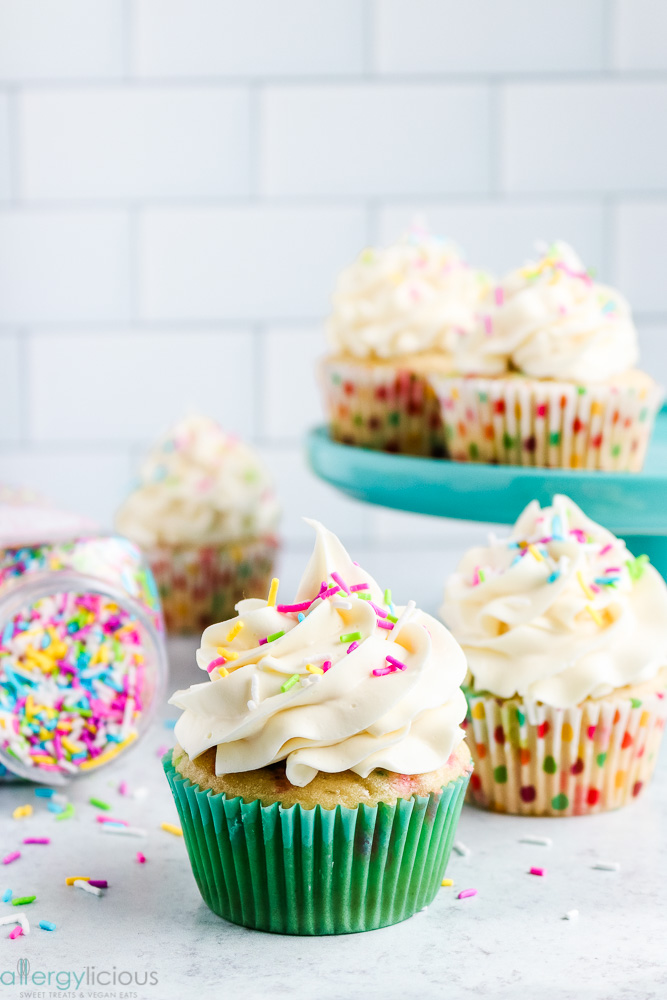 This past weekend, we celebrated two milestone birthdays! Our youngest turned 13 and our daughter turned 16! I can hardly believe it! And today, this mama is taking her girl to the DMV to get her driver's license. It's crazy how quickly time flys by, but no matter how old they get, they still love celebrating with sprinkles.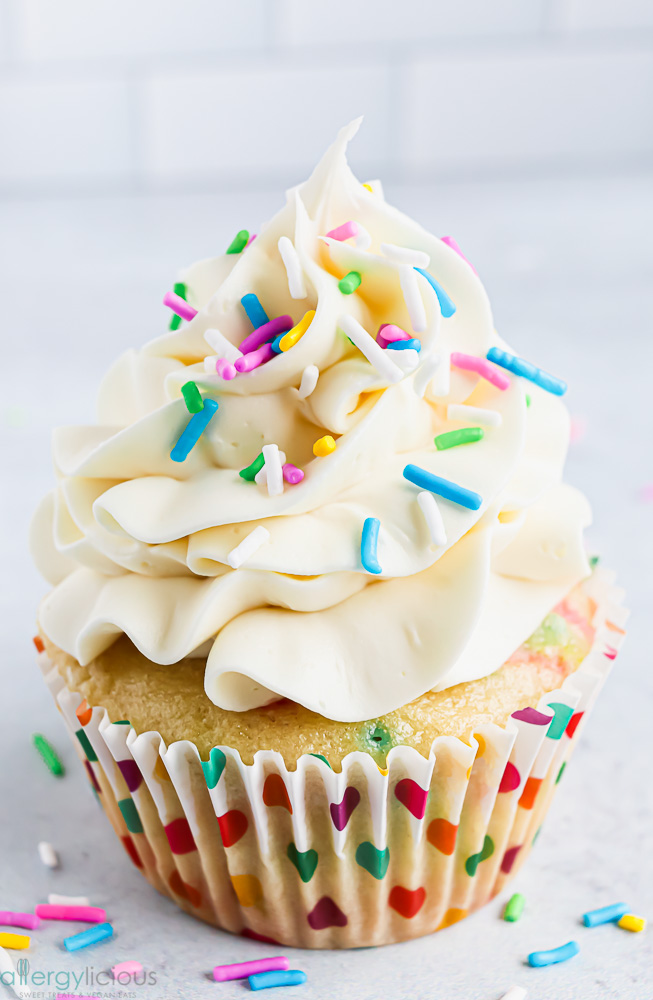 These Funfetti Vegan Cupcakes seemed like the perfect way to celebrate such big birthdays! Of course, we can't just celebrate once. Friday we're hosting a 13th Birthday Costume Party for all his friends with his requested German Chocolate Cake. Then the following week, it's a Sweet 16 with Vanilla Naked Cake (using this vanilla cupcake recipe) and Chocolate Chip Cookies.
Before I move on to prepping for those parties, I just had to share with you this recipe because I know you'll be wanting these for your next celebration!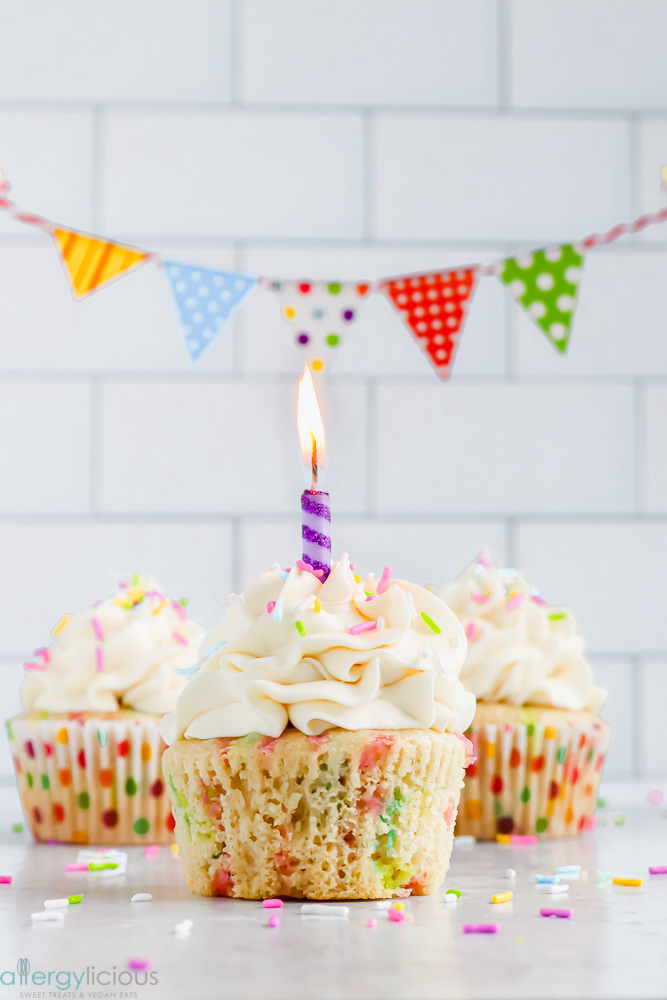 The Recipe for Funfetti Vegan Cupcakes
If you have tried my original fluffy vanilla cupcakes, you may be wondering why another vanilla cupcake. Especially when the original recipe is a favorite on the blog (if you haven't tried them, they are worth checking out). But as delicious as that one is, I keep getting requests to make a cupcake that is oil-free. Which is where this recipe comes in.
Between celebrating birthdays, fulfilling orders for my new home bakery, and working on new recipes, I can say that I've baked this vegan Vanilla Cupcake dozens of times over this past month, and it's getting nothing but rave reviews.
It's the basis for my Funfetti Cupcakes which you see here, and you'll see it in the upcoming weeks with a few more fun twists. While I still love the original, these are my new fave. Sorry fluffy "OG", there's a new cupcake in town.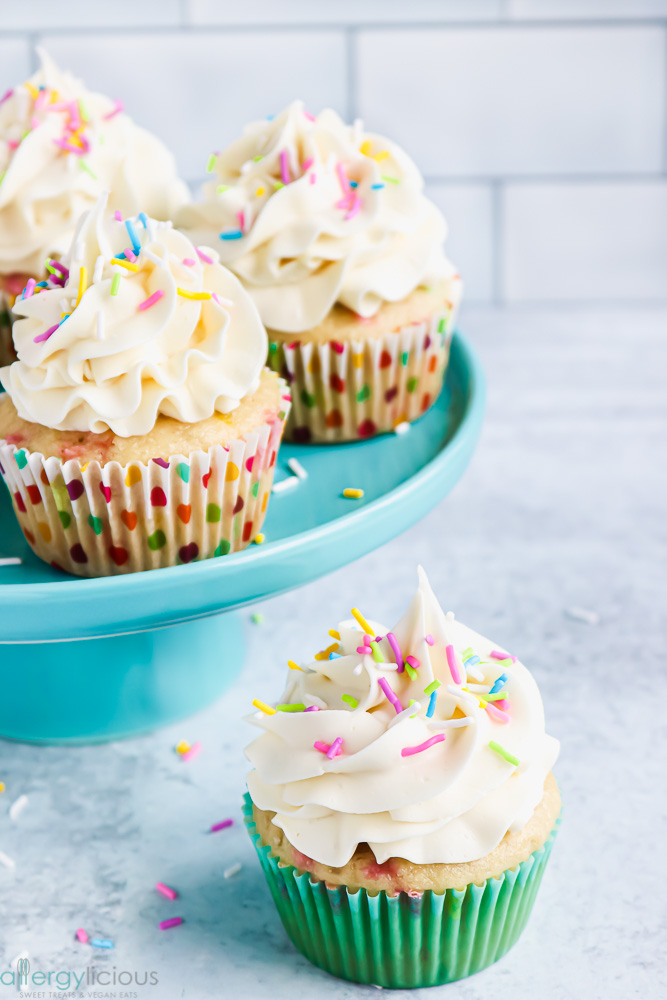 Moist Vanilla Cupcake Ingredients
So let's talk about this delicious cupcake. The base of the recipe is simple ingredients which you probably already have in your kitchen right now.
All-purpose flour (white flour makes lighter colored cupcakes) OR to make gluten-free, use an All Purpose GF Blend like Bob's Red Mill 1-to-1 or Better Batter Flour.
Granulated pure cane sugar
Baking powder
Baking Soda
Salt
Full-fat coconut milk from a can (at room temp)
Maple syrup or light agave
White Vinegar
and LOTS of sprinkles!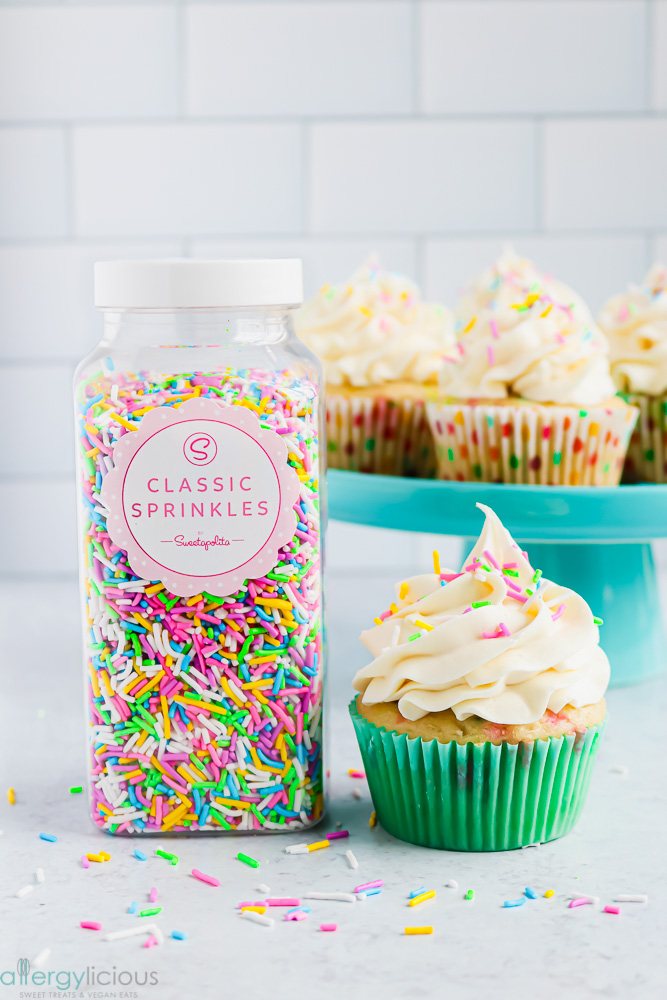 How to make perfectly moist vegan cupcakes
Start by whisking together the flour, baking powder, baking soda and salt. When you're measuring your flour though, don't pack it into the cup…use the Spoon & Level Method. Here's how:
Stir the flour around first to unclump and make it lighter.
Spoon it into the measuring cup.
Level if off with the back of a knife.
Doing it this way ensures that I'm measuring correctly because too much flour creates heavy, dense cupcakes. I use a food scale like this to measure gluten-free flour, which isn't necessary, but it helps to know that I'm getting the exact measurements I need for a recipe.
What dairy-free milk do you use in these cupcakes?
Next are the wet ingredients. Full-fat coconut milk from the can is the key ingredient which makes this cupcake so moist. But here's a tip! Whisk the entire contents of it together in a separate bowl until it is smooth. The fat tends to separate from the water, so this is important before adding to the cake batter.
Then add in the syrup, vanilla and vinegar. Stir until smooth and pour over the dry mix and combine, but don't overmix!
Then toss in those sprinkles. I used these sprinkles by Sweetapolita which are vegan and gluten-free. I also love using Cake Craft's jimmies and Sweets Indeed sprinkles which are Vegan, Gf & Nut-free.
One last thing when making these cupcakes is to only fill the liners just a little over halfway full. It may not seem like much batter, but they rise quite a bit in the oven and you end up with perfect cupcakes that aren't overflowing the liners. I always get exactly 12 cupcakes with this recipe.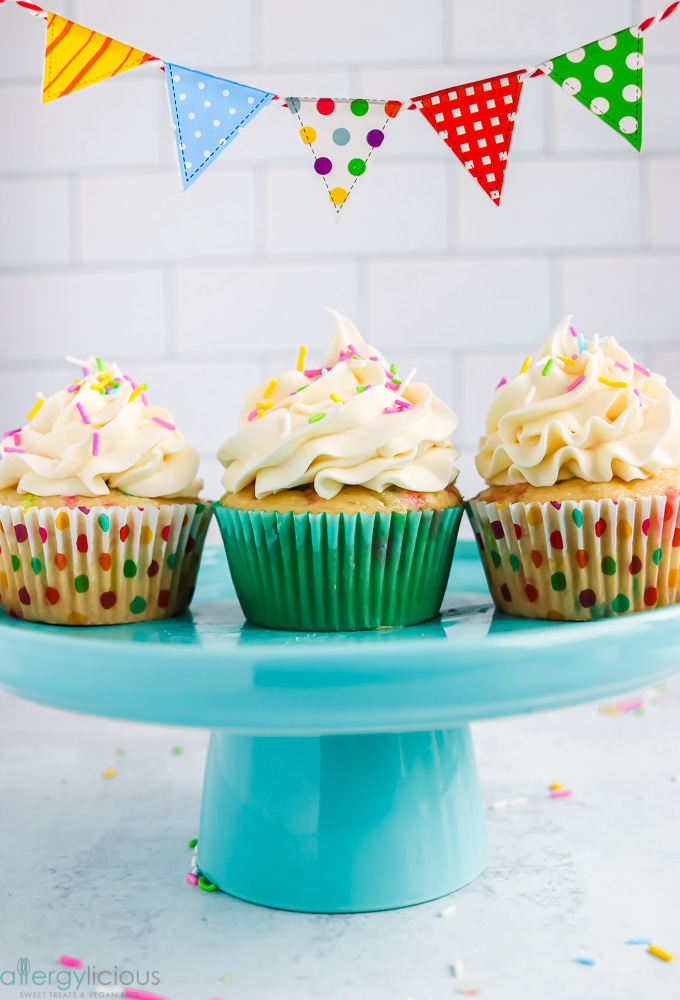 And of course you have the vanilla frosting with extra sprinkles on top.  I like a lot of frosting on my cupcakes, so I use two full sticks of softened Earth Balance butter, 4-5 cups of powdered sugar, vanilla, and just a bit of heavy coconut cream.  If you want just a little frosting, you can easily cut the recipe in half to make less.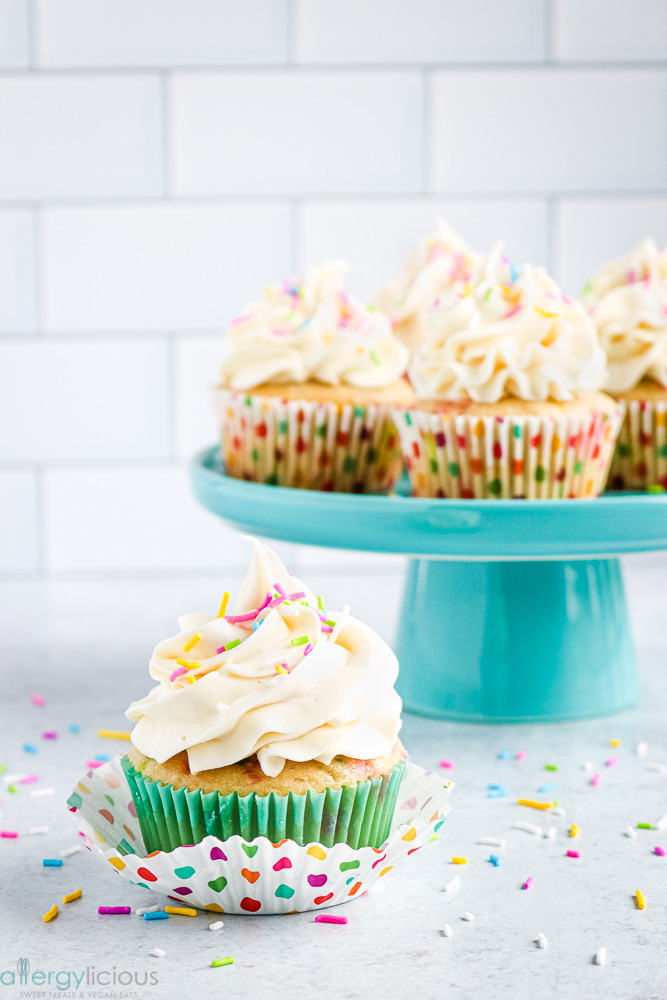 Ok, enough about how to make these cupcakes. Let's start baking!
Funfetti Vegan Vanilla Cupcakes
Yield: 12
Prep Time: 15 minutes
Cook Time: 18 minutes 15 seconds
Total Time: 33 minutes 15 seconds
If you have a celebration coming up, this funfetti cupcake recipe is for you. Fluffy and moist vanilla cake, dotted with sprinkles and frosted with a super creamy vanilla buttercream. It's the best funfetti cupcake ever, and it's vegan, oil-free and gluten free too.
Ingredients
1 1/2 cups all purpose flour (or 1-to-1 gluten free flour blend)
9 tablespoons of pure cane sugar
1 1/2 teaspoons baking powder
1/2 teaspoon baking soda
1/2 teaspoon salt
1 cup Regular coconut milk from a can (whisked until smooth then measure)
2 tablespoons maple syrup
1 tablespoon clear vanilla extract
1 1/2 teaspoons white vinegar
1/4 cup sprinkles
Vegan Vanilla Buttercream Frosting (from post)
Instructions
Preheat oven to 350° and line a muffin tin with liners.
In a large bowl, whisk together flour, sugar, baking powder, baking soda and salt.
In a small bowl, whisk coconut milk with maple syrup, vanilla and vinegar, Stir until smooth.
Slowly pour liquids into the dry then whisk again until smooth, but don't over mix. Toss in sprinkles and stir 1 final time.
Divide batter between 12 cupcake liners, filling half way.
Bake 15 minutes or until the toothpick comes out clean. Cool completely before frosting then decorate with more sprinkles.
Recommended Products
As an Amazon Associate and member of other affiliate programs, I earn from qualifying purchases. Please see my FULL DISCLOSURE POLICY for more details.
Nutrition Information:
Yield: 12
Serving Size: 1
Amount Per Serving:
Calories: 175
Total Fat: 6g
Saturated Fat: 4g
Trans Fat: 0g
Unsaturated Fat: 1g
Cholesterol: 2mg
Sodium: 205mg
Carbohydrates: 29g
Fiber: 0g
Sugar: 15g
Protein: 2g
Nutritional information is only an estimate based off of using an online calculator. Numbers will change depending on brands used.