The best moist vegan vanilla cupcakes! Topped with homemade raspberry buttercream frosting that will have you licking the spoon! Love raspberries? Try these raspberry favorites: Raspberry Shortbread Bars, Linzer Cookies, Chocolate Raspberry Cake.
Moist Vegan Vanilla Cupcakes
There is something sweet and pure about vanilla cupcakes. When done right, there is no need for all the icing and fluff because it should simply taste amazing on its own. It's only when the cupcakes are dry and/or tasteless that you need to add more and more icing or have a cold cup of milk (non-dairy of course) to go with it. Now, I am not in any way saying to skip the icing, I mean, we are topping these with homemade raspberry buttercream frosting. But what I am saying, is that you just want it to taste good on its own, and the icing is simply the bonus!
Low Sugar, Low Oil, Vegan Vanilla Cupcakes
Skinny Vegan Vanilla Cupcakes are delicious, and as always, they are free of dairy, eggs, peanuts. Like most of my recipes, they can also be gluten-free if you pick the right flour substitute (I happen to really like Bob's Red Mill 1-to-1 best). Best of all, they are so lower in sugar and fat than most recipes, uses very little oil (I use coconut oil), and gives off the most wonderful vanilla scent which will have you coming back for more.
Simply put, they are perfect for birthday parties, baby showers, girls night in, holidays, or whenever the day calls for cupcakes.
Must Have Vanilla Cupcake Recipe
Everyone needs to have a classic vanilla cupcake in their recipe book, but it really has to be a good recipe to make it worth while. I say that because Chocolate always seems to be the first choice when making a dessert, especially when it's allergy-friendly. BUT… there is definitely something to be said about and amazing vegan vanilla cupcake.  
I have been making dairy and egg-free vanilla cupcakes since Xander was a baby (14yrs ago😢) and constantly tweak and adjust cake recipes.  This Vanilla Raspberry Cupcake recipe is the AMAZING!  It is light, delicate, moist, flavorful and when combined with raspberry buttercream, it's a MUST MAKE, MUST HAVE dessert.
Ingredients for this Recipe
These vanilla cupcakes rely heavily on pantry staples, plus a few special ingredients. Here's what you'll need to make the cupcakes and raspberry buttercream frosting: 
All-purpose flour: Measure your flour correctly with the spoon and level method. In other words, stir the flour around, spoon it into the measuring cup, then level the top off with the back of a knife. (1:1 Gluten free flour also works in place of AP flour)
Baking powder, Baking soda & Cornstarch: Gives the cupcakes a little lift in the oven. 
Salt: Balances the flavors out. 
Neutral Oil: I recommend using melted, then cooled, coconut oil but I've also used vegetable oil in its place with great results.  
Granulated sugar: Sweetens the cupcakes and gives it texture and stability. 
Dairy-free Yogurt: Vanilla Soy, Coconut, Oat yogurts all work. Be sure to choose a brand that is on the thicker or you may need to reduce the liquids.
Vanilla extract: Use pure vanilla extract for the best flavor. 
Dairy free Milk: I recommend using Good Karma Flax Milk in this recipe. Oat milk or coconut milk should work as well, but avoid low fat. 
Unsweetened applesauce: Takes the place of eggs and helps make them soft and light.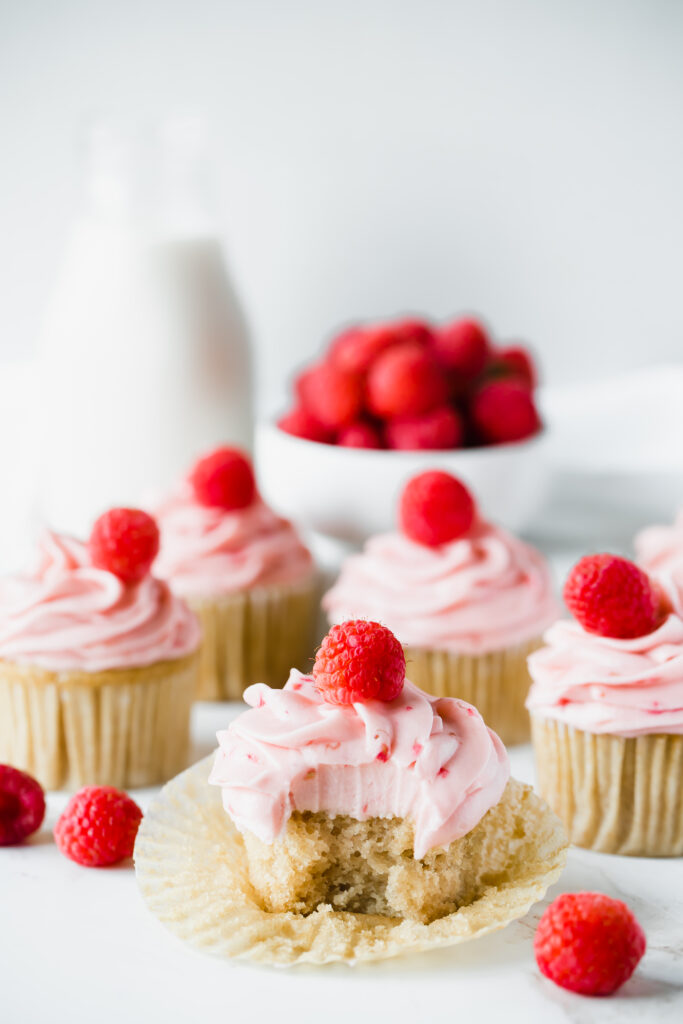 Raspberry Butter Cream Frosting
Homemade Raspberry Butter Cream might be the best frosting you will ever make (or at least a tie with Strawberry Lemonade Butter Cream).  It is sweet, smooth and such a pretty color.  Although you could do it all from scratch, I like to use organic raspberry jam, instead of making my own, then mix into a classic buttercream made with vegan butter, vegetable shortening and powdered sugar.  Most buttercream frosting are made with butter and powdered sugar, but I prefer the addition of shortening to add stability. At the very end, a handful of smashed berries are added for texture and adds so much flavor to your butter cream frosting.
Get Ready To Bake
I hope you love these soft and delicate vegan vanilla cupcakes as much as we do! 
If you liked this recipe or have any questions, leave a comment down below and giving this recipe a rating ⭐️⭐️⭐️⭐️⭐️ so that others may find this recipe!
As always, if you make something from the blog, be sure to tag @allergylicious on Instagram so I can see your creations. Also, follow along with me on Instagram, Pinterest, YouTube, and Facebook for more vegan & allergy friendly More vegan bar recipes you'll love
Happy Baking!
More Springtime Desserts to Try
Skinny Vanilla Cupcakes
Yield: 12
Prep Time: 10 minutes
Cook Time: 22 minutes
Total Time: 32 minutes
There's no way you'll want to bypass these vanilla-infused cupcakes. Pair with your favorite frosting or top with a berry puree and you won't go wrong!
Ingredients
Cupcakes
1/2 C. vanilla dairy-free yogurt
2/3 C. coconut milk (use vanilla flavored for more intensity)
1/4 C. natural applesauce
3 TB. melted coconut oil (or neutral oil)
3/4 C. cane sugar
1 1/2 tsp. pure vanilla extract
1 1/4 C. all-purpose flour (or sub Bob's 1-to-1 Gluten Free Flour)
2 TB. cornstarch (tapioca flour will also work)
3/4 tsp. baking powder
1/2 tsp. baking soda
1/4 tsp. salt
Raspberry Butter Cream Frosting
3/4 Cup vegan, unsalted Butter, at room temperature + 1/4 Cup shortening
1/3 Cup raspberry jam
3-4 Cups Powdered Sugar
1/4 Cup fresh raspberries (smashed )
Pinch of Salt
Instructions
Vanilla Cupcakes
Preheat oven to 350°.
Fill muffin tin with cupcake liners.
In a medium-sized bowl, whisk together wet ingredients. Yogurt, coconut milk, applesauce, coconut oil.
Add in sugar and vanilla extract.
In a mixer bowl, sift in flours (all purpose and tapioca), baking powder, baking soda and salt.
Pour in liquids and blend until incorporated but don't over mix. Using a paddle attachment works great here.
Fill cupcake liners 3/4 full and bake 22-25 minutes, until toothpick inserted in middle comes out clean.
Transfer to cooling rack and cool completely before frosting.
Buttercream Instructions
Make Raspberry Buttercream. In a large bowl, beat butter at medium speed until smooth and creamy.
Add raspberry sauce and 1 cup of sugar, and beat until mixed well. Add remaining sugar 1 cup at a time and beat until thick and fluffy. Fold in chopped or smashed raspberries.
Spread Raspberry Buttercream on cupcakes (use a pastry bag if desired). Top with a blackberry. Store in refrigerator.
Notes
*any dairy free milk will work in place of the coconut milk
**neutral oil can be subbed for coconut oil
***all butter can be used in the frosting. I find that adding a little shortening just makes them more stable.
Recommended Products
As an Amazon Associate and member of other affiliate programs, I earn from qualifying purchases. Please see my FULL DISCLOSURE POLICY for more details.
Nutrition Information:
Yield: 14
Serving Size: 1
Amount Per Serving:
Calories: 167
Total Fat: 6g
Saturated Fat: 5g
Trans Fat: 0g
Unsaturated Fat: 0g
Cholesterol: 1mg
Sodium: 124mg
Carbohydrates: 23g
Fiber: 0g
Sugar: 13g
Protein: 2g
Nutritional information is only an estimate based off of using an online calculator. Numbers will change depending on brands used.