This berry trifle is perfect for a summer party. It's refreshing, gorgeous, and you can make it ahead of time! Sure to be a crowd-pleasing hit!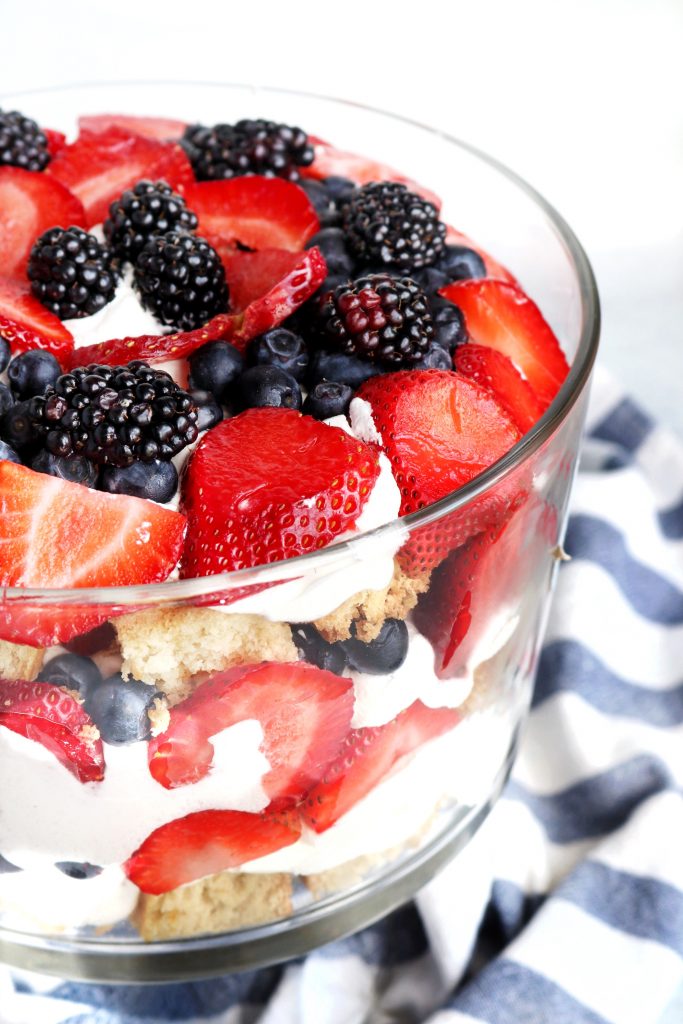 Trifles are an ideal party dessert, especially in the spring and summer. It looks time-consuming to make from scratch, but if you make the coco whip while the cake is baking, you can have everything done (less the assembly) in 30 minutes. The end result is a dazzling, delicious healthy berry trifle that will be loved by everyone.
Today's summer berry trifle is my latest creation using Wholesome sweetener, except this time, I used Wholesome ZeroSugar™ Organic Erythritol. blend. It honestly was the first time using erythritol in place of cane sugar but it was a HUGE fit. Such a big hit that I'm making again for our 4th-of-July celebration.
And why not? This is such a beautiful patriotic 4th of July dessert. The strawberries are red, the blueberries are blue, and the cocowhip is white. It is perfect for serving a lot of people, it's vegan, gluten-free, nut-free (except for coconut), it's lower in sugar and most of all…..It's DELISH!
So, to help you make your own trifle, I have some helpful tips for you. But first, let's talk about Wholesome.
Wholesome Sweet
I've been using Wholesome products for years. Blue Agave, Cane Sugar, Coconut Palm Sugar, Brown Sugars, Stevia, Molasses, Pancake Syrup and even their Organic vegan candies which I shared with you all on my Easter Brunch Post. They make better-for-you sweeteners which I love since I make so many desserts but to take it one step further, ZeroSugar Organic Erythritol is the perfect sweetener for those wanting to cut out sugar!
So what is Erythritol?
Wholesome ZeroSugar™ Organic Erythritol is solely erythritol, a naturally occurring sugar alcohol that is found in our bodies, as well as in fruits and veggies. It is a mild-tasting natural sweetener with zero calories. It also has a glycemic index of zero, so it sweetens without adding calories or spiking blood sugar the way other sweeteners often do.
ZeroSugar is made from plants; it is perfect for vegetarians and vegans. It is also keto-friendly since it contains zero net carbs and it's made without fillers and additives so it's clean too. Grab your $1.00 off coupon here and try it today.
Do you know what that means? You can eat as much of this trifle cake as you's like! So let's get started…
How to Make the Perfect Berry Trifle:
Start with the Perfect Cake. I created this vanilla cake because it isn't overly sweet and holds up beautifully in a trifle dessert. It is heavy enough to hold its own when the whip cream and fruit are layered and can be prepared the cake a day or 2 in advance. For a chocolate version, use this Chocolate Cake recipe.
Coconut Whip layer. The whip cream layer is a MUST. You can't go wrong with fluffy and lightly sweetened homemade whipped cream. It's prepared by popping a can of coconut milk in the fridge the night before then scooping the coconut cream out of the top before whipping. Make it a little sweeter by adding a tablespoon or two of maple syrup, agave or powered sugar (thankfully Wholesome makes those too!). I always suggest using homemade whip, but if you're wanting to cut down on prep time, feel free to use store-bought whip that is safe for your family and friends.
Fresh berries: No extra steps here, just layer fresh cut berries right into the trifle. Whichever berries you use, I recommend using fresh. Frozen berries are a convenient substitution, but once they defrost, they are way too mushy. Fresh is best and if you have local farmer's markets nearby, be sure to grab a few extra baskets, just for this trifle recipe.
Chill and Refrigerate until ready to serve. Since there are fresh berries and whip cream, this dessert needs to be refrigerated until ready to serve.
Speaking of serving, you can make this trifle in a large Glass Trifle Bowl or you can make individual portions in glasses or mason jars. You can also cut this recipe in half if you're serving a smaller group.
Summer Berry Trifle Reviews
Just the right amount of sweetness 👍🏼
So pretty 🥰
This is vegan? Is it also gluten-free? (Yes and Yes) 🎉
The cake is really good, and I don't usually like cake 🍰
The coco-whip is really yummy! (I agree) 👅
This would be great for 4th of July (YES it would!)🎆
So good, I'd eat it again 🙌🏼
You can make this all the time ( I think I will!) 👩🏻‍🍳
You heard it first! Our allergy-friendly, lightly sweetened berry trifle is a stunning dessert that can be prepared in advance and impresses anyone who takes a bite. So whether your celebrating Independence Day or just looking for a fabulous summer dessert, this trifle is sure to be a hit.
Vegan Berry Trifle (gluten-free)
Yield: serves 10-12
Prep Time: 15 minutes
Cook Time: 30 minutes
Total Time: 45 minutes
This Vegan Berry Trifle is perfect for a summer party or festive 4th of July. It's refreshing, gorgeous, and you can make it ahead of time! Sure to be a crowd-pleasing hit! 
Ingredients
Vanilla Cake
1 1/2 cups flour (1-for-1 gluten free or all-purpose)
1 teaspoon baking soda
1/2 teaspoon salt
3/4 cup water
1/2 cup neutral oil
2 tablespoons vinegar (white or apple cider)
1 tablespoon vanilla extract
3 cups mixed berries (strawberries, blueberries, raspberries)
CocoWhip (or store-bought brand of choice)
1 (13.5 oz) can of full-fat coconut milk (chilled overnight-do not shake)
1/2 cup powdered sugar (Wholesome brand)
Instructions
CocoWhip Cream
*If making your own whip, do this first so it has time to chill.
Chill bowl and whisk of your stand mixer in the freezer for 10 minutes.
Skin solid cream from the top of the coconut milk can and transfer solids to the chilled mixer bowl. *Do not use any coconut water!).
Add powdered sugar and whip for a few minutes, until mixture begins to stiffen like whipped cream.
Chill in a covered container and allow to firm even more before using.
For the Cake
Preheat oven to 350° F. Lightly great 9'inch round and add a layer of parchment to the bottom to help with removal.
In a large bowl, whisk flour, sugar, baking soda and salt. In a medium bowl, whisk water, oil, vinegar and vanilla extract.
Pour wet mixture into the dry and whisk until combined but don't overmix.
Fill prepared cake pan with batter then Bake 28-30 minutes, rotating halfway through. Toothpick inserted into the center of the cake should come out dry. Let cool before assembly.
Wash & dry berries. Cut strawberries into slices, and blackberries into halves. Remove stems from blueberries if needed.
Cut cake into 1-inch cubes while still in the pan.
In a large trifle bowl (or glass bowl) add half of the cake cubes. Top with dollops of cocowhip then a layer of berries. Repeat layers and end with cocowhip and berries.
Refrigerate until ready to serve.
Notes
Use store-bought whipped cream if desired. 
Use individual glass dishes instead of a large trifle bowl, using the same layering technique.
ENJOY!!!
Thank you to Wholesome Sweets for sponsoring this post and making deliciously sweet options we love and trust! To learn more about their products or to purchase, visit the Wholesome website and use this coupon or shop on their Amazon page.
Share something delicious