Simple raspberry shortbread bars with a buttery shortbread crust, thick raspberry filling and a golden cookie crumble.
These Raspberry Shortbread Bars have been sitting in a folder for a while now, just waiting for me to pull the trigger and share them with you! But, as life would have it….May came and went all too quickly, especially with school ending and 2 weeks of traveling. But now my friends, THIS this the perfect time, to share this recipe.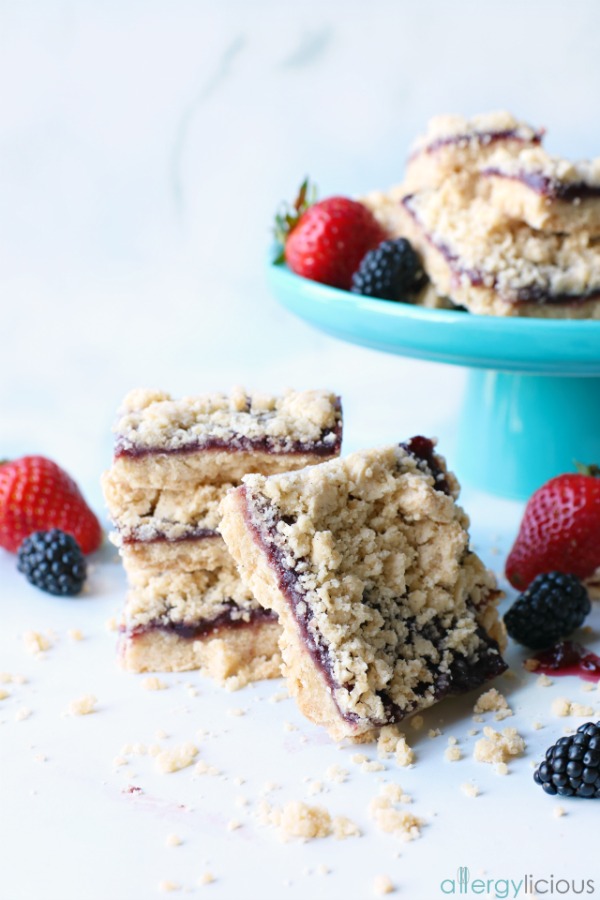 Berries & Shortbread
A few months ago, I posted a recipe for Triple Berry SunButter Bars, and those bars quickly became a favorite here on the blog. But I still had to change it up a bit. Although I loved the crumbly oat base, I wanted to give it a little more substance but still keep it light. And then I remembered my Grandma's shortbread cookies. Although the recipe isn't on the blog, it has made its appearance in several other recipes like Homemade Twix Bar, Shortbread Fudge Bars & Mocha Fudge Brownie and was just what I was wanting for this treat.

Buttery shortbread base, layered with naturally sweet raspberry jam and topped off with some shortbread crumble. Simply made, simply delicious.
AND, its easily adaptable for your diet as well. We used a 1-for-1 gluten-free flour this time around, but we use to always use all-purpose flour, so that works too. Earth Balance is our butter of choice but if you choose to use dairy instead, then just sub it out. As for the jam, I love raspberry or mixed berries and either one works beautifully.
Make it as is, or make it your own. But just MAKE IT!
How To Make Raspberry Shortbread Bars
Ok, Let's Make Raspberry Shortbread Bars
Raspberry Shortbread Bars
Yield: 16 bars
Prep Time: 10 minutes
Cook Time: 30 minutes
Total Time: 40 minutes
SimpleRaspberryShortbread Bars with a buttery shortbread crust, thick raspberry filling and a golden cookie crumble. Vegan, Gluten-free & Nut-free
Instructions
Preheat oven to 350°. Line an 8x8 square baking pan with parchment, leaving a little hanging over the 2 sides.
In a food processor, pulse together flour, butter, sugar and salt until crumbly. (You can also use a pastry cutter if you don't have the other.) Set 1 cup aside and press the remaining dough into the lined pan. Bake 15-18 minutes, until slightly golden and set. Let cool 15 minutes in refrigerator.
Spread jam evenly over cooled shortbread base then crumble the reserved dough on top. Bake 30 minutes more. Cool then refrigerate up to 2 hours to allow for base to set.
When shortbread is set, use the overhanging parchment as handles to lift entire dessert from the pan. Set on cutting board and cut into 16 squares then serve.
Notes
*This recipe tastes best when allowed to cool in the refrigerator. 
**All Purpose Flour and 1-to-1 blend are interchangeable.  Feel free to experiment with your preferred brands. 
If you give these a try, let me know by leaving a comment and rating the recipe! It's super helpful for us. And while you're at it, take a picture and tag it #allergylicious on Instagram so we can see! We love seeing what you come up with.