This Vegan Strawberry Pie has a flaky gluten-free crust, sparkling with cane sugar and filled with fresh cut strawberries.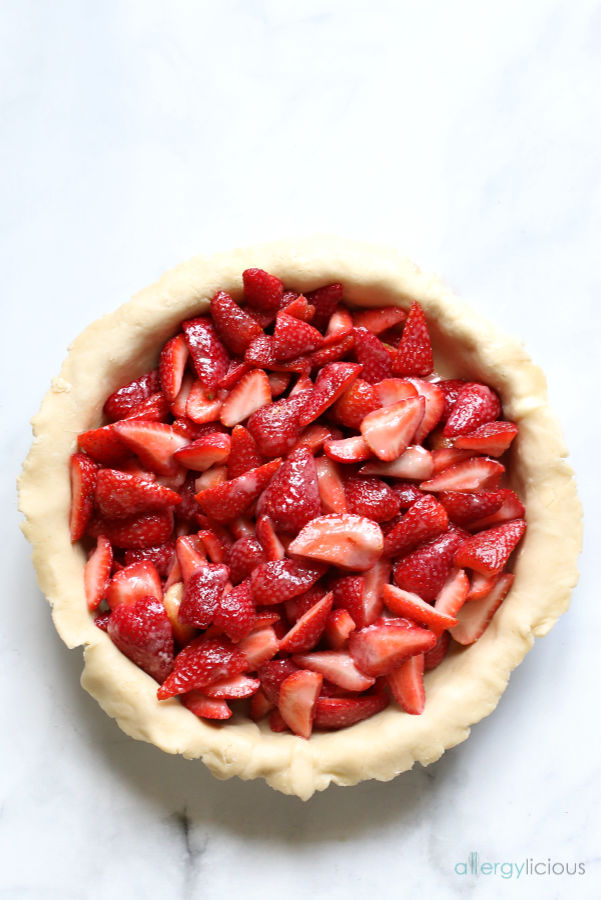 Does anyone else LOVE homemade STRAWBERRY PIE?
My Grandma always made the best pies, including fresh berry pies which is where I fell in love with baking at a young age. When I would visit my grandparents, you'd find me picking fruit and veggies from their garden with her and then heading back into the kitchen to make something spectacular.
And when it came to pie…well my Grandma was the Queen Pie Maker! To this day, when making pie myself, I grab that little index card with her handwritten pie crust recipe on it (even though I know it by heart) and hope to make her proud.
I love everything about making homemade pie. From the mixing, rolling and crimping, to reaping the rewards of the that first, flavorful bite of made-from-scratch pie. Don't get me wrong, if you aren't ready to try your hand at making the pie crust yourself, then you could opt for a pre-made shell, BUT I always opt for making Grandma's butter-y pie crust, especially for this Strawberry Pie. The rich, slightly sweet, salty, buttery flavor of the crust compliments the fruit so well you won't be able to resist! It's worth trying your hand at making it yourself.
Kitchen Tools for the Perfect Strawberry Pie
You don't need a lot of fancy kitchen tools to make the perfect homemade pie, but these will come in handy, especially if you're just starting out.
Rolling Pin– I have several rolling pins that I like to go between but this stainless steel model is one of my favs! It doesn't absorb any flavor or odors, it's easy to wash and the best thing about this rolling pin is that you can freeze it before using to keep the dough from getting too warm as you work with it.
Silicone Baking Mat – Although not a necessity, this mat does make rolling your pie crust into the perfectly sized circle a breeze. No guessing if you've rolled 8″ or 10″, no flour all over the counter…just easy use and easy clean up.
Pastry Cutter– Being able to achieve a flaky pie crust begins with cutting the cold butter into your flour properly which creates a better, yummier end product. This is an easy and inexpensive way to achieve amazing results and how my Grandma always did it. Of course, you can use a food processor too (which is what I used when making this Strawberry Pie).
How to make the perfect Strawberry Pie
It may look like a lot of steps when reading the recipe below, but really, making homemade Strawberry Pie is quite simple!
Make your dough and divide into 2 equal rounds.
Roll out each dough ball. Fold first one in half then place into the pie pan.
Gently, but quickly, unfold dough. Firmly press the dough into the bottom and sides of the pie plate.Trim excess leaving 1/2″-1″ overhang.
Fill with berry mixture.
Cover strawberries with second rolled pie crust. Place a circular item (about 3″ diameter) in the center and carefully, start making equal sized cuts from inside to outer edge.
Gently twist each section, piece by piece.
Crimp pie edges together. Lightly brush on dairy-free milk and sprinkle with turbinado sugar.
Bake, let cool 30 minutes then serve.
FRESH STRAWBERRY PIE: SUBSTITUTIONS
Although I recommend making the recipe exactly as written, here are a few possible substitutions!
Let's Make Strawberry Pie
Are you ready to make some pie? Will you use Strawberries or another berry? Will you be making your own crust or using a pre-made favorite?
Be sure to share your response below and if you give these a try, let me know by leaving a comment and rating the recipe! And while you're at it, take a picture and tag it #allergylicious on Instagram so I can see! It's so fun seeing what you come up with.
Fresh Strawberry Pie with Gluten-free Crust
Yield: 1 9" pie
Prep Time: 15 minutes
Cook Time: 50 minutes
Total Time: 1 hour 5 minutes
This Vegan Strawberry Pie has a fun and twisted, flaky crust, sprinkled with cane sugar and filled with delicious fresh strawberries.  (Easily substitute with all-purpose flour if desired).
Ingredients
Strawberry Filling
5 Cups fresh strawberries, rinsed, hulled and sliced in half (or quarter if they are large)
1/4 cup vegan cane sugar
4 tablespoon cornstarch 
1/2 teaspoon sea salt
Grandma's Two Crust Pie Dough:
2 1/2 cup 1-for-1 Gluten-free Flour (or All Purpose Flour)
3 tablespoons vegan cane sugar
1 teaspoon sea salt
1 cup , very cold, unsalted Earth Balance Butter, cut into tablespoons
4-5 tablespoons ice water (place in freezer while prepping everything else) 
splash of dairy-free milk 
raw cane sugar crystals for decoration
Instructions
For the Pie Crust:
Pulse together flour, sugar and salt in a food processor until combined. Add cold butter one tablespoon at a time with the food processor running. Stop the machine once mixture is crumbly and like coarse sand in texture.
Add ice water, 1 tablespoon at a time and pulse until dough begins to come together. (You may not need all the water). Remove dough from machine and finish kneading on a lightly floured surface.
Divide dough into two equal parts. Flatten into disks and wrap in plastic wrap. Chill in the refrigerator for 20 minutes or freeze for 10 minutes.
Place 1 dough round on a lightly floured surface and roll into a 10-12" circle (depending on size of pie plate). Gently fold dough in half then quickly lift dough and place it into the pie plate. Firmly press dough into the bottom and sides of the pie plate. Trim off excess, but leave a 1" overhang. Store covered in fridge until ready to use.
Roll out dough round #2 into 10" circle then cover with plastic wrap and refrigerate.
Putting it all together
Meanwhile, in a large bowl, toss together strawberries, sugar, cornstarch and salt.
Pour strawberries into the chilled pie crust. Cover with the rolled out top crust. Decorate the edges with a fork, or pinch together with your fingers to form crust. Chill pie while you preheat the oven to 450 degrees F. Make 4 cuts in the top of crust to allow steam to escape. (Check out NOTES for achieving the look of this pie crust.)
Place chilled pie on a baking sheet. Brush top of the pie lightly with milk. Sprinkle with turbinado sugar.
Bake at 400 degrees for 10 minutes. Then rotate pie and reduce heat to 350 degrees and bake for 20-30 minutes. Let pie cool on rack before serving.
Notes
*Use pre-made pie crust to reduce steps. 
To make twisted crust: Lie 10" round pie dough on top of strawberry filling, making sure it's centered. 
place a cup in center to create a circle then start making slices through the crust from outside of cup to edge of dough.  I ended with 24 equal slices. 
Carefully, twist 1 section at a time (hold onto the inner part so it won't rip) and then repeat with remaining.  Fold over overhang from bottom crust and pinch together with fingers.  
Recommended Products
As an Amazon Associate and member of other affiliate programs, I earn from qualifying purchases. Please see my FULL DISCLOSURE POLICY for more details.
Nutrition Information:
Yield: 10
Serving Size: 1
Amount Per Serving:
Calories: 284
Total Fat: 19g
Saturated Fat: 3g
Trans Fat: 1g
Unsaturated Fat: 15g
Cholesterol: 0mg
Sodium: 469mg
Carbohydrates: 29g
Fiber: 2g
Sugar: 13g
Protein: 2g
Nutritional information is only an estimate based off of using an online calculator. Numbers will change depending on brands used.
Craving more? Sign up for the Allergylicious newsletter for a fresh serving of content delivered every week to your inbox! Grab a copy of my eBook and stay in touch on Instagram, Facebook, Twitter and Pinterest for all of the latest updates.
[amazon_link asins='B01CX1RIMQ,B01ACUA8HC,B01FUY4AZ6′ template='ProductCarousel' store='xandfriefood-20′ marketplace='US' link_id="]