An easy and delicious recipe for Homemade, Vegan Pumpkin Pie. This is the only pumpkin pie recipe you will ever need and it's perfect for the holidays! 
As the weather starts to cool and the Halloween costumes start coming out, I really start to crave all things Pumpkin. Pumpkin Cupcakes, Donuts,  Spiced Lattes, Pumpkin Cheesecake, Pumpkin Cookies and especially Pumpkin Pie.
But when I started baking to keep Xander safe, one of the first holidays we encountered was Thanksgiving, which of course, is just not the same without Pumpkin Pie! It was really hard to find a recipe that didn't use evaporated or condensed milk and a dairy-free option of this sweetened milk  just wasn't available 10+ years ago. Thankfully, after a lot of tweaking, I was able to make my Grandma's favorite pumpkin pie, allergy-friendly. It is now always on our table during the holidays.
How to make Pumpkin Pie Filling
I love that I do not have to give up the consistency or taste just because it is dairy & egg free. Originally, I used silken tofu in the pumpkin filling which is still my preferred preference but since so many people have an allergy to soy, I couldn't resist including our soy-free version in this post as well! So now, you have 2 options to choose from, depending on your restrictions.
Isn't that just the prettiest, pre-baked pie? And it's super simple to make too. Simply add all the ingredients to your blender and blend away until smooth! Yep, that's it.
Just watch how easy it is….
Easy Pie Crust
I'm incredibly thankful that none of my family members have celiacs but my mom has gone gluten-free and I always want to make sure she can enjoy everything I place on the table. Therefore, Grandma's recipe pie crust recipe has gone gluten-free too. It was a simple swap by replacing all-purpose flour with a 1-to-1 flour blend and you're guests will never know the difference.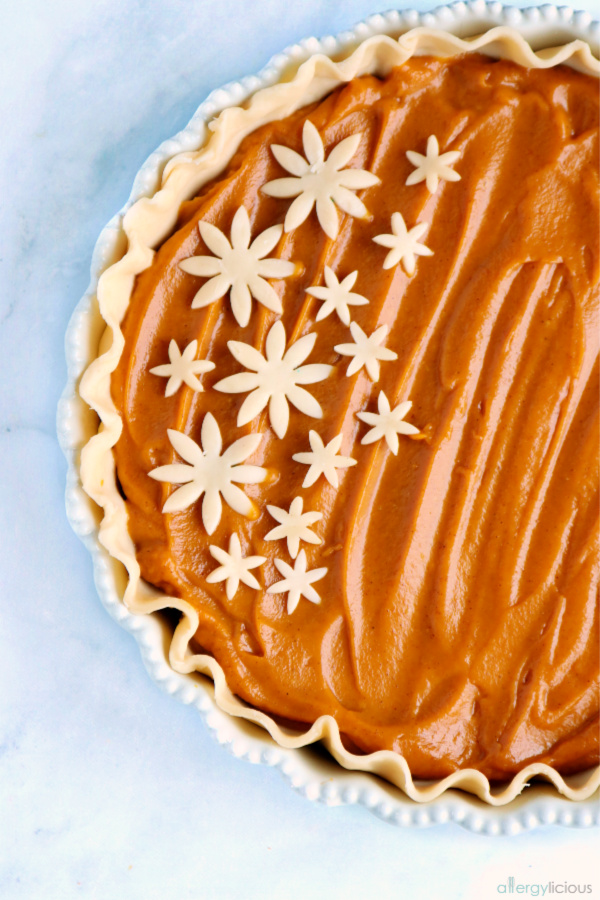 But just in case you don't want to make your own crust, there are plenty of other options out there. From pre-made roll-out dough to refrigerated or frozen pre-made pie shells, you have plenty of options . Especially if you are limited on time or just don't trust your crust making ability. In the light of things, its about enjoying the day, not creating more work for you to do which is another reason why I love this pumpkin pie recipe.
TOP IT OFF!
Now for the finale….how to top off your pumpkin pie and make it extra special.
To make my dessert "pop" a little more, I like to dress up my pumpkin pie with a few cut outs from the remaining pieces of dough before I start baking. Use stars, circles, leaves or whatever shapes you have on hand. Although it's not essential to this recipe, it does add more visual interest to your pie and makes it stand out and say "pick me, pick me". Can you hear it?
And then there's the whip. When we first went dairy-free, there were very little options out there for whipped toppings. The only one that was fairly decent was Soy Whip and even then, it wasn't my favorite. Today though, there are many more options out there, including canned whip made from coconut or almond milk. My favorite though, is CocoWhip made by So Delicious Dairy Free which comes in a tub. It tastes just like Cool Whip but without the allergens and is just so so good…. especially in your coffee.
"Free From" Pumpkin Pie
I know that you'll love serving this up on the holidays not just because the taste is smooth, silky & absolutely fabulous but also because it is
easy to make
pumpkin-y
perfectly spiced
gluten-free
peanut-free
nut-free (use the tofu version if coconut is an allergen for you)
and vegan
It's a dessert worthy of serving on Thanksgiving and worth enjoying by all! Food allergies, food preferences or restrictions won't be a problem because everyone can enjoy a slice of pie.
Vegan Pumpkin Pie (2 ways)
Vegan Pumpkin Pie
Yield: 1 pie
Prep Time: 10 minutes
Cook Time: 45 minutes
Total Time: 55 minutes
An easy and delicious recipe for Homemade, Vegan Pumpkin Pie. This is the only pumpkin pie recipe you will ever need and it's perfect for the holidays! #allergy-friendly and #gluten-free too
Ingredients
QUICK CRUST RECIPE
1 1/3 C. Bob's Red Mill GF All Purpose Flour
1/2 tsp. Salt
1/3 C. Spectrum Organic Vegetable Shortening (Or Earth Balance)
2 TB Very Cold Water
PIE FILLING
1 (16oz) canned Pumpkin (not pie mix)
3/4 C. Granulated Sugar
1/4 C. Light Brown Sugar
1/2 tsp. Salt
1 3/4 tsp. Pumpkin Pie Spice *
1 (12oz) Pkg. Silken Tofu, drained & blended smooth (a blender works great)
TOFU FREE FILLING
1 (16oz) canned Pumpkin (not pie mix)
1 (11.25oz) can of Sweetened condensed coconut milk
1 cup Sugar
6 tablespoons Cornstarch
2 teaspoons pure Vanilla extract
1/4 tsp. Salt
1 3/4 tsp. Pumpkin Pie Spice
Instructions
Preheat Oven to 425°
In a medium bowl, mix flour, 1/2 tsp salt and the shortening with pastry cutter until flour is dampened. Slowly incorporate cold water 1 Tb at a time, until all water is absorbed (you may not need all the water, just enough to form the perfect, doughball).
On a lightly floured surface, roll the dough out until 1/4" thick. Life dough and lay in pie pan. Trim overhanging dough and reserve scraps for cut out shapes. Crimp sides or press down with the back of your fork5 to create decorative edges on your crust.
In a blender, blend together all filling ingredients (using option 1 or 2) .
Pour filling into pie shell and decorate with pie cutouts if desired.
Bake 15 minutes.
Reduce oven temperature to 350° and bake approx 40 minutes longer. **If using cornstarch version, center of pie will not be completely set when done. This will happen during cooling process.
Cool completely the refrigerate before serving.
Notes
Let cool completely, then top with your favorite homemade or store-bought vegan whip cream.
If you don't have Pumpkin Pie Spice you can use: 1 tsp cinnamon, 1/2 tsp. ginger + 1/4 tsp. nutmeg + 1/4 tsp. ground cloves.
Recommended Products
As an Amazon Associate and member of other affiliate programs, I earn from qualifying purchases. Please see my FULL DISCLOSURE POLICY for more details.
Nutrition Information:
Yield: 12
Serving Size: 1
Amount Per Serving:
Calories: 286
Total Fat: 10g
Saturated Fat: 6g
Trans Fat: 0g
Unsaturated Fat: 4g
Cholesterol: 3mg
Sodium: 248mg
Carbohydrates: 48g
Fiber: 1g
Sugar: 34g
Protein: 3g
Nutritional information is only an estimate based off of using an online calculator. Numbers will change depending on brands used.
Needing more holiday recipes?
The Best Thanksgiving Stuffing