Happy Fall Ya'll or should I say Happy PSL Ya'll? 
The kids have barely been back to school and the leaves have yet to turn colors, but with the official return of the Pumpkin Spice Latte, I can safely say Fall has returned.
If you are reading this post, then you are probably one of MANY that squealed with joy, tweeted your excitement and posted selfies holding this favorite seasonal coffee drink. You can admit, I've seen the photos!
Now what if I told you that you didn't actually have to go to a drive-thru or counter to order this drink? What if you didn't have to spend $5 or more a day to get your festive fix? What if you could make this drink at home, using REAL, healthy ingredients without fear of cross-contamination or allergens? Are you excited yet?
I know I'm excited just sharing this with you all!
This Vegan Pumpkin Spice Latte has only 6 ingredients…..
Make it 7 ingredients if you add the whip topping and really, who wouldn't want to add the whipped cream? Especially if its allergy safe & vegan, right?
Here's how you make this amazing, rich and creamy Vegan Pumpkin Spice Latte.
Heat up your non-dairy milk, pumpkin puree, maple syrup, spice & vanilla. Whisk together if needed. When you see the sides start to bubble, remove from heat. Don't let it boil.
It already looks nice and pumpkin-y.
Pour all the warmed milk ingredients in a high-speed blender (like a Blendtec, Vitamix or even Ninja will do) and blend on high until frothy on top. The speed from the blender will also create more heat and if you don't have time, you could save yourself a step and skip the stove top altogether. Simply blend together all the ingredients (minus the coffee) letting it run a minute or two longer in the blender to heat up nice and hot.
Now that you  have a nice, frothy pumpkin milk mix, divide evenly into coffee mugs then top off with your fresh brewed coffee of choice.
Doesn't that already look delicious? But why stop there…….
Top it with some Coconut Milk Whip and you now have "desert in a cup" and pair with Flippin Delicious' Pumpkin Spice Latte Donuts  for some extra latte love.
And in case you want to share some Pumpkin Spice love with your family or besties, I've even included a larger serving option below.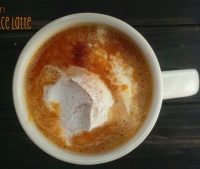 Vegan Pumpkin Spice Latte
Yield: 1 -8
Prep Time: 5 minutes
Cook Time: 2 minutes
Total Time: 7 minutes
Bring on the fall with your own homemade Pumpkin Spice latte using real ingredients such as fresh, hot coffee, organic pumpkin, fall spices, vanilla & coconut milk.
Ingredients
*6-8 Serving option*
12 C. fresh brewed black coffee
4 C. unsweetened coconut milk
3/4-1C. canned organic pumpkin puree
1/4 C. maple syrup
2 TB. pumpkin pie spice
2 TB. pure vanilla extract
-----------------------------------
Topping:
Coconut Whip
Sprinkle of cinnamon
-----------------------------------
*Single serve option*
1/2 C. brewed black coffee
3/4 C. unsweetened coconut milk
3 TB. organic pumpkin puree
1 Tb. maple syrup
1/2 tsp. pumpkin pie spice
1/2 tsp. pure vanilla extract
Instructions
Option 1: Using saucepan & blender
In a small saucepan, warm milk, pumpkin, syrup, spices and vanilla. Whisk together and turn heat off wen milk bubbles a little (DON'T let it boil).
Remove from heat and pour into blender. Blend on high until frothy on top.
Pour equal amounts of pumpkin mix into coffee mugs then add hot coffee.
Top with whip cream and dash of cinnamon.
Option 2: Blender only
Place milk, pumpkin, syrup, spices, and vanilla in blender. Allow to blend a minute or two, until hot and frothy on top. Pour into coffee mug then add hot coffee. Top with whip cream and dash of cinnamon.