This vegan chocolate sheet cake is one of THE BEST vegan desserts EVER. It's fluffy, chocolate-y, delicate and the vegan black chocolate frosting is incredibly rich and decadent. Plus, it's super easy to make, and requires no fancy ingredients!
Easy Vegan Chocolate Cake
Any chocolate lovers around? If so, you're going to LOVE this Vegan Chocolate Sheet Cake! Whether you're celebrating a birthday or just craving all things chocolate, this cake is the perfect choice.
It's incredibly moist, with a delicate crumb and an amazing flavor, thanks to the combination of cocoa powder and coffee. Together with the frosting and ease of making, this is bound to become one of your favorite allergy friendly desserts.
Vegan Cake Ingredients
Simple is how we like it, so I know you'll appreciate this list of easy-to-find ingredients.
Apple Cider Vinegar: this is for your vegan buttermilk. Regular vinegar also works if you don't have apple cider vinegar.
Dairy Free Milk: I love using Good Karma Flax Milk because it's creamy and smooth, without adding other tastes but any vegan milk should do.
All-Purpose Flour: I highly recommend all purpose flour. but if you need this to be gluten free, I've had success with Bob's Red Mill 1-to-1.
Unsweetened Cocoa Powder: Regular high quality unsweetened cocoa powder is all you need.
Baking Soda: Helps the cake rise and also creates a lighter texture.
Salt: balances out the sweetness and brings life to the chocolate.
Oil: Don't omit this! Fat is needed to ensure that the cake is nice and tender.
Vanilla Extract: a MUST!
Hot Coffee: It's the secret ingredient to the most amazing chocolate cake. If you're worried about caffeine, simply use decaf coffee! But don't leave this out.
How do you make vegan chocolate cake from scratch?
The recipe for this vegan chocolate sheet cake is based off of my Chocolate Raspberry Cake recipe. It is my absolute favorite chocolate cake which I use as the base for so many of my recipes!
But turning it into a sheet cake, simplifies the recipe even more.
To make the vegan chocolate cake:
Make your vegan "buttermilk" by combining vinegar and dairy free milk (I use Flax milk) and set aside.
Whisk together the dry ingredients: all-purpose flour (1:1 gluten free flour also works here), sugar, cocoa powder, baking soda and salt.
Add in the "buttermilk, oil, vanilla extract and hot coffee.
Mix well until you get a smooth cake batter, scraping down the sides to make sure everything is incorporated.
Pour batter into the lined 9×13 baking sheet.
Bake!
It really is that easy and it works perfectly, every single time.
Do you need egg replacements to make vegan chocolate sheet cake?
No way Jose´. Egg replacements are not required when making this vegan chocolate cake.
Honestly, I try to create recipes where you don't need any egg replacements at all. I know, there's a handful of recipes on the blog that use some type of egg substitute – but I've learned along the way that they aren't really necessary to make the most perfect, delicious vegan desserts like cookies, cakes and cupcakes.
Instead of using egg replacements, I simply determine what the role of the egg plays in my recipe and adjust the ingredients accordingly – that's it! In this vegan chocolate cake recipe, the mixture of vinegar and baking soda creates a foamy reaction, that lifts and lightens the batter, creating a delicate vegan cake.
How to Decorate with Vegan Buttercream Frosting
Once you have the cake, it's time to whip together some frosting! This cake is decorated with both vanilla and chocolate frosting but feel free to use whatever you'd like here.
But if you want an amazing chocolate vegan buttercream, then you MUST try this recipe! It's light and velvety and perfectly sweet. It's also an amazing base to helping achieve this beautiful black frosting.
How to Make Black Frosting:
Beat vegan butter in the bowl of an electric stand mixer or a use a hand mixer, until light and fluffy.
Add black cocoa , pinch of salt and powdered sugar and begin to mix. Add 3 tablespoons dairy-free creamer and vanilla extract. Start mixing it together at slow speed, gradually increasing speed until it's very thick and smooth.
Add additional 1 tablespoon of milk at a time if needed until it reaches desired thickness.
Tips for Success
Sift the Dry Ingredients: this will ensure that you remove any lumps in the flour, etc., and that you get a smooth, tender cake!
Don't Over-Mix the Batter: over-mixing the batter can make the cake too dense because of the gluten that activates in the flour – just mix enough to combine all of the ingredients together.
Use Parchment: Prep baking sheet with parchment paper on the bottom and allow a little overhang up the sides to allow for easier removal. IF you are decorating straight in the pan, then just prep the bottom/
Bake Right Away: Baking soda starts to react and release carbon dioxide gas as soon as it is added to the batter and moistened. Make sure to bake the batter immediately.
Sift Your Powdered Sugar: Sift before making your frosting! This makes such a tremendous difference to the consistency of the frosting.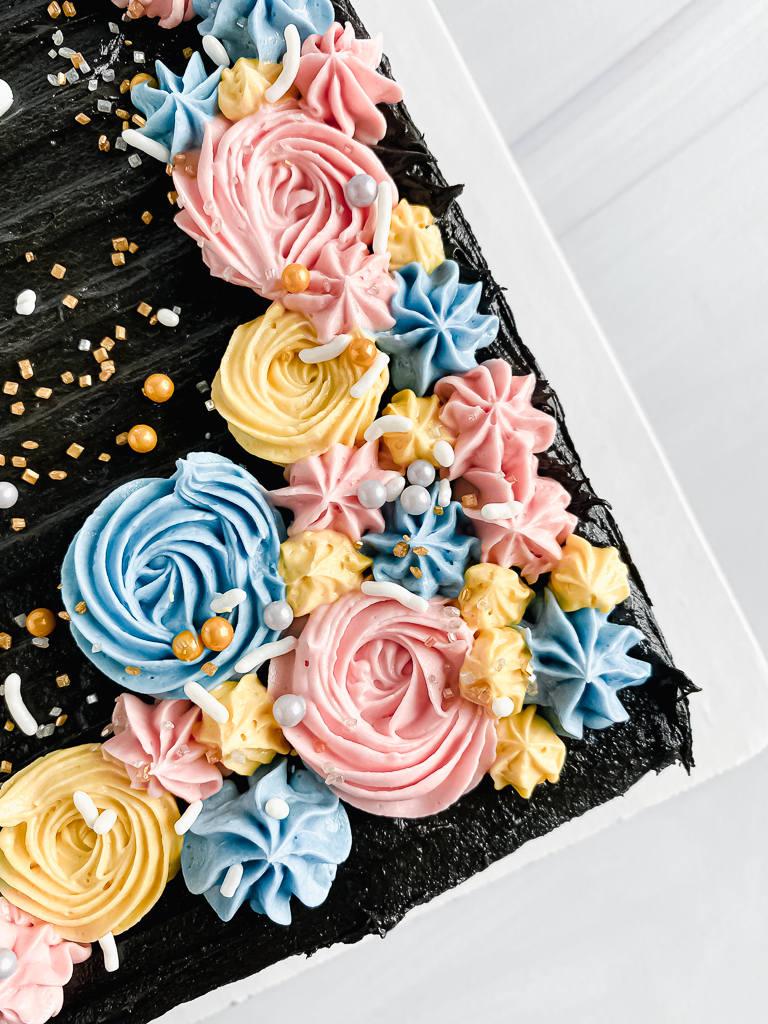 Sheet Cake Decorating Ideas
There's no right or wrong way to decorate a sheet cake but here's a few ideas that may spark inspiration:
Fondant Lettering: Roll out pre-made fondant or make your own marshmallow fondant then cut out whatever your heart desires.
Easy Rosettes or flowers: You don't have to be a cake pro to add some piped buttercream flowers along the border of your cake. But if you need help, check out this "how-to".
Sprinkles: they're the life of the party! Kids love them, adults love them. You just can't go wrong.
Chocolate Chips: triple chocolate cake anybody?
Berries: chocolate and berries go hand in hand.
How to Store Leftover Cake
Leftover cake should be stored in an airtight container and the great thing about sheet cakes, is that you can decorate it in the pan, making storage even easier!
If you choose to remove the cake and decorate it on a cake board, I'd recommend using a cake plate like this to keep it covered.
Either way, your leftover cake will be fine at room temperature for 1-2 days, or 4-5 days if stored in the fridge.
Can I Freeze Chocolate Cake?
This allergy friendly dessert can be frozen in an airtight container, or tight layers of plastic wrap for up to a couple of months. If wanting to freeze a frosted cake, simply cut into slices, arrange on a parchment lined baking sheet and freeze just until frosting is set (30 min) then wrap individually in plastic wrap.
Now you have chocolate cake whenever the craving hits!
Make Cake Pops from Leftovers
Another way to store/use your leftovers is to mash it all together, frosting and all, then roll into cake balls and freeze. When you want to make cake pops for an event, you already have the cake part ready.  Simply dip in melted chocolate and you're done!  
The Best Vegan Chocolate Sheet Cake
Yield: 20
Prep Time: 10 minutes
Cook Time: 30 minutes
Additional Time: 15 minutes
Total Time: 55 minutes
This vegan chocolate sheet cake is one of THE BEST vegan desserts EVER. It's fluffy, chocolate-y, delicate and the vegan chocolate frosting is incredibly rich and decadent. Plus, it's super easy to make, and requires no fancy ingredients!
Ingredients
For the Chocolate Cake
3 cups all purpose flour (for GF alternative, use Bob's Red Mill 1-to-1 Baking Flour) *
2 cups organic cane sugar
2/3 cups unsweetened cocoa powder
2 teaspoons baking powder
1 teaspoon baking soda
1 teaspoon salt
1 cup canned coconut milk (mixed well before measuring) **or dairy-free milk of choice
3/4 cup canola oil
1/4 cup vinegar (white or apple cider)
1 tablespoon vanilla extract
1 cup hot coffee
Chocolate Black Frosting
1 cup vegan stick  butter
4 cups powdered sugar
3/4 cup black cocoa 
2 teaspoon pure vanilla extract
3-5 tablespoon dairy free creamer or milk
Vanilla Buttercream
Instructions
For the Chocolate Cake
Preheat oven to 350°. Grease a 9x13 cake pan and line bottom with parchment paper.
In a large bowl, whisk together flour, sugar, cocoa, baking soda, baking powder and salt.
In a medium bowl, whisk coconut milk, oil, vinegar and vanilla. Pour into the dry mixture and whisk. Slowly pour hot coffee into mixture and continue whisking just until combined.
Fill prepared pan with cake batter. Bake 30-35 minutes or until toothpick inserted into the center of the cake comes out dry. Let cook completely before frosting.

For the Chocolate Frosting
Beat butter in a mixing bowl until light and fluffy.
Add black cocoa and powdered sugar and begin to mix. Mix in Vanilla.
Then add 3 tablespoons creamer/milk and beat until smooth. Add additional 1 tablespoon of milk at a time until it reaches desired thickness.
Notes
To decorate OPTION 1: Remove cake from pan by placing rectangle plate above in then flipping it over in 1 motion, allowing the cake to drop onto plate. Remove parchment. Then cover with chocolate frosting. Adding embellishments or buttercream flowers in color of choice if desired.
To decorate OPTION 2: Keep cake in cake pan and simply frost the top of cake and decorate as desired.
For Coffee-free version: simply replace hot coffee with hot water.
To use GF All Purpose Flour: replace flour in recipe with equal amount and add 3/4 teaspoon xanthan gum.
Recommended Products
As an Amazon Associate and member of other affiliate programs, I earn from qualifying purchases. Please see my FULL DISCLOSURE POLICY for more details.
Nutrition Information:
Yield: 20
Serving Size: 1
Amount Per Serving:
Calories: 307
Total Fat: 14g
Saturated Fat: 9g
Trans Fat: 0g
Unsaturated Fat: 4g
Cholesterol: 26mg
Sodium: 208mg
Carbohydrates: 44g
Fiber: 1g
Sugar: 32g
Protein: 3g
Nutritional information is only an estimate based off of using an online calculator. Numbers will change depending on brands used.