ALL-TIME favorite Vegan Soft Batch Sugar Cookie recipe!! They are so soft, slightly sweet and have the best crusting buttercream frosting. Everyone loves these delicious sugar cookies.
Sugar cookies are our all-time favorite holiday cookie!! If you feel the same, you'll love this new Soft Batch recipe as well as our Allergy-friendly Sugar Cookies (which are a fav to many of you too) and our Vegan Sugar Cookies (also gluten-free).
Soft Frosted Sugar Cookies
I LOVE homemade cookies any time of year but sugar cookies are a must over the holidays! However, my entire family has to give me the "thumbs up" before I add a new cookie to the rotation and going through their approval process is quite tricky.
They can be soft but not cakey.
They have to be sweet but not too sweet!
They must have a little crunch on its outer edges.
Frosting to Cookie Ratio needs to be spot on and again, not too sweet or else they'll wipe it off.
Fortunately, my family all agreed that this is the BEST Frosted Soft Sugar Cookie recipe because it meets all their specific requirements above. In fact, they are so good that I've made 3 batches this past week, including extras for my kids to share with their friends.
How to Make the Best Vegan Soft Batch Sugar Cookie
Vegan Soft Frosted Sugar Cookies do require a few steps to make them, including a short refrigeration period, but it's a pretty easy recipe. The cookies are amazing fresh out of the oven, but they also freeze well, making them a great make-ahead treat too.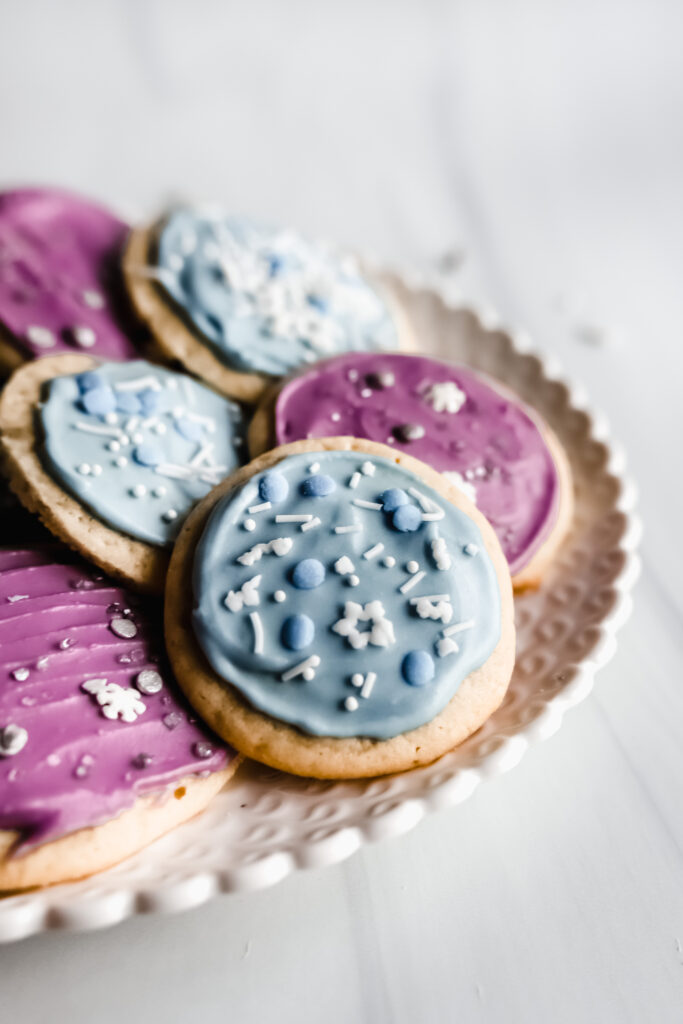 To make Vegan Soft Frosted Sugar Cookies:
In a medium bowl whisk together the dry ingredients.
In a large bowl, cream the vegan butter and white sugar (we used Florida Crystals Raw Organic Cane) together with a stand mixer or hand mixer, until fluffy. Add the remaining wet ingredients and combine. Don't fret if it looks like curdled milk…it'll all come together in the next step!
Now add the dry ingredients into the bowl with the wet, and mix together. The dough will resemble a thick cake batter.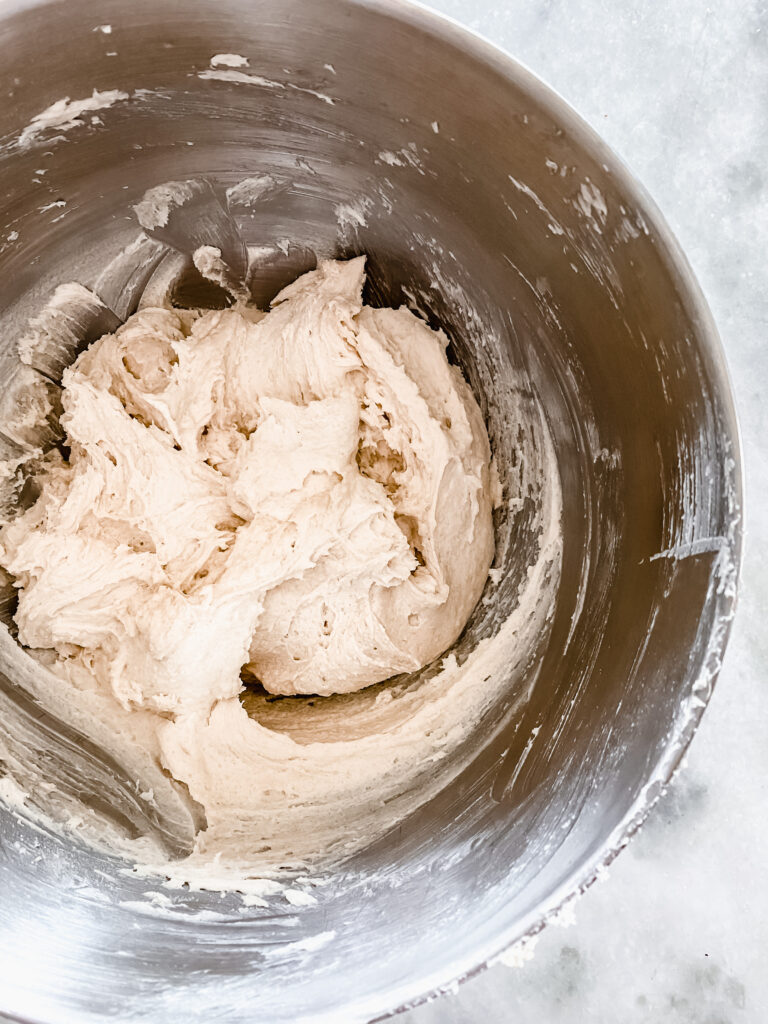 Now you have two options: You can either scoop the cookie batter right away or you can let it chill in the fridge for 30 minutes. *Chilling the batter makes it slightly easier to work with the sticky batter, but it doesn't change the end result.
Lightly spray a small cookie scoop with oil, scoop up cookie dough and drop it onto a parchment paper lined baking sheet. Fill your tray, leaving enough space between the cookies. Wet your fingers then lightly pat cookie balls down into flatter shapes (don't skip this step or else they won't bake down properly).
Bake 11-13 minutes, until a light golden color. Let cool completely on baking sheet before frosting.
Our Favorite Vegan Crusting Buttercream
Everyone has different preferences on their sugar cookie icing. Some like fluffy buttercream frosting, like the one we use on our Funfetti Cupcakes. Others prefer more of a royal icing which gives it a nice, smooth finish like we used on these Sugar Cookies.
Because we didn't want overly sweet but I wanted a cookie that I could stack without ruining the frosting, I choose this vegan crusting sugar cookie frosting, which includes:
To make the frosting, simply mix all the ingredients with a hand mixer. If desired, add food coloring of choice to go with the holiday. Red or Pink for Valentines Day, Yellow for a Baby Shower, Royal Blue for 4th of July, Orange for Halloween or Thanksgiving or Green & Red for Christmas. For ours, we opted to match the colored frosting to our vegan holiday sprinkles and choose a light blue and purple.
Can you use Gluten Free Flour to make Soft Batch Sugar Cookies?
This Soft Batch Sugar Cookie recipe is vegan and nut-free, making them safe for nearly every type of eater! But if you need them to be gluten free, then you are in luck because these can also be made gluten free without loosing that light texture.
Certain gluten free flours can sometimes taste weird and give off a gritty texture (coconut, quinoa, amaranth flour, just to name a few!) And all gluten free flour blends preform differently in recipes, giving inconsistent results. So…. for the perfect Vegan Gluten Free Soft Frosted Sugar Cookies, we used Bob's Red Mill Gluten Free 1-to-1 Baking Flour. This flour is a special blend of gluten free flours, starches and xanthan gum, making it easy to transform traditional dessert recipes into gluten free masterpieces. It also creates the perfect soft and fluffy cookie every time.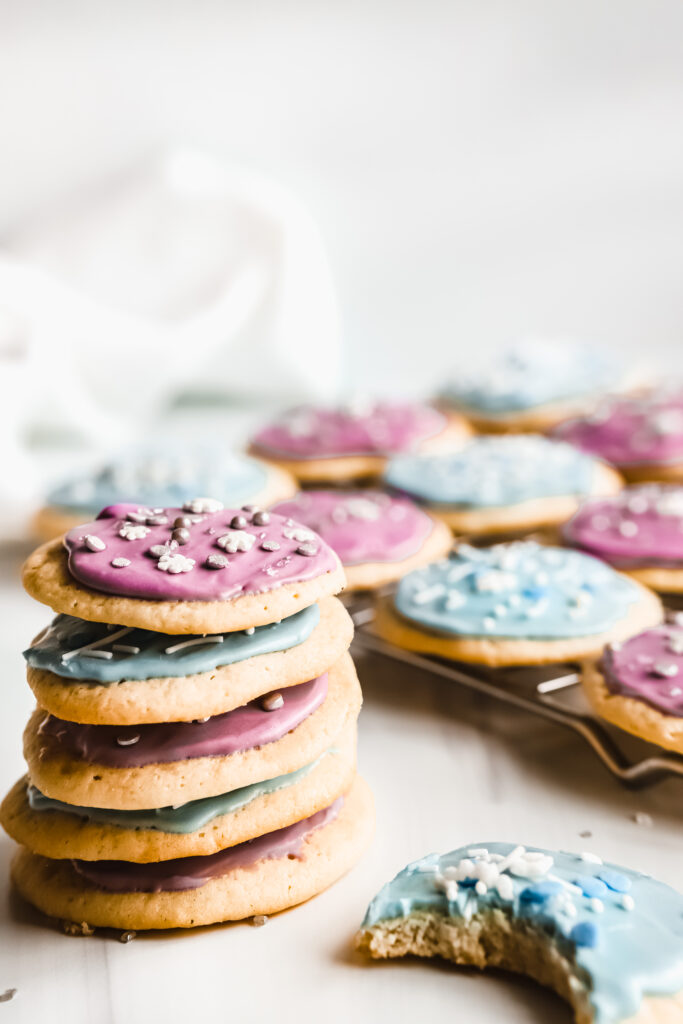 How to Store Frosted Sugar Cookies
I recommend STORING them in an air-tight container (after the frosting has set) and keep at room temperature. They should last for up to 3-4 days. You can extend this to a week by putting them in the fridge.
You can also FREEZE your cookies up to 3 months, without or without frosting. If you choose to frost ahead of time, be sure to let it crust before freezing. Whichever way you choose, simply stack them in an airtight container separated by sheets of wax paper and just grab 1 (or 6 🤣) when the craving hits!
For More Vegan Cookies, check out:
Soft Batch Frosted Sugar Cookie Recipe
I could seriously eat several of these in one sitting! They are soft, sweet, and down-right addicting. You have been warned….I dare you to eat just one! 😉
If you make this recipe, please be sure to tag me @allergylicious so I can see it on Instagram and rate below to help others find it!
Frosted Soft Batch Sugar Cookies
Yield: 36
Prep Time: 10 minutes
Cook Time: 11 minutes
Additional Time: 30 minutes
Total Time: 51 minutes
Ingredients
3 cups flour
1 teaspoon baking powder
1/2 teaspoon baking soda
1/2 teaspoon salt
1 1/4 cup vegan butter
1 1/2 cup granulate organic cane sugar
1 cup plant-based milk 
1 tablespoon vinegar
2 teaspoon vanilla extract
Frosting Ingredients
2 1/2 cups powdered sugar
2 tablespoons vegan butter, softened
2 tablespoons plant-based milk 
1/2 teaspoon vanilla extract
Food coloring & sprinkles optional
Instructions
Make your cookies:
In a medium bowl, whisk together dry ingredients.
In a large bowl, cream together butter and sugar (use a stand up mixer or hand held). Add in plant-based milk, vinegar and vanilla extract and blend. This mixture may look curdled but thats ok.
Add dry ingredients to the wet and mix until smooth. Batter will resemble a thicker cake batter.
Cover bowl with plastic wrap and place in fridge 30-60 minutes.
When ready to bake, preheat oven to 350° and line baking sheet with parchment. Once oven is hot and ready, grab dough from fridge.
Lightly oil small cookie scoop and scoop out dough, then drop balls onto prepared tray, leaving 2" space in between. Wet fingertips and gently press dough into flatter discs then place in oven. Place bowl back into fridge with remaining dough.
Bake 11-13 minutes, or until edges are lightly golden in color. Let cool on baking sheet before placing on cooling rack. Repeat with extra dough.
Make Cookie Frosting:
In a mixing bowl, blend together butter, powdered sugar, plant based milk, and vanilla extract. Add food coloring if desired (I separated my frosting into 2 small bowls and colored each a different color)
If you will be frosting 1 color at a time, I recommend covering the bowls of frosting with a damp paper towels to keep from crusting while you aren't using or in between cookie decorating. Add sprinkles if desired then let sit on cooling rack until frosting crusts.

Notes
*Make cookies Gluten Free: Use a 1:1 blend like Bob's Red Mill or Better Batter which contains xanthan gum. If your GF Flour doesn't contain xanthan gum, be sure to follow manufactures recommended amount.
Recommended Products
As an Amazon Associate and member of other affiliate programs, I earn from qualifying purchases. Please see my FULL DISCLOSURE POLICY for more details.
Nutrition Information:
Yield: 36
Serving Size: 1
Amount Per Serving:
Calories: 168
Total Fat: 7g
Saturated Fat: 5g
Trans Fat: 0g
Unsaturated Fat: 2g
Cholesterol: 19mg
Sodium: 121mg
Carbohydrates: 24g
Fiber: 0g
Sugar: 16g
Protein: 1g
Nutritional information is only an estimate based off of using an online calculator. Numbers will change depending on brands used.
A big thank you to Florida Crystals for gifting me with my favorite vegan sugars! If you'd like to know more about why I love their organic cane products, please visit them here.