Fluffy, perfectly baked chocolate cake donuts made in less than 30 minutes! Gluten free, nut free, and topped with a vegan melted chocolate.
I LOVE homemade donuts and these Chocolate Donuts will not disappoint!
These baked donuts are good. So good. I'm talking magical. Swoon worthy, do a happy dance kind of good.
Gotta Love Chocolate Donuts
A girl's gotta have her chocolate and if you can find a way to have it for breakfast, then that's a win!
But don't stress too much about eating so much chocolate first thing in the morning. These cakey donuts are baked (not fried), vegan, nut-free & gluten-free so they're a little healthier than most. Omit the melted chocolate on top if you wanna cut back even more, but really, if you're gonna eat a donut, then just splurge a little and enjoy it as is.
Donuts for everyone
Typically I like to make donuts over the weekend so the kids have something special to wake up to. I also love making these for special occasions like Valentine's, Mother's Day, and Birthday's. But I don't really need a special reason to make donuts…..I just need to pick which recipe I want to use.
On the blog, you'll find a few other options out there in case chocolate isn't your thing (how is that even possible?). Carrot Cake Donuts are one my favorites and would be amazing for an Easter brunch, Baked Pumpkin Donuts are perfect for Thanksgiving or any fall get-together, Cinnamon Sugar Sour Cream Donuts are a classic flavor and go well any time of year and there's even Maple Glazed Donut Muffins  in case you want to change it up a bit. See….donuts for everyone!
But I just can't ever refuse a homemade chocolate donut. Moist & fudgy, spongy and cakey, this easy recipe for baked chocolate doughnuts with melted chocolate coating is a chocolate lover's dream! These double chocolate donuts are so much better than any of the the ones from the bakery!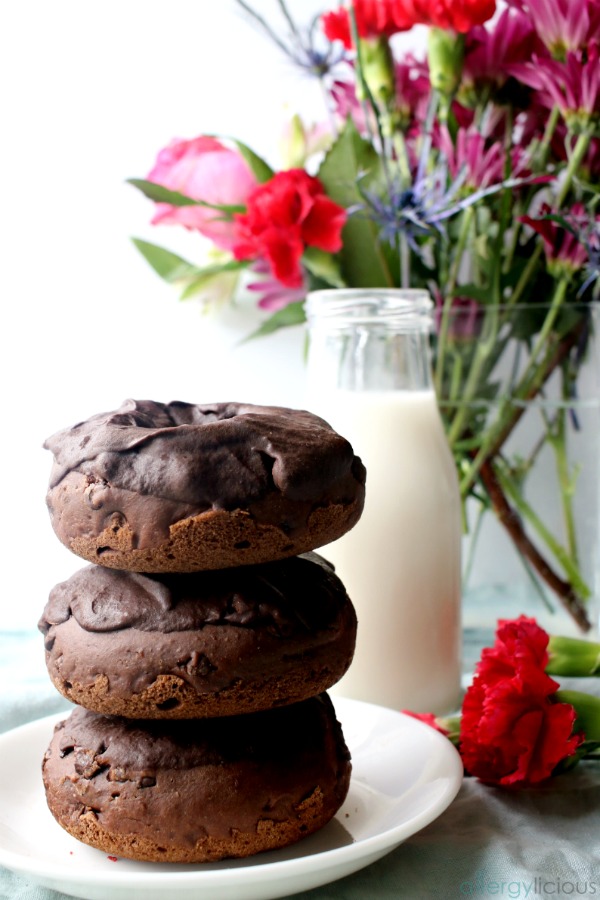 What type of donuts are your favorite? Did you like adding yours with sprinkles on top? 
 Let's get baking
Vegan Chocolate Donuts (GF + NF)
Yield: 12 donuts
Prep Time: 5 minutes
Cook Time: 12 minutes
Total Time: 17 minutes
Fluffy, perfectly baked chocolate cake donuts made in less than 30 minutes! Gluten free, nut free, and topped with a simple vegan melted chocolate icing. 
Ingredients
2 cups gluten-free flour blend *
1/4 cup cocoa powder
1 teaspoon baking powder
1/2 teaspoon baking soda
1/2 teaspoon salt
2 tablespoons melted coconut oil
1/4 cup dairy-free unsweetened yogurt (such as So Delicious Coconut yogurt)
1/2 cup light brown sugar
3/4 cup coconut milk
1/2 cup flax or soy milk **
1 cup shredded, unsweetened coconut (omit and replace with chocolate chips if you don't like coconut)
1 cup mini vegan chocolate chips (Enjoy Life Foods)
Instructions
Preheat oven to 350° and lightly coat your donut pan with spray or oil
In a large bowl, sift together dry ingredients: flour, cocoa powder, baking powder, baking soda and salt.
In a medium bowl, whisk together: coconut oil, yogurt, brown sugar, coconut milk, and flax milk. Stir this into your flour mix, just until incorporated. Fold in the shredded coconut then fill each donut cavity a little more than half full.
Bake 12-15 or until the tops bounce slightly when touching it. Let cool 5 minutes in the pan and then finish cooling on a wire rack.
Using the double boiler method, fill a small saucepan half-way with water over a medium boil. Fill heatproof bowl with chocolate and place overtop. Stir to help the chocolate melt and then carefully remove from stovetop. Dip the tops of each donut into melted chocolate and place back on the cooling rack until chocolate sets.
Notes
*Depending on the GF flour you use, be sure to check if Xanthan gum is needed and if so, add in as directed on packaging. 
**Can also substitute All Purpose Flour, cup for cup , in this recipe. 
***I blended the choice to milk, only so the coconut flavor was not overpowering.  However, feel free to use only 1 type if you don't want to use multiple. 
Pin for Later
Don't forget to share your answers below,,, It's much more fun when everyone participates 😘
Craving more? Sign up for the Allergylicious newsletter for a fresh serving of content delivered every week to your inbox! Grab a copy of my eBook and stay in touch on Facebook, Twitter and Pinterest for all of the latest updates.
Share something delicious