Melt in your mouth, baked pumpkin donuts that you can enjoy year 'round! Vegan, Gluten-free, Nut-free
This recipe was originally posted in 2017 but has been revised with new photos as well as updated ingredients for even more allergy-free options.
Baked, not fried donuts
These Baked Pumpkin Donuts are baked, not fried, and they're lower in sugar and fat than a traditional cake donut, making them the perfect no-guilt treat! They're easy to make, soft and tender on the inside with a serious cinnamon crunch on the outside. Filled with pumpkin, spice and everything nice. My recipe for Baked Pumpkin Donuts awaits….
Allergy- friendly homemade donuts
I'm not going to lie, donuts🍩 are those guilty pleasures that I love to indulge in once in awhile, but don't because of my youngest child's food allergies. Instead of feeling bad for eating empty calories, I would feel bad that he can't have one since they are usually made with milk & eggs then topped with all kinds of unsafe toppings. But NOT THIS TIME! There is nothing in these Baked Pumpkin Donuts that would make it unsafe, and as a bonus, they are baked so now I don't have to feel any bit of food guilt. 🎉
The best donut making tip
Before we jump into the actual recipe, I want to share with you a little kitchen hack or 2 that I found incredibly helpful when making these pumpkin donuts, or any donut that is. Pipe it! That's right, grab your cake decorating bag, cut the tip a little larger than usual and fill with your donut dough. To help prevent some of the messy hands,👐🏼 I found that using a wide mouth glass as your bag holder. Just fold the top part of the bag over the rim of your glass and scoop in your dough. No floppy bags, no dough on the counter, just easy clean-up.💦
Pipped batter
Although I mentioned this little trick above, it's not necessary but it does the donut-making process go much quicker and cleaner. It even makes the donuts look prettier, before they're baked. SO I'm all for making things easier, cleaner and prettier, what about you?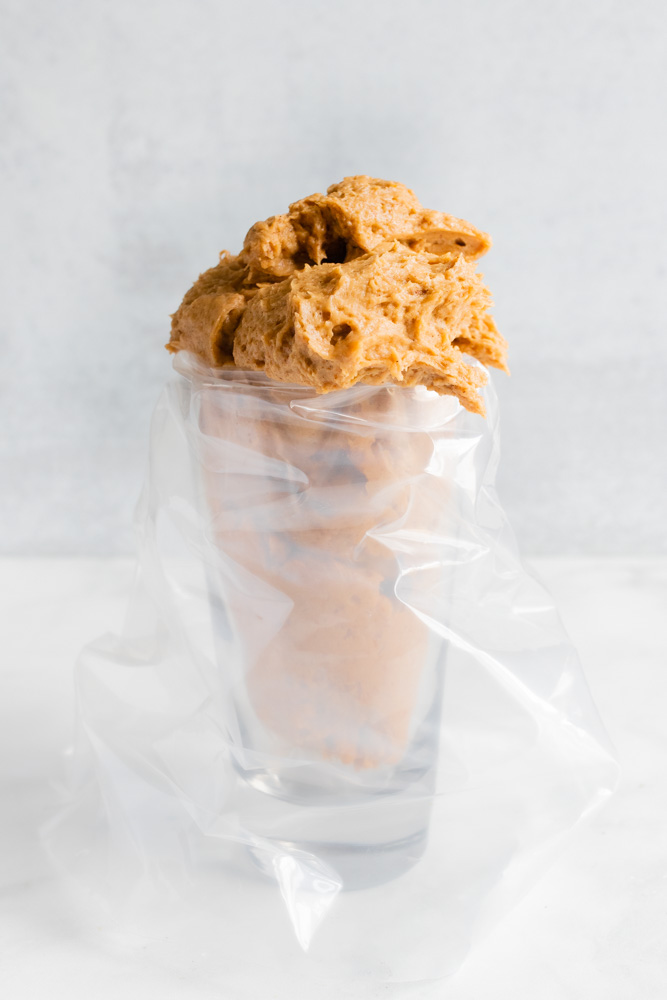 Serve them anytime
These Baked Pumpkin Donuts are great to serve for breakfast, when the girlfriends come over, or just to have as a snack if you're craving something sweet. 🍪 They're so delicious and they even have the cake-y consistency that gives them an authentic old fashioned donut kind of taste! You will need a donut pan for this recipe, and if you don't have one already I'd recommend this Wilton Mini-Donut Pan. It's the perfect size to make 24 bite-sized donuts & it's easy to clean. Or if "bigger is better", than go for it and use Wilton's larger donut pan.
Pumpkin Donuts need this Maple Cinnamon Glaze
Reducing some of the sugar in the recipe allows us to yum it up with a coating with our Maple Cinnamon Glaze. Moist pumpkin donuts, melted butter & notes of spicy cinnamon maple is a must! And just in case maple isn't your thing, I'd highly suggest the vanilla glaze that I used in this Monkey Bread. You could also drizzle with fudge like Fearless Dining does on her Gluten-free Banana Donuts.
You may not be able to call them healthy (they are donuts after all), but they are baked and filled with pure pumpkin better-for-you ingredients. So I guess if you think about it… they are still better than something you pick up at the store. And allergy-friendly! Can I call them healthy? Probably not. Will I call them delicious? Absolutely!!
Let's Bake Some Donuts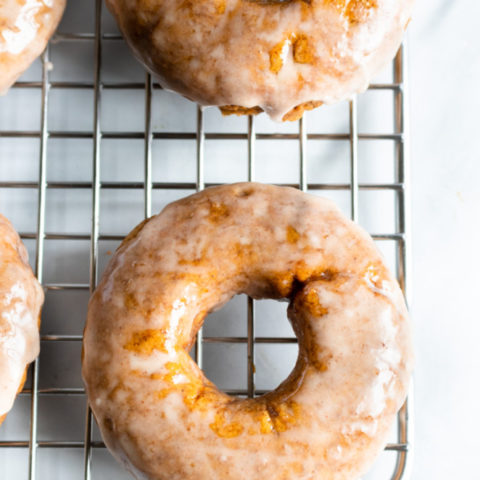 Baked Pumpkin Donuts
Yield: 6-12 donuts (reg & mini)
Prep Time: 5 minutes
Cook Time: 10 minutes
Total Time: 15 minutes
Melt in your mouth, baked Pumpkin Donuts to enjoy year 'round with a deliciously sweet Maple Cinnamon Glaze.  Vegan, gluten-free & nut-free with coconut-free option.
Ingredients
Donut Dry Ingredients:
1 1/2 C. all-purpose gluten-free flour blend (or equal amount of AP flour)
1 tsp. baking soda
1 tsp. baking powder
1/4 tsp. salt
2 tsp. pumpkin pie spice (or 1 tsp cinn, 1/4 tsp ginger, 1/4 nutmeg, 1/4 cloves, 1/4 allspice)
Donut Wet Ingredients:
1/2 C. canned pureed pure pumpkin
1/3 cup brown sugar
1/3 cup dairy-free milk (So Delicious Coconut Milk or dairy free milk of choice)
3 TB melted Earth Balance stick butter (comes in soy-free & vegan)
1 tsp apple cider vinegar
1 tsp. vanilla extract
Maple Cinnamon Glaze:
1 cup powdered sugar
1 TB. maple syrup
1/2 tsp. ground cinnamon
1 TB. dairy-free milk (add in to get proper consistency)
Instructions
Preheat oven to 350°. Lightly spray donut cavities with non-stick spray.
In a medium bowl, whisk together pumpkin, brown sugar, milk, melted butter, vinegar, and vanilla extract.
Sift in dry ingredients flour, baking powder, baking soda, spices, and salt. Mix until combined.
Using a pastry bag (or zip lock bag with corner cut), pipe out the batter into a ring pattern in the prepared pans.
Bake for 10-12 minutes or until they spring back just a little when touched. Cool in pan for 10 minutes and then carefully tip over to remove then cool 10 more minutes on a cooling rack.
Dip the top side of cooled donut into maple glaze and allow to drip off before placing back on cooling rack. Allow to set before serving.
Maple Cinnamon Glaze
Whisk together powdered sugar, cinnamon, maple syrup and a little dairy-free milk until you reach a consistency that is thick enough to hold onto your donut.
Notes
Substitutions
Substitute 1:1 Gluten-free flour with your favorite All Purpose blend. 
Use a neutral oil to replace melted butter if needed. 
Lemon juice can replace vinegar
Any dairy-free milk will work, however we prefer flax milk or coconut milk. 
Recommended Products
As an Amazon Associate and member of other affiliate programs, I earn from qualifying purchases. Please see my FULL DISCLOSURE POLICY for more details.
Nutrition Information:
Yield: 12
Serving Size: 1
Amount Per Serving:
Calories: 200
Total Fat: 11g
Saturated Fat: 5g
Trans Fat: 1g
Unsaturated Fat: 5g
Cholesterol: 21mg
Sodium: 284mg
Carbohydrates: 25g
Fiber: 1g
Sugar: 15g
Protein: 2g
Nutritional information is only an estimate based off of using an online calculator. Numbers will change depending on brands used.
Craving More PUMPKIN Recipes
Pumpkin Cupcakes with "Cream Cheese" Frosting
No-Bake Pumpkin Cheesecake Parfait
Share something delicious