Rich & decadent German Chocolate Cake, layered with sweet coconut icing & drizzled in chocolate ganache. Gluten free & Top 8 Free (Contains coconut)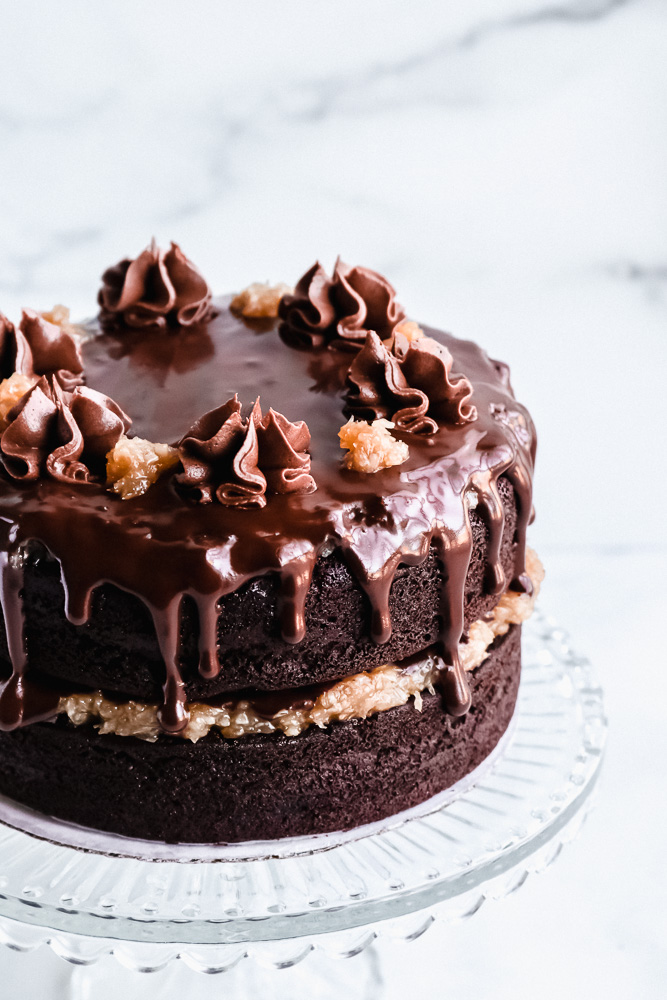 This post has been updated with new photos and a few changes to the recipe.
The BEST German Chocolate Cake
Ummmm, chocolate! I have always associated chocolate with the holidays.
Chocolate chip cookies for Santa, hot chocolate by the fireplace, milk chocolate candies in pretty boxes, and then there is chocolate cake. But not just any cake, rich & decadent German Chocolate Cake with that sweet & sticky coconut glaze to be exact. Doesn't just the sound of that bring a smile to your face?
The History of German Chocolate Cake
Before we dig in to the recipe, I want to let you in on some "fun facts" about the history of german chocolate cake.
Did you know that German chocolate cake isn't actually from Germany? In fact, it is an American dessert, first made in 1957 by Mrs. George Clay from Dallas, Texas! That's about as American as it can get, right? The confusion traces back to an American named Samuel German who developed a type of dark baking chocolate for Baker's Chocolate. Baker's then created a German's Sweet Chocolate in his honor which was used in Ms. Clay's German's Chocolate Cake recipe. As this cake recipe grew in popularity, the name changed slightly, removing the plural ('s) from German's, thus creating the confusion of who gets credit for this amazing cake.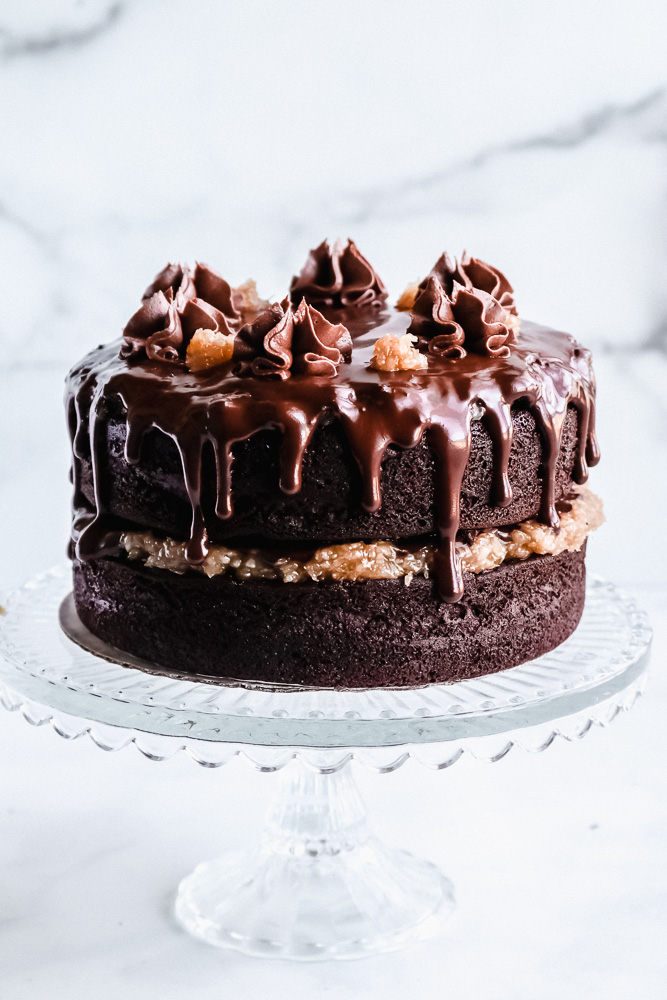 Free from Vegan Chocolate Cake
The German's won't get credit for this recipe either! It's brought to you by yours truly, a Canadian-American. And as a "heads-up", I've sort of strayed away from the traditional recipe which included regular flour, Baker's chocolate and a caramel-pecan filling made with egg yolks and evaporated milk. Sorry Mrs. George Clay.
Instead, I've made this Top 8 free, gluten free and vegan friendly! So everyone can have a slice of cake!
How to Layer Gluten-Free Chocolate Cake
If you are a visual learner like I am, than these photos below will help. I've included a few Step-By-Step Instructions to guide you through too.
⬆️ Using 2, 8″ round pans, fill your batter 3/4 full then bake. *The photos above, were made using 6″ cake pans and the extra batter, I made into 12 mini cupcakes.
Allow to cool then level off tops of cake using a serrated knife or cake level. (Don't discard of cake scraps, you can use these for cake balls).
⬇️ Evenly spread 1/2-3/4 cup of coconut frosting on first layer. Drizzle with ganache.
Add second cake layer, flattest side up, and repeat with coconut frosting.
Cover the entire top with ganache, allowing it to "drip" down the sides.
Leave as is for the perfect, naked cake or cover top and sides with chocolate frosting for even more decadence.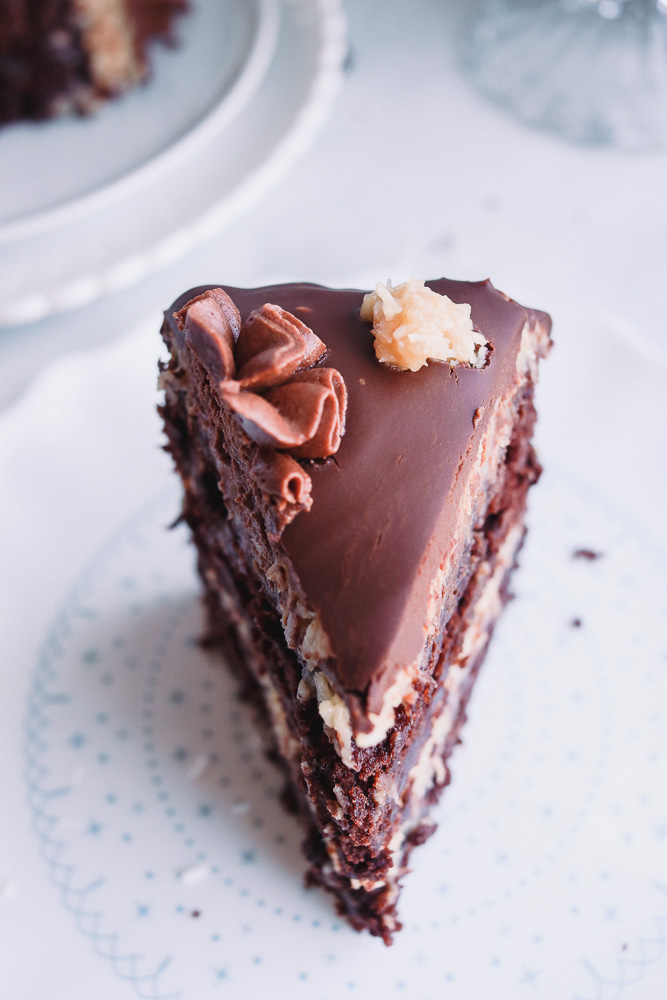 Is Coconut A Nut?
There is a lot of debate as to whether or not a coconut is indeed a nut, so I thought I would address it here.
The American College of Allergy, Asthma and Immunology states that "coconut is not a botanical nut; it is classified as a fruit, even though the Food and Drug Administration NOW recognizes coconut as a tree nut. While allergic reactions to coconut have been documented, most people who are allergic to tree nuts can safely eat coconut."
In our home, we safely consume coconut and a lot of it! Coconut milk, coconut creamer, shredded coconut, condensed coconut milk, coconut caramel…you get the idea. HOWEVER, if it isn't safe for you, then most of my recipes can be made using another dairy-free alternative.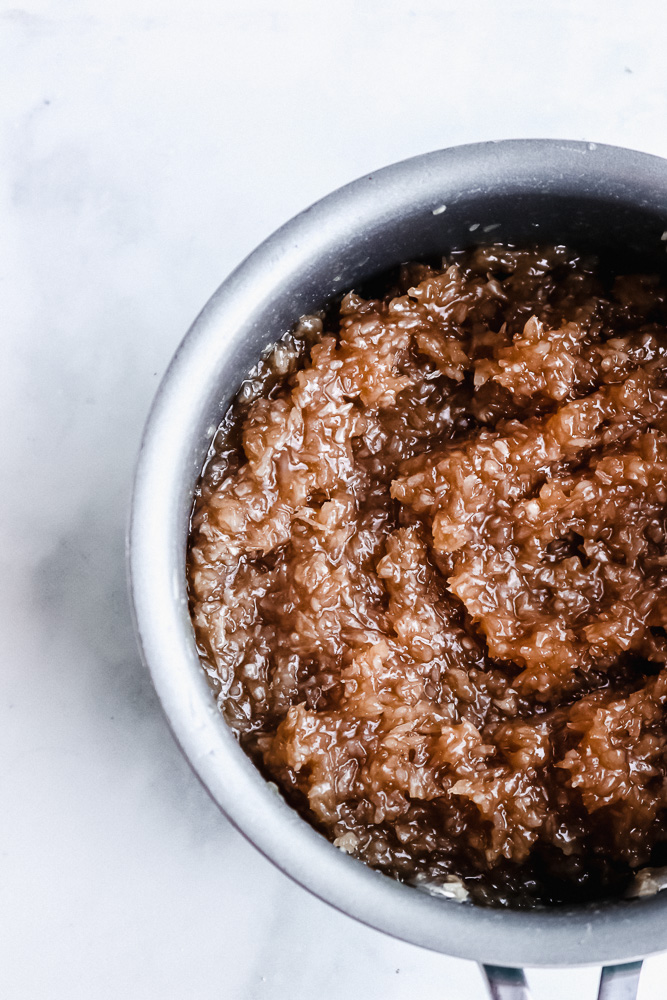 Pecan Free Coconut Frosting
While the chocolate cake is amazing, the coconut filling is the star of the show, even without the pecans. It's thick, gooey, chewy, and perfectly sweet. It's made from simple ingredients, you should have on hand.
vegan butter
granulated sugar (brown sugar also works, for a more caramel-like taste)
dairy-free milk and cornstarch (helps thicken up this frosting)
shredded unsweetened coconut
vanilla
Traditional recipes call for evaporated milk, which is why we use the milk/cornstarch slurry. You can also try using dairy-free half-and-half or unsweetened coffee creamer if you have an allergy to corn.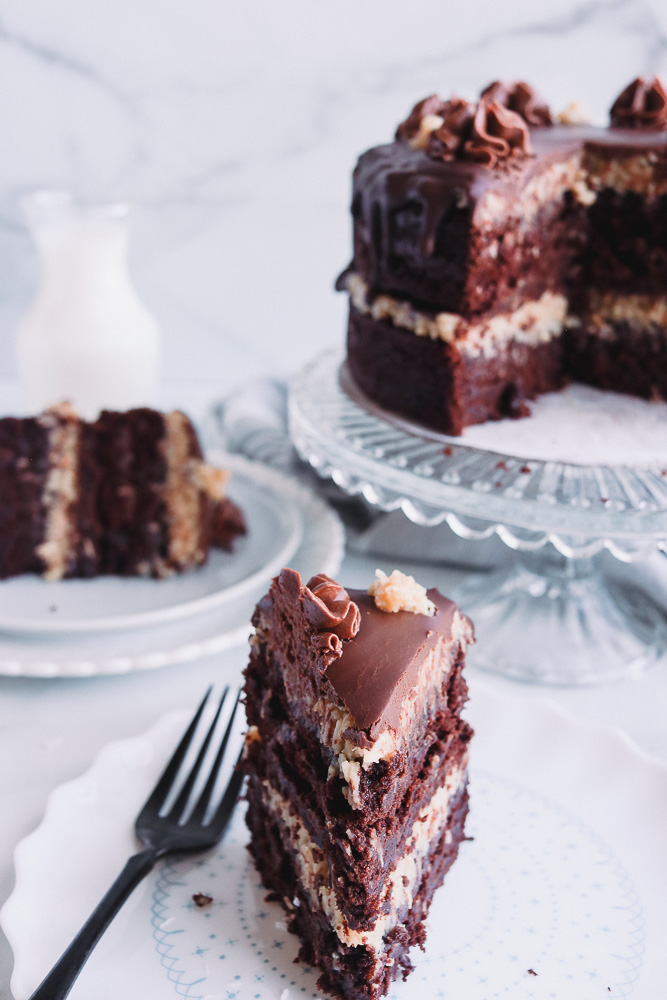 Allergy-friendly Celebrations
I know first hand how having a child with food allergies mixed with holidays can make everyone stress out. There's more activities, parties, school functions, get-aways, family visits and then there's food and what to make everyone. My goal is to make it a little easier for you. Easier because you can make a dessert that can be shared with your friends and guests without worry. Easier because you don't have to figure this all out yourself. Easier because you can just print off the recipe and spend a short amount of time making it then spend the rest of the time, enjoying every delicious "safe" bite.
Bring on the Vegan Cake
Although this is not technically "German chocolate cake", it has an ooey gooey coconut filling, a deep dark chocolate cake, and the perfect amount of chocolate ganache throughout that will bring a smile with every bite!
Vegan German Chocolate Cake
Yield: 12
Prep Time: 15 minutes
Cook Time: 35 minutes 30 seconds
Additional Time: 20 minutes
Total Time: 1 hour 10 minutes 30 seconds
Deliciously tender, German Chocolate Cake layered with a sweet coconut frosting then drizzled in chocolate ganache for a truly decadent, dessert. Gluten-free, nut-free, vegan. Contains coconut
Ingredients
Dry Ingredients
2 1/4 Cup Bob's 1-to-1 Gluten Free Flour Or All Purpose Flour)
1 Cup Sugar
1/2 Cup Brown Sugar
3/4 Cup Cocoa Powder,sifted
2 teaspoon Baking powder
1 teaspoon Baking soda
1/4 teaspoon Salt
Wet Ingredients
1 Cup Coconut milk + 1 Tablespoon Vinegar (to make "buttermilk)
1/2 Cup Hot water
1/2 Cup Vegetable Oil
2 Tablespoon Flax meal + 6 Tablespoon Hot water mixed to make "egg"
1 1/2  teaspoons Vanilla extract
Coconut Icing
1/2 Cup Dairy-free Milk
1 Tablespoon Cornstarch
1/2 Cup Sugar 
1/4 Cup Vegan Butter
1 1/2 Cups Coconut Shreds (unsweet)
Chocolate Ganache (optional)
1/2 Cup vegan chocolate chips
2 Tablespoon vegan butter
2 Tablespoon Coconut Milk (or other non-dairy milk)
Instructions
Vegan Cake Instructions
Preheat oven to 350° and grease and flour cake pans.
Add 1 TB. of vinegar to a 1 Cup measuring cup then top off with coconut milk. Allow to sit while preparing the rest.
In a small bowl, make your flax egg.
In a stand mixer, mix together dry ingredients (flour, sugars, cocoa, baking powder, baking soda & salt).
In a medium bowl, whisk together hot water, oil, vanilla and milk/vinegar blend until coconut oil has melted.
Slowly, pour liquids into flour and blend, making sure to scrape down the sides. Add flax egg and mix well.
Divide between prepared pans.
Bake 30-35 minutes if using 2-8" rounds. Toothpick will come out clean when inserted in the middle of the cake.
Cool 10 minutes then flip onto cooling rack. Allow to cool completely before icing.
Icing Instructions
In a small bowl, mix together coconut milk and cornstarch until blended.
In a small saucepan, melt butter substitute then add in sugar and milk mixture. Stir and bring to a slow boil, allowing icing to thicken (5 minutes). Remove from stovetop and stir in coconut. Cool before using.
Ganache (optional)
In a microwave safe bowl, add chocolate chips, butter & coconut milk. Melt together and mix well.
To Assemble
Lay 1 cooled cake round onto serving tray then cover with coconut icing and drizzle with ganache.
Add second layer of cake on top and then cover with coconut icing as well.
Pour melted ganache over the top of the cake and allow melted chocolate to run down the sides. Add extra coconut if desired.
Notes
*If using regular flour, simply substitute in place of 1-to-1 mix without making other changes. 
** if using regular gluten-free flour, see if Xanthan gum is required. 
*** Can also use flax milk or another dairy-free milk in place of coconut milk.  Do not recommend rice milk, as its too thin.
Recommended Products
As an Amazon Associate and member of other affiliate programs, I earn from qualifying purchases. Please see my FULL DISCLOSURE POLICY for more details.
Nutrition Information:
Yield: 12
Serving Size: 1
Amount Per Serving:
Calories: 357
Total Fat: 19g
Saturated Fat: 7g
Trans Fat: 0g
Unsaturated Fat: 10g
Cholesterol: 26mg
Sodium: 278mg
Carbohydrates: 46g
Fiber: 2g
Sugar: 32g
Protein: 4g
Nutritional information is only an estimate based off of using an online calculator. Numbers will change depending on brands used.
Share something delicious