Pure deliciousness in every bite of these moist and tender, Berry Filled Vanilla Cupcakes topped with cream cheese frosting.
Why hello there deliciousness! Where have you been all my life? Yes….I'm talking about all these gorgeous Berry Filled Vanilla Cupcakes 😍.
To say that I love this cupcake, is an understatement! From the outside, this berry filled vanilla cupcake looks like your standard cake. But once you bite into it, you'll be surprised to find the hidden gem…. a bright and colorful berry-licious filling. No wonder I'm obsessed.
It's All About The Base
When you see all the chocolate recipes on this blog, it's probably hard to believe that I actually prefer vanilla. For me, vanilla is the perfect foundation to add whatever toppings, fillings or mix-ins your little heart desires. Vanilla smoothies, vanilla nice cream, vanilla cake ….. can all be jazzed up with berries, sprinkles, chocolate, nut-butters, coconut, candies…..you name it! BUT, more important than the mix-ins, is starting off with a yummy base.
This vegan vanilla cupcake uses easy to find, allergy-friendly ingredients to make its batter, such as gluten-free flour, coconut milk and vinegar (instead of eggs). It is free from dairy, eggs, nuts, gluten, and come to think about it, it's also Top 8 Free.
AND the batter whips up in a matter of minutes. Just whisk the dry ingredients and wet ingredients separately then combine them all together. Done!
Berry-licious Filling
Then there's the homemade berry filling. You could almost think of it as a homemade jam, without all the work of canning and not quite as thick.
When berries are in season, I like to use even mixture of strawberries, blueberries and raspberries, but for those times when fresh fruit doesn't look its best, a frozen berry blend takes it place. Simply puree in a food processor, then cook over heat with some sugar, lemon juice and cornstarch. Once it's cooled, you've got the perfect berry filling which also makes a fabulous drizzle to top off my Double Chocolate Waffles with.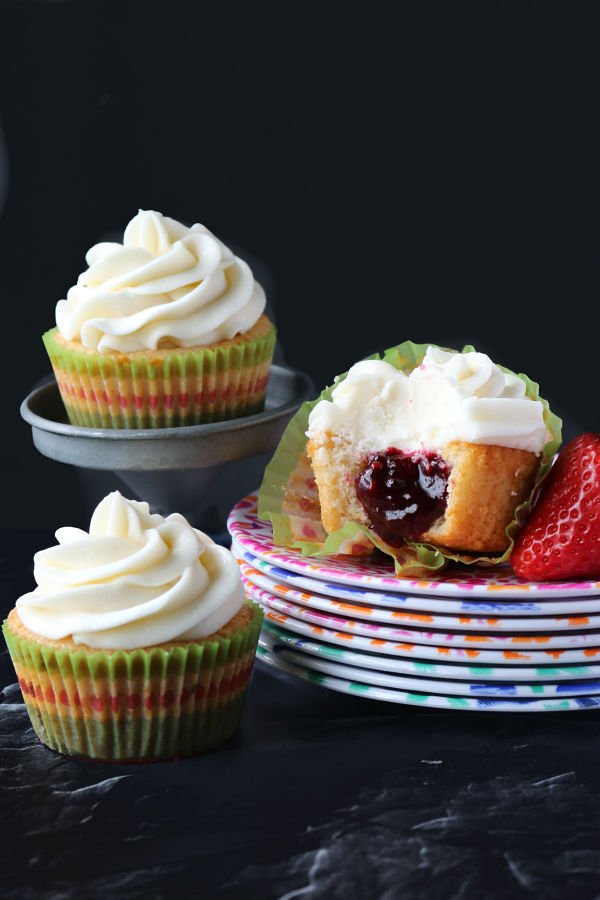 Vegan Cream Cheese Frosting
Let's talk about that frosting! No matter what type of cupcake I make, my kids always request this homemade cream cheese frosting. I've been told that it's better than any other frosting out there…and my kids wouldn't lie (well……maybe they would, but not about food).
It is made with vegan butter, confectioners sugar, vanilla extract and a little vegetable shortening, to help it keep its shape. It's buttery, creamy, rich, slightly tangy and the absolute perfect compliment to our berry filled vanilla cupcakes.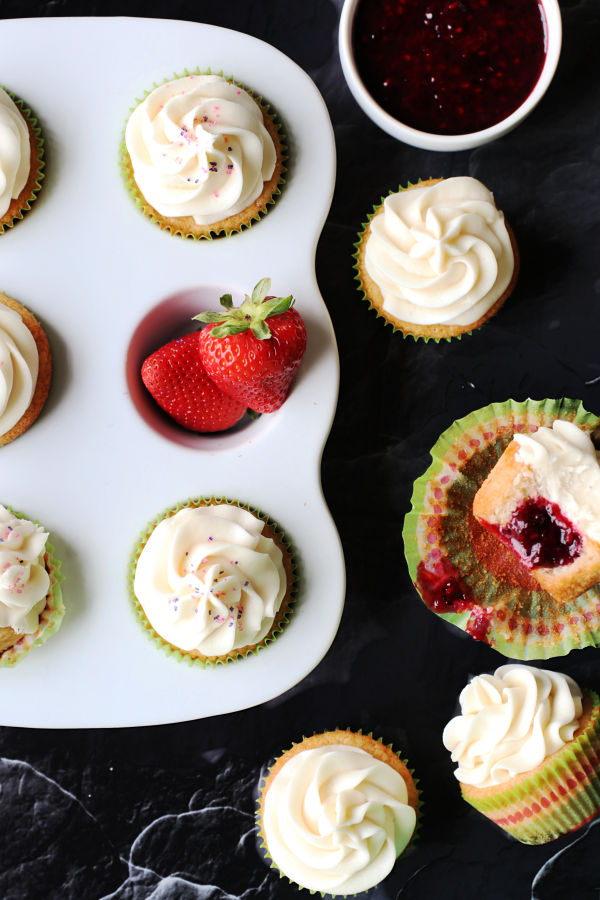 The end result is a delicious vegan, berry filled vanilla cupcake that just melts in your mouth! The moist vanilla cupcake, amazing cream cheese frosting and burst of homemade berry filling is a delightful combination! A party in your mouth so to speak. Everyone who has had these so far, totally fell in love and I know ya'll will want to make over and over! This really is one of the best treats you can bite into!
The Recipe
Berry Filled Vanilla Cupcakes
Yield: 14 cupcakes
Prep Time: 15 minutes
Cook Time: 20 minutes
Total Time: 35 minutes
Pure deliciousness in every bite of these, moist and tender, Berry Filled Vanilla Cupcakes topped with cream cheese frosting. Vegan, Gluten-free and Nut-free as written.
Ingredients
Vanilla Cupcakes
1 1/2 cups 1-to-1 Gluten-free Flour *
1 cup sugar
1 teaspoon baking soda
1/2 teaspoon salt
3/4 cup coconut milk (or dairy-free milk of choice)
1/2 cup canola oil (can also use coconut oil, melted)
2 tablespoons white vinegar
1 teaspoon vanilla extract
Berry Filling
1 1/2 cup mixed berries (I used frozen strawberries, blueberries and raspberries)
1 teaspoons lemon juice
3 tablespoon water
3/4 cup  sugar
3 tablespoon cornstarch
Cream Cheese Frostin
1 (8-ounce) cream cheese, softened to room temperature
1/2 cup unsalted butter, softened to room temperature
1/4 cup vegetable shortening
3 cups powdered sugar
1 teaspoon pure vanilla extract
Instructions
Cupcakes
Preheat oven to 350° and line cupcake tin with liners (recipe will make 14-15 cupcakes)
In a large bowl, whisk together flour, sugar, baking soda and salt.
Ina small bowl, whisk together coconut milk, oil, vinegar and vanilla. Pour wet ingredients into flour mixture and whisk to combine.
Fill cupcake liners 2/3 full with batter. Bake 18-20 minutes or until toothpick inserted in the center comes out clean.
Let cool completely, then either using a cupcake corer, or knife, cut out the center of the cupcake for filling. (Obviously you get to just eat all the extra pieces).
Berry Filling
To make the berry topping, add the berries, lemon juice and water to a food processor and puree until smooth. You should end up with about 2/3 cup puree.
Combine the sugar and cornstarch in a medium saucepan. Stir in the berry puree.
Cook over medium heat, stirring until mixture thickens and comes to a boil, about 8-10 minutes.
Allow to boil for 1 minute, then remove from heat. Allow to cool completely then add 1 tablespoon into center of cupcake.
Cream Cheese Filling
In the bowl of a stand mixer fitted with the paddle attachment, or in a large mixing bowl using a hand-held mixer, beat the cream cheese until smooth. Add the butter, shortening and mix for about 30 seconds-1 minute until well combined and smooth. Add in the powdered sugar and vanilla extract and continue mixing until fully combined, scraping down the sides of the bowl as needed.
Pipe frosting on top of cooled cupcakes.
Notes
Can also make this recipe using AP Flour (just use exact amount as shown)
Use your favorite gluten-free flour instead, but don't forget to add the Xanthan Gum if required. 
Omit berry filling if desired or use your favorite pre-made berry jam.
Craving More
There's more cupcake recipes to try….
Share something delicious