These are the best allergy-friendly, SunButter and Jelly sandwich cookies you will ever make. {Vegan, DF,EF,NF}
**This recipe is in partnership with SunButter . While I was compensated for this recipe, all opinions are 100% my own!**   
Let's talk PB&J.
First of all, it's a lunchbox classic. Whether you like smooth or chunky, jam or jelly, white or wheat, it's all good! Secondly, regardless of how amazing it is or the sentimental value it holds, you just can't eat it if you have a food allergy. That's why I decided to mix it up a little and rock your lunchbox world with my allergy-friendly take on school time favorite. SunButter & Jelly Sandwich Cookies….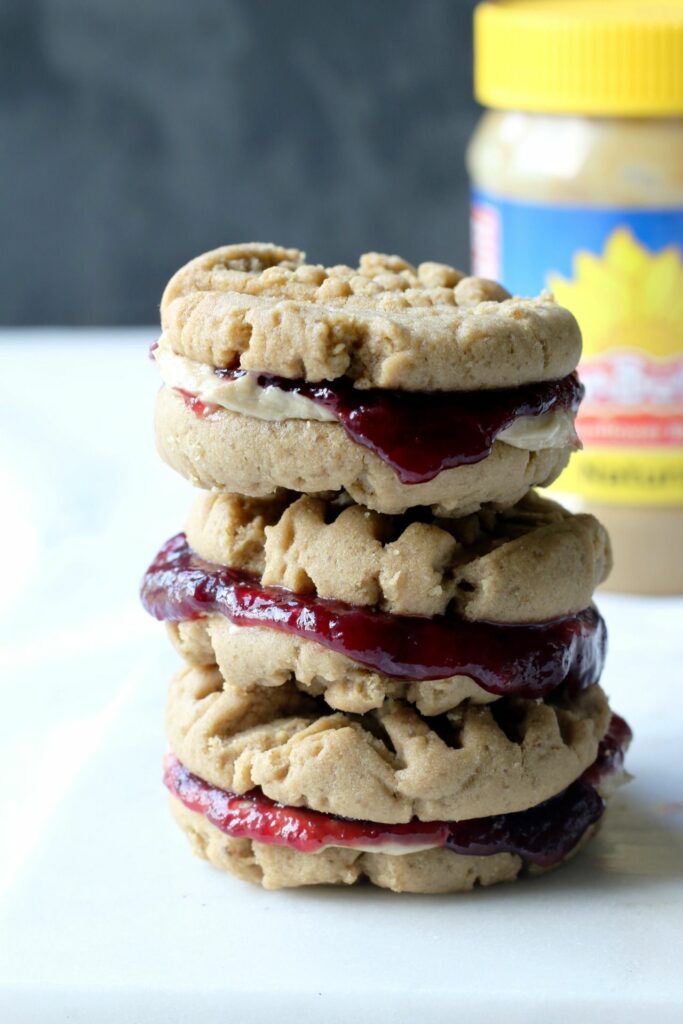 To celebrate school starting again (anyone else doing the "happy dance?🎉) I thought these SunButter & Jelly Sandwich Cookies would be the perfect back-to-school treat. Two deliciously tender, sweet and "nutty" SunButter cookies, sandwiched with SunButter Natural and jelly! This SunButter cookie recipe used here was loosely adapted from Chloe's Vegan Desserts and is my new favorite! Lightly crisp edges, super chewy middle and "whoop" there is it, cookie heaven!
Although these SunButter cookies are quite delicious on their own (I may have eaten 1 or 3😂 before my willpower took over), the filling is the perfect touch of creamy SunButter and tart jelly that tastes a bit like childhood. I probably would have shouted with glee if I found one of these SunButter & Jelly Sandwich Cookies in my lunch box instead of a sandwich! Forget white or wheat… me want cookie!!🍪
How could you blame me? SunButter cookies are a way cooler way to make a sandwich, don't you think? I bet if you made this for your kiddo, you'd win "coolest mom of the year" award! Even if you don't have kids, it's perfectly acceptable to relive those childhood moments with an upgraded take on a classic combo. Care to join me & indulge a little with these amazing SunButter & Jelly Sandwich Cookies?
Craving more ideas?
It's cookie making time
SunButter & Jelly Sandwich Cookie
Yield: 12 sandwich cookies
Prep Time: 5 minutes
Cook Time: 12 minutes
Total Time: 17 minutes
The perfect back to school treat.  Two perfectly tender, sweet and nutty SunButter cookies, sandwiched with silky SunButter cream and tangy berry jam!
Ingredients
Cookie Dough
1 1/4 cup all-purpose flour*
3/4 teaspoon baking soda
1/2 teaspoon salt
3/4 cup creamy SunButter
1/2 cup Earth Balance butter
1 cup light brown sugar
1 1/2 teaspoon pure vanilla extract
1 tablespoon coconut milk or creamer
Filling
1/4 cup creamy SunButter
1/2 cup vegan confectioner sugar
2 tablespoon Earth Balance butter, softened
1 tablespoon coconut milk or creamer
1/3 cup berry jam or jelly of choice
Instructions
SunButter Cookie
Preheat oven to 350°. Line 2 baking sheets with silpat or parchment paper and set aside.
In a medium bowl, whisk together flour, baking soda and salt.
Using a stand mixer, beat SunButter, butter, brown sugar, vanilla and milk until fluffy. Slowly add in flour mixture, and blend until combined.
Scoop approximately 2 tablespoon of dough and roll into a ball. Place on prepared baking sheet, leaving 3" between each scoop. Using the back of a fork, press down onto dough to create criss-cross pattern. Bake 12-14 minutes or until edges are light brown. Let cool on pan.
Filling
Make SunButter Cream: In a stand mixer, beat together SunButter, confectioner sugar, softened butter and coconut milk until light and creamy.
Spread a layer of SunButter cream on one cookie and a tablespoon of jam/jelly on another cookie. Sandwich cookies together. Refrigerate those you don't eat right away in a sealed container.
Notes
*For a gluten-free option, substitute Bob's Red Mill 1-to-1 GF flour (this works wonderfully) or gluten-free flour of choice, adding xanthan gum if needed. 
When refrigerating, I carefully held sandwich cookies together with a toothpick until they had time to set at least 1 hour. 
**The chlorogenic acid (chlorophyll) in sunflower seeds reacts with the baking soda/powder when baked, causing the green color when the cookies cool. This is completely harmless! Depending on the recipe, a splash of lemon juice may also help.
Recommended Products
As an Amazon Associate and member of other affiliate programs, I earn from qualifying purchases. Please see my FULL DISCLOSURE POLICY for more details.
Nutrition Information:
Yield: 12
Serving Size: 1
Amount Per Serving:
Calories: 360
Total Fat: 22g
Saturated Fat: 3g
Trans Fat: 1g
Unsaturated Fat: 18g
Cholesterol: 0mg
Sodium: 323mg
Carbohydrates: 38g
Fiber: 2g
Sugar: 23g
Protein: 5g
Nutritional information is only an estimate based off of using an online calculator. Numbers will change depending on brands used.
Get connected
Sign up for the Allergylicious newsletter for a fresh serving of content delivered every week to your inbox! Grab a copy of my eBook and stay in touch on Facebook, Twitter and Pinterest for all of the latest allergy-friendly recipes and updates.
Pin & Share
About SunButter
SunButter is a natural, simple, and delicious sunflower butter. Made from roasted US grown sunflower seeds, SunButter has 7g or more of protein per serving and more vitamins and minerals than nut butter. Peanut free SunButter is free from all of the top 8 food allergens. All of their products Top 8 Allergen free and available online at www.sunbutter.com or Amazon as well as most local grocery stores. Coupons are also available here.