Summer wouldn't be the same without a serving of Grandma's homemade peach cobbler!
Made with Love
Grandma's Peach Cobbler was always made with a lot of love & fresh peaches! However, I had completely forgot this recipe still existed in the form of a recipe card until my Mom called and invited us over for dessert. She was quite excited to use some of the fresh peaches her and Dad grabbed from a local peach grower and I was super excited to try Grandma's recipe once again.
Of course, Tome and the bigs just loved Mom's dessert (Xander hates peaches for some reason, so his vote doesn't count 😉) and I ended up snagging Grandma's recipe card and plotting out the ingredients I would use to make this allergy-friendly and vegan.
I also grabbed some of those fresh Porter Peaches….thanks Mom! 🍑
It's all about the base
What's different about this Peach Cobbler and other cobbler recipes, is the order in which you place your fruit. Usually,  I  add the fruit in the bottom of a dish then top it off with a biscuit-like topping or granola as I did in this berry skillet pie & Chrystal does in her Gluten-free Blackberry Cobbler. But in Grandma's cobbler, you put the batter in the bottom of your dish, pour your melted butter on top (but don't mix it in) and then pile on your beautiful sliced peaches.
You may think this is a little crazy, but you've just gotta try it for yourself and let me know what you think. As the flour mixture starts to bake, it mixes with the butter then starts to engulf all those peaches. The end result is a doughy, buttery, delicious, bread pudding-like, peachy dessert.
It's peachy-keen if I may say so! And because we used allergy-friendly ingredients, you'll be able to taste the love too! (see notes in the recipe for ingredient options)
I like to think that my Grandma is looking down now and smiling that so many of you get to try her Peach Cobbler recipe. Thank you Mom for passing it on and thank you Grandma for passing on the love of baking. 👩🏻‍🍳
Let's get baking
Grandma's Peach Cobbler
Yield: 8-10 people
Prep Time: 7 minutes
Cook Time: 45 minutes
Total Time: 52 minutes
This Homemade Peach Cobbler recipe is made with a lot of love and fresh peaches!  It comes to you from my Grandmother's recipe box but made with an allergy-friendly twist.
Ingredients
Allergy-free Recipe
1 cup original Coconut Milk (or dairy-free milk or choice)
1 cup coconut sugar
1 cup Bob's 1-to-1 Gluten-free flour (use Xanthan gum if needed for another GF flour)
2 teaspoon baking powder
1/2 cup (1 stick) dairy-free butter such as Earth Balance vegan stick, melted
5-6 fresh peaches, pitted and sliced
Grandma's Original Recipe
1 cup original whole milk 
1 cup sugar
1 cup flour 
2 teaspoon baking powder
1 stick of butter, melted
5-6 fresh peaches, pitted and sliced
Instructions
Preheat oven to 350°. Lightly spray 8" round baking dish with non-stick spray.
In a large bowl, whisk together flour, coconut milk, sugar & baking powder. Pour into prepared baking dish.
Pour melted butter over dough then add sliced peaches.
Bake for 40-50 minutes. Batter will still be a little doughy (like bread pudding), but browned.
Recommended Products
As an Amazon Associate and member of other affiliate programs, I earn from qualifying purchases. Please see my FULL DISCLOSURE POLICY for more details.
Nutrition Information:
Yield: 10
Serving Size: 1
Amount Per Serving:
Calories: 444
Total Fat: 13g
Saturated Fat: 7g
Trans Fat: 0g
Unsaturated Fat: 4g
Cholesterol: 28mg
Sodium: 298mg
Carbohydrates: 81g
Fiber: 4g
Sugar: 59g
Protein: 5g
Nutritional information is only an estimate based off of using an online calculator. Numbers will change depending on brands used.
Pin for later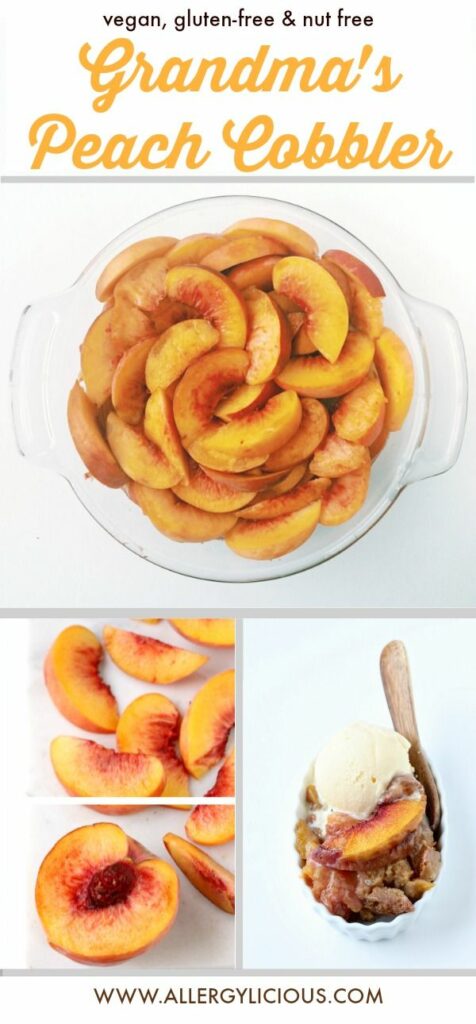 Share with friends
If you like this recipe & want to see more like this, subscribe to Allergylicious for recipes sent to your inbox as soon as it goes live! 
Be sure to follow Allergylicious on Facebook ,  Instagram  & Pinterest as I'll be sharing the newest, delicious, allergy-friendly foods.
Order Now
Don't forget to order my new eBook called Eat Dessert First! It's a collection of our reader's favorite & most loved desserts.