This Chocolate Espresso Bundt Cake is going to knock your socks off! Incredibly moist, flavored with espresso, with a texture that almost melts in your mouth! It's quick and easy to make and doesn't require crazy ingredients. The cake is great by itself, the espresso frosting is a bonus.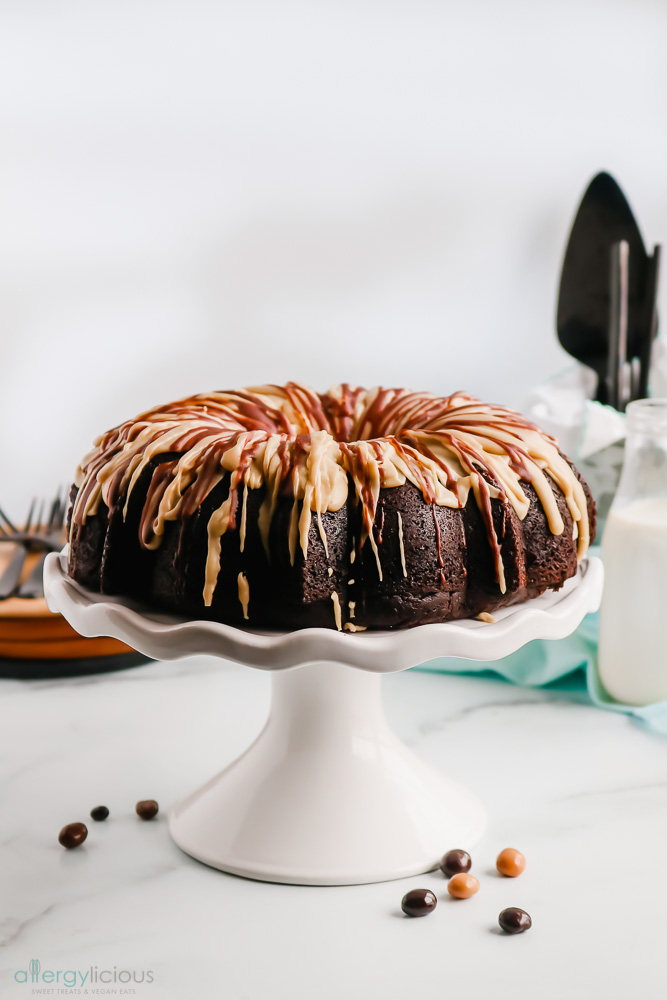 I have 1 piece of this Chocolate Bundt Cake left as we speak! And just imagine how hard it is to keep my fork from digging away into that decadent chocolate cake, covered in the most delicious espresso drip! So when I say that it's hard to resist…I mean it!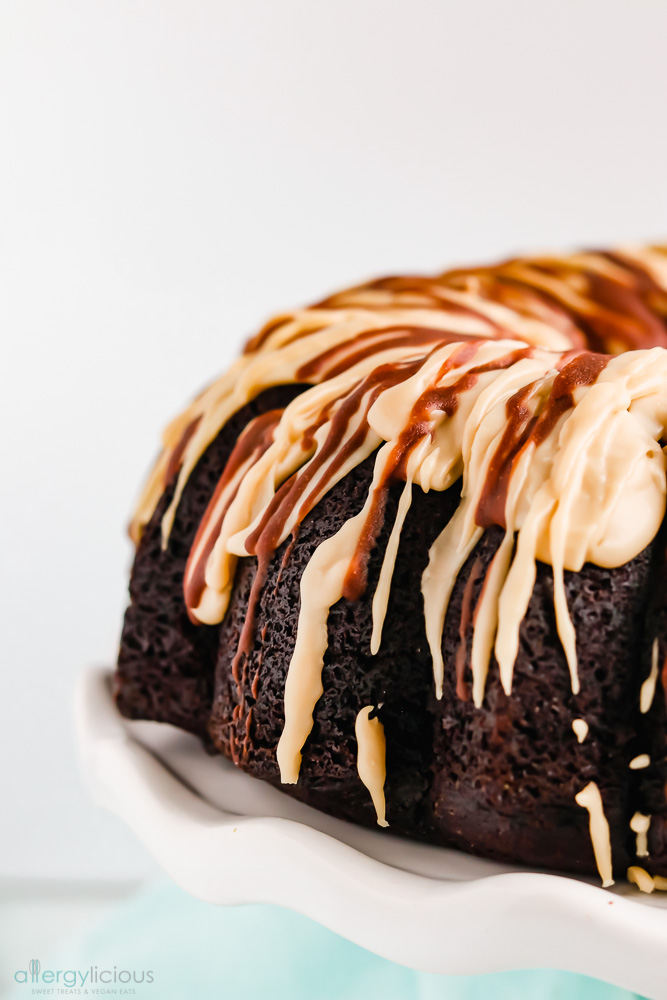 This vegan chocolate cake recipe is the one you'll go-to anytime someone is requesting dessert. It looks incredibly impressive yet is deceptively simple to make, even for the beginner baker. All you need is a pretty-shaped Bundt pan to transform the most basic chocolate cake recipe into a work of art with hardly any fuss in the kitchen.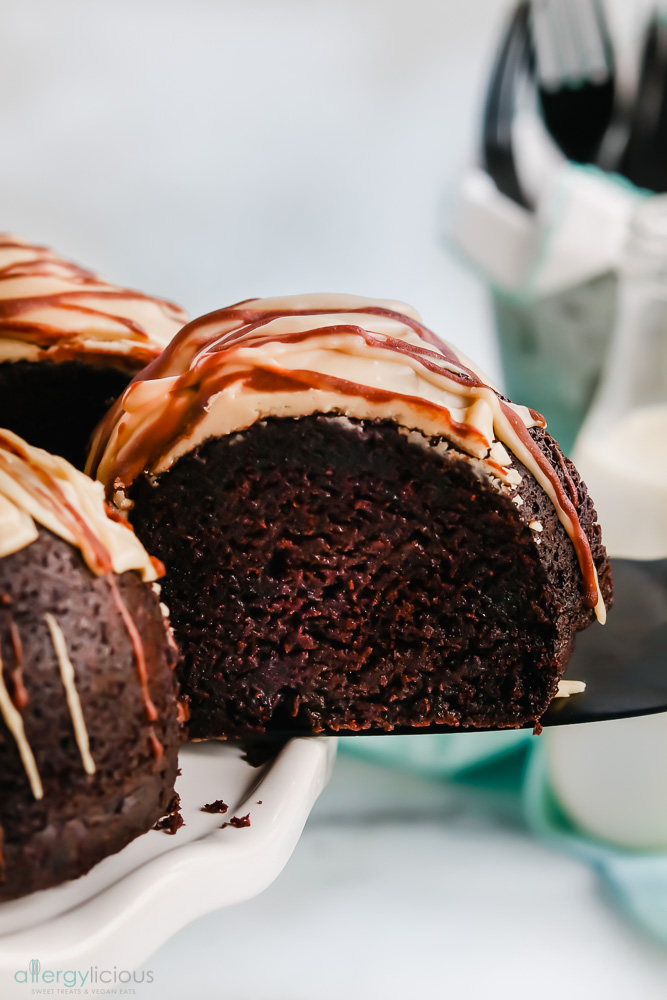 This Vegan Chocolate Espresso Bundt Cake Is:
Super Soft like my dark chocolate cupcakes
Rich + velvety
A perfectly blend of chocolate and espresso
Easy to make
Simple to transport– no layers!
Topped with smooth + silky frosting
A great make ahead recipe
The ultimate celebration dessert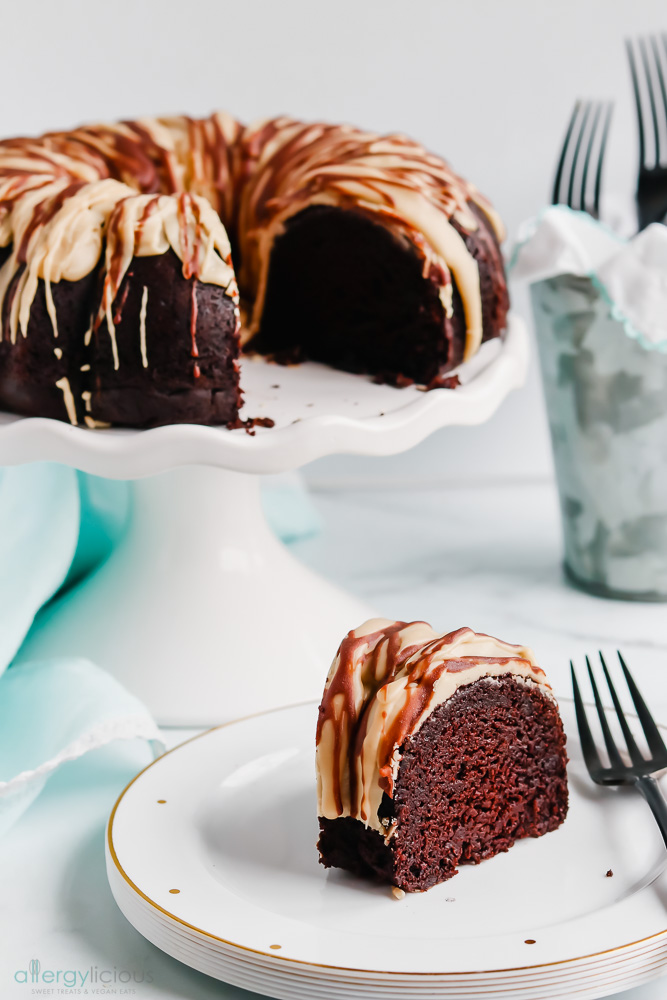 Chocolate Espresso Cake Ingredients
Chocolate espresso cake requires very simple allergy-friendly ingredients– nothing fancy, all items you likely have in your pantry already.
Flour: All-purpose flour serves as the base. We use sturdy all-purpose flour instead of cake flour in this recipe because of the thick, wet batter. *You can also use your favorite 1:1 Gluten-free flour (I tested with Bob's Red Mill which includes xanthan gum).
Cocoa Powder: I prefer Dutch-process which alkalizes the cocoa, giving it a richer, less bitter flavor.
Baking Soda + Vinegar: These ingredients help the cake rise.
Salt + Vanilla Extract: Both add flavor. Try using Neilsen-Massey for an allergy-friendly vanilla!
Canned Coconut Milk: Lends to a rich, decadent dessert, without using dairy free.
Oil: Oil guarantees a moist crumb.
Sugar: Sugar not only sweetens our cake, but it also adds softeness, tenderness, helps leaven and deepens flavor.
Espresso Powder: Just a little pinch enhances and intensifies the chocolate flavor. Don't worry, it won't taste like coffee.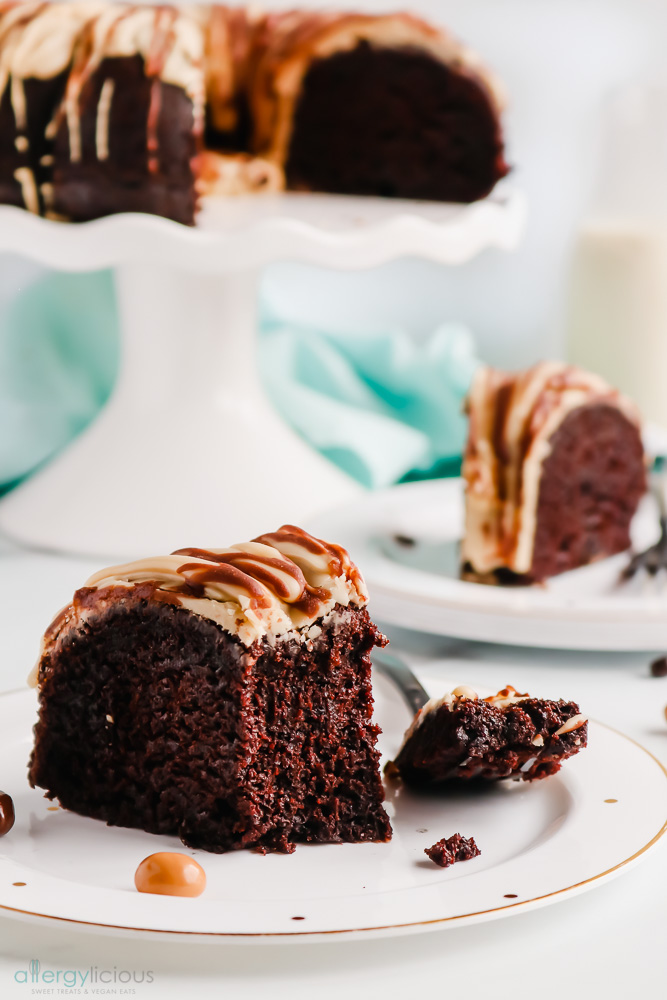 How to Make Allergy-friendly Bundt Cake
The base of this chocolate bundt cake is super simple to make and requires only 1 bowl. You don't even need your mixer unless prefer using it like I do!
Combine the wet ingredients large bowl.
Sift in the dry ingredients.
Whisk really well, until completely combined.
Pour into a lightly greased bundt pan.
Bake. Cool. Unmold.
Make your espresso glaze! I highly recommend espresso drip included in the recipe below, but my chocolate buttercream frosting would work well here, too if you're a chocolate lover. 
Pour glaze over (cooled) chocolate cake, slice, and serve.
Enjoy!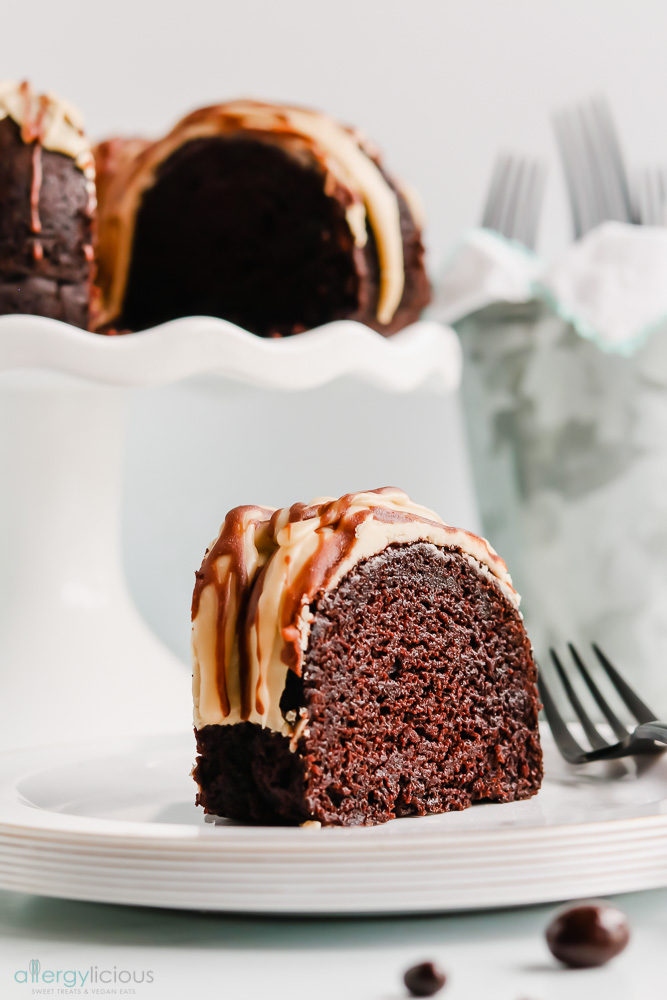 Tips and Substitutions For the Perfect Bundt Cake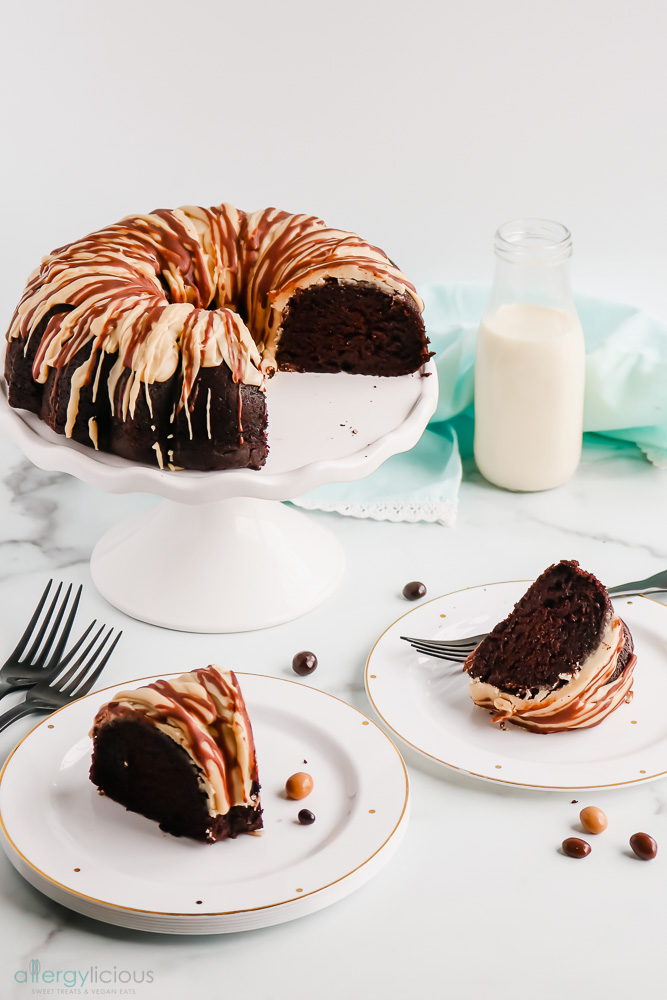 You May Also Like
Chocolate Espresso Bundt Cake
Yield: 16
Prep Time: 10 minutes
Cook Time: 45 minutes
Additional Time: 10 minutes
Total Time: 1 hour 5 minutes
Incredibly moist, flavored with espresso, with a texture that almost melts in your mouth! It's quick and easy to make and doesn't require crazy ingredients. Vegan, peanut-free with gluten-free option.
Ingredients
Cake
1 1/2 teaspoon baking soda
3/4 teaspoon salt
3/4 cup vegetable oil (or neutral oil of choice)
1 tablespoon white vinegar
Glaze
3 tablespoons water
1 tablespoon espresso powder
2 tablespoons melted vegan butter
2 teaspoons vanilla extract
Instructions
Make the Bundt Cake
Preheat oven to 350° and coat a large bundt pan with cooking spray or shortening-getting into all the nooks.
In a large bowl, whisk the coconut milk, oil, vinegar, vanilla and espresso. Sift in flour, sugar, cocoa powder, baking soda and salt. Whisk all until combined but do not overmix if using AP flour.
Fill prepared pan evenly with batter. Tap a few times to level and break air bubbles. Bake 45 minutes, rotating pan halfway through. Check for doneness, when a toothpick inserted into the center of the cake comes out clean.
Remove from oven and let cool 10 minutes, then gently flip pan over to unmold onto a cooling rack or cake plate.
Make the Glaze
Just before assembling, in a medium bowl, stir together the water and espresso powder until dissolved. Add confectioner's sugar, melted butter and vanilla. Whisk until smooth.
Pour glaze on top of cooled bundt cake.
*Drizzle with a little melted chocolate chips if desired.

Notes
*For Gluten-free option, please see notes in post. We use Bob's Red Mill 1:1 Blend.
**Coconut free option is available by using non-dairy creamer.
***Omit espresso glaze and top with Chocolate Buttercream for a decadent, double chocolate version.
Recommended Products
As an Amazon Associate and member of other affiliate programs, I earn from qualifying purchases. Please see my FULL DISCLOSURE POLICY for more details.
Nutrition Information:
Yield: 16
Serving Size: 1
Amount Per Serving:
Calories: 349
Total Fat: 17g
Saturated Fat: 6g
Trans Fat: 0g
Unsaturated Fat: 10g
Cholesterol: 4mg
Sodium: 233mg
Carbohydrates: 48g
Fiber: 1g
Sugar: 32g
Protein: 3g
Nutritional information is only an estimate based off of using an online calculator. Numbers will change depending on brands used.
Share something delicious