These chocolate covered SunButter hearts are such a fun vegan treat to make this Valentine's Day or any time of year! Rich, creamy, no-bake and ridiculously good.
This post is sponsored by SunButter.
Allergy-friendly Hearts for Valentine's Day
You can NEVER go wrong with the combination of SunButter and chocolate. Whether it be in the form of chocolate crunch pops, chocolate Suncups or even SunButter mousse pie, I will never judge.
But with Valentine's Day right around the corner, these easy to make SunButter hearts are the perfect treat to satisfy your sweet tooth and such a cute little dessert to share with your special someone. Creamy on the inside, chocolatey on the outside, then sprinkled with flecks of sea salt – one bite will make your heart pitter-patter.
How Are These Different From Store-bought Chocolate Candy Hearts?
For starters, my chocolate covered hearts are so much better. Seriously ya'll, I would never tease about such a thing. (wink, wink). They are freakin' delicious!
They are also:
Rich & Creamy
Chocolate-y
Homemade
Vegan
Allergy-friendly
Gluten-free
Nut-Free
And all those things – make them better!
Ingredients for Salted Chocolate Covered SunButter Truffles
This SunButter truffle recipe is filled with a mixture of SunButter (I used the Natural variety), confectioners sugar, liquid sweetener (like agave), coconut oil, vanilla and a pinch of salt – nothing too crazy!
To me, all those ingredients create a light, delicate yet richer center filling that is simply irresistible! And did you notice that I used the word "irresistable"? That's because if you aren't careful, you'll devour this eggless dough before you ever coat it in melted chocolate. It really is that addicting!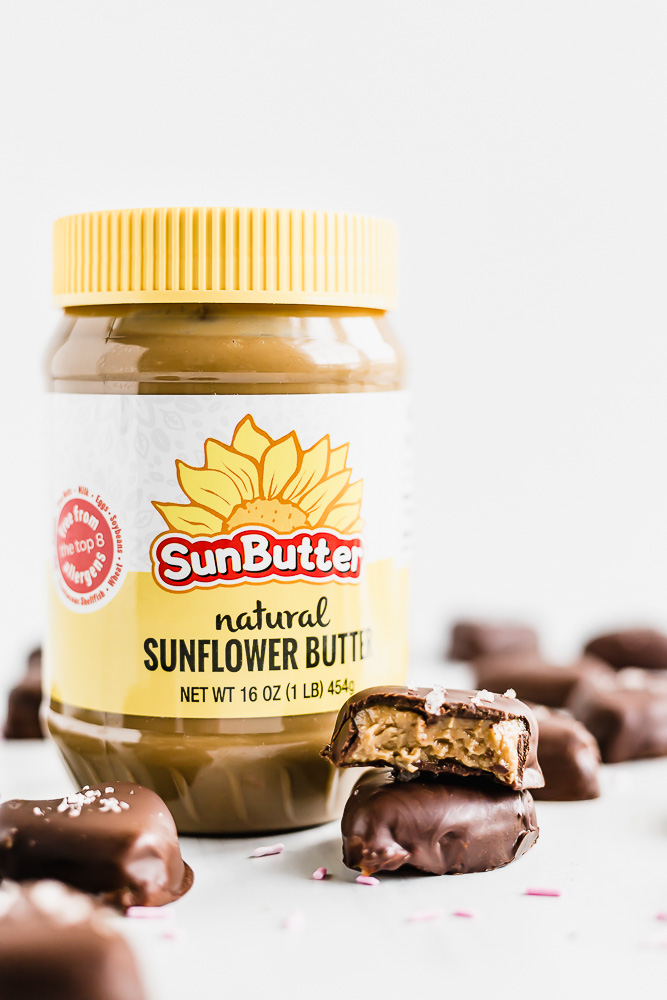 Speaking of chocolate, I recommend using vegan, semi-sweet or dark chocolate chips to make the coating. The filling is already sweet enough, so no need to go overboard.
And then there's the pinch of flaky sea salt. My favorite addition because it adds a little texture and balances out sweetness while heightening the flavor of the chocolate. Of course it's optional, but if you want the full experience, then Go All In!
How Do I Shape Chocolate Covered SunButter Hearts?
You can use any shape mold you would like, whether its heart-shaped or not, to fit the celebration. Just make sure you use a silicone mold. They are much easier to work with as far popping out the frozen SunButter shapes.
There are tons of them out there to choose from, but this one from Amazon is similar to the size of the silicone Heart mold I used. https://amzn.to/3iYLEht
What if I don't have a Silicone Mold?
Although using a silicone mold makes shaping SunButter truffles easier, you can also scoop the dough onto wax paper, then shape it into a heart with your fingers.
Another option is to press the dough between parchment and roll to desired thickness. Freeze for an hour or so then use a cookie cutter to cut into shape.
Tips for Making Perfect Chocolate Covered SunButter Hearts
Use a creamy variety of SunButter (Natural, Creamy, or No Sugar Added) because they have less oil separation which makes it easier to scoop and use.
Sift the powdered sugar. No one wants lumpy chocolate..
Chill your dough while in its mold at least 30 minutes to 1 hour. The longer you chill the easier it is to dip in chocolate without melting.
Thin out the chocolate with a little coconut oil for a thinner coating that cracks easily when bitten into.
More SunButter recipes you'll love
If you make this SunButter hearts recipe or anything else from Allergylicious, I would love to see your creations! Make sure to leave a review in comments section, as well as giving it a rating so that others may find the recipe. Also, follow along with me on Instagram, Pinterest, for more vegan recipe inspiration!
Chocolate Dipped SunButter Hearts
Yield: 24
Prep Time: 10 minutes
Cook Time: 1 minute
Additional Time: 30 minutes
Total Time: 41 minutes
These chocolate-covered SunButter hearts are such a fun vegan treat to make this Valentine's Day or any time of year! Rich, creamy, no-bake and ridiculously good.
Ingredients
1/2 cup SunButter (Natural, Organic or Creamy). 
3 tablespoons confectioners sugar
2 teaspoons liquid sweetener (agave, brown rice syrup, maple syrup)
1 1/2 tablespoons coconut oil
1 teaspoon pure vanilla extract
pinch of salt
Chocolate Coating
1/2 cup vegan chocolate chips
1 tablespoon coconut oil
Flaked sea salt, for garnish
Instructions
In a small bowl, combine SunButter, confectioners sugar, liquid sweetener, coconut oil, vanilla and salt. Place in the microwave and heat in 30 second intervals, until the coconut oil melts, and the mixture stirs smoothly.
Divide evenly between silicone candy mold and press down. (I use this one)
Place mold into the refrigerator for 1 hour or freezer for 30 minutes.
When hearts are solid, prepare melted chocolate. Combine chocolate chips with coconut oil in a microwave safe bowl. Microwave at 505 power, in 30 second intervals, stirring in between until melted.
Remove hearts from freezer and pop out of their silicone mold. (I recommend working in batches of 5 or 6, then returning the others back to the freezer until ready). Dip hearts in melted chocolate using a fork to drip off the excess then place on a wax-lined baking tray or plate then quickly sprinkle with flaked salt. Repeat with next batch.
Refrigerate to help set (approx 10-15 minutes) and keep stored in the refrigerator.
Notes
* Chocolate hearts will soften if left out of the fridge. For best results, keep refrigerated.
** Will last 2 weeks in sealed container.
Recommended Products
As an Amazon Associate and member of other affiliate programs, I earn from qualifying purchases. Please see my FULL DISCLOSURE POLICY for more details.
Nutrition Information:
Yield: 24
Serving Size: 1
Amount Per Serving:
Calories: 67
Total Fat: 5g
Saturated Fat: 2g
Trans Fat: 0g
Unsaturated Fat: 3g
Cholesterol: 0mg
Sodium: 48mg
Carbohydrates: 5g
Fiber: 1g
Sugar: 3g
Protein: 1g
Nutritional information is only an estimate based off of using an online calculator. Numbers will change depending on brands used.