Are you looking a healthy and easy meal? This Vegan sloppy joe stuffed baked potato is classic comfort food at its best!  Gluten-free and family approved.
Vegan sloppy joes is one of the best recipes I've ever made. A childhood favorite, made healthier. No meat, no sugar, no wheat but so much flavor! You'll never go back to your old sloppy joe recipe ever again!
This delicious dinner was created just for you using Hilary's World's Best Veggie Burgers. And because Hilary's is allergen-friendly, vegan & gluten-free, I figured I better make sure this recipe was all of those things as well. After a little tweaking to my Lentil Sloppy Joes recipe, this comfort food got an upgrade and became the most irresistible, yet simple, family dinner.
Do you know how I know that? Because my husband told me so!
That may not sound like a big deal to you, but in our house, it's HUGE! Really!
First he walked in the door, telling me how amazing the house smelled,
Then when I presented him with a seasoned spud, dripping in vegan sloppy joe sauce, his eyes got a little wider,
Until finally he took a bite and told me that I "could make this again".
It's sort of an inside joke but ya'll my husband is NOT vegan! However he is vegan at home (because he eats what I cook) and there are times he hasn't loved that I made. In all honesty, sometimes I just have to toss the dinner I just made and we make smoothies instead. It doesn't always work out but when my non-vegan husband tells me he really loves dinner, then it IS going on the blog!
GLUTEN-FREE COMFORT FOOD
There's something about the cold weather that makes me crave easy comfort foods and sometimes, a hearty baked potato is just what your taste buds need. There is something irresistible about a perfectly seasoned, piping hot, roasted baked potato…. I don't know what we'd do without spuds!
You could eat it as is but it's more fun when you can take it to the next level and turn your potato into a complete meal. Simple and satisfying, vegan sloppy joes stuffed potato.
All of the ingredients combine to create a balanced meal of protein, veggies and carbs in every yummy bite. 
REAL INGREDIENTS AND HILARY'S
Vegan sloppy joes is simply a comfort food classic made without the garbage which is why Hilary's veggie burger was the perfect choice of protein for this recipe. 
You've probably seen Hilary's popping up in stores near you and if you haven't yet, then you need to ask for it! Every product they create is made with clean ingredients, and free from common allergens, and above all, they are super yummy. It's convenient food that isn't full of unrecognizable, highly-processed ingredients.
Although you would think that the foundation of this recipe is the spud, it's actually the sauce! Because a spud is just a spud without all the toppings, right?
HOW TO MAKE VEGAN SLOPPY JOE SAUCE
The delicious plant-based sauce is made with only a few steps.
Sauté crumbled veggie burgers, onions, green peppers and garlic.
Purée together tomato sauce, paste, spices, dijon and sweetner.
Mix sauce into skillet with sauté and heat through. Easy peasy, right?
And yes, you did read "sweetener". I bet those red flags all went off but don't miss this…..our vegan sloppy joes are naturally sweetened with dates to make it refined sugar free too. Sauce it up, let it overflow and feel no shame when you're licking the plate clean! 
HOW TO BAKE THE PERFECT POTATO
Since our base is the potato, I feel like I need to share how we bake our potatoes. Feel free to sub out with a sweet potato in the steps below for another take on our sloppy joes!
1. Temperature: I typically bake large potatoes at 425°F which is how I achieve that crispy, golden brown outer layer my family loves.
2. Season: Coat the potato with a little olive oil and a generous sprinkling of garlic powder, salt and pepper. And when I say generous, I mean it!  This will add a ton of flavor.
3. Prick: If you want to prevent having a potato explode in the oven, then be sure to use the tines of a fork and prick the potato a few times in different places. This allows the steam to escape while it's cooking.
4. Time: Make sure your potatoes are all similar in size so they are done cooking at the same time. Typically baking potatoes take 45-60 minutes.
5. Foil: Most of the time, I like to individually wrap each potato in foil.  Not necessary but it does help seal the flavor in each little packet. Plus it keeps them nice and warm prior to serving.
Just a quick note, in case you're short on time, no one will fault you in you wanna cut out that baking time and throw those potatoes in the microwave. I've cooked up plenty of potatoes that way when I'm short on time.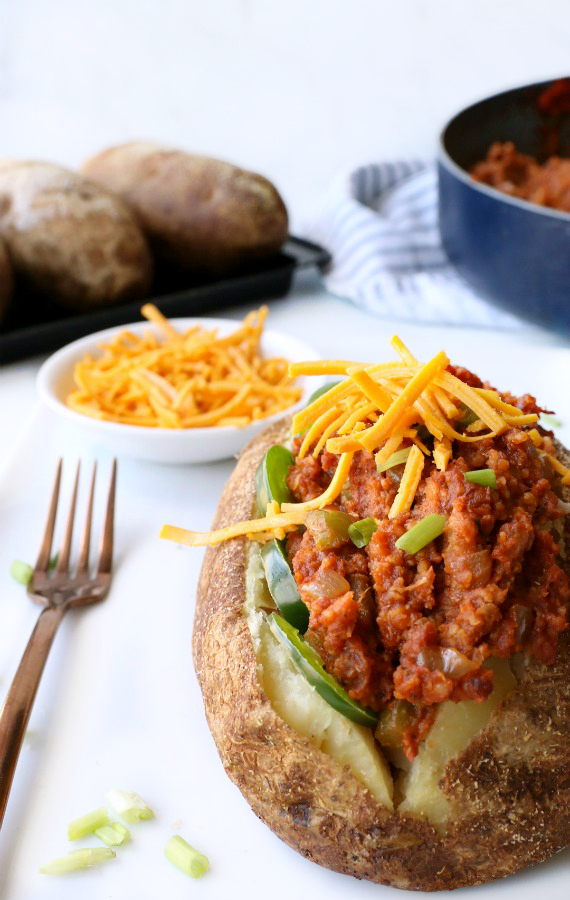 Who's ready to dig in?
What other veggies would you add to your sloppy joe sauce? How do you like to season your baked potato? Let me know in the comments section below. I love to hear about your creations in the kitchen too!
Vegan Sloppy Joes
Yield: 6-8 potatoes
Prep Time: 15 minutes
Cook Time: 1 hour
Total Time: 1 hour 15 minutes
Vegan sloppy joes is one of the best recipes I've ever made. A childhood favorite, made healthier.  No meat, no sugar, no grains but so much flavor! You'll never go back to your old sloppy joe recipe ever again!
Ingredients
Baked Potatoes
6 large russet potatoes, washed well (or sweet potatoes for Paleo-friendly)
extra virgin olive oil
sea salt
garlic powder
fresh cracked pepper
Vegan Sloppy Joes
2 packages Hilary's World's Best Veggie Burger (4 patties total)
1 TB. extra virgin olive oil
1 medium onion, diced (approx. 1/2 cup)
1 green pepper, seeded and diced (approx. 3/4 cup)
2 cloves of garlic, minced
3 TB. chile powder
2 tsp. dry oregano
1 tsp. sea salt
1 (8oz) can tomato sauce
1/4 cup tomato paste
Sweetener (5 pitted dated, soaked in 3/4 cup hot water...keep the liquid)
1 TB. apple cider vinegar
1 TB. dijon mustard
Instructions
Preheat oven to 450°. In a large baking dish, place potatoes then drizzle with olive oil, making sure to rub and coat completely then sprinkle a generous coating of garlic powder, salt and pepper. Place in oven and bake 45-60 minutes (or until knife inserted in the middle goes through easily).
Soak pitted dates in hot water. You'll come back to this, so just set aside for now.
Heat skillet to medium on the stovetop and drizzle with a little olive oil. Brown veggie patties and start breaking up into larger pieces. Once they have browned, add diced onions, peppers and garlic. Allow this to cook down and veggies to soften. Stir occasionally so nothing burns.
In a food processor, place softened dates, water, chile powder, oregano, salt, tomato sauce, tomato paste, and dijon mustard. Pureé until nice and smooth.
Add sauce to skillet and blend together with veggie mix. Reduce temperature and simmer until potatoes are ready. (Add a little more water if it starts to thicken).
Remove potatoes from oven. Open up the potato right before serving and use a fork to scrape and fluff before filling with vegan sloppy joe sauce.
Optional: Top with diced onions, jalapeño or vegan cheese.
Notes
*If you don't want to use dates for the sweetener, you can substitute brown sugar or agave.  I'd start with 1 tablespoon and adjust accordingly. 
This sponsored post was created through my partnership with Hilary's Eat Well. As always, all opinions are my own. Collaborating with brands I love allows me to keep bringing you new and varied recipes!
If love potatoes like we do then you'll love these vegan recipes: 
 Creamy Potato Au Gratin        Creamy Potato Soup             Potato Breakfast Bowl      Cauliflower Mashed Potato   Hasselback Baby Potatoes
Share something delicious