Looking for an allergy-friendly cookie recipe to delight your friends this Halloween? Look no further than these nut-free Chocolate "peanut butter" Sandwich Cookies! They're made with SunButter and other allergy-friendly ingredients so everyone can enjoy.
This sponsored post was created through my partnership with SunButter. As always, all opinions are my own. Collaborating with brands I love allows me to keep bringing you new and varied recipes! Thanks for your support!
Halloween is around the corner and I figured it would be fun to have another festive recipe for all the little ghouls, superheroes and tricksters out there (yourself included).
And although not everyone considers this a "holiday," I like to embrace it with open arms because well, it's really just another excuse to bake yummy treats, like Chocolate Sandwich Cookies.
As a kid, I remember always loving Halloween. Not only could you dress up in all types of cool costumes, but also, you could get as much candy as you wanted, just as long as you were willing to walk more than everyone else.
Nowadays, with kids of my own, Halloween is a little tricker, especially since one of my kiddos has life threatening food allergies. Dressing up is still so much fun, but asking neighbors for candy…well, that's another story. Soooo, I buy allergy-friendly candies to swap them out at the end of the night and invite friends over to make the evening more festive. We eat dinner together, usually big 'ol bowls of chili, drink lots of coffee and enjoy a few delicious desserts throughout the night. These Chocolate Sandwich Cookies are one of those desserts.
A COOKIE EVERYONE CAN EAT—AND WILL LOVE
These cookies are a hit with everyone who tried them, young and older alike. Soft & pillowy, chocolate cookies sandwiched with a layer of thick, rich and delicious SunButter filling.. it's like an allergy-friendly Reese's cup in cookie form. SO addictive and best of all….they are vegan, gluten-free and nut-free.
HOW TO MAKE CHOCOLATE SANDWICH COOKIES
In terms of method, this cookie dough is similar to traditional cut out cookies, meaning that it needs a little refrigeration time before shaping into whatever creepy creatures you have your heart set on.
Rest assured, this recipe is so easy to make. The dough is simply made by adding everything to the food processor and pulsing away. It comes together beautifully, making the perfect, edible chocolate dough ball.
But it's important to knead the dough at the very end of its mixing. Because the dough doesn't contain butter or eggs, it's more on the crumbly side, so kneading it will help incorporate all the ingredients and then you can form it into a disc (kind of like you would do with pie crust).
After kneading, chill the dough. This will help it keep its shape and prevent the cookies from spreading out too much while its baking. While it's chilling in the refrigerator, I like to work clean up a little, grab all the cutout shapes I'll be using and start working on the SunButter filling.
CUT OUT & BAKE!
Just because these adorable cookies are in the shape of pumpkins, don't let that prevent you from making them any time of year. You can also roll into a log and simply slice and bake. Or, use any type of cookie cutter that makes you happy, so don't stop at spooky pumpkins. But if you want to make these like you see, this is what I used:
After all that kneading and cutting, these chocolate sandwich cookies bake relatively quickly in the oven, 10-12 minutes. They will fill the kitchen with the smell of fresh baked cookies and have everyone running to see what you're baking!
SUNBUTTER FILLING
Although these cookies are amazing straight from the oven, they are even more spectacular with a layer of creamy SunButter filling sandwiched between them. So don't stop yet , you rock star baker, this is going to be the Halloween everyone remembers!
This incredible filling is made with creamy SunButter, vegan butter, powdered sugar, vanilla extract and a splash of dairy-free milk. Easy, allergy-friendly ingredients that are oh so yummy! So good, I may have found my children happily licking the bowl when I returned to the kitchen. I also may have been caught scraping out a spoonful to savor myself. Depriving oneself of such goodness would just be wrong, wouldn't it?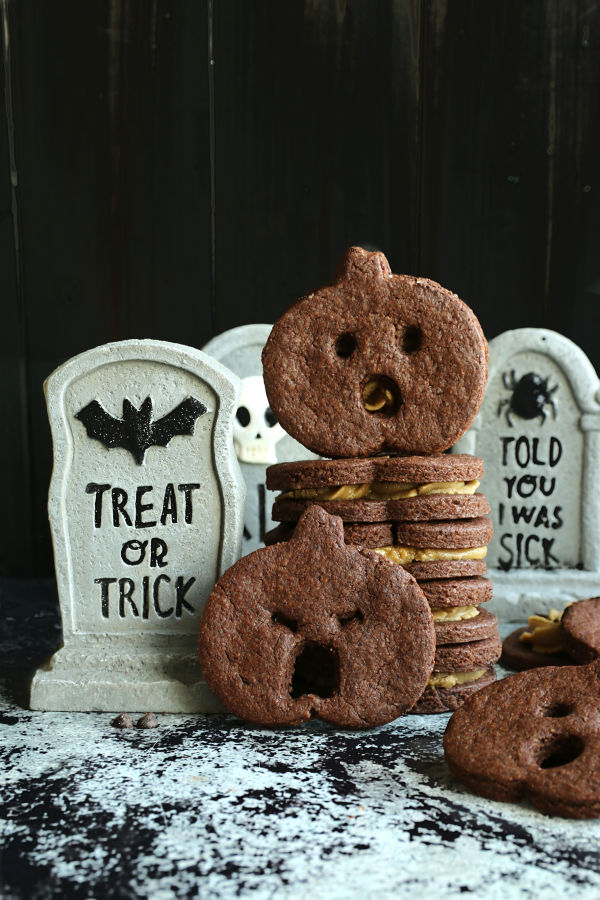 HALLOWEEN FUN
These cookies are not only safe to eat, but they are super cute and fun to serve at any holiday or celebration. We served these SunButter-filled Chocolate Sandwich Cookies to a whole gang of kids last night and let me tell you…they went fast. After all…who can resist chocolate and SunButter?
Chocolate Sandwich Cookies with SunButter FIlling
Yield: 23 sandwich cookies
Prep Time: 10 minutes
Cook Time: 12 minutes
Total Time: 22 minutes
These cookies are not only safe to eat, but they are super cute and fun to serve at any holiday or celebration.  We served these SunButter-filled Chocolate Sandwich Cookies to a whole gang of kids last night and let me tell you…they went fast. After all…who can resist chocolate and SunButter?
Ingredients
Chocolate Cookies
1 1/4 cup gluten-free 1-to-1 flour blend ( or sub with all purpose flour)
1 cup sugar
 1/2 cup cocoa powder
1/4 teaspoon salt
 1/4 teaspoon baking soda
1/2 cup vegan butter (we used Earth Balance Soy Free version)
1 tablespoon dairy-free milk
1 teaspoon vanilla extract
SunButter Filling
1 1/2 cups SunButter
4 tablespoons vegan butter, soft
1 1/2 cup powdered sugar
1 teaspoon vanilla extract 
3-4 tablespoons dairy-free milk 
Instructions
To make the cookies:
In a food processor, pulse together flour, sugar, cocoa, salt and baking soda until combined. Add butter, dairy-free milk and vanilla. Process until dough is formed. Pour out onto plastic wrap and knead a few times to integrate everything together and make it less crumbly. Press into a disc shape, wrap and refrigerate 30-60 minutes.
Preheat oven to 350°. Line 2 baking sheets with parchment or silpat, set aside.
Take dough out of refrigerator and allow to sit for a few minutes, if too cold to handle. Roll out into circle, 1/4" thick. Cut out in desired shapes and place on prepared sheets. Bake approximately 12 minutes and remove and let cool.
To make SunButter filling:
Using a stand mixer or handheld, beat together SunButter and butter until smooth. Add powdered sugar and vanilla (make sure setting is on low so it doesn't fly out everywhere) and beat until mixed together than increase speed and add milk a little at a time until light and fluffy.
To assemble:
Either pipe on filling using a pastry bag or spread on a layer of filling with a knife on the bottom of one cookie then place the other cookie on top, pressing down gently.
Notes
Flour options: 
We can safely use Bob's 1-to-1 Gluten Free Flour but you can substitute with your favorite GF brand.  Just don't forget to add Xanthan Gum if it is required. 
If gluten-free is not required, substitute with the exact amount of All Purpose Flour.
Craving More SunButter Recipes?
You can find a ton of them on the blog, but here are a few to get you started.