Double Chocolate Peppermint Cookies -these are the perfect treat for the holidays. Crisp on the outside and chewy on the inside, chocolate cookies with chocolate chips, topped with crushed candy canes!
Chocolate Peppermint Cookies
Does anyone else feel like the holidays can't begin until you've baked a batch of Christmas cookies? Maybe it's just me but I LOVE Christmas cookies! Snowball, Chocolate Chip, Chocolate Mint Crinkle, or decorated Sugar Cookies, I love them all! I especially love the combo of chocolate and peppermint that just screams CHRISTMAS.🎅🏼 I mean, it doesn't get much better than a chocolate cookie with a hint of peppermint, filled with chocolate chips and topped with candy canes bits. Talk about festive and delish!
Christmas just wouldn't be the same without these shareable cookies.
Best Vegan Chocolate Cookies with Peppermint
These chocolate peppermint cookies are downright irresistible! Gooey, chocolatey, chewy in the middle, crispy on the edges and packed with so much flavor.
They are also:
Egg free
Dairy free
Peanut free
Soy free
Easily gluten free
Plus, they are super easy to make which is perfect since Christmas is only a week away! 🎄
Ingredients for Peppermint Chocolate Cookies
Vegan Chocolate Peppermint Cookies are a dream come true and I absolutely love this recipe. But to make the yummiest chocolate cookie, you need the basics like sugar, cocoa powder, baking soda, salt, vanilla and these:
Vegan butter (Earth Balance or Country Crock in a stick are my fav vegan options)
Vegan Chocolate Chips (Enjoy Life Foods or Nestle's new allergen friendly line)
Dairy free milk + Vinegar (Any DF brand will work, but I always bake with Good Karma)
Peppermint Candies (YumEarth is awesome!)
All Purpose Flour (Gluten Free 1:1 Flour works best if needed)
Potato or Corn Starch (helps maintain softness)
Peppermint extract (because these need to taste like the holidays)
As for the equipment needed, all you really need is a stand-up mixer, and an ice cream scoop!
I also suggest using parchment paper to help the cookies bake properly but a silicone mat will also do.
How to make Double Chocolate Peppermint Cookies
Here's a quick look at the steps to get the best results when baking a batch of vegan, nut free and egg free Christmas cookies.
Cream: You need to give the butter and sugar time to whip together. Be patient and let it the mixer go until the butter and sugar turn slightly pale in color and look "whipped". Then add the vanilla and mix again but just a minute extra.
Sift: Instead of dirtying another bowl, we're just going to sift those dry ingredients straight into that buttery-goodness. The batter will be thick.
Liquids last: There is a chemical reaction that starts as soon as the vinegar is added, so be sure to follow the directions and add in the order it is written.
Roll & Coat: Once you've mixed it all together, portion out the dough and roll it into balls. If you're feeling extra festive ( you know you are😉), roll the dough into crushed candy pieces and sanding sugar. It'll make for the most beautiful cookies.
Bake: Bake them less for gooier cookies – longer for crispier ones.Note that they will harden as they cool, so take that into consideration.
Enjoy!
Christmas Chocolate Cookies with Peppermint Tips
Baking times will vary based on your oven and size of cookie scoop used, but usually 12-15 minutes is the perfect balance of crispy edges and a soft center.
Using a smaller cookie scoop will yield crunchier cookies which my daughter loves (as seen above). I like mine a little fluffier which is made using golf- ball-sized dough (not seen because they were all eaten😂.)
This chocolate peppermint cookie recipe requires no chilling. You're welcome! However, if you would like to make the recipe ahead of time, then refrigerating the dough is perfectly fine. Just remove dough, roll and bake.
And if you substitute butter with coconut oil then I'd recommend popping them in the fridge while the oven is heating up. This will just prevent the cookie dough from spreading too thin.
How to store Chocolate Peppermint Cookies
Store baked cookies in an airtight container at room temperature for 3-5 days to maintain softness and freshness. You can also freeze for up to 3-4 months and enjoy Christmas cookies this spring too!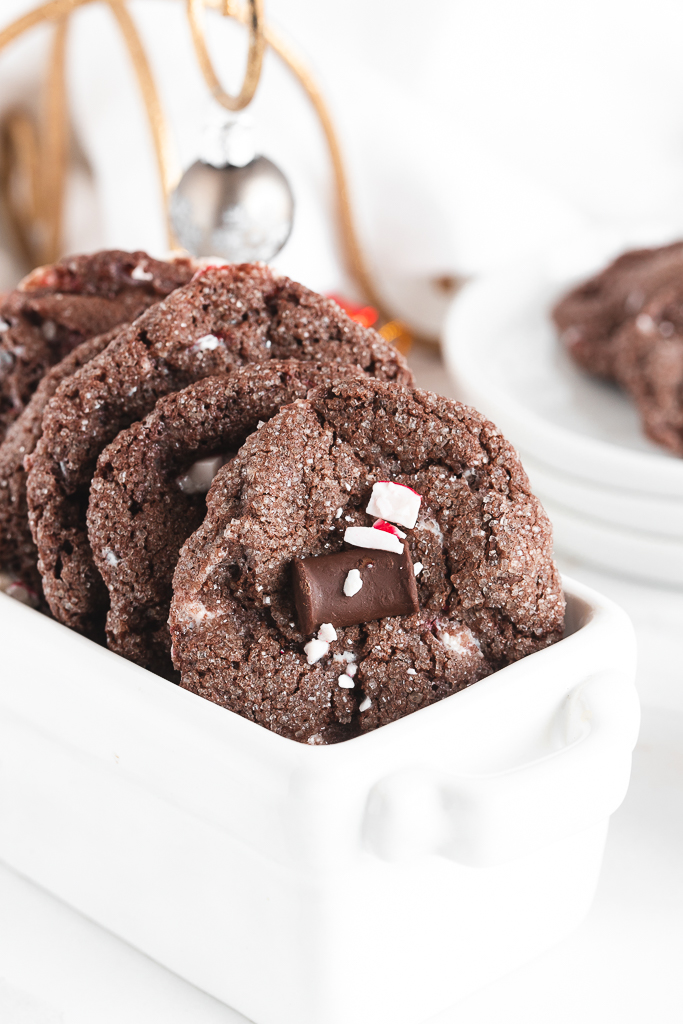 I hope you're having so much fun baking this holiday season and I also hope these vegan double chocolate chip cookies with peppermint satisfy all the cookie cravings! If you make this recipe, please be sure to leave a comment and a rating ⭐️⭐️⭐️⭐️⭐️. This helps others find the recipes!
As always, I absolutely love to see your beautiful creations on Instagram and Pinterest, so be sure to tag me there.
Here are more easy holiday cookie recipes to enjoy!
The Best Vegan Fudge Bars with Shortbread Crust
The Best Chocolate Chip Peppermint Cookies|Vegan and Nut free
The Best Vegan Soft Batch Sugar Cookie
The Best Allergy-friendly Sugar Cookies (Vegan)
Double Chocolate Peppermint Cookies
Yield: 15
Prep Time: 15 minutes
Cook Time: 12 minutes
Total Time: 27 minutes
Double Chocolate Peppermint Cookies -these are the perfect treat for the holidays. Crisp on the outside and chewy on the inside, chocolate cookies with chocolate chips, topped with crushed candy canes!
Ingredients
1/2 Cup vegan butter (1/2 stick)
3/4 Cup granulated sugar
1 tsp. vanilla extract
1 1/4 Cup all-Purpose flour (or 1:1 GF blend)
1/4 Cup unsweetened cocoa powder
1 TB. corn starch (can sub with potato starch)
1/2 tsp. baking soda
1/2 tsp. salt
1/4 Cup dairy-free milk
1 tsp. peppermint extract
1 tsp. white vinegar
1 Cup. vegan chocolate chips
1/2 Cup crushed peppermint candy pieces
Instructions
Preheat oven to 350° and line baking sheet with parchment paper.
In a stand-up mixer, beat butter and sugar until creamy, pale in color and "whipped" (3 min). Add vanilla and mix another minute.
Sift in flour, cocoa powder, baking soda, salt and starch. Combine thoroughly until a thick mixture forms.
Add milk and peppermint extract, mix.
Stir in vinegar, but just until mixed then fold in chocolate chips and peppermint bits.
Scoop and roll into 1" ball, then roll into sugar, sprinkles or extra peppermint and place on baking sheet. Place a few larger peppermint bits on top of cookies.
Bake on center rack 12-14 minutes (less for gooey, more for crispier). Remove from oven and let cool on tray. Cookies will become more firm.
Store at room temperature in a sealed container 5-7 days.
Notes
*Can use a combination of chocolate chips and chocolate chunks, depending on what you have available.
*If making smaller cookies, reduce baking time accordingly.
Nutrition Information:
Yield: 15
Serving Size: 1
Amount Per Serving:
Calories: 228
Total Fat: 10g
Saturated Fat: 6g
Trans Fat: 0g
Unsaturated Fat: 3g
Cholesterol: 17mg
Sodium: 175mg
Carbohydrates: 34g
Fiber: 1g
Sugar: 21g
Protein: 2g
Nutritional information is only an estimate based off of using an online calculator. Numbers will change depending on brands used.