Crisp on the outside and chewy on the inside, these Coconut Oil Chocolate Chip Cookies bake up deliciously every time! Vegan too.
Amazing Vegan Chocolate Chip Cookies without Butter
It's no secret that I LOVE cookies! They're one of my favorite things to bake, eat and make for others! There's nothing better than indulging in a fresh batch of homemade chocolate chip cookies, straight from the oven.
And this new vegan chocolate chip cookie recipe comes with a little twist — replacing butter with coconut oil! These cookies are downright irresistible! Gooey, chocolatey, chewy in the middle, crispy on the edges and packed with so much depth and flavor.
They are also:
Egg free
Dairy free
Peanut free
Soy free
Easily gluten free
Down-right addicting
Plus, they are super easy to make and only 1 bowl required for mixin'!
Easy to make coconut oil chocolate chip cookies recipe
They honestly are so easy to whip up! In fact, it's so easy, even a first time baker will breeze through it.
Plus these vegan cookies are made with the simplest ingredients, you probably already have on hand.
Recommended Ingredients & Equipment
Sugar mixture: Amixture of granulated sugar and light brown sugar produce a chewier cookie with a ton of flavor.
Coconut Oil: Instead of vegan butter, this recipe is made with coconut oil which creates a delightful taste and texture. See notes below for substitutions.
Flour: I used all purpose flour, but for gluten-free, you can use gluten free 1:1 baking flour.
Leavening agents: Baking powder and baking soda to make it rise.
Vanilla extract & salt: Just a little makes a difference.
Dairy free milk: only a splash may be needed if the dough seems too thick.
Dairy free chocolate chips: or chocolate chunks if preferred. I love Enjoy Life Foods but when I can't find it, Nestle now has an allergen free line which is pretty darn tasty too.
Optional: pretzels, potato chips, marshmallows and other candy pieces are a fun addition to press into the top before baking.
As for the equipment needed, all you really need is a hand mixer, medium-sized mixing bowl, and an ice cream scoop!
I also suggest using parchment paper to help the cookies spread to the right size. And if you only have a silicone mat, then just put it away and grab a light colored cookie sheet. Those silicone mats just don't work in this recipe – way too much spreading.
How to make coconut oil chocolate chip cookies from scratch
The full printable recipe is found below but here is a run down of the steps to make these scrumptious coconut oil chocolate chip cookies:
Cream together the oil and sugars then whisk in milk and vanilla.
Sift in the flour, baking powder, baking soda and salt: mix until you get a smooth dough without clumps.
Fold in the most of the chocolate chips being careful not to over mix the dough.
Scoop & sprinkle: use a 1 1/2" ice cream scoop and place dough on lined baking sheet. Either sprinkle with extra chocolate chips or add a few special toppings like chips or marshmallows if desired.
Bake: Bake them less for gooier cookies – longer for crispier ones.
Enjoy! Remove from the oven and allow the cookies to cool for 10 minutes. Then transfer to a cookie cooling rack.
How long to bake coconut oil cookies
Baking times will vary based on your oven and size of cookie scoop used, but usually 10-12 minutes is the perfect balance of crispy edges and a soft center.
To make this happen though, you will need to bake these cookies at a higher temperature (375°F) than your "regular" chocolate chip cookie. When tested at 350°F, they took so much longer to bake and I never really had those crispy edges.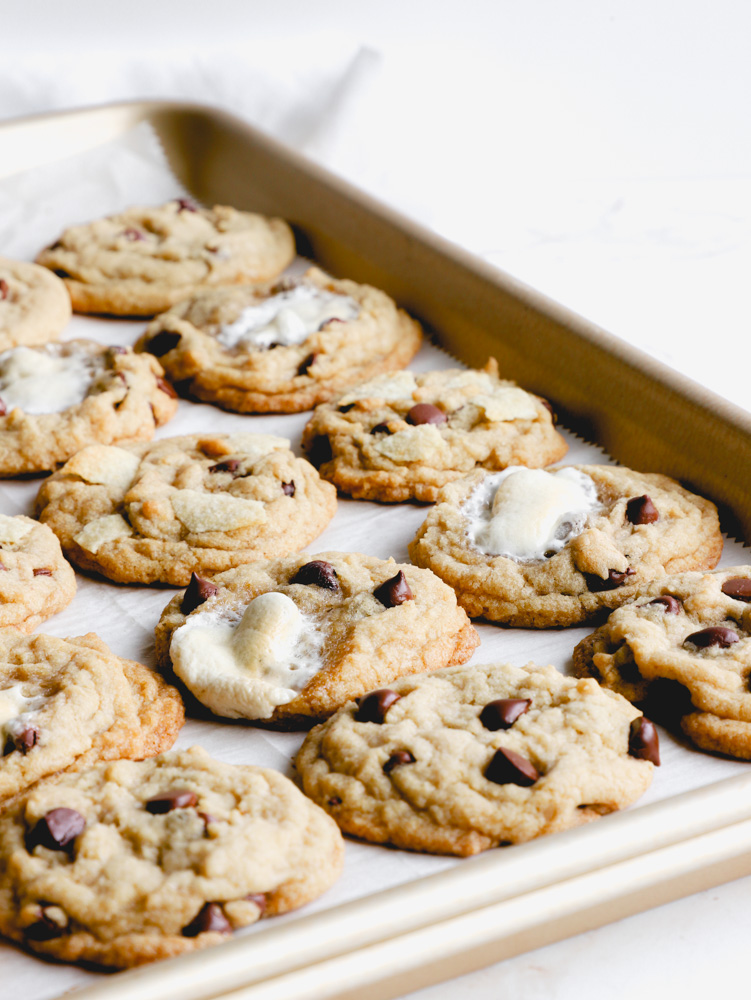 Does the cookie dough need to chill?
Maybe, maybe not?! Some recipes require chilling the cookie dough to create more intense flavor and prevent cookies from spreading too thin.
BUT….as long as your coconut oil (or butter) is at room temperature and not melted, you're good to go and bake these right ahead! However, if your house is hot or the dough seems a little warm from sitting out too long, then go ahead and pop them in the fridge while the oven is heating up.
My house tends to be on the warm side, so I may toss the first batch straight into the oven and let the second sheet of cookie dough rest in the refrigerator until the other finishes baking.
What can I use instead of coconut oil?
Not a fan of coconut flavor? Not a problem! Select refined coconut oil, which has a more neutral flavor. Do you have an allergy to coconut? Then try substituting with:
Vegetable oil
Canola oil
Or vegan stick butter, at room temperature.
Tips for making the perfect vegan coconut oil chocolate chip cookies
Make sure your coconut oil is room temperature before incorporating it in this recipe. Solid and easily scoop-able … not rock hard and not liquid.
Work quickly when you bake these cookies – as the coconut oil starts to melt, the dough will be harder to work with, so plan to bake these in just one or two batches and use a scoop, not your hands!
If cookie dough appears too sticky, add in a little more flour. And if your cookie dough appears too firm, add in a little more non-dairy milk. It should look like traditional cookie dough.
Want gluten free cookies? Almond flour and coconut flour will not work with this recipe but a 1:1 gluten free blend like Bob's Red Mill will.
Bake at a higher temperature. These coconut oil chocolate chip cookies call for a slightly higher oven temperature of 375°F. The higher temperature yields cookies that are crispy on the outside but chewy on the inside.
If you use a larger or smaller scoop to form the cookie dough, you may need to adjust your bake time – just keep an eye on the cookies as they bake and pull them out when they're very lightly browned!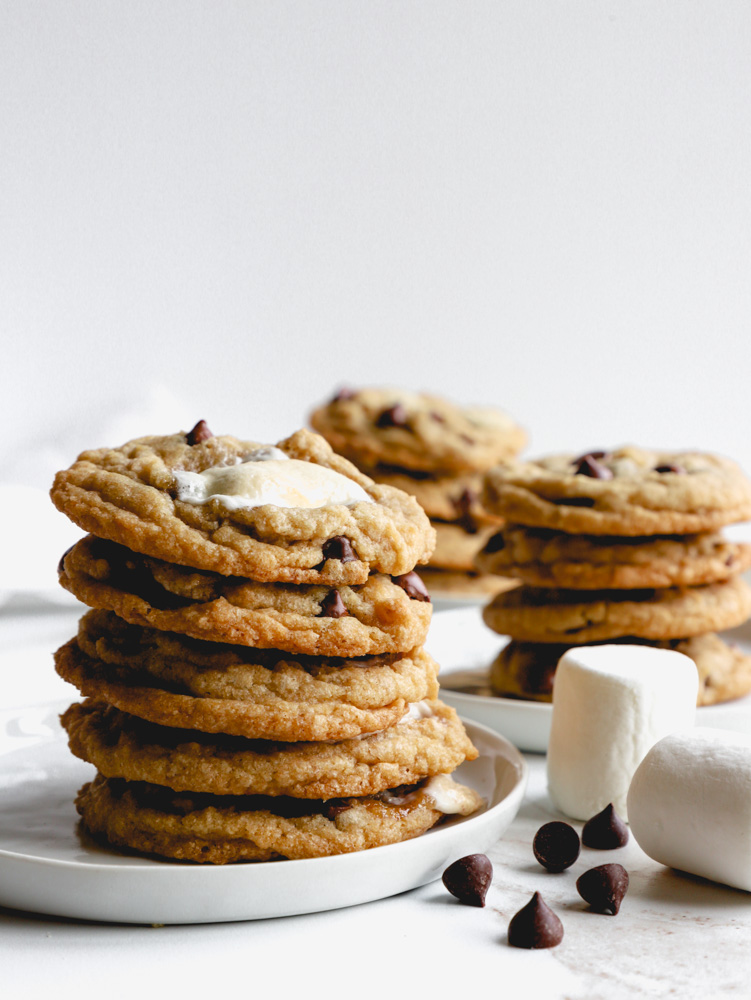 How to store these vegan chocolate chip coconut oil cookies
Store cooled baked cookies in an airtight container at room temperature for 3-5 days or freeze for up to 3-4 months.
Store raw cookie dough by portioning out with a cookie scoop then placing them on a baking sheet in the freezer to firm up. Remove after an hour and place the raw cookie dough balls in a large ziplock bag and freezer them up to 3 months! When you are craving cookies, take out how ever many you want and let them come to room temperature while the oven is heating up. Bake as directed and enjoy!
After you're hooked on these butterless chocolate chip cookies, make sure to try some other reader favorites
Best Fudgy Brownie Cookies (vegan + nut free)
The Best Homemade Vegan Blueberry Lemon Cookies
Crazy Good Chocolate Chunk Cookies (Vegan, Gluten free)
The Best Chocolate Chip Peppermint Cookies|Vegan and Nut free
I hope these chocolate chip cookies with coconut oil satisfy all the cookie cravings! If you make this recipe, please be sure to leave a comment and a rating ⭐️⭐️⭐️⭐️⭐️. This helps others find the recipes!
As always, I absolutely love to see your baked creations on Instagram and Pinterest, so be sure to tag me there.
The Best Chocolate Chip Cookies with Coconut Oil
Prep Time: 5 minutes
Cook Time: 11 minutes
Additional Time: 5 minutes
Total Time: 21 minutes
Crisp on the outside and chewy on the inside, these Coconut Oil Chocolate Chip Cookies bake up deliciously every time!
Ingredients
1/3 cup granulated sugar 
1/2 cup brown sugar
1/3 cup coconut oil (at room temperature)
4 tablespoons non-dairy milk 
1 teaspoon vanilla extract
1 3/4 cup all purpose flour
1 teaspoon baking powder
1/2 teaspoon baking soda
pinch of salt 
1 cup vegan chocolate chips
Optional toppers: potato chips, my Dandies marshmallows, pretzels
Instructions
Preheat oven to 375° and line 2 baking sheets with parchment paper. Set aside.
In a medium bowl, whisk together sugars, oil, dairy-free milk and vanilla extract.
Sift in flour, baking powder, baking soda and salt then mix until smooth dough comes together.
Stir in chocolate chips (reserving a few to add on top).
Scoop cookie dough using an 1.5" cookie scoop. placing at least 1" apart. If dough balls seems too sticky or a little warm, pop in refrigerator until oven is heated.
Top dough with extra chocolate chips/ press marshmallow into the top center / sprinkle with chip pieces or pretzel if desired.
Bake 10-12 minutes for crispy edge and soft center.
Notes
If using a larger cookie scoop, check on cookies at 12 minutes. They may take 14 to bake through as the cookies are bigger.
Banging the cookie sheet on the counter will help flatten your cookies after baking and give them that perfect cookie appearance.
Recommended Products
As an Amazon Associate and member of other affiliate programs, I earn from qualifying purchases. Please see my FULL DISCLOSURE POLICY for more details.
Nutrition Information:
Yield: 24
Serving Size: 1
Amount Per Serving:
Calories: 133
Total Fat: 6g
Saturated Fat: 4g
Trans Fat: 0g
Unsaturated Fat: 1g
Cholesterol: 0mg
Sodium: 76mg
Carbohydrates: 20g
Fiber: 1g
Sugar: 11g
Protein: 2g
Nutritional information is only an estimate based off of using an online calculator. Numbers will change depending on brands used.