Craving some chocolate glazed doughnuts? This decadent recipe is baked, glazed and extra chocolatey, Vegan, Top 8 free & Gluten-free.
Have you ever made doughnuts at home? Today we're making baked chocolate doughnuts that are dipped in a rich and glossy, chocolate glaze. They're a perfect treat for true chocolate lovers – and super easy to make at home since they're baked, not fried.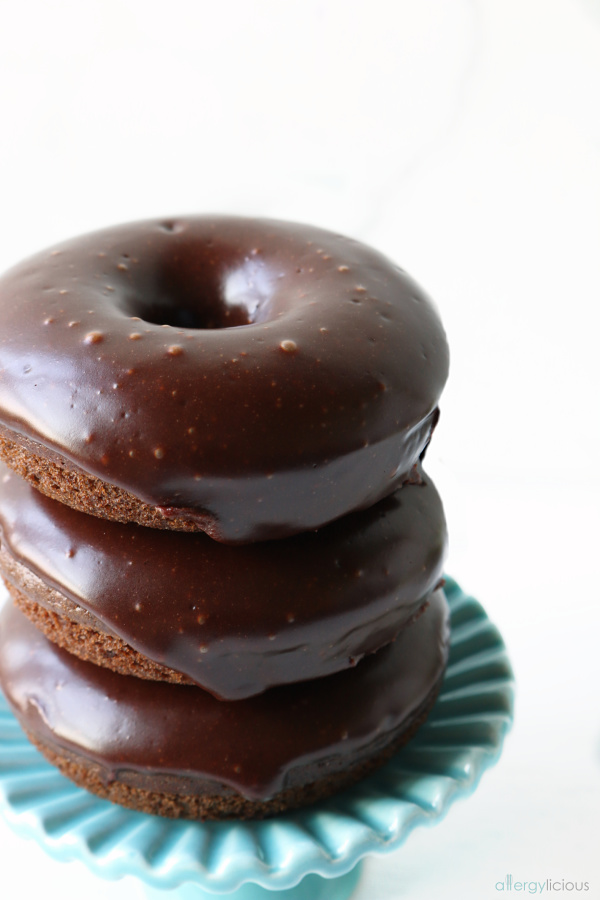 Anyone ever fall into the Breakfast "Rut"? You know, when you eat the same thing every day just because it's easy. In my house, everyone has their go-to. For X,  it's toast with SunButter while my daughter typically chooses a smoothie. And me….well it's always coffee (don't judge, I'm sure plenty of you consider coffee a breakfast meal). Anyways…. sometimes, I like to mix it up and make donuts!
YEP, DONUTS! Donuts of all kinds…. Cinnamon Sugar Pumpkin Donuts ,  Carrot Cake Donuts ,  Galaxy Donuts,  Baked Pumpkin Donuts and even Maple Glazed Donut Muffins. WE like homemade donuts! Not only are they a fun way to mix up the weekday, it's also perfect for when your house is filled with kids sleeping over on the weekends. They get to eat a yummy ring of happiness and I get to be the "cool" mom who gives them homemade donuts.
How to Make Chocolate Glazed Donuts
Homemade donuts can seem intimidating, but this version is SO EASY. No messing around with yeast and hoping it rises, and absolutely, no working with hot oil.
It's basically similar to a cupcake, so it's just a matter of putting your dry ingredients in a bowl, whisking your liquid ingredients together in another bowl, and then combining the two. We want soft, pillowy donuts, so just give it a few quick strokes, otherwise, too much mixing will make these more dense.
The key to the whole thing is the donut pan and how you fill it with batter. My trusty pan when making a ton of donuts is Wilton's Perfect Results Donut Pan (It makes 20 at a time), but we also have Wilton pans to accomodate  6, 12 or mini donuts. When filling my pans, I use a large pastry bag or ziplock bag to pipe in the batter, which makes uniformly smooth donuts AND this also keeps the mess to a minimum. (Check out the video to see it what I mean.)
How to make the Chocolate Glaze
The chocolate glaze is really the final touch that makes these donuts extra chocolate-y good!
A little powdered sugar, dairy-free milk, liquid sweetener, melted chocolate, and melted butter whisked together and you're done. A beautifully, rich and glossy chocolate glaze, to take these chocolate donuts over the edge.
Watch how easy it is to make our Chocolate Glazed Donuts
If you really want to start someone's morning off with a smile, make them these chocolate glazed donuts! They're such a fun & delicious breakfast treat.
Chocolate Glazed Vegan Donuts
Yield: 14 donuts
Prep Time: 5 minutes
Cook Time: 10 minutes
Total Time: 15 minutes
If you really want to start someone's morning off with a smile, make them these chocolate glazed donuts! They're such a fun & delicious breakfast treat )PLUS, they are vegan and gluten-free)
Ingredients
Chocolate Donuts Recipe:
2 1/2 cups 1-to-1 gluten-free flour (or sub in All-Purpose Flour)*
1 cup vegan cane sugar
3 tablespoons cocoa powder
2 teaspoons espresso powder (optional, or sub with more cocoa powder)
1 teaspoon baking soda
1 teaspoon salt
1 1/2 cups dairy-free milk (we used flax milk)
1/4 cup vegetable oil
1/4 cup vinegar
1 teaspoon vanilla extract
Chocolate Glaze:
1 cup vegan powdered sugar
2 tablespoons melted vegan butter
2-3 tablespoon non-dairy milk
1 tablespoon brown rice syrup (corn syrup or agave)
1/2 cup allergy-friendly chocolate chips
Instructions
Chocolate Donut Recipe:
Preheat oven to 350°. Prepare your donut pan by lightly spraying with vegetable oil.
In a large mixing bowl, whisk together all your dry ingredients. Flour, sugar, cocoa, espresso, baking soda and salt.
In a medium sized bowl, whisk together milk, oil, vinegar and vanilla.
Pour the wet ingredients into the dry and whisk to incorporate together (you can also use a hand mixer if you prefer.
Using a pastry bag or large zip lock bag, fill this up with your donut batter and cut off tip. Pipe batter into prepared pan then bake 10-12 minutes.
Allow to cool 5 minutes before removing from pan and placing on a baking rack. Let cool completely then dip the presentation side of your donut into the chocolate glaze. Add sprinkles if desired.
Make your Glaze:
Pour melted butter, milk, corn syrup and melted chocolate into a bowl with your powdered sugar. Blend with your hand mixer until smooth.
Notes
To avoid air bubbles in the glaze: Air bubbles is easily avoided by mixing together your ingredients with a stick blender at low speed in a up and down motion while gently mixing, while keeping its blade under the surface of the liquid at all times.
*To make GF, simply replace AP flour with a cup-for-cup blend, such as Bob's Red Mill 1:1 or Better Batter Flour. Nothing else is needed.
**Only have regular GF flour, that's ok, use the same amount of flour but add Xanthan gum as directed on product packaging.
Recommended Products
As an Amazon Associate and member of other affiliate programs, I earn from qualifying purchases. Please see my FULL DISCLOSURE POLICY for more details.
Share something delicious