These Easy Sunflower Butter Cookies are nutty, chewy and melt-in-your-mouth good!
Let's get baking! The holidays are quickly approaching which means it's time to grab your cookie sheets because the smell of fresh baked cookies is coming your way. These Sunflower cookies are perfect for the holiday season or just when you're craving a sweet treat. They're easy, peanut-free and vegan-friendly. What more could you ask for? 
Delicious?  Oh heck ya…they're delicious too.  Need a few more reasons? 
You'll Love these Vegan SunButter Cookies Because
Easy- Only one bowl needed for this recipe.
Versatile- Eat them plain or drizzle with melted chocolate & add sprinkled sea salt.  
Healthier- made without refined sugar so you can eat as many as you'd like.
School Safe- Sunbutter cookies are also great for kids to bring to school since they are nut-free. 
Batch Baking- Make these cookies in batches during the Holiday season along with my Sugar Cookies for delicious kid-approved (& Santa approved) treat!
What is Sunflower Butter?
If you don't have a nut-allergy, then sunflower butter may be new to you, but basically, it is a nut butter made out of sunflower seeds! It has a mild, toasted sunflower seed taste and although it doesn't taste like peanut butter, it's so similar! Brands vary with their ingredient list, but one of my favs to bake with is SunButter.  My youngest is pretty much obsessed too.  If it's not dripping off of his bread, then he hasn't put enough on it 🤣. 
Healthier Sunflower Cookies
So let's talk about these Chewy SunButter Cookies. They're lightly crispy on the outside, chewy, soft and moist on the inside. On day two, they're just as chewy and the sweet sunflower flavor continues to shine.  But what takes these cookies over the top, is that drizzle of melted chocolate and sprinkle of sea salt.  Oohlala!  Sweet, chewy, salty, chocolate-y….you just can't go wrong.
Maple-Sweetened Sunflower Butter Cookies
But what makes these "healthier" is that these chewy cookies are sweetened with a little coconut sugar and pure maple syrup. Maple syrup is a natural sweetener that naturally contains vitamins including riboflavin, thiamine and niacin. It's also rich in minerals!. Choose 'grade A' for a light, delicate flavor or 'grade B' for a dark amber syrup that's a little more robust.
More Sunflower Recipes
If you're looking for more inspiration for baking with SunButter, you're in luck, I use it all the time and you can find some of my other recipes here: SunButter recipes. Here's a few of my favorite though, just to get you started:
These tender and chewy Maple Sweetened Sunflower Butter Cookies are easy to whip up when you are craving cookies. These are the perfect cookies to bake with family, share with others and leave out for Santa (or whoever dresses up as Santa that night) .
Whatever your holiday plans end up looking like, or what you are celebrating as a family, I hope you love these delightfully nutty-ish, chewy, soft, and delicious Easy Chewy Vegan Sunflower Butter Cookies as much as we do.
Chewy Cookie Recipe below: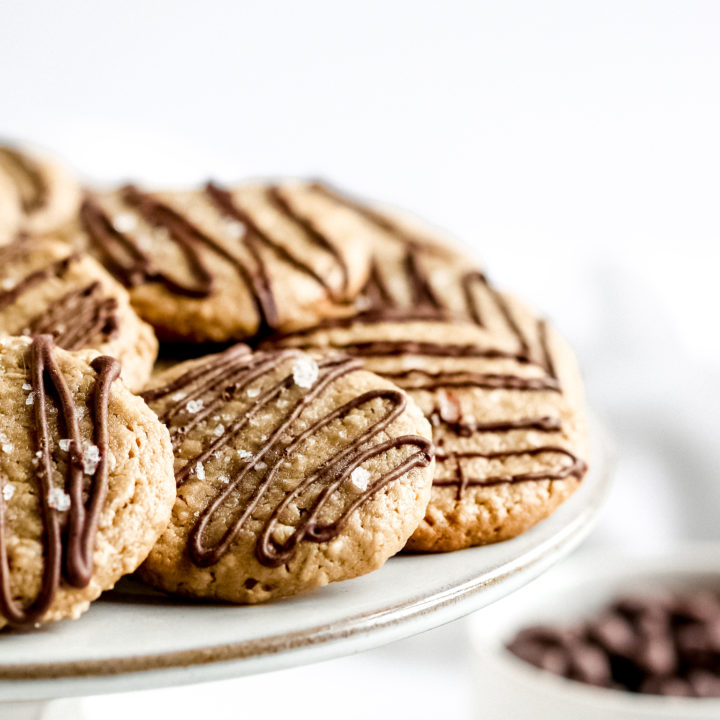 Easy Sunflower Butter Cookies (nut-free, vegan)
Yield: 36
Prep Time: 10 minutes
Cook Time: 10 minutes
Additional Time: 2 minutes
Total Time: 22 minutes
Sweet, chewy, salty, chocolate-y….you just can't go wrong.
Ingredients
1/2 teaspoon baking powder
1/2 teaspoon baking soda
1/4 teaspoon salt
3 tablespoon melted coconut oil (or neutral oil of choice)
1/2 cup coconut sugar
1/4 cup pure liquid sweetener (maple syrup or brown rice syrup)
2 flax eggs (2 tablespoons flax meal + 6 tablespoon warm water, mixed)
Optional: chocolate chips and flaked sea salt to top
Instructions
Preheat oven to 350° and line baking sheet with parchment paper. Set aside.
Make flax egg in a medium bowl and set aside 10 minutes.
In a large bowl, whisk together flour, baking powder, baking soda and salt.
Grab your medium bowl with "egg" and whisk in SunButter, oil, coconut sugar, maple syrup and vanilla. Pour into dry ingredients then use a wooden spoon to stir and fold ingredients into each other. It'll be a soft but thicker dough.
Use a small cookie scoop (2 TB sized) and scoop then drop dough balls onto sheet, spacing 2" apart. Flatten slightly with your fingers, keeping them circular shaped.
Bake 10-12 minutes, then transfer to a cooling rack. Cookies will be light in color.
Once cooled, eat as is, or drizzle with melted chocolate and top with flakes of sea salt.
Store in the refrigerator in a sealed container up to 4 weeks. Freeze leftovers up to 2 months.
Notes
For best taste, add chocolate and sea salt. It's amazing and got all the rave reviews.
Recommended Products
As an Amazon Associate and member of other affiliate programs, I earn from qualifying purchases. Please see my FULL DISCLOSURE POLICY for more details.
Nutrition Information:
Yield: 36
Serving Size: 1
Amount Per Serving:
Calories: 89
Total Fat: 6g
Saturated Fat: 2g
Trans Fat: 0g
Unsaturated Fat: 4g
Cholesterol: 5mg
Sodium: 81mg
Carbohydrates: 8g
Fiber: 1g
Sugar: 4g
Protein: 2g
Nutritional information is only an estimate based off of using an online calculator. Numbers will change depending on brands used.