This Southern Vegan Hummingbird Cake recipe is a deliciously moist cake loaded with bananas and pineapple then topped with an irresistibly rich frosting! If you like banana bread, you will LOVE this cake!!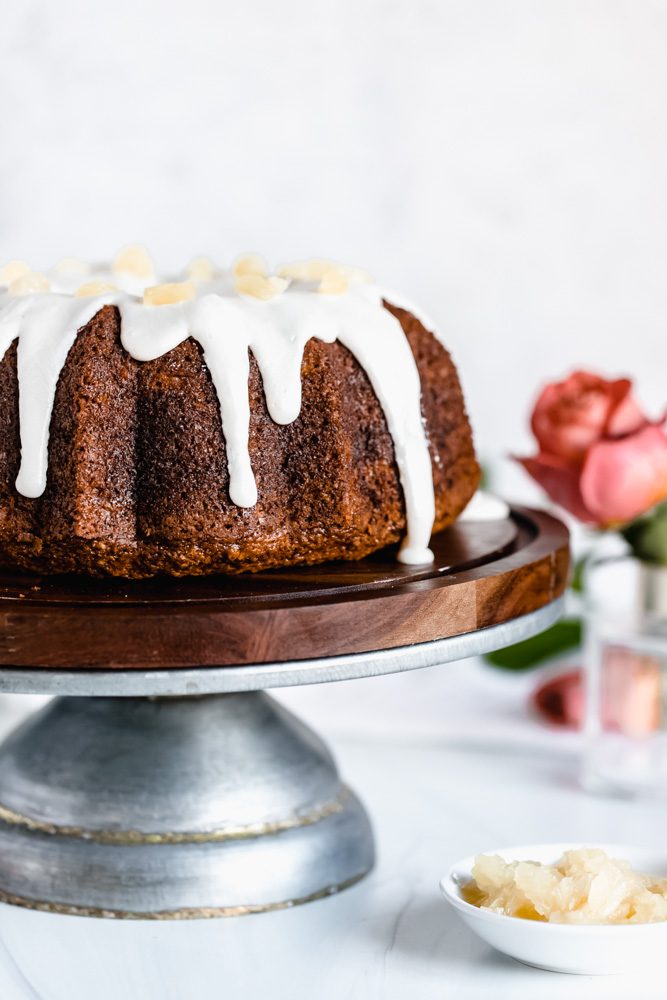 The Tastiest Hummingbird Cake Recipe Online!
Filled with fruit, spice and everything nice, Hummingbird Cake is my idea of the perfect Springtime dessert. It's bright, sweet, tropical and oh so good! Whether you're still stuck in Wintery weather or enjoying some warmth, it's a welcome burst of sunshine!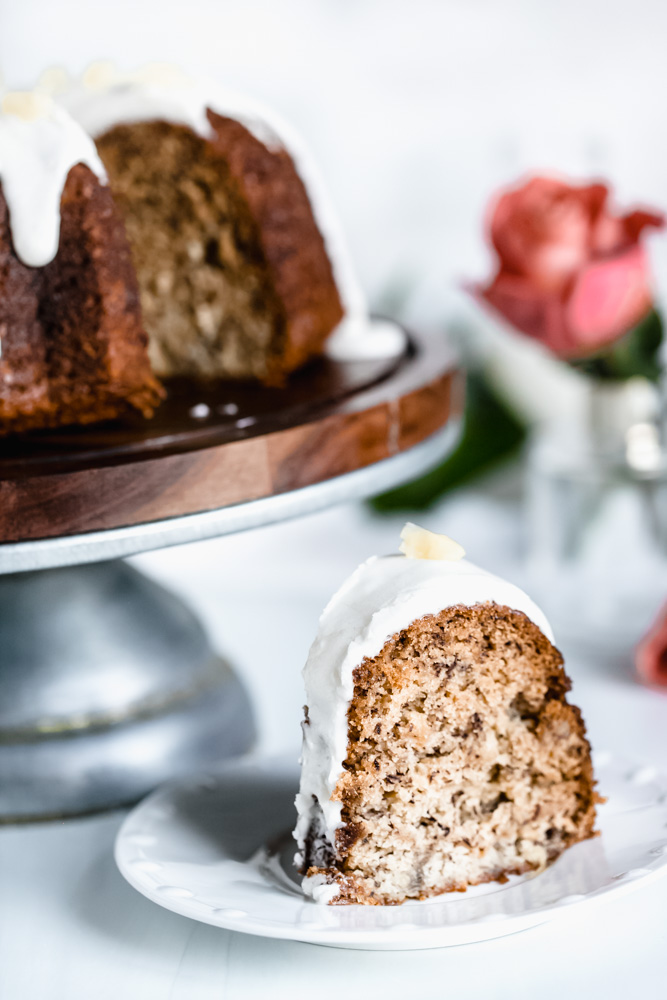 What Is A Hummingbird Cake?
Hummingbird Cake is known as a Southern classic recipe. It's a dense, yet super moist, cinnamon-scented layer cake filled with mashed banana and pineapple topped with tangy cream cheese frosting and chopped pecans.
Although this cake became widely popular after its feature on Southern Living in 1978, it seems to have originated in Jamaica under the name of "Doctor Bird Cake" (another name for their native swallow-tailed hummingbird). Some say the tube cake was named after the bird because it was sweet enough to attract hummingbirds.
Since its publication in the U.S., home cooks have been inspired to create and put their own twist on it with variations like adding coconut, dried fruit or using other nuts. My Hummingbird Cake version, is just as delicious as the original, yet Vegan and Nut-free.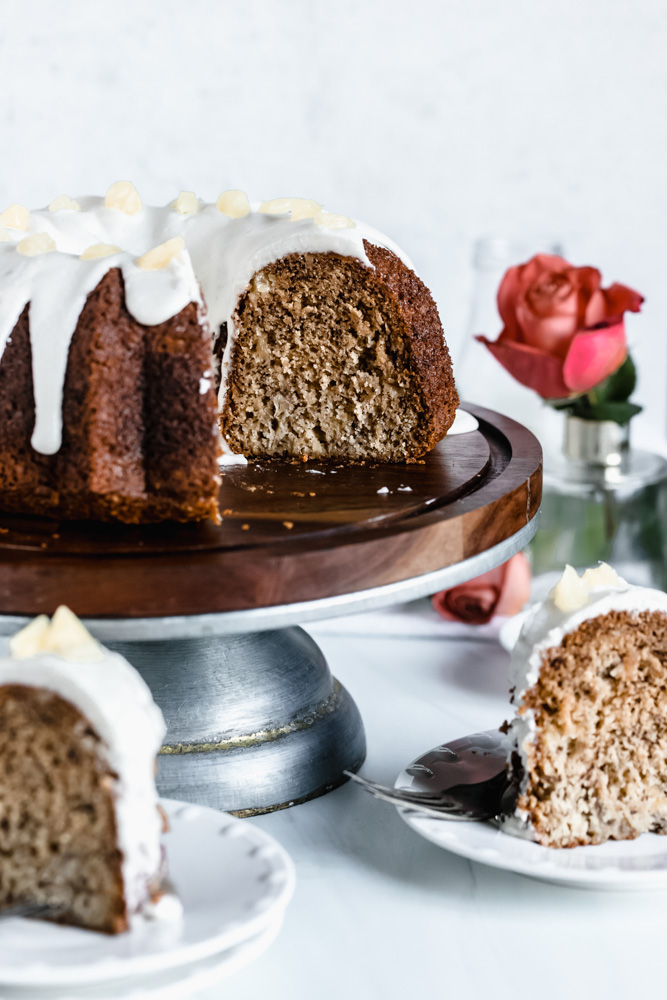 What Does Hummingbird Cake Taste Like?
Vegan Hummingbird Cake tastes similar to my banana bread recipe…but it's not quite as dense. My kids say the texture reminds them of my carrot cake recipe, but without the carrots! It's a little tropical, a little sweet, a little delicate…let's just say that it takes your tastebuds on an enjoyable journey.
You really just have to try for yourself and let me know what you think.
How To Make Hummingbird Cake Recipe?
Ok ya'll….you are going to love how easy this cake it to make. (Full instructions are included on the recipe card below).
Spray a 14-cup bundt pan with cooking spray, then dust with flour. Mash the bananas and mix with the wet ingredients.
Add the remaining dry ingredients and mix with a wooden spoon or a rubber spatula until combined! Super easy and NO MIXER REQUIRED!
Turn the batter into your prepared bundt cake pan and bake until done (about 55 minutes).
Allow the Hummingbird Bundt Cake to cool completely before topping with buttercream glaze.
What's In Hummingbird Cake?
To make this nut-free hummingbird bundt cake recipe, you'll need:
All Purpose Flour – if following a gluten free diet, a 1:1 Gluten free flour, containing xanthan gum, is recommended.
Granulated Vegan Sugar– creates a tender cake that bakes up with a nice even crumb
Baking Soda, Baking Powder and Salt- leaving at its best
Cinnamon – adds warm, spiced flavor that creates a beautiful scent.
Crushed Pineapple with Juices- for added moisture and refreshing of flavor.
Ripe Mashed Bananas – brown and spotty. The uglier the bananas, the better the flavor.
Vanilla Extract– use a high quality organic vanilla for the best flavor
Neutral Oil- the original recipe uses oil which I love because I don't have to cream the butter and it keeps the cake extra moist.
Vanilla Glaze – just a little extra sweetness to tie all the flavors together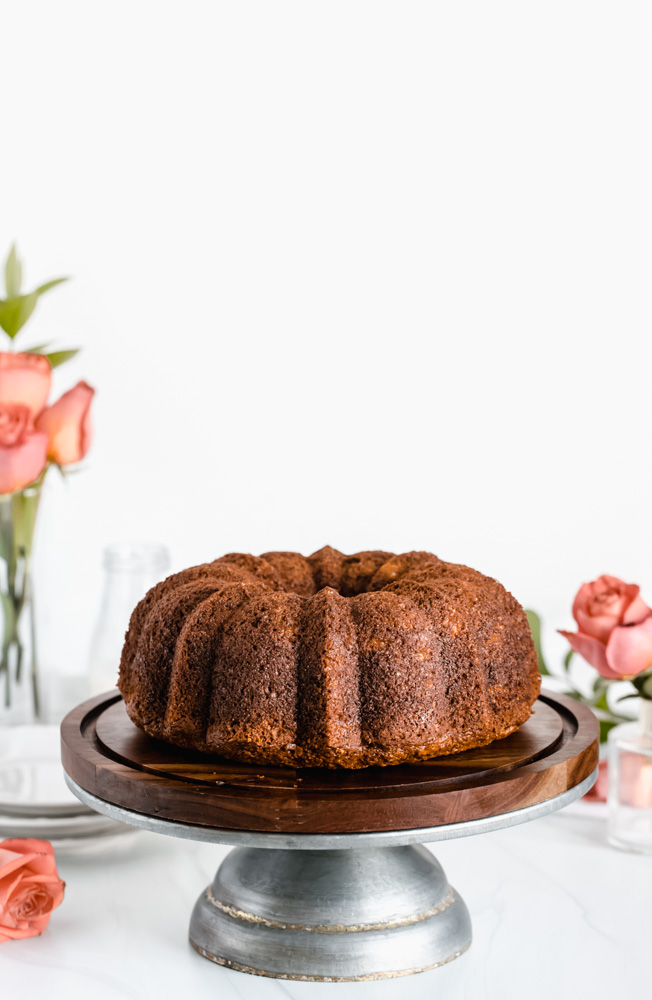 Tips For Making the Best Vegan Hummingbird Cake
Baking without eggs and milk can have its challenges and I've learned some cake making tips, tricks and do-nots along the way. I'm here to impart a little wisdom so you can make the best vegan Hummingbird Cake ever!
MEASURE PROPERLY
No one wants to spend all that time, effort and money on a cake to has to be trashed. And a lot of the time, it comes down to a simple mis-measurement of flour. So measure carefully and correctly.
When using measuring cups, use the "spoon & level" method. Simply use a spoon to scoop the ingredient into the measuring cup. Do not pack down or tap the measuring cup. Use the back of a knife to level off the excess.
USE REAL CANE SUGAR
One of the questions that I get asked all the time is about subbing or replacing sugar so I wanted to address that here. DO NOT CHANGE THE SUGAR!
Since our Hummingbird Cake contains oil, bananas and pineapple, we now need some stability, which means, it needs sugar. Increasing or decreasing the amount of sugar in the batter will not only affect the sweetness, but it will also affect the cakes texture, stability and moisture. Therefore, I don't recommend decreasing or subbing with another type of sweetener.
DON'T OVER-MIX
Make sure you're mixing any cake batter just until the ingredients are combined. Over-mixing will knock out the air which makes it tough and dense.
BOUNCE-BACK TEST
Using a toothpick is a great way to test a cake's doneness. But, I like using a simple bounce-back test, especially on cakes filled with so much fruit (which can look undercooked using a toothpick).
Remove the cake from the oven and gently press down on the cake with a finger. If your finger left a dent in the cake, it needs more time. But, if the cake bounces back, it's done!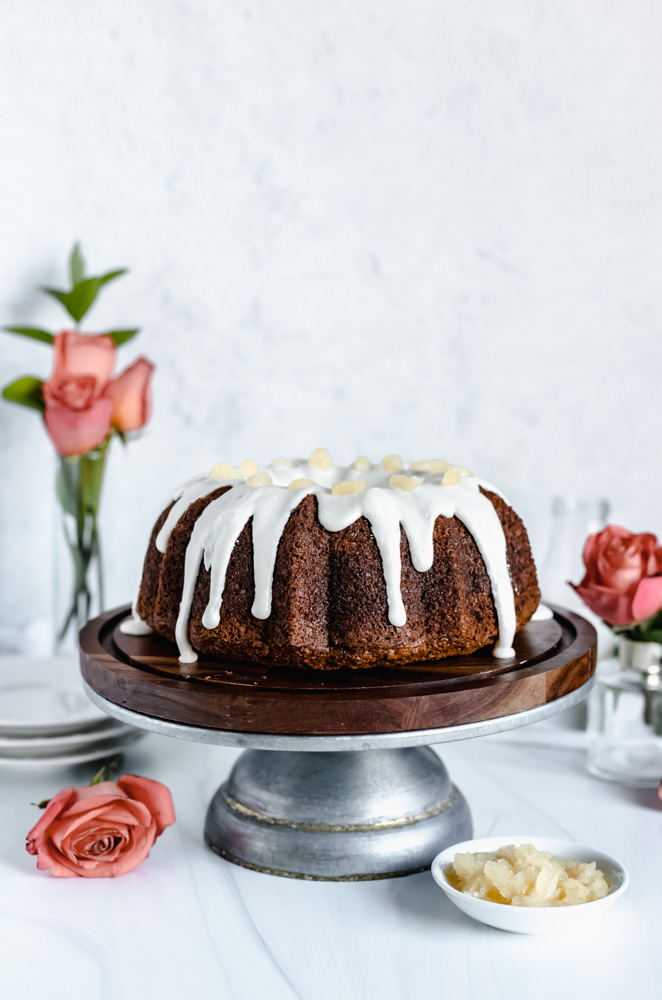 Hummingbird Cake Variations
Wanting to get a little creative? Here are some ideas and add-ins you may want to try:
Make a Layered Cake. Fill three 9-inch layer cake pans and bake 25-30 minutes.
Allspice. Instead of cinnamon, use Allspice. It tastes like a mix of nutmeg + cinnamon + cloves, with a VERY slight peppery note.
Sweetened Flaked Coconut. You can add in 3/4 cup into the batter! You can also toast some coconut and sprinkle on top of the frosting as well!
Nuts. If you can safely include nuts in your recipes, then try mixing 3/4 cup chopped pecans into the batter. Many people also love adding Candied Pecans on top as a garnish!
Cream Cheese Frosting. For a more decadent, traditional topping, try vegan cream cheese.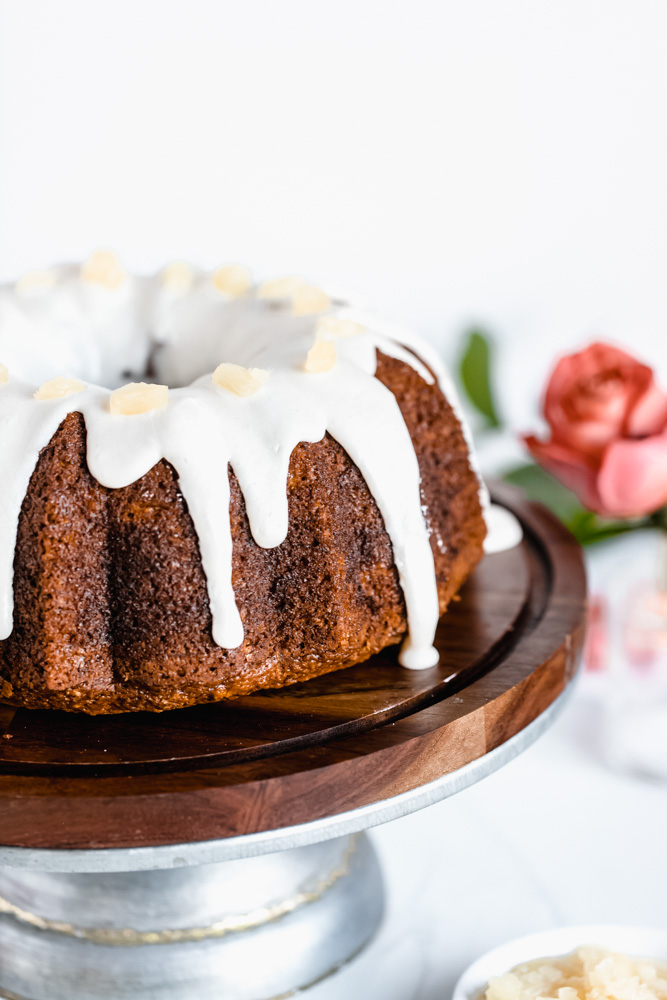 More Vegan Cakes To Try:
Treat yourself to a few of Allergylicious' tastiest cake recipes!
If you make this vegan Hummingbird Cake recipe or anything else from Allergylicious, I would love to see your creations! Make sure to leave a review in comments section, as well as giving it a ⭐️⭐️⭐️⭐️⭐️ rating so that others may find the recipe. Also, follow along with me on Instagram, Pinterest, for more vegan recipe inspiration!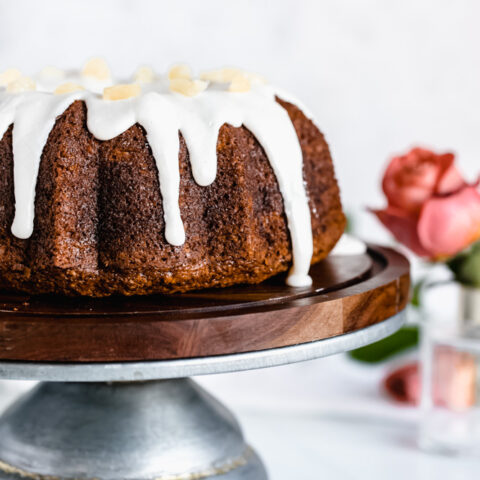 The Best Vegan Hummingbird Cake
Prep Time: 10 minutes
Cook Time: 55 minutes
Additional Time: 1 hour
Total Time: 2 hours 5 minutes
This Southern Vegan Hummingbird Cake recipe is a deliciously moist cake loaded with bananas and pineapple then topped with an irresistibly rich frosting! If you like banana bread and tropical flavors, you will LOVE this cake!!
Ingredients
Cake Ingredients
3 cups all-purpose flour (sub 1:1 GF blend if needed)
2 cups vegan cane sugar (granulated)
2 teaspoons ground cinnamon
2 teaspoons baking soda
1 1/2 teaspoons baking powder
1 teaspoon salt
2 cups mashed, ripe banana (approximately 3 large bananas)
1 1/2 cups crushed pineapple with juice from a can (do not drain)
3/4 cup neutral oil
1 tablespoon pure vanilla extract
Vanilla Glaze Ingredients
2 tablespoons vegan butter, room temperature
1 cup confectioner's sugar, sifted
1 teaspoon pure vanilla extract
1-2 tablespoons plant-based milk or creamer
Instructions
For Hummingbird Bundt Cake:
Preheat oven to 350° and lightly spray bundt pan with non-stick spray.
In a large bowl, sift flour, sugar, baking soda, powder, cinnamon and salt.
In a medium bowl, combine mashed bananas, crushed pineapple, oil and vanilla. Add to the dry mixture and stir until combined. Do not over mix.
Pour batter into prepared cake pan and bake 55-60 minutes or until done (use toothpick or press-down method). Let cool completely, then carefully turn out on to cake plate.
For Vanilla Glaze:
In a medium bowl, beat butter until creamy. Add confectioner's sugar and blend until incorporated. Then add vanilla extract and a little plant-based milk. Beat until smooth. If too thick, add a little more liquid. Drizzle over top of cooled hummingbird cake.
Notes
If gluten free, substitute flour with 1:1 GF Blend, such as Bob's Red Mill.
Recommended Products
As an Amazon Associate and member of other affiliate programs, I earn from qualifying purchases. Please see my FULL DISCLOSURE POLICY for more details.
Nutrition Information:
Yield: 16
Serving Size: 1
Amount Per Serving:
Calories: 356
Total Fat: 12g
Saturated Fat: 2g
Trans Fat: 0g
Unsaturated Fat: 10g
Cholesterol: 4mg
Sodium: 350mg
Carbohydrates: 59g
Fiber: 2g
Sugar: 38g
Protein: 3g
Nutritional information is only an estimate based off of using an online calculator. Numbers will change depending on brands used.