These Double Chocolate Cupcakes have so much chocolate flavor, its overload in the best possible way! Vegan with gluten free option .
These Vegan Chocolate Cupcakes are soft and fluffy, rich yet sweet & full of chocolate-y goodness, especially when topped with the best vegan chocolate buttercream!
The best vegan chocolate cupcake recipe:
I've made more chocolate cupcakes and cakes then I can even count anymore, but I may have to say that these may just be the best super moist chocolate cupcakes yet!
They take only 10 minutes of prep, use simple ingredients and are ridiculously easy to make, using a stand mixer or spoon and bowl! One bite & they will become your go-to cupcake recipe for any birthday, holiday or celebration!
And of course, they're also nut free, allergen friendly and can easily be made gluten free.
Easy vegan chocolate cupcakes ingredients
To make these decadent & delicious cupcakes, you will need the following:
Apple Cider Vinegar: Adding this to vegan milk will create vegan buttermilk. This adds flavor, texture and helps the cupcakes to rise. Regular white vinegar will also work.
Dairy-free Milk: Most vegan milks will work here but I always recommend a thicker milk for best results, such as soy, oat or flax milk.
Oil: Don't omit! Cupcakes need fat to help make them moist and tender. You can use any oil here but I used melted coconut oil.
All-Purpose Flour: The foundation to creating a cakey cupcake. You can also use 1:1 gluten-free flour.
Unsweetened Cocoa Powder: Only use high-quality one unsweetened cocoa powder. Don't use dutch processed because it will affect the rise of the cupcakes and you won't be happy.
Baking Powder and Baking Soda: This dynamic duo helps make the cupcakes rise! Learn how to test if these ingredients are still good here.
Sea Salt: Just a pinch to balance out the sweetness.
Vanilla Extract: Adds another level of flavor to these easy vegan chocolate cupcakes.
Espresso Powder: This really enhances the flavor of chocolate and you won't taste it either, just in case you are not a coffee fan.
How to make vegan double chocolate cupcakes from scratch
You'll find the full written instructions on the recipe card below, but here is the quick and easy summary of steps:
To make these easy vegan chocolate cupcakes:
Preheat Oven and Line Muffin Tins. Preheat oven to 400°F. Line muffin tins with cupcake liners.
Prep Buttermilk. In a jar, add the vinegar and vegan milk together to curdle and form a buttermilk. Set aside.
Sift & Whisk together the dry ingredients. This creates the lightest cupcakes by removing clumps and distributing the leavening agents evenly in batter.
Mix In Oil and Vanilla. Add oil and pure vanilla extract to the buttermilk mix.
Pour wet ingredients into the dry ingredients. Mix gently, but do not over mix the cupcake batter, to avoid rubbery and/or deflated cakes.
Divide the batter into the cupcake tins. I usually yield between 10-12 cupcakes, filling each liner about 2/3 of the way with batter. You can use an ice cream scoop to help!
Bake the Cupcakes: Place the pan in center on the middle rack of your oven. Bake for 5 minutes at 400 degrees then reduce heat to 350 and continue baking 13 more minutes, or until fully cooked. Remove from oven and allow to cool completely.
How to make vegan chocolate buttercream
Once your cupcakes have cooled, it's time to take it up a notch with chocolate buttercream frosting! This vegan frosting is made with vegan milk, cocoa powder, powdered sugar and vegan butter. It's rich but oh so delicate and delicious.
For the Frosting: Using your electric stand mixer or a hand mixer, cream together the butter and cocoa powder until combined. Switch to slow speed and add powdered sugar 1 cup at a time, gradually increasing amount of sugar until thick smooth. Then add vanilla and salt and beat on high until light and fluffy. If needed, add vegan milk 1 tablespoon at a time to reach desired consistency.
Frost and Add Sprinkles: After cooled, frost with chocolate frosting and add sprinkles (optional but so much more fun!)
How to store leftover vegan cupcakes
If you happen to have leftovers from this vegan chocolate cupcake recipe, simply store the cupcakes in a cupcake container store in the fridge for up to 3 days.
Make ahead option: Make a batch of vegan double chocolate cupcakes ahead of time, then store in an airtight container (unfrosted) and refrigerate/freeze for 2 days. Allow the cupcakes to sit at room temperature for 1-3 hours, and then pipe with vegan chocolate buttercream frosting.
If storing for longer than a week, wrap unfrosted cupcakes individually in plastic wrap (this prevents freezer burn and odd freezer smells to transfer). Place cupcakes inside a freezer bag on a shelf in your freezer where they won't get smashed. Freeze for up to 3 months. Then, unwrap the cupcakes and allow to defrost at room temperature and frost.
Can I make these vegan cupcakes gluten free as well?
Sure can! I always try to test my recipes using gluten free 1:1 baking flour because its an easy substitution. Simply use the same amount as you would regular all purpose flour. Just make sure it's actually 1:1, which already contains xanthan gum in mix.
Can I make these cupcakes into a vegan chocolate cake?
Although I already have several delicious vegan chocolate cake recipe on the blog, but you could double this vegan chocolate cupcake recipe to make a 2 layer 8″ cake. The bake time for the cakes will be approximately 32-35 minutes.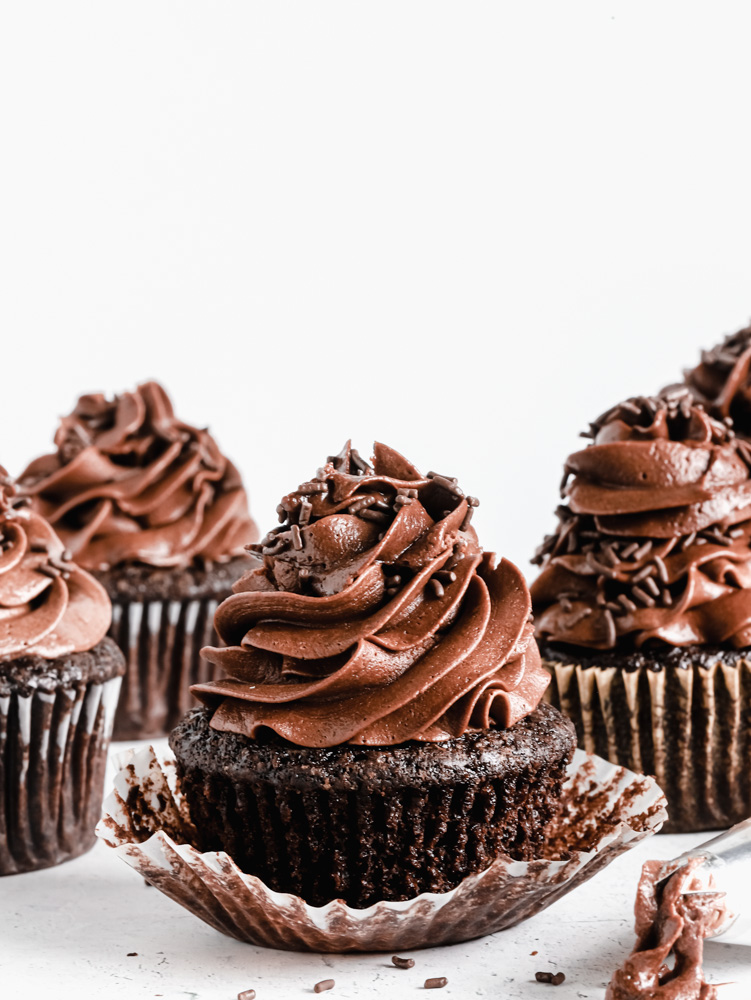 Important recipe tips & tricks:
Use high quality, natural cocoa powder, not dutch-processed: Since natural cocoa powder has more acidity, it creates a chemical reaction when mixed with baking soda, creating the batter to rise beautifully.
Fill the cupcake liner correctly: I recommend filling the cupcakes about 2/3 of the way. Any higher, and it'll either overflow or deflate in the center. An ice cream scoop that holds 3-4 tablespoons or 1-1.5 ounces works well for standard size cupcakes
Don't skip the vinegar: This key ingredient not only helps these vegan cupcakes rise but when allowed to curdle in the dairy-free milk, it'll give you the most moist, fluffy vegan cupcakes ever!
Let the cupcakes cool in the cupcake tin for at least 10 minutes! This makes sure that the liner comes off cleanly.
Ensure ingredients are room temperature: This ensures that everything blends together properly.
Sift & spoon: Sifting your dry ingredients (mainly flour and cocoa powder) then using a spoon to scoop into your measuring cup will ensure a more accurate measurement.
Don't over-mix the batter: Over-mixing the batter can make the cupcakes too dense and it can cause them to deflate since it adds too much air into the batter. Just mix until all of the ingredients together.
Sift powdered sugar: If you don't like eating chunky frosting, then I highly suggest, taking the extra step and sift first. Plus, a lot of vegan icing sugars are a little more clumpy and sifting will create a beautiful smooth buttercream.
My favorite cupcake tools:
Cupcake liners: these ones are my favorite for cupcakes that don't stick to the liner and they are eco friendly.
Piping tip: My favorite piping tips for adding swirls of chocolate buttercream would be Wiltons 1M or 2D. But any large open star or flower tip will work!
Piping bags: I've tried so many different brands but I really love these.
I cannot wait for you to try these new vegan double chocolate cupcakes! They're simply amazing and perfect for any chocolate-lover out there! If you like this recipe or have any questions, please be sure to leave a comment and a ⭐️⭐️⭐️⭐️⭐️ rating below.
As always, if you make something from the blog, be sure to tag @allergylicious on Instagram so I can see your creations. Also, follow along with me on Instagram, Pinterest, YouTube, and Facebook for more vegan & allergy friendly treats.
More vegan cupcakes that you'll love:
Super Moist Double Chocolate Cupcakes (Vegan + Gluten free Option)
Yield: 10-12
Prep Time: 10 minutes
Cook Time: 18 minutes
Additional Time: 20 minutes
Total Time: 48 minutes
These Vegan Chocolate Cupcakes are soft and fluffy, rich ,yet sweet & full of chocolate-y goodness, especially when topped with the best vegan chocolate buttercream!
Ingredients
Chocolate Cupcakes
3/4 cup dairy free milk (I like using unsweetened flax milk)
1 teaspoon apple cider vinegar
1/3 cup coconut oil, melted and cooled (or neutral oil of choice)
1 teaspoon vanilla extract
1 cup flour, sifted
2 teaspoons espresso powder
1/2 teaspoon baking powder
3/4 teaspoon baking soda
1/4 teaspoon salt
Vegan Chocolate Buttercream
1 cup vegan butter, room temperature
1/2 cup cocoa powder, sifted
4 cups vegan powdered sugar
1/4 cup dairy free milk
pinch of salt
Instructions
Make Double Chocolate Cupcakes:
Preheat oven to 400° degrees F and line a cupcake tin with cupcake liners.
Mix vegan milk and vinegar in a jar or glass and set aside 5 minutes to curdle.
Sift together dry ingredients in a large bowl.
Whisk oil and vanilla extract to "buttermilk" then pour into the dry ingredients and mix together just until smooth, using a wooden spoon (or electric mixer). Do not overmix!
Spoon batter into liners, filling 2/3 of the way.
Bake 5 minutes at 400° then reduce temperature to 350° and continue baking 12-14 minutes more (17-19 total). Remove from oven and let cool in cupcake tin 10 minutes at least.
Make Chocolate Buttercream: Cream together vegan butter and cocoa powder until combined. Add powdered sugar, 1 cup at a time until incorporated. Then add vanilla and salt then beat on high until light and fluffy.
Use a piping bag to swirl frosting on cooled cupcakes.
Top with sprinkles if desired.
Recommended Products
As an Amazon Associate and member of other affiliate programs, I earn from qualifying purchases. Please see my FULL DISCLOSURE POLICY for more details.
Nutrition Information:
Yield: 12
Serving Size: 1
Amount Per Serving:
Calories: 453
Total Fat: 22g
Saturated Fat: 15g
Trans Fat: 1g
Unsaturated Fat: 5g
Cholesterol: 42mg
Sodium: 288mg
Carbohydrates: 61g
Fiber: 1g
Sugar: 48g
Protein: 3g
Nutritional information is only an estimate based off of using an online calculator. Numbers will change depending on brands used.