This Chocolate raspberry layer cake is delicious, vegan & allergy-friendly! It is filled with fresh raspberries, chocolate ganache and a fluffy buttercream frosting!
Today's Chocolate Raspberry Cake post was sponsored in partnership with Enjoy Life Foods.
Life is sweeter when you celebrate with cake
Seems like there is no better way to celebrate a special event or holiday then with cake! And this Chocolate Raspberry Cake is the perfect cake for such an occasion. It's a deliciously moist chocolate cake with fluffy chocolate buttercream frosting , layered with rich and glossy chocolate ganache and a gorgeous display of berries.
See, it's the perfect cake for Valentine's Day, a Birthday, an Anniversary or Just-Because-Kind of Day.
I L-O-V-E Vegan Chocolate Cake
Cakes are my favorite dessert to make and have a special place in my heart. It actually all started when I was 8 and made my first cake…it was a Pac-Man cake. Really it was just a round cake that had a slice cut out of it and then iced yellow to look like our favorite pellet-eating video game character…but to me, it was a big deal. I made my first cake!
Fast forward 25 years later and my world drastically changed. At that time, our son Xander was 10 months old and just confirmed he had life threatening food allergies to dairy, eggs, peanuts and tree nuts. After the initial shock, all I could think about was that his 1st birthday was less than 2 months away and he HAD to have cake! And so, I made my first allergy-friendly cake.
Chocolate 3.0
Almost 11 years later and I'm still making cakes but this Chocolate Raspberry Cake has to be one of my absolute favorites because:
It's chocolate 😍
with a light chocolate buttercream frosting 🙌🏼
and chocolate ganache layer 🍫
plus coffee is mixed into the batter! ☕️
OOOHHH, then there's fresh raspberries that just brings it all together in the sweetest, freshest way🍓
most noteworthy… it's allergy-friendly, vegan and gluten-free 🌱
Dessert is for everyone
Everyone deserves to be able to enjoy a slice of cake, even if you live with food allergies! For me, it's not thinking about we can't have, but finding the beautiful, vibrant foods we can all enjoy! And with so many delicious allergy-friendly products available, it is easier than ever to create a lovely dessert that everyone to gather around and safely feast on!
Feast away my friends! This cake is for you 😘
We love Enjoy Life Foods
My Chocolate Raspberry Cake features a delicious allergy-friendly and vegan chocolate. We just love Enjoy Life Foods and if I'm not watching my kids closely, they'd eat a bag of mini chocolate chips by the handful! Not that there's anything wrong with that, but it's even more delicious when used in a recipe.
Some of our favorites and most shared chocolate recipes using Enjoy Life Foods have been German Chocolate Cake , Oreo Truffles, Chocolate Chip Cookie Dough Cups, Brookie Ice Cream Cake & 2 Ingredient Fudge .
Enjoy Life's chocolate has been a huge game-changer for us!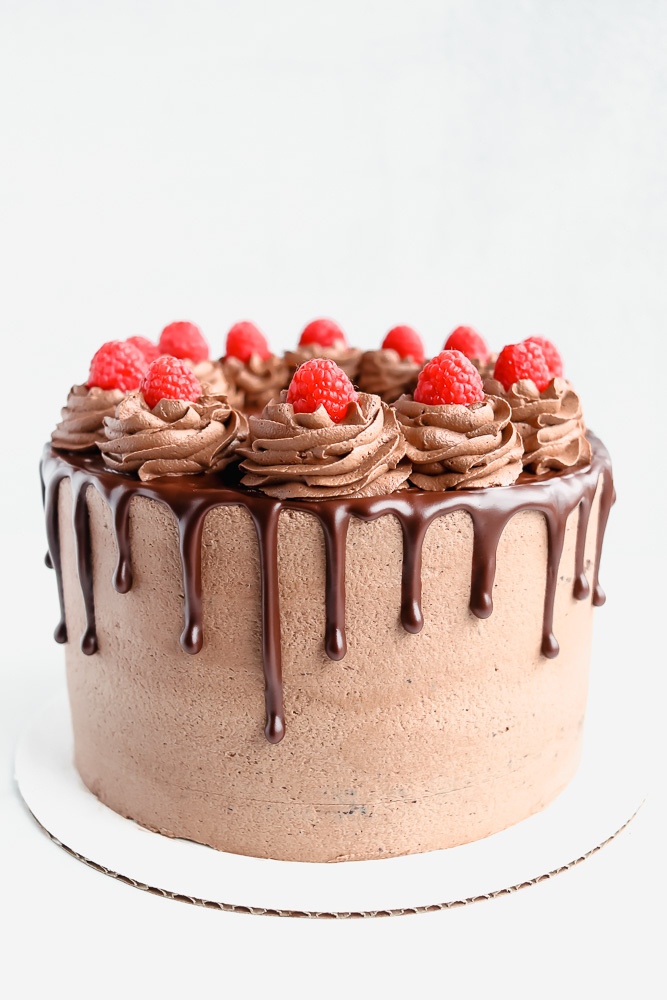 Free From Living means….
Allergy-Friendly: Their products are free-from gluten and 14 common allergens: wheat, peanuts, tree nuts, dairy, casein, soy, egg, sesame, sulfites, lupin, mustard, fish, shellfish, and crustaceans.
Non-GMO: None of the products contain GMOs.
Gluten-Free: They're delicious snacks are certified gluten-free.
All Natural Ingredients: One way to eat freely is to know exactly what's in your food which is why they are made with all-natural ingredients, like quinoa, buckwheat, and agave .
(excuse the old photo below…it's the only one that shows the inside since the other was for my friends birthday…SURPRISE!)
Gluten free & Amazing
One thing that this cake is NOT free from is flavor! It's one of the most decadent chocolate desserts you'll ever taste! It's simply irresistible and I cannot wait for you to share it with someone you love.
Other Cake Recipes You'll Love
Chocolate Raspberry Layer Cake
Yield: 2- 9" cakes
Cook Time: 30 minutes
Total Time: 30 minutes
Homemade Chocolate raspberry layer cake is delicious, vegan & allergy-friendly!  It is filled with fresh raspberries, chocolate ganache and a fluffy buttercream frosting!
Ingredients
For the Cake
3 Cups Gluten-free Flour Blend (I used Bob's 1-to-1) OR All-Purpose Flour*
2 Cups Granulated sugar
3/4 Cup cacao powder (unsweetened cocoa powder also works)
2 tsp. baking soda
1 tsp. salt
1 Cup canned coconut milk, mixed well (or dairy-free milk of choice)
1 Cup strong hot coffee
3/4 Cup vegetable oil
1/4 Cup vinegar
1 TB vanilla extract
2 pints raspberries
For the Frosting
1 Cup dairy-free butter, softened (Earth Balance Soy Free)
3 1/2 Cups confectioner's sugar
1/2 Cup cacao or cocoa powder
pinch of salt
2 tsp. vanilla extract
4 TB. dairy-free creamer 
For the Ganache Layer
1/2 Cup Enjoy Life Food Mini Chocolate Chips
2-3 TB. dairy-free creamer or coconut milk
Instructions
For the Cake (see notes for second option)
Heat oven to 350°. Grease and dust with cocoa powder two 9"inch round baking pans. Set aside.
In a large bowl, sift together the sugar, flour, cocoa, baking soda and salt. Whisk to combine.
In a separate bowl whisk together coconut milk, oil, vinegar and vanilla. Pour this into the dry mixture then add the hot coffee. Beat on medium speed just until the batter is combined. Pour evenly into prepared cake pans.
Bake for 30-35 minutes or until toothpick inserted in the center comes out clean. Cool at least 10 minutes before removing from pans onto wire racks. (*I actually just kept them in the pans to whole time to cool)
For the Frosting
In your standup mixer with paddle attachment, cream butter for 2 minutes. Sift confectioners sugar and cacao into the bowl then turn on LOW speed until the powder starts to get incorporated. Add vanilla extract, salt and creamer then turn onto MED speed for 3 minutes to get nice and fluffy. *If too thick, add 1 extra teaspoon of creamer. If too thin, add a little more sugar.
For the Ganache
In a microwave safe bowl, melt together the chocolate chips and creamer for 30 seconds. Whisk together and return to microwave for another 15 seconds if not yet melted. Whisk until nice and smooth.
To Assemble
Large Cake Option: Spread a layer of ganache on the bottom cake layer and smooth. Top with raspberries then pipe frosting in a circular pattern on top of the berries. Add your second cake layer. Pipe frosting on top to cover, then garnish with a handful of berries. Drizzle with ganache.
Individual Cake Option: Remove cake from pans and lay on a smooth surface. Using a large circular cutout, press onto cake and cut out smaller circles. Should have 6-8 small cakes total. Spread a layer of ganache on the bottom cake layer and smooth. Alternate piped frosting then raspberry until entire ganache layer is covered. Add your second cake layer. Pipe frosting on top to cover, and pipe frosting onto the sides. Spread to cover cake then drizzle with ganache. Top with extra piped frosting and raspberries.
Thank you to Enjoy Life Foods for making amazing chocolate products that are not only delicious but allergy-friendly. This food allergy mom appreciates it!
Share something delicious