Do you know what would make raw cookie dough even more delicious? How about covering it in chocolate.
Earlier this week, I shared my recipe for our amazing Cookie Dough Bites. Have you seen it yet? You'll definitely want to head over and print it off now….. go ahead, I'll wait a minute… That cookie dough bite recipe is used again, but with a twist, for what I like to call Cookie Dough Bites 2.0. Actually, I call this The BEST Allergy-friendly Chocolate Chip Cookie Dough Cups, but that's kind of a long name, so we'll just stick with Cookie Dough Cups.
Before I tell you how to make these, I must confess to having a mini obsession with chocolate covered treats. When I was younger, I loved PB Cups. I would take my time dissecting them in order to enjoy them a little longer. I'd start on the edges and twirl the cup around, taking little bites until only the center remained. There was great joy in the art of eating a PB Cup and making it last as long as possible. I also loved those little cordial-cherry filled chocolate balls that came out around Christmas time. I would nibble off the top, drink the sugary liquid, then eat the remaining chocolate shell with the candied cherry. Then, there were Peppermint Patties, yet another example of a delicious filling, coated in chocolate.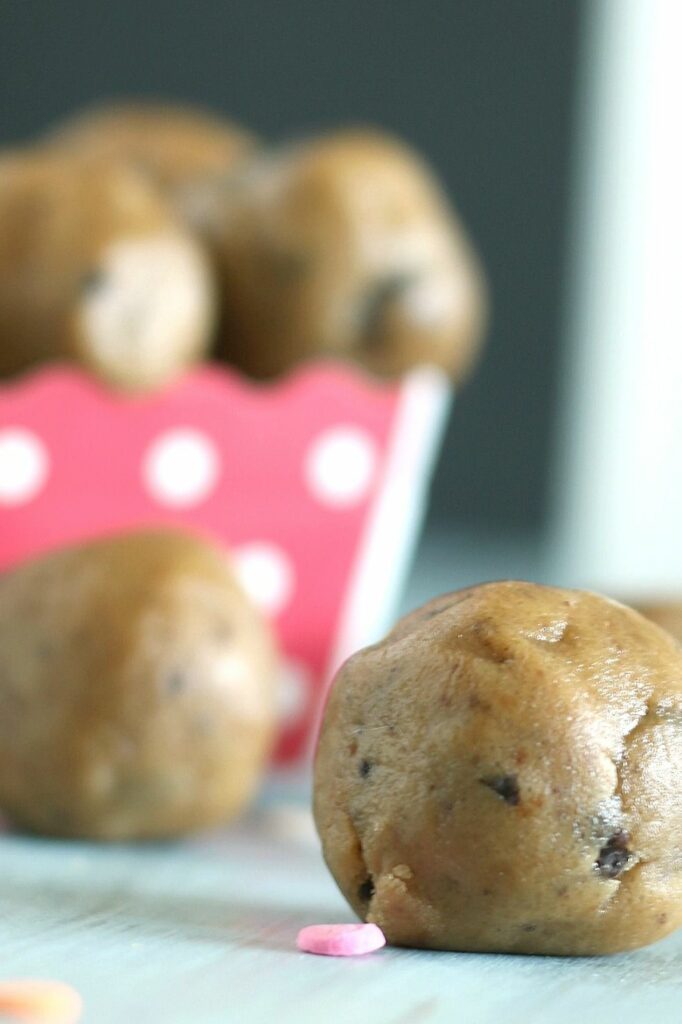 Did you have any favorite chocolate-covered treats as a kid? When I think about it, I never really liked plain chocolate. It always had to be covering or mixed in with another ingredient, which brings us to today's Cookie Dough Cups. Yummy raw cookie dough (from my earlier post), completely surrounded by chocolate. It can't get much better than this. Oh wait, it can, because these treats are:
No Bake (just a little melting)
Nut-free
Dairy, Egg, Soy Free
Vegan
& Gluten-free (follow option 2)
Can you say "Heck to the YA!"
My son Zac told me that these were his new favorite treats. My other kiddos just gave me smiles, a big 'ol "YUM" & a "thumbs up" then grabbed another. Needless to say, they LOVED these Cookie Dough Cups! I know you will too.
You'll also love how easy these are to make. Soon,  you'll be the master of making these chocolate chip Cookie Dough Cups and ready to start working on your own creations.
Let me give you a few ideas…..You can make the center with the caramel from my Homemade Twix Bar or instead of a chocolate chip cookie dough, how about using the base from my Oreo Truffles in its place. Just have fun with it and soon you'll be dreaming up your own delicious fillings.

Before I forget, here's a delicious treat from Beaming Baker! Chocolate Vegan Crunch Bars….it's like a Nestle crunch without all the yucky stuff which was another one of my favorite chocolate covered sweets growing up. And then here's another vegan version of Edible Cookie Dough from Veggie Balance you'll want to look at, because you can never have enough!
Today though, I'm still dreaming of running to the fridge to grab me another one of these Cookie Dough Cups! I made an extra batch for our Spring Break road trip but I may have to sneak 1 before the drive :). How about you, are you ready for some chocolate? Then let's get started…..
Cookie Dough Cups
Yield: 18-24 bites
Prep Time: 20 minutes
Total Time: 20 minutes
These chocolate chip cookie dough cups are a cookie lover's best friend!  Eggless, allergy-friendly chocolate chip cookie dough, covered in creamy chocolate coating.  Is there anything more satisfying? 
Instructions
Line muffin tins with cupcake liners & cover a baking tray with parchment.
In a mixing bowl, cream together the butter and sugar with an electric mixer (or stand mixer). Stir in the flour, salt & vanilla. Add the coconut milk, one tablespoon at a time if needed to thin out abit. Fold in 1/2 cup chocolate chips.
Scoop out dime sized piece of dough and set on prepared baking tray. Refrigerate while you melt the chocolate.
Add 2" of water in a small saucepan and place on medium heat. Fill a small heatproof bowl with 12oz of chocolate chips then set on top of the saucepan. Be sure the bottom of the bowl does not touch the water below. Gently stir chocolate as it melts until nice and smooth. Remove from heat but leave bowl on top of pan.
Grab your cookie dough and start assembling. Spoon melted chocolate into base of lined tins, approximately 1/3 full. Grab cookie dough balls and flatten into a disc shape that will fit on top of chocolate base, without touching the sides. Continue filling each liner then spoon more melted chocolate over each piece of cookie dough to cover completely.
Refrigerate until set, approximately 60 minutes. Keep stored in the refrigerator.
Recommended Products
As an Amazon Associate and member of other affiliate programs, I earn from qualifying purchases. Please see my FULL DISCLOSURE POLICY for more details.
Nutrition Information:
Yield: 18
Serving Size: 1
Amount Per Serving:
Calories: 71
Total Fat: 1g
Saturated Fat: 1g
Trans Fat: 0g
Unsaturated Fat: 1g
Cholesterol: 0mg
Sodium: 45mg
Carbohydrates: 14g
Fiber: 0g
Sugar: 8g
Protein: 1g
Nutritional information is only an estimate based off of using an online calculator. Numbers will change depending on brands used.
It's always nice to share
Allergylicious LOVES Pinterest, just as much as chocolate and we love to see you sharing our allergy-friendly, vegan treats.
I've got you covered
Looking for more chocolate-covered treats? SunButter Protein Cups are a favorite of our readers & totally addicting. Crunchy Chocolate Sunbutter Cups are perfect for those who like a little the contrast of smooth & crunchy. Or if frozen is your thing, how about Chocolate Banana SunButter Bites?
Let's Get social
Follow Allergylicious on Facebook and invite your friends! Find me on Instagram and Tag #allergylicious with your awesome remakes!  You can also find me on Pinterest sharing the newest, delicious, allergy-friendly foods.