This easy, allergy-friendly Chocolate Chip Cookie Cake Recipe is the perfect way to celebrate birthdays or any other special occasion! It's deliciously soft, chewy and perfectly crispy on the edges. Decorate with frosting & sprinkles for the perfect celebration treat!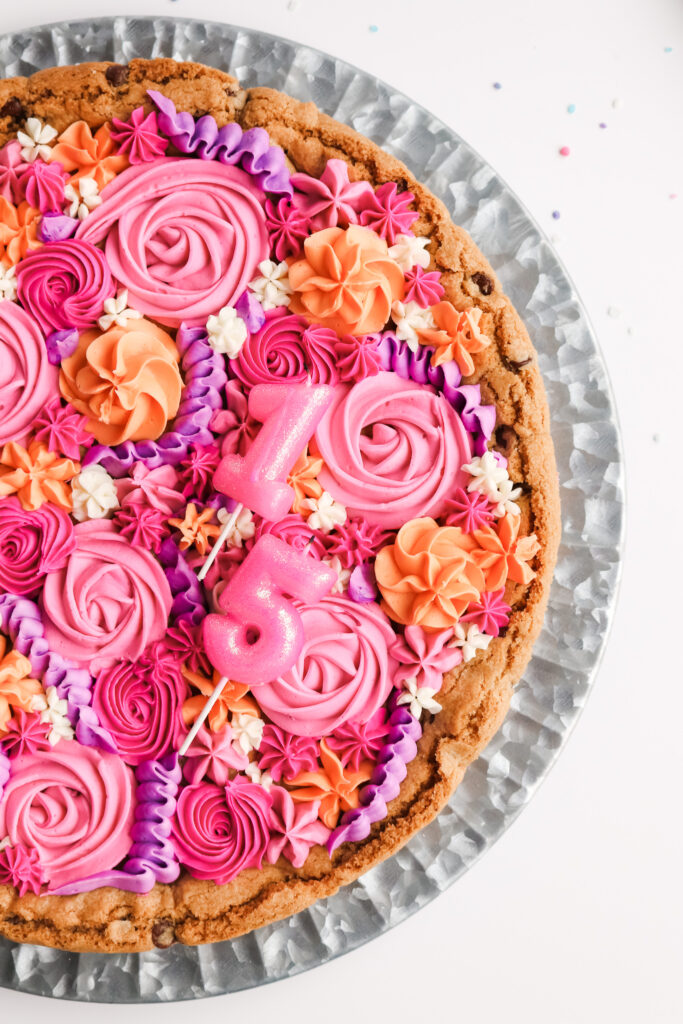 Why is this Giant Cookie so Special?
I love how incredibly fun and festive these cookies are, but even better than that, is how these are made from scratch, allergy-friendly, vegan and just as delicious using the gluten-free option. I also love …
Oodles of chocolate in every bite.
The chewy, soft texture.
Perfectly cut slices, without crumbling or falling apart.
Only 1 bowl needed to make the cookie dough.
The frosting forms a nice little "crust", making this easy to make ahead and decorate.
What's in a Vegan Cookie Cake?
For our dairy-free and eggless chocolate chip cookie cake, you'll need:
Tips to Make the BEST Allergy-friendly Chocolate Chip Cookie Cake
Use room temperature butter: The softened butter in this chocolate chip cookie dough makes it extra smooth and helps it bake up into the perfect chewy, yet sturdy cookie.
Parchment paper is your friend: Using parchment paper, will help the cookie come out more easily. If you don't have the right size, just measure and cut into the perfect size.
Spread into a prepared 10″ Cookie Cake Pan (or a 9×13 metal pan or Springform pan): The key to the perfect cookie cake is only spreading the dough to be about 1/2″ thick. If you use a smaller pan, the dough will be thicker and require a longer baking time. If you use a larger pan, the dough will be spread too thin and result in a crispy cookie, so you'll have to shorten the baking time.
Do Not Overbake: This is the trick to the perfect, SOFT, chewy cookie cake. Take it out when the top is slightly brown and the center looks like it is baked through. My oven bakes the perfect cookie cake in 20 minutes using the 10 1/2″ pan, but remember, baking time will vary if you use a different size pan.
Allow to FULLY cool before removing from pan: To loosen from pan, use a knife to gently go around the edges, place a flat baking sheet on top, then flip over the pan to remove. It will be upside-down, so you'll need to flip it over again on the final decorate serving dish.
Can I Add Other Mix-Ins to the Cookie Dough?
Be my guest! So far, readers have said they've made this cookie cake with white chocolate chips, raisins, chopped pb cups (Free2Bb SunCups are an allergy-free option), craisins, and dark chocolate chips — all of which sound amazing! Just make sure to add only 1 cup of mix-ins total, otherwise these cookies won't be the right texture.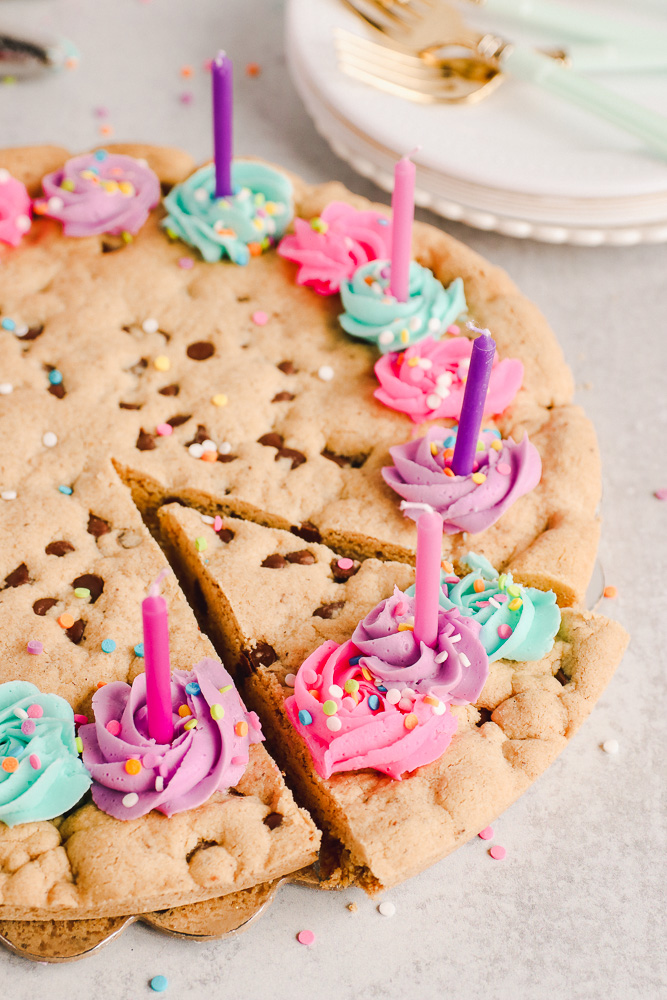 How to Store/Freeze/Make Ahead Cookies?
I typically don't refrigerate or freeze chocolate chip cookies because they can get dry and crumbly in the freezer. But, if you do need to make this in advance, you could wrap the baked, unfrosted cookie in plastic wrap and when you're ready to eat it, let it thaw to room temperature then decorate with frosting and sprinkles! LOTS of sprinkles.
Frequently Asked Questions:
What if I don't have a cookie cake pan? You can bake in a 9×13 metal pan (they will just be a little thinner, so you may need to bake a couple minutes less) OR using a springform pan also works great.
Can you keep this cookie cake in the fridge? You can but you don't have to. If unfrosted, this cookie cake will be good covered/wrapped at room temperature for 2-3 days. If you use homemade frosting with "butter", then I would refrigerate it if not eaten within a day.
Can I make this into a layered cookie cake? Heck yes! To do this, make two cookie cakes, double the icing recipe, then spread half of the frosting between the two cookies and pipe your decoration on the top layer.
I suggest cutting into smaller servings since it has an extra layer of icing, which makes it even sweeter.
Can I use gluten-free flour for this cookie cake recipe? Yes, but I have only tested this with Bob's Red Mill 1:1 blend which already contains Xanthan Gum so you won't need to add that in either. If you'd like to try a different brand, just check to see if they suggest any additional add-ins.
What if I don't have flax meal? If you have flax seed and a blender, then you can make your own flax meal. You can also use 1/4 cup applesauce BUT you'll have to watch baking times. I tested this recipe using applesauce and gluten-free flour and the cookie cake fell apart. You'll want to bake it a few minutes longer, and let it sit in the pan until COMPLETELY cooked!
What celebrations can I make this homemade cookie cake recipe for?
Birthday Cookie Cake: Top with frosting, sprinkles, and add a Happy Birthday message on top!
Graduation Cookie Cake: Line a square or rectangle shaped baking sheet with parchment and bake. Then show your school spirit with colored frosting, piped along the edges and top off with sprinkles. Add the graduation year if you're feeling inspired.
Easter Cookie Cake: Line a baking sheet with parchment then shape the dough into a large egg shape. Cover entire cookie cake with frosting and pipe on lines and swiggles to look like an easter egg. You can even top with vegan easter candy if you'd like.
Mother's Day: Grab your favorite Wilton piping tips and have fun making swirls, flowers, rosettes or more with colors that make your mama happy!
A Very Merry Unbirthday: Sometimes, you just need to make something special for no reason at all! Bake, decorate (or let the kids decorate) and just enjoy a slice of cookie cake together.
If you're never experienced the joy of eating a birthday cookie cake- let this recipe be your first! Enjoy!
Other Cookie Recipes You May Like:
Salted Chocolate Brownie Cookies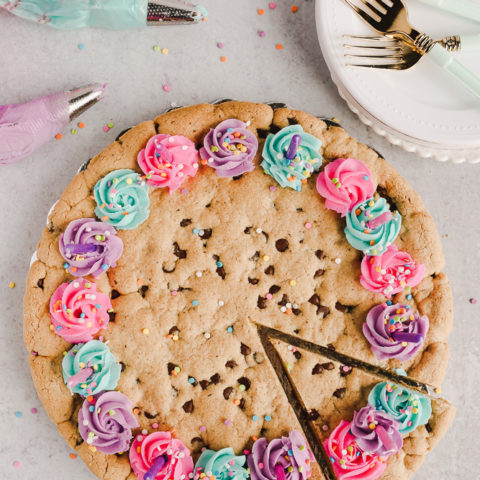 Vegan Chocolate Chip Cookie Cake
Yield: 24
Prep Time: 7 minutes
Cook Time: 20 minutes
Additional Time: 15 minutes
Total Time: 42 minutes
This easy, allergy-friendly Chocolate Chip Cookie Cake Recipe is the perfect way to celebrate birthdays or any other special occasion! Vegan, Nut-free with Gluten-free option
Ingredients
Cookie Cake
2 teaspoons cornstarch
1 teaspoon baking powder
1 teaspoon baking soda
1/2 teaspoon salt
3/4 cup vegan buttery stick, room temp
3/4 cup darn brown sugar, packed
1/4 cup cane sugar
1 flax egg (1 TB flax meal + 2.5 TB water, stir and let sit)**
Decorator Frosting
1 teaspoon vanilla extract
pinch of salt 
3-4 tablespoons dairy-free milk
Instructions
Make Cookie Cake:
Preheat oven to 350°. Lightly grease cookie cake pan and add parchment circle to the base. Set aside.
Using a stand mixer with paddle attachment, cream butter and sugars on medium until smooth. Add egg replacer and beat on high until combined. Scrape down sides if needed. Add vanilla extract then mix again until combined.
Sift in flour, cornstarch, baking powder, baking soda and salt then mix on low until mostly incorporated. Add in chocolate chips and mix until distributed.
Transfer cookie dough to the cake pan and flatten out so edges reach the sides. Should be approximately 1/2"high.
Bake 20-22 minuted or until puffed and lightly browned on top. Allow to cool completely in pan and transfer to serving platter and decorate when cooled.
Make Frosting:
In a large mixing bowl, cream shortening until smooth. Add vanilla and pinch of salt then mix again.
Slowly add in powdered sugar while mixer is on low. Alternative with 1 tablespoon of milk at a time, until you reach desired consistency.
Divide frosting according to smaller bowls, and add a drop or two of desired food coloring. Stir to blend then place in piping bags with tips of choice.
Decorate and have fun!

Notes
*Make gluten-free by replacing All purpose flour with 1:1 Gluten free blend.
** Can also use chia egg, packaged egg replacer, 1/4 cup applesauce or 1 egg if not vegan or allergic.
Recommended Products
As an Amazon Associate and member of other affiliate programs, I earn from qualifying purchases. Please see my FULL DISCLOSURE POLICY for more details.
Nutrition Information:
Yield: 24
Serving Size: 1
Amount Per Serving:
Calories: 322
Total Fat: 11g
Saturated Fat: 5g
Trans Fat: 0g
Unsaturated Fat: 6g
Cholesterol: 13mg
Sodium: 130mg
Carbohydrates: 55g
Fiber: 1g
Sugar: 45g
Protein: 2g
Nutritional information is only an estimate based off of using an online calculator. Numbers will change depending on brands used.
Did You Make This Recipe?
I'd love to know how it turned out! Please let me know by leaving a review below. Or snap a photo and share it on Instagram; be sure to tag me @allergylicious.
A little more Cookie Cake Inspiration
Share something delicious