These giant chocolate chip cookies are made with both chocolate chips AND SunCups then sprinkled with flaked sea salt. Hands down one of the tastiest cookies around. Vegan with Gluten free option!
Vegan Chocolate Chunk Cookies
It's no secret that I'm a sucker for cookies so is it any surprise that I'm sharing yet another Chocolate Chip Cookie recipe?! With soft and chewy centers and crispy edges, this Giant gluten free and vegan Chocolate Chunk Cookie is bound to be the cookie you make over and over again.
What's In Dairy-Free Chocolate Chip Cookies?
Here's what you need to make these allergy-friendly cookies for yourself:
That's It. Nothing too crazy, right?
How To Make Chocolate Chunk Cookies
First, make your flax egg and set aside. It needs time to "gel".
Next, cream together the butter and sugars until light and fluffy with the paddle attachment. Stir in the flax egg and vanilla, just until incorporated!
Meanwhile add flour, baking soda and baking powder to small bowl. Whisk to combine then slowly add in the dry ingredients to the wet. Finally, fold in the chocolate chips (don't add the chopped Suncups just yet).
Since we're making giant cookies, use an ice cream scoop to measure out dough and roll into balls. Space 3" apart on the baking sheet then press chopped SunCups into top of dough and bake.
These chocolate chunk cookies will need a little help deflating, so don't forget to tap the baking sheet on the counter, once removed from the oven. Then sprinkle with flaked sea salt.
Allow cookies to cool on the baking sheet for 5 minutes before removing and transferring to a rack to finish cooling.
Can I Use Gluten Free Flour?
The original recipe uses all-purpose but because many of you are gluten-free, I also tested this recipe using different 1-1 blends.
After a few failed test batches, it was the Bob's Red Mill 1-1 gluten-free blend that yielded yummy cookies, tasting most like the regular flour version.
Can I Add Other Mix-Ins?
Yes, if you can't find SunCups or don't have them on hand, just use extra chocolate chips or chocolate chunks. And feel free to add vegan white chocolate chips, or diced candy bar pieces if you'd like.
Can I Freeze Vegan Cookie Dough?
Unbaked cookie dough may be refrigerated for up to 5 days prior to baking it, or frozen for up to 3 months.
Tips for Making the Best Vegan Chocolate Chunk Cookies
Measure carefully. Baking is all about precision so using the "scoop and level" method is more accurate for measuring. Here is a great tutorial on the proper way to measure flour.
Pre-heat your oven. I highly recommend waiting until your oven is at the exact baking temperature at least 5 minutes before baking cookies. This just ensures it is hot enough to cook correctly. Adding unbaked cookies to your oven before its ready will yield sad results.
Don't Overcrowd. Given the size of these cookies, space out dough balls at least 2-3" apart so they don't spread into one another.
Don't overbake. These cookies will set up as they cool, so if you bake until they look done, they will become firm and crumbly not soft and chewy.
Why We Love These Cookies:
They're BIG! Who can resist a giant chocolate chip cookie?
They are allergy friendly. It's hard to believe these vegan chocolate chunk cookies are dairy-free, egg-free, nut-free and can easily be made gluten-free!
Umm, these are delish! I mean, isn't that the reason we bake cookies??
Can't Get Enough Vegan Cookies?
I'm with ya! If you like this recipe then you will love these recipes too: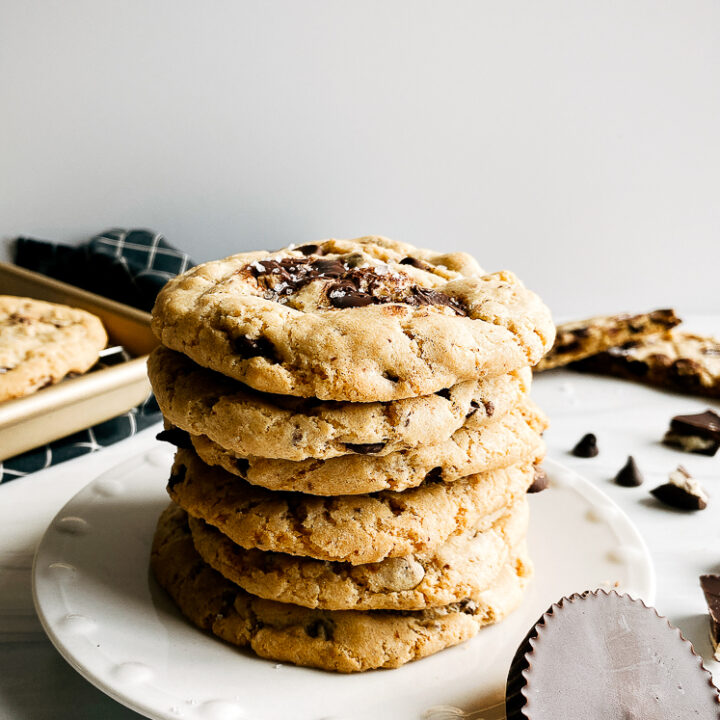 Giant Chocolate Chunk Cookies
Yield: 12
Prep Time: 5 minutes
Cook Time: 22 seconds
Additional Time: 5 minutes
Total Time: 10 minutes 22 seconds
Made with both chocolate chips AND SunCups then sprinkled with flaked sea salt. Hands down one of the tastiest cookies around. Gluten free option!
Ingredients
Flax egg (1 tablespoon flax meal + 3 tablespoons water)
1/2 cup vegan stick butter (room temp)
1/2 cup brown sugar, packed
1/3 cup granulated cane sugar
1 teaspoon vanilla extract
1.5 cups all purpose flour (or 1-to-1 gluten free blend)
3/4 teaspoon baking powder
1/2 teaspoon baking sida
1 cup vegan chocolate chips (or chunks)
2 SunCups, chopped
Flaked sea salt
Instructions
Preheat oven to 350° and line large baking sheet with parchment.
Make Flax egg by whisking together flax meal and water. Set aside.
In a large bowl, cream butter and sugars until light and fluffy. Add in flax egg and vanilla.
In a small/medium bowl, whisk flour, baking soda and baking powder then add to the butter mixture. Mix until combined then fold in chocolate chips.
Using an ice cream scoop, scoop dough and roll into 2" ball. Place on prepared sheet, leaving 2-3" between. Press into top of ball a few pieces of chopped SunCups. Repeat with remaining dough.
Bake 10 minutes then check if they are still in ball shape. If so, remove cookie sheet then gently tap to help deflate. Return to oven and bake another 2-3 minutes or until edges are light brown.
Remove sheet from oven and sprinkle cookies with flaked sea salt. Let cookie sit on the sheet at least 5 minutes before transferring to a cooling rack.
Notes
*Make Gluten Free by using Bob's Red Mill Gluten Free 1-to-1 Baking Flour. Results will vary if using another brand.
** Substitutions: Instead of SunCups, use chopped chocolate bar of choice, Enjoy Life Chocolate chunks or more chocolate chips.
Recommended Products
As an Amazon Associate and member of other affiliate programs, I earn from qualifying purchases. Please see my FULL DISCLOSURE POLICY for more details.