Get in the spooky spirit with these super cute Halloween Spider Cookies made with free2B Suncups, melted chocolate, candy eyes, and a crazy-good, sunflower butter sugar cookie!
Allergy-friendly Halloween Treats
I love Halloween! 🎃 👻 And I love any excuse to create a spooky, allergy-friendly treats for the kids & our friends. Last year I made these adorable gluten free vegan chocolate sandwich cookies that look like pumpkins with a ton of personality. Then, a few years ago, I made these gluten free vegan cake pops simply by using extra cupcakes we had frozen in advance. So easy!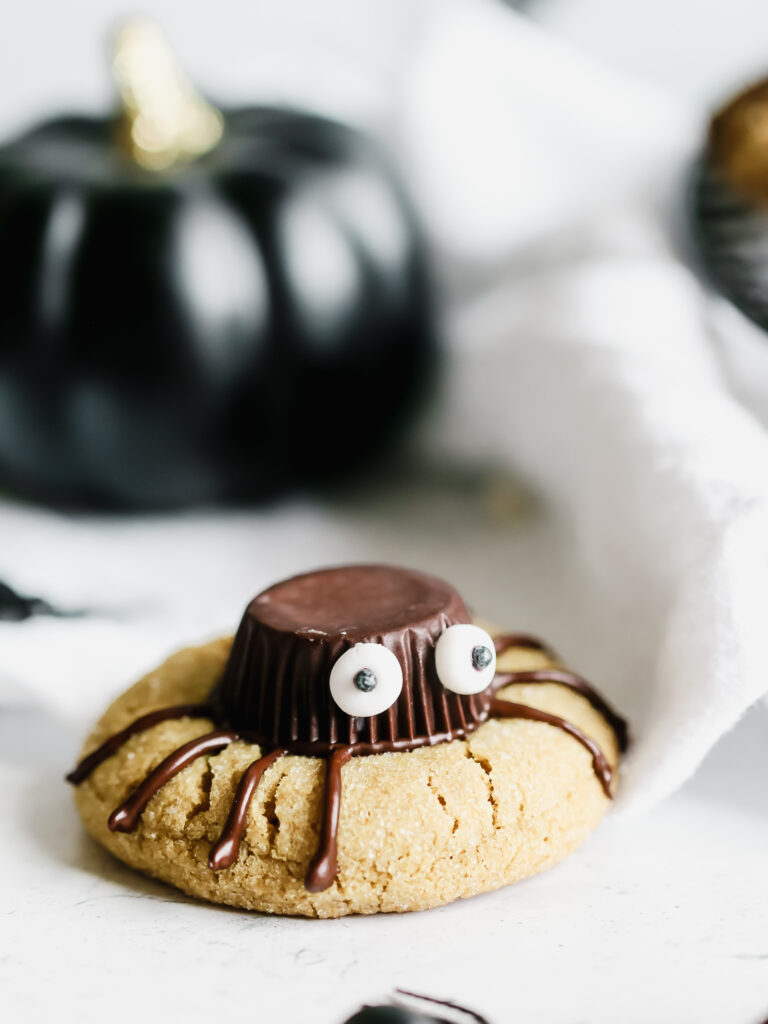 This Halloween, I came up with these sunflower cup spider cookies, although I cannot take credit for the idea. I've seen them all over Pinterest and decided that I had to do my own allergy-friendly version this year. I used a slight variation of my favorite SunButter cookie for the base and then decided to use free2b mini Sun Cups for the body. 
Aren't they just too cute? Finally a spider that doesn't creep me out.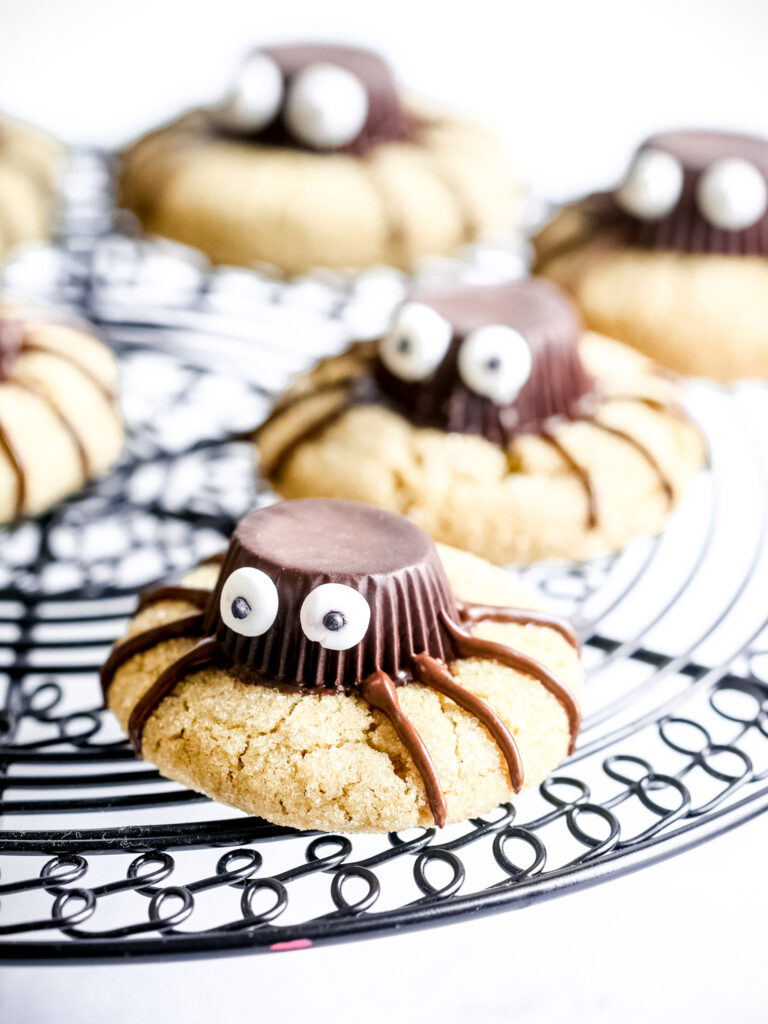 Food allergies and Halloween
I'm not going to spend a lot of time here, but I MUST address the elephant in the room – Food Allergies! Yep, they suck and can make celebrating Halloween even scarier!  
But we aways celebrated Halloween and didn't want Xander to miss out. So, to be able to enjoy the fun with his siblings, created some rules to keep him safe:
Only trick or treat with us (this changed once he was older)
No eating anything out of the bag while trick-or-treating
No taking candy from anyone else's bag
No candy will be eaten unless inspected by parents at home
No candy will be eaten unless there is a clear label
All candy with nuts will be traded for "safe" candy (which we already purchased) & a $20 toy of choice
After a few years of him politely telling neighbors "I can't have that, I'll die", they started buying him packs of gum and to this day, that kid LOVES gum!  He also loves these Sun Cups which free2b started selling in cute Halloween Multi-pack bags for the holiday. Such a great idea and perfect for kids with food allergies or other restrictions! 
Sun Cups are also the perfect choice to use in our Halloween Spider Cookies! 
The cookie itself is amazing on its own, made with free-from ingredients that you most likely you already have on hand. The result are these light, crispy and delicious cookies, rolled in sugar which will blow your mind! Add chocolate sunflower mini cups and you'll be smitten with these gluten free vegan Halloween spider cookies.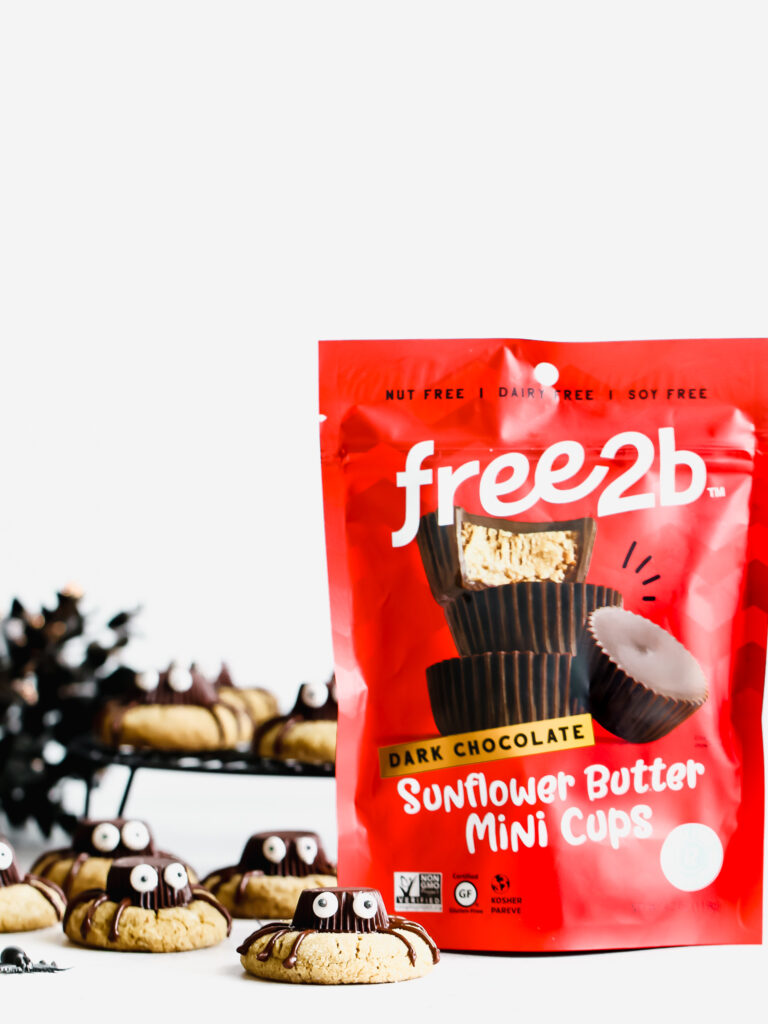 HOW TO MAKE HALLOWEEN COOKIES:
The cookies are made in a few easy steps:
First, chill your free2B mini Sun Cups in the refrigerator before you even begin. This will help them from getting too melty when you start assembling your spider.  We used free2B's Dark Chocolate Sun Cups Minis since they are the right size for our spider bodies and absolutely delicious. 
Next, you need to prepare and bake your SunButter cookies that will be the base for these spider cookies. Once they're baked, let them sit for about 5 minutes before adding the chocolate body. Trust me, you must wait!  I was a little impatient the first batch and my spider cookie, looked more like a squished spider with melted chocolate everywhere.
Next comes adding the body! I recommend having all the cups unwrapped first and cookies already on the cooling rack before you start. Then place your (unwrapped) Sun Cups top down into cookie, pressing just so slightly. You're cookies should be slightly warm and soft enough for the chocolate to press down into it. * Quickly place back in the fridge for a few minutes to prevent melting. 
*If the cookie got too cool, simply melt a little chocolate and drop on the center of the cookie.  This will act as edible glue and hold your Sun Cup in place. 
Add the body parts:
Grab your google eyes and melted chocolate chips for the rest. A small dab of chocolate on the back of each eye will hold the eyes in place, and then pipe 4 lines on either side of the body to give your spidey some legs.
Tips & Tricks to make Halloween Spider Cookies
If your cookie turns a little green on the inside, that's just a chemical reaction of the baking soda + sunflower butter. Don't freak out! My kids actually told me that it made the cookies even more "spooky & fun".
If you're looking for small candy eyes, I found mine on Amazon but you can also find them at Michaels, Target or Wal Mart with their cake decorating supplies.
Want to make your own eyes?  Here are a few other ideas: tiny rolled balls of fondant, piped frosting, or royal frosting eyes (The Pretty Bee Blog has an easy recipe for this here).
Use milk chocolate Sun Cups instead of dark chocolate.
Add a little more crunch and use pretzel sticks for the legs. 
Add melted marshmallow cobwebs to your cookie like Handmade Charlotte did on her cupcakes.
Try changing up the base cookie with these Pumpkin Snickerdoodles or Chewy Ginger Molasses Cookies.
These delicious vegan Halloween Spider Cookies are adorably cute and creepy (how is that even possible!).They are the perfect combo for a fun Halloween treat that everyone will enjoy!
Happy Baking & Happy Halloween 🎃 👻
More recipes you may enjoy:
PRINT YOUR HALLOWEEN SPIDER COOKIE RECIPE BELOW:
Thank you @free2bfoods for the gift of these Sun Cups which were used to create this recipe.
Spooky Vegan Spider Cookies
Yield: 24
Prep Time: 10 minutes
Cook Time: 10 minutes
Additional Time: 15 minutes
Total Time: 35 minutes
Get in the spooky spirit with these super cute Halloween Spider Cookies made with free2B Suncups, melted chocolate, candy eyes, and a crazy-good, sunflower butter sugar cookie! 
Ingredients
1 tablespoon dairy-free milk 
1/2 teaspoon baking soda
1/4 teaspoon salt
1/8 Cup sanding sugar (for rolling only!  do not add to cookie dough)
Instructions
Refrigerate Sun Cups. Preheat oven to 375°. Line baking sheet with parchment.
Make your vegan egg (1 TB Bob's Egg replacer +2 TB water, mix and set aside).
In a large mixing bowl, cream together shortening, SunButter, brown sugar, and sugar until smooth. Beat vegan egg into the creamy mixture until fully incorporated, then add dairy-free milk and vanilla extract into the mixture until smooth.
Mix flour, baking soda, and salt together in a small bowl; add to the wet mixture in the large bowl and stir until completely incorporated. Divide and shape dough into 24 balls.
Sprinkle 1/8 cup sanding sugar into a shallow bowl. Roll dough balls in sugar to coat and arrange about 2 inches apart onto prepared baking sheets.
Bake 10-12 minutes. Cookies should be light brown and soft to touch. Let cool 5 minutes on sheet then place on cooling rack.
Remove Sun Cups from fridge and unwrap each one before pressing upside-down into center of cookie. Place into refrigerator 10 minutes to prevent melting.
Put vegan chocolate chips in the corner of zippered sandwich bag.Microwave for 20 seconds, knead and repeat until chocolate has melted.
Cup off a corner of bag to allow for piping and pipe a tiny dot on the back of each eye and set eyeball in place. Then draw eight legs on each spider cookie.
Place in refrigerator for 10 minutes to allow legs to set.
Recommended Products
As an Amazon Associate and member of other affiliate programs, I earn from qualifying purchases. Please see my FULL DISCLOSURE POLICY for more details.
Nutrition Information:
Yield: 24
Serving Size: 1
Amount Per Serving:
Calories: 87
Total Fat: 4g
Saturated Fat: 1g
Trans Fat: 0g
Unsaturated Fat: 3g
Cholesterol: 9mg
Sodium: 61mg
Carbohydrates: 11g
Fiber: 0g
Sugar: 6g
Protein: 1g
Nutritional information is only an estimate based off of using an online calculator. Numbers will change depending on brands used.