Delicious, savory jackfruit tamales, inspired by traditional Mexican cuisine, and made with spicy guajillo chile seasoned jackfruit and masa. Vegan + gluten free.
I have to admit that I've always been a little leery of making tamales, I mean, leave it the experts right? I'm fully confident of making desserts, pastries, and other main dishes but never once have I even attempted to make one of my favorite foods, the tamale. That is, until I was given the chance to check out a copy of Vegan Tamales Unwrapped: A Step by Step Guide to Savory and Sweet Tamales from Dora Stone of Dora's Table.
Red Chile Jackfruit Tamales
Then, as fate would have it, I also happened to catch an episode of Diners, Drive-ins & Dives which featured a lady making tamales! It didn't look too hard. SO with my new found confidence and ebook in hand, I committed to making Dora's Red Chile Jackfruit Tamales.
Jackfruit Tamales Ingredients
Initially, I was a little worried about finding all the ingredients, but thankfully I have a local store that carried what I didn't already have. You may find that a specialty store will have everything you need OR just in case you don't want to look all around, I included links in the recipe for some harder to find items you can order directly through Amazon (you are welcome). 🙂
Make a Line
I gave myself the entire morning to shop and make these tamales and what I found, was that although a little time consuming, it was actually a pleasant experience when I had my trusty sidekick (a.k.a. Xander) to help me. We made an awesome assembly line. I cut the dried peppers and he pushed out all the seeds. I taught him how to peel fresh garlic and chop an onion and then I blended everything and made the sauce. He was my taste tester and added the perfect amount of salt to finish it out.
Then we got to the part of filling the husks with our prepared masa and filling. Dora's ebook is very detailed on how to do it exactly, and it was so simple to follow. Xander loved wrapping each one with a little corn husk bow! They look like pretty little packages, don't they?
Fill'er Up
Probably, the best part, was actually eating the tamales! They were absolutely allergylicious and the red chile sauce brought just the right amount of heat!
With a few extra tamales left over, we tried a few other fillings. Shredded chicken for my non-vegan boys and sliced avocado for myself because avocado is awesome! Everyone was happy!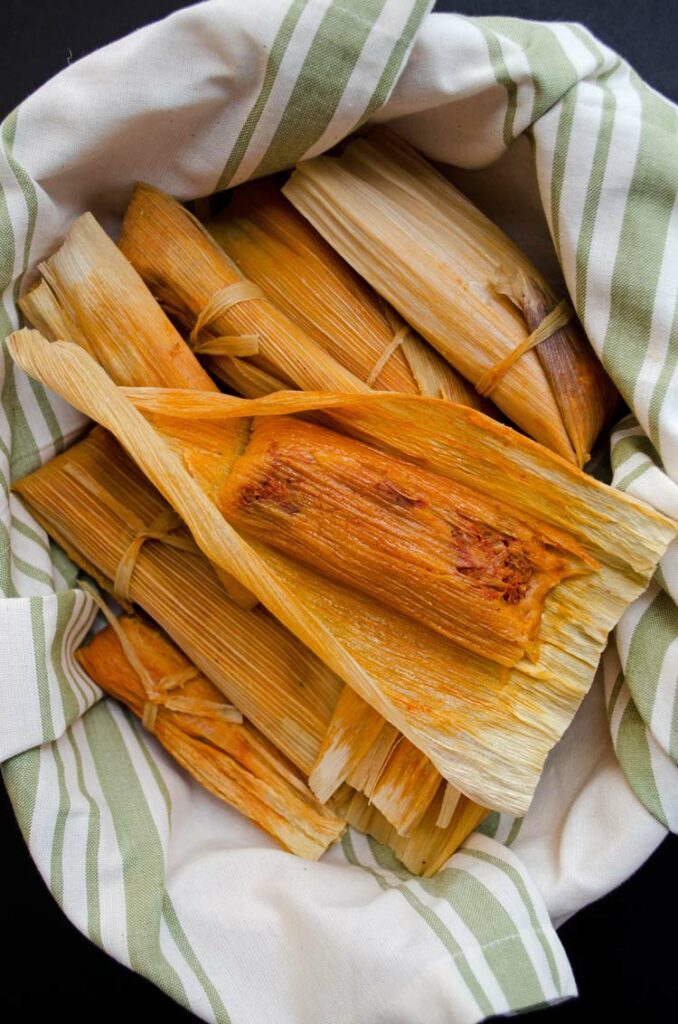 A New Holiday MUST to Make
Finally, you can grab your ebook here and start having fun with making your own tamales!
Here's to trying new things and making them Allergylicious!
Red Chile Jackfruit Tamale
Yield: 25 tamales
Prep Time: 1 hour
Cook Time: 10 minutes
Additional Time: 30 minutes
Total Time: 1 hour 40 minutes
These spicy vegan tamales are made with spicy guajillo chile seasoned jackfruit and masa, stuffed inside corn husks and steamed to perfection.
Ingredients
Guajillo Chile Sauce:
Filling:
4 garlic, cloves, minced
2 cans (20 oz./ea) green jackfruit
1 ½ cups guajillo chile sauce
Dough:
1 cup (8 oz.) coconut oil, room temperature
4 cups (1 lb. 2 oz.) masa harina
1 ½ tsp. baking powder
1 ½ tbsp. salt, kosher
1 ½ tbsp. cumin, ground
3 ½ cups vegetable broth or stock
1 ½ cups guajillo chile sauce
Instructions
Preparation:
To prepare the corn husks: Soak the corn husks in hot water, in a large pot or in your kitchen sink. Place a plate over them to weigh them down so they are completely submerged. Let them soak for at least an hour.
To make the sauce, place the chiles in a small sauce pot and cover with water. Bring to a simmer over medium-high heat and let cook for about 10 minutes. Drain the chiles and reserve 2 cups of the soaking liquid. Place the chiles, garlic, onion, and soaking liquid in the blender and process until smooth. Season with salt and pepper and strain. You should end up with about 3 cups of sauce.
To make the filling: Drain the jackfruit. Rinse, and pat with paper towels. Cut out the core of the jackfruit (tip of the triangle pieces), and cut pieces in half. Heat 1 tbsp. of oil in a large sauté pan set to medium heat. Add minced garlic and cook for 1 minute, stirring often. Add the jackfruit and cook for 3 -4 minutes or until it begins to brown. Pour 1 ½ cups of the guajillo chile sauce and reduce heat to low-medium. Simmer for 20 minutes or until jackfruit begins to break down and the sauce has thickened slightly. Use a fork to shred the jackfruit as it cooks down. Season with salt and pepper and let cool.
To make the dough, beat the coconut oil, on medium-high speed, with an electric mixer for 1 minute. Add the baking powder, cumin, salt, and beat for 1 minute to incorporate into the coconut oil.
Add half of the masa harina to the bowl, pour in half of the vegetable stock, and beat to incorporate. After it is completely incorporated, add the other half of masa harina, vegetable stock, and 1 ½ cups of the guajillo chile puree. Beat at low speed, until thoroughly mixed. It should have the consistency of a thick cake batter. If necessary, add more vegetable stock until you reach that consistency. Taste the dough, and add more salt if necessary. It should be a little bit salty.
For lighter and fluffier tamales, let the dough rest for an hour in the refrigerator. Remove the dough from the fridge and repeat it, adding enough liquid to get it to the consistency it had before.
Remove the corn husks from the water and set on paper towels. Reserve the largest husks to wrap the tamales and the small ones to line the steamer.
To set up your steamer, fill the bottom with water making sure the water is not touching the steamer rack. Line the rack and sides of the steamer pot with corn husks. Set aside.
To wrap the tamales, pull 24 pencil thin strips off of the corn husks and set aside. Take a husk and dry off the excess water with a paper towel. Place the husk in your hand with the tapered side away from you and the smooth side up. Using a spoon, spread 2-3 tbsp. of the dough (¼ inch thick) onto the corn husk, forming a 3 - 4 inch square. Leave a border of at least 3/4 inch on each side of the square.
Place 1 ½ tbsp. of the filling in the center of the dough. Bring the two long sides of the corn husk together, this will cause the masa to surround the filling, and roll them in the same direction around the tamal. (If the husk is too small, fold one of the long sides towards the center, and then fold the other long side on top.) Fold down the empty tapered section of the corn husk, forming a closed bottom. This will leave the top of the tamal open. Tie with a corn husk strip to secure the bottom of the tamale.
Place the tamale in the steamer vertically leaning against the side of the pot, with the open end on top. Repeat this process until you run out of dough and all the tamales are in the steamer. Cover them with a layer of corn husks. If the steamer is not full, fill the empty spaces with more corn husks. Cover the pot and bring the water to a boil. Turn heat down to medium and cook for 40 minutes. Check the tamales, when they separate easily from the corn husk it means they are done. If they are not done, steam for 10 more minutes and check again.
Remove steamer from the heat and let sit covered for 10 minutes. Uncover and let cool for at least an hour. Don't be alarmed if the tamales seem really soft. As they cool, they will firm up.
Notes
Chef's Notes:
If you would like to make these with fresh masa, replace the masa harina with 2 lbs. of fresh masa and use only 3/4 cup of vegetable stock. To substitute the coconut oil, you can use 8 oz. of vegetable oil or vegetable shortening. For tamales without fat, use 8 oz of cooked, unsweetened pumpkin.
Recommended Products
As an Amazon Associate and member of other affiliate programs, I earn from qualifying purchases. Please see my FULL DISCLOSURE POLICY for more details.
Nutrition Information:
Yield: 25
Serving Size: 1
Amount Per Serving:
Calories: 32
Total Fat: 1g
Saturated Fat: 0g
Trans Fat: 0g
Unsaturated Fat: 1g
Cholesterol: 1mg
Sodium: 605mg
Carbohydrates: 5g
Fiber: 1g
Sugar: 3g
Protein: 1g
Nutritional information is only an estimate based off of using an online calculator. Numbers will change depending on brands used.
Sneak Peak
A few other recipes from Vegan Tamales Unwrapped that I'm looking forward to trying are the Potato Adobo Tamales & the Chocolate Tamales. Don't they look good!