This vegan Mexican Potato Salad is loaded with buttery avocado cream, black beans and tons of zesty flavor for a south-of-the-border take on a classic Summer recipe.
Just one bite of this Mexican potato salad and you're going to want to add it to your next Cinco-de-Mayo celebration or summer food rotation. I'm already dreaming of how well this will pair with grilled corn-on-the-cob & a veggie burger! YUM.
Since I took a less traditional approach to potato salad, I decided to take it up a notch, creating this zesty, vegan version. Of course the creaminess is still there from my homemade avocado cream, but you won't find any regular mayo, eggs or bacon in this bowl. Only layers of flavor, black beans, fresh veggies and of course, potatoes!
Potatoes are one of our favorite "go-to" veggies for creating a perfect meal. And since you can't have a awesome potato salad without starting with a great potato, I chose to use Steamables Golden Potatoes by Side Delights for our Mexican Potato Salad.
What are Steamables?
Smaller-sized potatoes that are:
Triple-washed – because no one likes dirty spuds!
Microwave in the bag – no mess or clean up
Ready to eat in 8 minutes! That's right!
No prep work, no guesswork – just perfectly steamed potatoes every single time.
I am just loving how easy it is to make a serving of potatoes for the family with Steamables. I also love that once steamed, I can sauté, whip, mash or dice away THEN flavor with whatever spices and blends we want,  just like I did with this Mexican Potato Salad. You'll want to be sure to have a bag on hand, because I know you're going to fall in love with this dish.
What makes this Mexican Potato Salad amazing?
The flavor is full of zip & zest thanks to my favorite avocado cream.
Our Mexican Potato Salad is much more fun than your traditional recipe.
We use fresh veggies & beans to up the nutritional value.
This recipe is free of dairy, eggs & nuts, yet still creamy.
This recipe is gluten-free.
Less time & clean-up are required, thanks to Steamables potatoes.
AND, it's just delicious.
This picnic and pot-luck friendly Mexican Potato Salad is a fun, tasty twist on the ever traditional summery side dish. Be sure to save this for your next get-together and also check out how my friend Cindy, at the Vegetarian Mamma, uses Steamables & avocado for her Creamy Avocado Potato Salad. I'm also thinking Steamables would be great for this Vegan Potato Salad with Herbs from Healthy, Seasonal Recipes, what do you think?
Hungry? Let's start cooking
Creamy Mexican Potato Salad
Yield: 2 cups
Prep Time: 10 minutes
Cook Time: 8 minutes
Total Time: 18 minutes
This vegan Mexican Potato Salad is loaded with buttery avocado cream, black beans and tons of zesty flavor for a south-of-the-border take on a classic Summer recipe. 
Ingredients
1 lb. baby potatoes (I used Side Delights Golden Potatoes)
3 medium avocado, peeled and mashed
2 tablespoon lemon juice
1/4 cup vegan mayonnaise
1/2 cup vegan sour cream
1 package taco seasoning (or 2 TB homemade)
1 can black beans, drained and rinsed
1/4-1/2  cup chopped tomatoes
2 tablespoons green onions, tops only 
1 tablespoon fresh, cilantro leaves
salt & pepper to taste
1/4 cup diced green chiles (optional)
Instructions
Cook potatoes according to package. Remove from bag and place in a large bowl. Refrigerate at least 1 hour.
Remove cooled potatoes from fridge. Cut into bite-sized pieces and return to bowl. Add can of black beans and set aside.
In a medium bowl, add avocados & lime juice and mash. Stir in mayo, sour cream, and taco seasoning. Add salt & pepper if needed.
Mix avocado mash into cooled potatoes. Stir to incorporate mash, potatoes & beans. Fold in chopped tomatoes.
Return to refrigerator until ready to serve.
Sprinkle with green onion slices & cilantro leaves for garnish.
Notes
I usually keep potato skins on to retain some nutritional value BUT if you prefer to remove potato skins, do so after steaming and cooling.  They come off quite easy once you cut the potato.  
Recommended Products
As an Amazon Associate and member of other affiliate programs, I earn from qualifying purchases. Please see my FULL DISCLOSURE POLICY for more details.
Nutrition Information:
Yield: 4
Serving Size: 1
Amount Per Serving:
Calories: 458
Total Fat: 23g
Saturated Fat: 3g
Trans Fat: 0g
Unsaturated Fat: 18g
Cholesterol: 0mg
Sodium: 446mg
Carbohydrates: 57g
Fiber: 20g
Sugar: 4g
Protein: 13g
Nutritional information is only an estimate based off of using an online calculator. Numbers will change depending on brands used.
IF YOU LOVE POTATOES, I WANT TO HEAR ABOUT IT. HOW DO YOU LIKE COOKING WITH POTATOES? WHAT SPICES DO YOU ENJOY USING? WHAT RECIPE WOULD YOU LIKE TO TRY USING STEAMABLES & WHAT TYPE OF POTATO WOULD YOU CHOOSE? BE SURE TO COMMENT BELOW!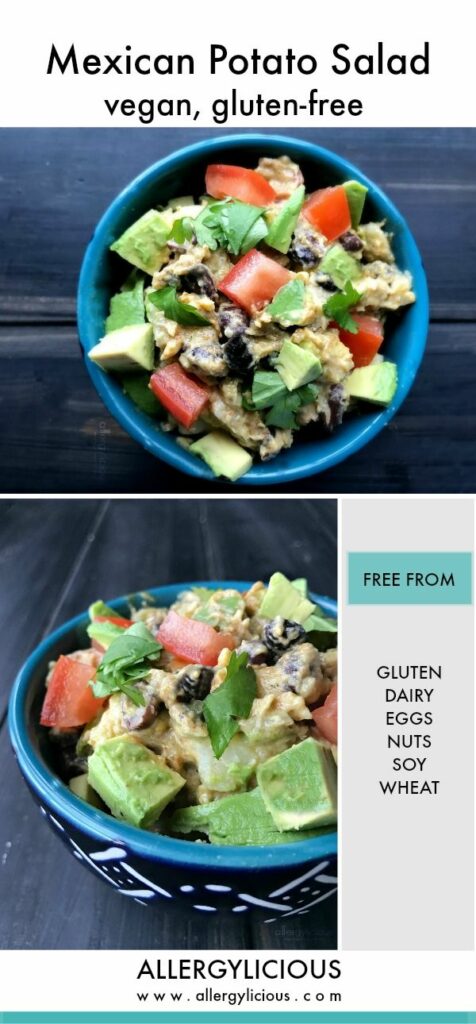 Thank you to Side Delights for sponsoring this recipe and providing us with a variety of Steamables to try. For more information of Side Delights, please check out www.sidedelights.com. Looking for more potato salad recipes? Check out French Potato Salad , Red Potato Salad, German Potato Salad & Pan Roasted Smoky Potato Salad.
Don't forget to comment below, then follow Allergylicious on Facebook, Instagram and Pinterest for the newest, delicious, allergy-friendly foods.