I scream, you scream, we all scream for Ice Cream… Sandwich Cake? Heck ya we do! This spectacular,  dessert is deceptively easy-to make, vegan, allergy-friendly & lip smackingly delicious.
Doesn't this Ice Cream Sandwich Cake just look like it's ready for a party? Now all we need, are a few guests and a handful of sprinkles. Are you in?
When I heard about So Delicious' newest recipe challenge, using their frozen products,  I just knew that I had to be a part of this! Creating allergy-safe recipes is one of my absolute favorite things to do, especially when it's using products I already love. Game on…. challenge accepted……time to start creating.
I actually had a recipe in mind that I wanted to try after making the Brookie Ice Cream Cake but it wasn't until I created the homemade caramel sauce that it all came together. SO, without further adieu,   let me now introduce you to our show-stopping, party-starting, Ice Cream Sandwich Cake! I know you will be good friends instantly.
How do I know you'll love this Ice Cream Sandwich Cake? Well, because everyone who has had a slice, devoured loved it, including myself. I would have eaten the whole thing myself if it wasn't swimsuit season  😉. You'll also love that you don't have to bake anything, that you only need a few key ingredients and that is only takes a few steps to make. What's not to love?
5 Simple Ingredients:
3 Easy Steps in this Ice Cream Sandwich Cake:
Create your ice cream sandwich "wall" by placing again the sides of your prepared cheesecake pan.
Press down your first layer of ice cream to make your base then drizzle with chocolate sauce & caramel (this step if optional BUT amps up the YUM factor).
Layer with cocowhip then top with another layer of ice cream.
What Flavor to Choose?
Although I used cookie dough for this Ice Cream Sandwich Cake, you can layer any flavor of ice cream to make this unique to you.
Try Mint Chip if you love a minty fresh treat.
If you are a coffee lover like I am, there is Mocha Almond Fudge  but this DOES contain almonds.
Their fruit flavors like Oregon Mixed Berry or Strawberry would be a refreshing layer, mixed in with bites of frozen whip & cookie sandwich pieces.
Or go crazy and mix together different ice cream flavors.
Have you started dreaming yet about what flavor you're going to choose? With so many options, you may want to try several flavors, so be sure to grab your coupons here.
Easy Peasy
This Ice Cream Sandwich Cake is the easiest cake you probably aren't making, but should be! The row of ice cream sandwiches, wrapped around layers of cookie dough ice cream and whipped coconut cream is a chocolaty, sweet, delicious, dream! And only takes about 10-15 minutes to assemble, thanks to So Delicious Dairy Free. It's perfect for your next Summer party, birthday party or even "I had a bad day" pity party. (We've all been there, don't judge).
This post is sponsored by So Delicious Dairy Free in honor of their summer #frozenfridays campaign which is now running and will last until August 18th ( look for this on social media). As always, this recipe, photos and opinions are my own. Collaborating with brands I love allows me to keep bringing you new and varied recipes!  
Ready to go to ice cream sandwich cake heaven? Follow me, I'll lead the way!
How to Make this Ice Cream Sandwich Cake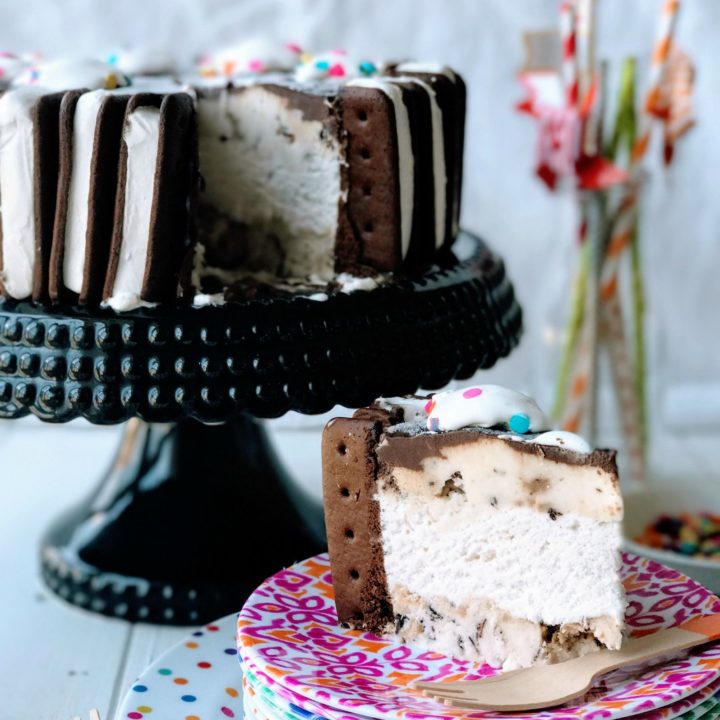 Ice Cream Sandwich Cake
Yield: 16-18 slices
Prep Time: 15 minutes
Total Time: 15 minutes
We all scream for Ice Cream Sandwich Cake?  Heck ya we do!  This spectacular,  dessert is deceptively easy-to make, dairy, egg and nut-free & lip smackingly delicious. 
Instructions
Take ice cream out of freezer and allow to sit out to soften (without melting).
Line a 8-9" cheesecake pan with a sheet of plastic wrap, extending about 2" over the edge and fold over.
Working in batches, cut each Ice Cream Bar in half, vertically, and create a wall by placing against the inside edge of your pan. Cut side facing in. Place in freezer while you are cutting the second batch of sandwiches then finish the circle.
Spread a layer of Cookie Dough Ice Cream along the bottom, then drizzle chocolate syrup and caramel on top. Add a layer of CocoWhip then another Cookie Dough Ice Cream, chocolate syrup & caramel.
Let this harden in the freezer 30-60 minutes then top with ganache, extra whip & sprinkles. Freeze again then cover with wrap until ready to serve.
Notes
Work quickly with this recipe.  You may find that having an extra helper will speed it along with less melting, OR just place the cake back into the freezer as you are prepping for the next step.  
Feel free to substitute flavor or ice cream to best suit your mood. 
Omit Ice Cream Sandwiches for a GF version or substitute with So Delicious Coconut Bars. 
Recommended Products
As an Amazon Associate and member of other affiliate programs, I earn from qualifying purchases. Please see my FULL DISCLOSURE POLICY for more details.
Nutrition Information:
Yield: 16
Serving Size: 1
Amount Per Serving:
Calories: 37
Total Fat: 2g
Saturated Fat: 2g
Trans Fat: 0g
Unsaturated Fat: 0g
Cholesterol: 0mg
Sodium: 22mg
Carbohydrates: 4g
Fiber: 1g
Sugar: 3g
Protein: 0g
Nutritional information is only an estimate based off of using an online calculator. Numbers will change depending on brands used.
Special Diet Notes:
This recipe is dairy-free, egg-free, peanut-free, tree nut- free, gluten-free, vegan, and vegetarian. It does contain coconut.
So Delicious has a large variety of ice creams flavors and bases. Almond, Cashew and Soy Milk make up the other ice cream bases and depending on your own allergy, feel free to substitute a different version to fit your allergy needs.
Pin & Make Later
If you like this recipe & want to see more like this, simply subscribe to Allergylicious & get every new recipe sent directly to your inbox! You can also find our reader's favorite recipes in my new eBook called Eat Dessert First. Allergylicious is also on  Facebook ,  Instagram &  Pinterest sharing the newest, delicious, allergy-friendly foods.