A healthy alternative to store-bought bars, these Chocolate Peanut Butter Rice Bars from Vegan Yack Attack are also Gluten-Free, Soy-Free and made with simple ingredients. PLUS, we made them "nut-free" to be allergy-friendly.
When it comes to healthy snacking, it's easy to rely on eating the same 'ol store-bought bars. And although a store-bought bar will do in a pinch, nothing feels or tastes as wonderful as making your own wholesome, vegan snacks from scratch.
So we're taking back breakfast and snack-time with these Chocolate Peanut Butter Rice Bars that are SUPER EASY to make! 
If you've never made homemade Snack Bars before, you are in for a treat. My friend Jackie, is letting me share these easy-to-make, family-friendly, Chocolate Peanut Butter Rice Bars recipe from her new cookbook, Vegan Yack Attack's Plant-Based Meal Prep. It is way better than any store bought kind and can be customized to fit your food allergies.
But before we get to the recipe for this Chocolate PB Rice Bar recipe, I want to talk a little bit about Jackie's third cookbook- Vegan Yack Attack's Plant-Based Meal Prep. If you remember last year, I shared this Creamy Berry-Full Polenta recipe from her previous book, Vegan Yack Attack On The Go, and if you tried that, or any of Jackie's recipes, then you know these will not disappoint either.
Getting Started with Plant-Based Meal Prep
To say that I was excited to see this cookbook come out is an understatement! Even as a food blogger, I get tired of thinking of ideas and creating a menu for my family, so this couldn't have come at a better time.  There are over 100 nutritious, easy to make recipes with a helpful guide to batch cooking.
This cookbook is written in order of cooking experience.
Part 1 is all about introducing you to meal planning and prepping.
The second part includes easy to prepare, 5 day meal plans, which are perfect for 1 meal-prep newbie.
Next comes the Mix & Match Menu. This is perfect for established home cooks wanting to change up their family's weekly menu plan.
Last but not least- Basics and Bonuses. Here you will find sauces, dressing and snacks, like these Chocolate PB Rice Bars. ⬇️
Why You'll Love These Homemade Crispy Rice Bars:
Soft, chewy and taste like dessert, but its actually GOOD for you!
They can stay fresh for up to a week at room temp and up to two weeks in the fridge, or 1 month if frozen.
There's no baking required – simply melt, mix, refrigerate, and cut into bars!
Travel friendly and easy to keep at your desk, packed in a lunchbox or wrapped and ready for post-workout fuel.
Sweetened with agave and vegan chocolate chips.
Great for scaling up if you want to double batch the recipe (which you'll want to do FOR SURE!).
How to Make Healthy PB Rice Bars
The ingredient list is short and simple.
Peanut Butter/SunButter. Healthy fats, protein, and the all-out delicious factor. You can use any safe brand you'd like, but it needs to be creamy.
Brown Rice Crisp Cereal. Lightly sweetened, airy, crispy, and gluten-free, giving these Rice Bars the perfect amount of structure and crunch.
Agave. Our sweet "glue", holding it all together.
Roasted Peanuts/Sunflower Seeds. An excellent plant-based source of protein and high in various vitamins, minerals, and plant compounds.
Flaxseed Meal. Bring on the Omega-3s.
Refined Coconut Oil. To help the bars bind and solidify.
Vanilla Extract and Chocolate Chips. No boring bars here. These Chocolate Peanut Butter Rice Bars are loaded with the good stuff.
Variations for Healthy, Vegan Chocolate Rice Bars
Want to have fun with the mix-ins? Try switching out the chocolate chips for:
Dried cranberries
Diced dates
Or a mixture of all the above.
Needing a rice crispy treat that is peanut-free? 
Replace roasted peanuts with roasted sunflower seeds or pumpkin seeds.
Replace PB with SunButter, Granola Butter or another nut-free butter of choice.
I hope you enjoy this Chocolate Peanut Butter Rice Crisp Bar! If you try it I would love for you to come back and leave a comment below with your feedback and a star rating. Let me know if you made any changes for your allergies too!
And be sure to grab a copy of Vegan Yack Attack's Plant-Based Meal Prep. I really think it will become an instant favorite, whether you're planning meals for a family or just looking to make plant-based eating easier for yourself. 
Chocolate Peanut Butter Rice Bar Recipe (with Peanut-free option)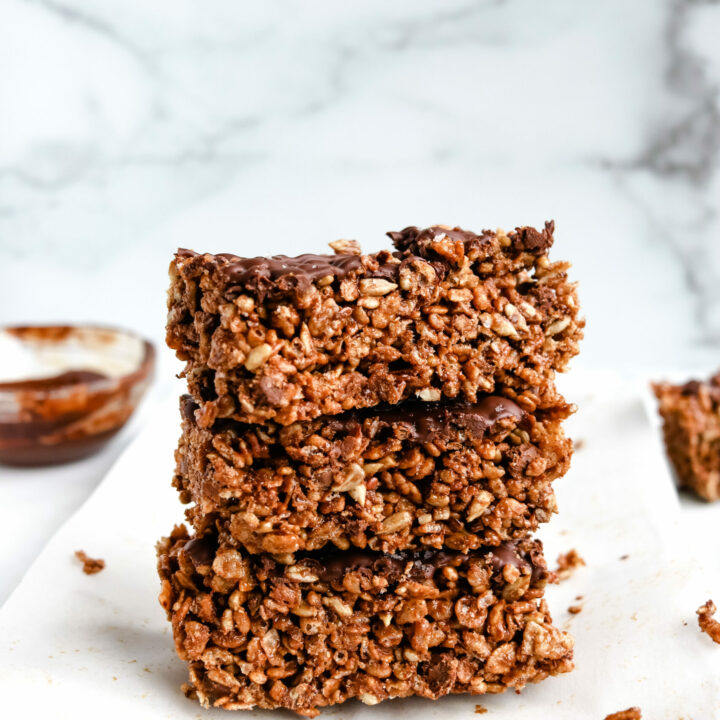 Chocolate Peanut Butter Rice Bars
Yield: 10 bars
Prep Time: 7 minutes
Cook Time: 2 minutes
Additional Time: 30 minutes
Total Time: 39 minutes
Put away those store-bought granola bars because it's time for the way-better adult version. (V,GF, nut-free option). This recipe is printed with permission from Jackie Soban and Fair Winds Press.
Ingredients
4 cups (140g) brown rice crisps cereal
1 cup (150g) dairy-free semi-sweet chocolate chips
1/2 cup (75g) chopped roasted peanuts (I used sunflower seeds instead)
1/4 cup (60ml) agave nectar
1/4 cup (65g) creamy peanut butter (I used SunButter Natural)
2 tablespoons (14g) ground flaxseed
3 tablespoons (42 g) refined coconut oil
1 1/2 teaspoons (8ml) vanilla extract
1/2 teaspoon course salt
Instructions
Lightly grease an 8x8 baking dish, then line it with parchment paper so that the paper hangs over the edges of the pan on two sides. In a large bowl, combine the brown rice crisps, 1/2 cup of the chocolate chips, and the peanuts (or sunflower seeds).
Heat the agave nectar, peanut butter (SunButter), flaxseed, coconut oil and vanilla in a small saucepan over medium-low heat until the mixture starts to liquefy. Whisk until smooth, then remove from heat and pour over the cereal mixture. Fold in everything together until there are no dry pockets and the cereal is evenly coated.
Transfer the mixture to the prepared baking dish, and pack it into an even layer using a spatula. Refrigerate the bars for 30 minutes or until they have firmed up considerably (they may still be a little flexible). Microwave the remaining 1/2 cup chocolate chips in a microwave-safe bowl until melted. 45 to 60 seconds. Stir melted chips until very smooth, and use a fork to drizzle the chocolate over the tops of the bars. Sprinkle with the coarse salt, and refrigerate again for at least 10 minutes.
Carefully pull the bars out of the dish using the parchment sling. Cut the rectangle in half widthwise, then slice each half into five bars. Store in the refrigerator for up to 1 month.
Notes
*Have fun with the bar mix-ins! For some added sweetness, try aswitching out half of the mixed-in chocolate chips with dried cranberries or diced apples.
**If making the nut-free version, it's a little more delicate to cut, so chill a little longer.
***If you don't want the chocolate chips mix-ins to melt, leave those out until AFTER you add the melted nut-butter mixture.
Recommended Products
As an Amazon Associate and member of other affiliate programs, I earn from qualifying purchases. Please see my FULL DISCLOSURE POLICY for more details.
Nutrition Information:
Yield: 10
Serving Size: 1
Amount Per Serving:
Calories: 117
Total Fat: 7g
Saturated Fat: 4g
Trans Fat: 0g
Unsaturated Fat: 2g
Cholesterol: 0mg
Sodium: 172mg
Carbohydrates: 13g
Fiber: 1g
Sugar: 4g
Protein: 2g
Nutritional information is only an estimate based off of using an online calculator. Numbers will change depending on brands used.
Just some of the many recipes I can't wait to try:
Kimchi Mac and Cheese
Instant Pot Creamy Broccoli Soup
Mushroom Onion Burger