Crispy Tex Mex Egg Rolls, paired with a delicious avocado cream sauce is crunchy, tasty and made at home any time you want.
Some of my favorite parties to host are football parties. I love watching the game! I love the commercials! I love getting together with good friends! I love the excitement of a close game, but most of all…. I ❤️ the food!
Homemade chili, hasselback potatoes, papas nachos, brownies, and cookies typically grace my countertop and now that football season is back, I'm adding something new to the menu, homemade Tex Mex Egg Rolls.
I'm seriously in love with these little egg rolls. They are deliciously addicting, chewy and cheesy on the inside and warm and crispy on the outside, just like they should be. And if I had to pick just one party appetizer as my absolute favorite, this would be it! These Tex Mex Egg Rolls are ridiculously good!
WHAT'S INSIDE TEX MEX EGG ROLLS:
Typically, I have everything needed to make the filling and dipping sauce. The only thing left to buy are the vegan egg roll wrappers, and Twin Dragon Asian Wrappers are now my go-to. They are the only wrappers that I found (at Walmart) which are vegan, GMO-free and made from 100% natural ingredients (click link for more information OR for a GF option, check out these homemade wrappers from imglutenfree.com).
The filling consists of the most perfect combination of southwest flavors:
YUMMY
PREP THE TEX MEX EGG ROLLS AHEAD OF TIME:
Once you have your ingredients, this recipe is incredibly easy to make, which is another reason why this meatless appetizer will become a favorite in your household too.
Make the filling ahead of time then roll and fry your Tex Mex Egg Rolls on game day (or any other get-together day of your choosing). You can assemble them a month in advance, then store them in the freezer until you're ready to cook. How awesome is that? And did I mention the avocado dipping sauce yet? That just takes these Tex Mex Egg Rolls to the next level of awesomeness!
But before we get to the sauce, let me just help with one little step….sealing the egg roll so all the contents stay all tucked inside!
Lay out one egg roll wrapper with a corner pointed toward you.
Place the prepared filling, just under the middle of wrapper.
Fold the bottom corner over the filling. Use your finger to spread a little bit water along the exposed edges.
Fold the two sides in (to look like an envelope) then roll tightly.
HOW TO COOK TEX MEX EGG ROLLS:
One of the easiest methods for cooking these egg rolls is pan-frying them. I fry mine in about an inch of oil on the stove top and after a few minutes per side, they become golden brown and super crispy. I'm sure you could also use a deep fryer, but I gave mine away a long time ago since it always made so much of a mess (and I'm already a messy baker!).
However, you have a couple other options that work nicely if you prefer not to fry them. You can bake these egg rolls instead of frying them OR you can also use an airfryer.
The first would be baking, which seems like the healthier option but keep in mind that you still need to spray the egg rolls with a little oil before baking, otherwise you won't be getting a crispy shell. I actually really like the second option, which is using an airfryer! My airfryer (⇽shoppable link) cooked them perfectly on the inside and provided that nice crunch on the outside without much oil at all. Definitely worth making in here again and worth the small investment to be able to create healthier recipes.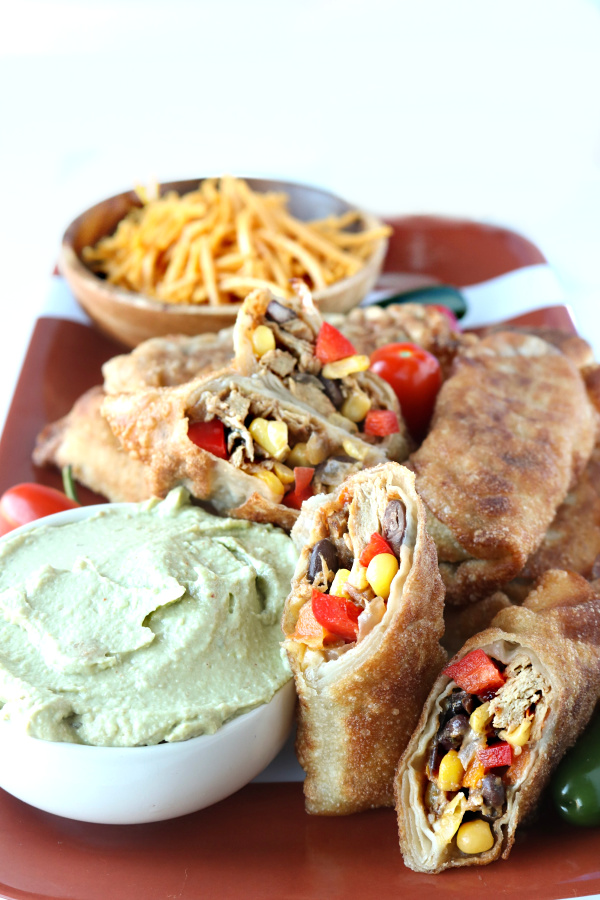 AVOCADO DIPPING SAUCE :
These Tex Mex Egg Rolls are great on their own, however, when paired with the Creamy Avocado Dip, they are incredible.
If you're someone who hates avocado (say it ain't so) then salsa or even vegan cream cheese/melted cheese would work as a dip but for this house….the AVOCADO rules and so does this dip. Just toss avocado, cilantro, lime, jalapenos and salt into your blender, and blend away. Homemade avocado dip is ready in five minutes and you'll be hooked!
Vegan Tex Mex Egg Rolls
Yield: 24 servings
Prep Time: 10 minutes
Cook Time: 5 minutes
Total Time: 15 minutes
You'll be hooked after 1 bite of these homemade, vegan Tex Mex Egg Rolls, paired with a delicious avocado cream sauce. The perfect party appetizer.
Ingredients
Egg Rolls
1 tablespoon oil
1 package Tofurkey Slow Roasted Chick'n
1/2 yellow onion, diced
1 garlic clove, mined
1 teaspoon cayenne pepper
1 teaspoon cumin
1 teaspoon chili powder
1/2 teaspoon salt
1 cup black beans, drained
1 cup corn (frozen or fresh off the cob)
1 red pepper, diced
1/2 cup tomatoes, diced and drained
2 tablespoons chopped cilantro (or 1 teaspoon dry cilantro)
1 package Twin Dragon Egg Roll Wrappers
oil for frying
Avocado Dipping Sauce
2 large avocados, halved and pitted
½ cup lightly packed fresh cilantro (some stems are okay)
⅓ cup lime juice (from about 2 ½ limes)
1 small jalapeño, seeds and ribs removed, roughly chopped
2 tablespoons water, more as needed to thin
½ teaspoon fine sea salt
Instructions
Add oil to large skillet and heat to high. Add chick'n, onion, garlic then coat with spices.
Stir and cook 1 minute. Remove from heat then add beans, corn, red bell pepper, tomato, cheez and cilantro. Mix together.
Add 1 ice cream scoop size of mixture into the middle of egg roll wrapper.
Start at the bottom and pull over the filling. Dampen edges with a little water, then fold in two sides and roll tightly to seal everything in.
Fill fry pan with 1" oil and set to medium high. It's ready when a drop of water sprinkled on it causes oil to sizzle.
Add 3-4 egg rolls at once.
Allow to brown on 1 side, flip over and cook until golden brown. Remove from pan and let drain on a cooling rack covered with a paper towel.
Repeat with remaining .

Make dipping sauce by placing ingredients in a blender, and blending until smooth.

Serve warm with dipping sauce.
Notes
Baking Method: Heat oven to 425°.  Line baking sheet with parchment and place rolls on top.  Lightly spray each with a little oil (or brush on) and bake 15-20 minutes, or until golden brown.
Air Fryer Method:  Preheat fryer to 400° .  Add a tablespoon of oil to the pan then load the egg rolls into the pan of the Air Fryer.  Cook for 8 minutes. Flip the egg rolls. Cook for an additional 4 minutes
This sponsored post was created through collaborating with Twin Dragon Asian Wrapper as part of their blogger recipe challenge. Working with brands allows me to keep bringing you new and varied recipes! Thanks for your support and if you'd like to learn more about Twin Dragons and the different types of vegan wrappers they make, simply click here! #twindragonwrappers #wontons #eggrolls #potstickers
CRAVING MORE TEX MEX RECIPES?